After having my fill of fun building traditional Proton Pack designs, I've started looking towards building designs that are on the fringe of the franchise - not fan creations, but those created as concept or or under license from Sony. My costuming group,
The Space Coast Ghostbusters
, has plenty of movie accurate packs so I thought it would be fun to have some that maybe people haven't seen. This particular pack was built during early 2002 to be used during the intro for the " Extreme Ghostbusters: The Great Fright Way" street show at Universal Studios Florida. The show started nearly 5 years after the cartoon where it derives its namesake and has nothing in common with the cartoon at all, but hey, it was probably cheaper to license that than the movie. You can see the street show on Youtube here:
https://www.youtube.com/watch?v=oTk9t9R0DwI
2000-2010 are considered dark years for Universal Studios Creative. After Islands of Adventure proved to be much less than successful, anticipated budgets for rides and props were slashed. This show was quickly put together for little cost, hence the less-than-stellar props associated with the show.
Growing up in Florida, this pack has somewhat of a special meaning to me, I can remember seeing it a handful of times during my many visits of my teen years. I've yet to see anyone replicate it, I can only assume because it's such a slapped together mess of parts. This is the only known photo of the pack in existence, and it's great that it's a clear one: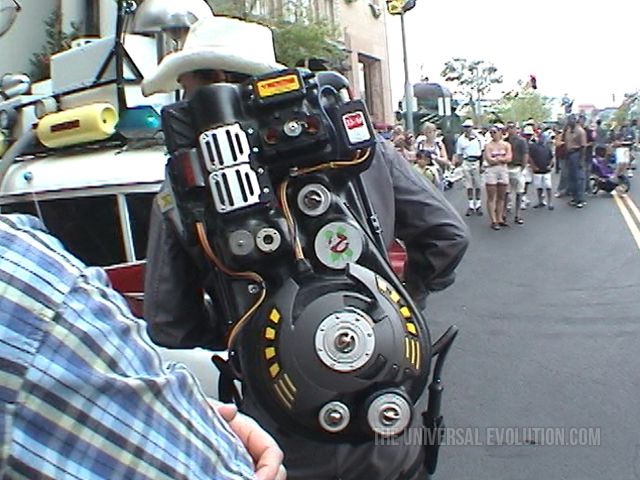 The base component of the actual prop is a vacuuformed shell using a Ghostbusters Spooktacular Proton Pack as the master. Those packs themselves weren't perfect to begin with, but were serviceable to nearly everyone who seen them. The intricate detail of the Spooktacular Pack was lost in the vacuuform pull, leaving something that looks more like a melted sheet of plastic than a proton pack. No neutrona wand or thrower was used with this pack, instead the Proton Pistols, seen in the picture above, were used with this pack. They are merely PVC pipes with rubber grips and caution tape attached to loom tubing and connected to an aluminum Radio Shack project box on the Buster's waist. I plan to replicate this as well as the pack.
The shell was then further accented with the following identified parts (thanks to reddit and CPU64 at GBFans):
- Clutch and Brake pedals on the "Booster Tube" (not much of a tube)
- A cycling red bicycle light on the Power Cell
- Radiator Thermostats in various places
- A Thrustmaster (heh heh) Joystick on the cyclotron
- Spark plug boots and wires
- Project box(es)
The small discs on the crank generator have not been identified, but in their place I'm going to use blinking red lights used for bicycle handlebars.
Gathered Parts
Radiator Thermostats (picked up 4 of these)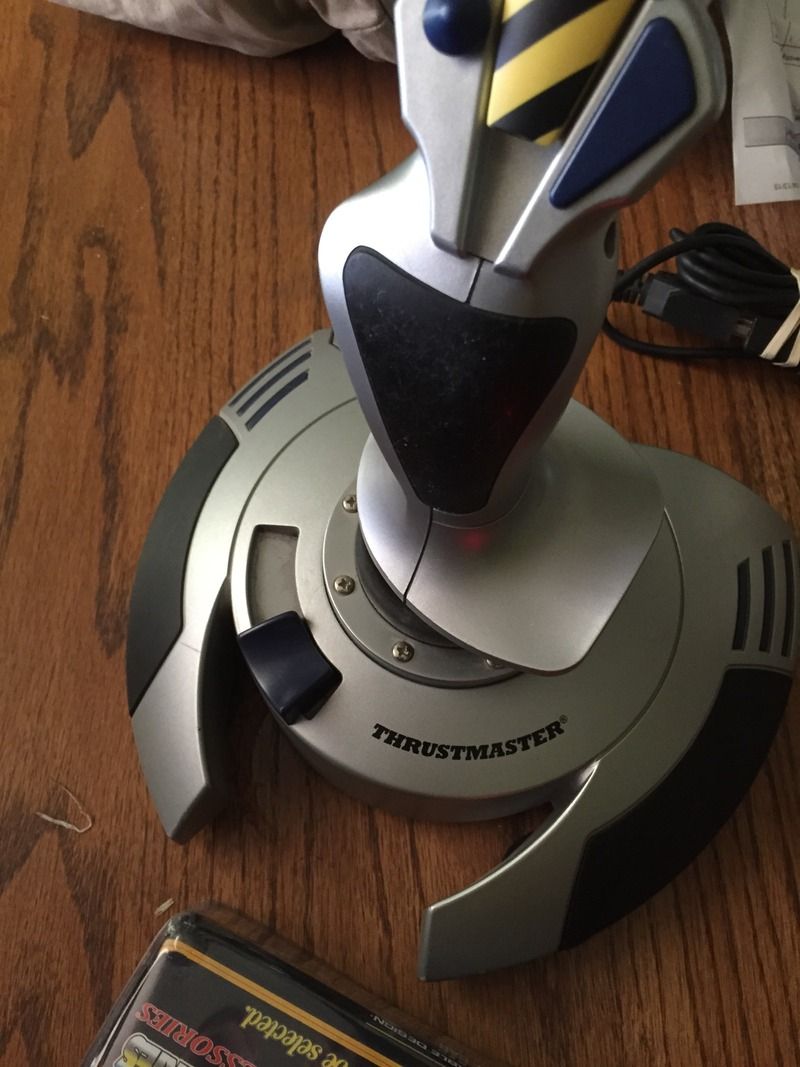 Thrustmaster Joystick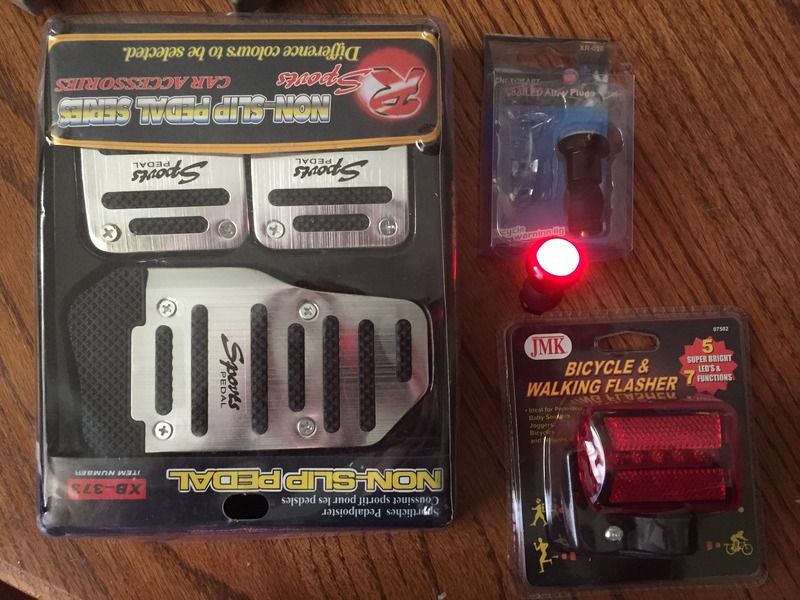 Lights & Pedals
Once the Thrustmaster was identified, I knew I had to build this thing, though tracking down car parts from 15 years ago has proved a little troublesome. I was able to find the Thrustmaster for $10, the thermostats for $3 each, and the pedals ($5) and Bike light ($2) but had no luck finding the spark plug boots. In lieu of using the actual plug wires, I've decided to scratch build something similar using some wires and boots I picked up at Skycraft Surplus in Orlando.
My plan to build this monster doesn't require me to build a new pack as a base, instead, I'm going to be using one of my spare foamcore packs that I built back in 2009. I plan to split the pack in half and vacuuform over the top and bottom half using a 2'x2' styrene sheet. I'm an amateur vacuuformer, but I need this pull to look bad.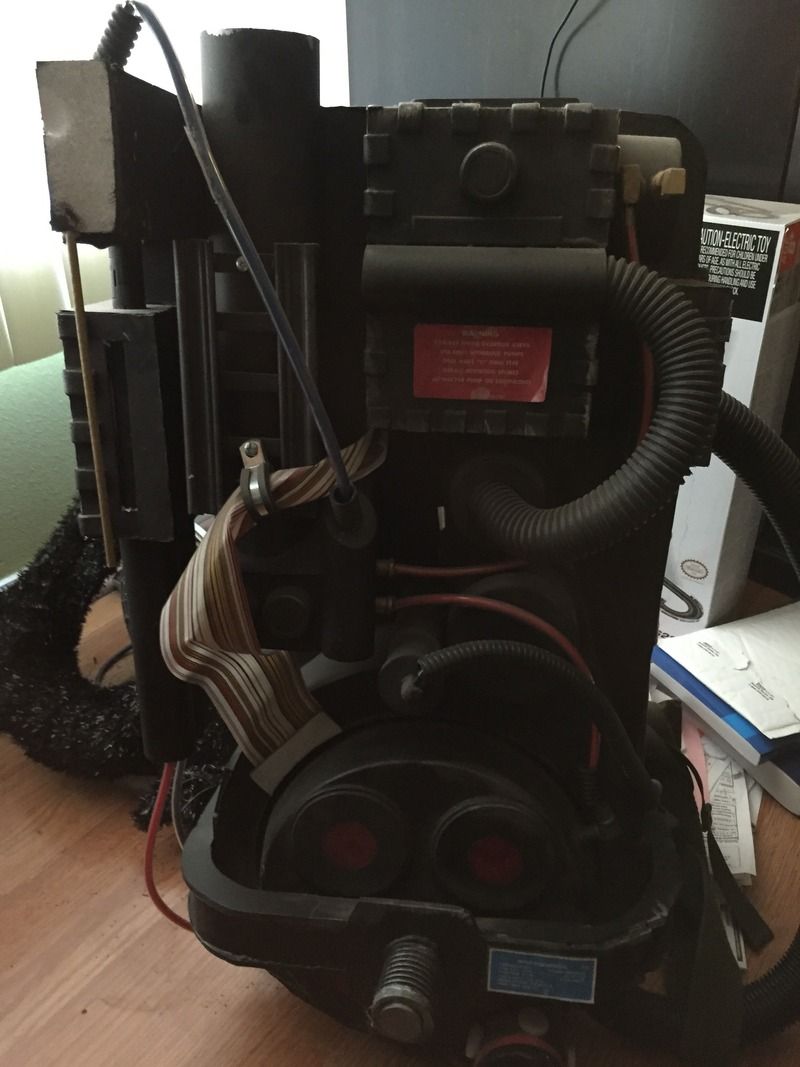 Old Foamcore pack to use as a base
Thanks for checking this out, my next update will likely be when I make the vacuuformed shell!
- Rob