Howdy all, figured I'd get this thread going to get all it together in one place
Heres the backstory for my pred thus far.
He was a Pred who lost everything. He was put into the blooding ceremony, and earned his mark. He hunted humans and saw the terrible things they did to each other. He thought they all deserved to be killed. They squandered what they had, and they didnt deserve to live. His fellow clan members exiled him and tried to kill him. He fought off the other Yautja and he has his own clan, full of ruthless Bad Bloods, who believe that killing is the only way to bring the universe to order, and violence is the only communication the universe respects. Gila, The leader of the Kalak Tai Clan, is the most brutal and malicious of all the clan. His word is law, and he kills those who oppose him. His spaceship is decorated with the skulls of the predator arbritrators who are sent to kill him. He is called a poison among the Pred tribes, and he likes to kill his enemies with them on their knees in front of him. He has a syringe of highly toxic flesh melting acid, and he injects it into the groveling enemies while they are still alive. He and his clan roam space, and destroy those they deem unfit to survive. They are all branded with a new mark, and no one questions the rule of Gila
En Ee Weigh...here's all the progress on progress
This is me in my ducttape dummy. I look happy.
This is the biosculpt thus far
Link to Bio Sculpt Thread
This is the dummy half stuffed, and hanging on a nail in my basement.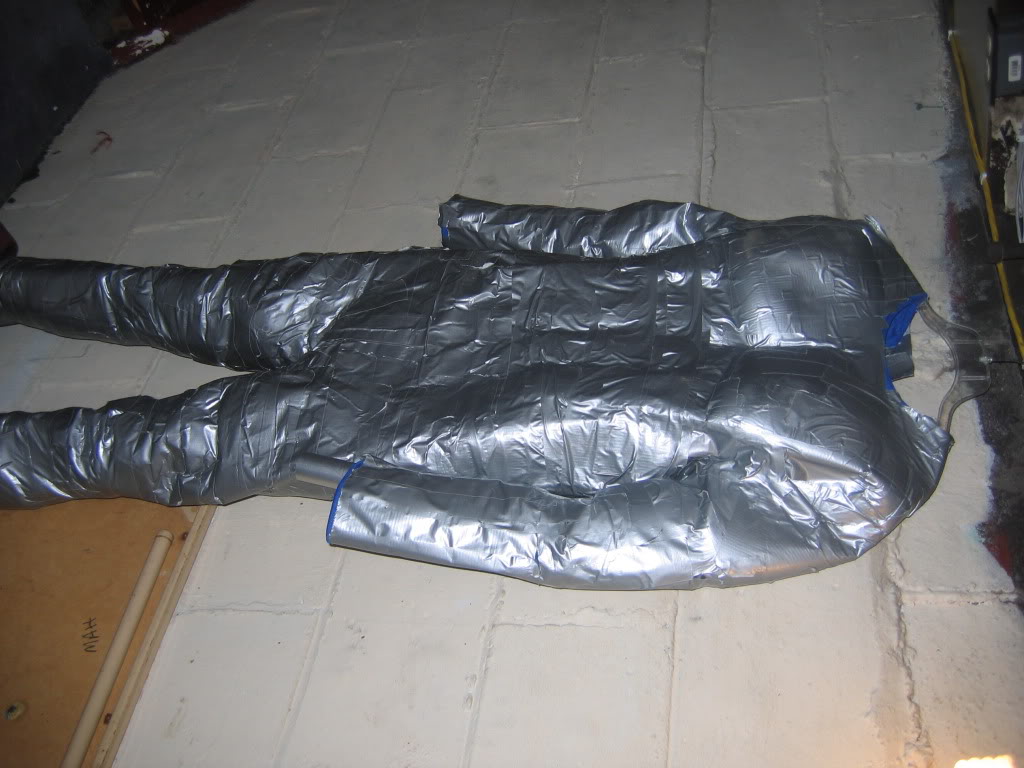 My DBP1V2 that i got from biohunter, great mask, and I gotta wait till it gets closer to summer to start painting.
And the Ironman suit and gloves I'll be "Mr. I"-ing it into a skin,
Update:
Booie's dreads ordered, should be done May 7th, so I hopefully get them in the mail about mid-late next week, Got them with P2 bead!
Also, I kinda got the idea from the 405th Costuming Forum, I love the idea of putting it all in one graphic where exactly you are in your build. So If anyone likes the idea of these pictures I can put the blank one up and you can use them. Its a little rough around the edges but it gets the job done.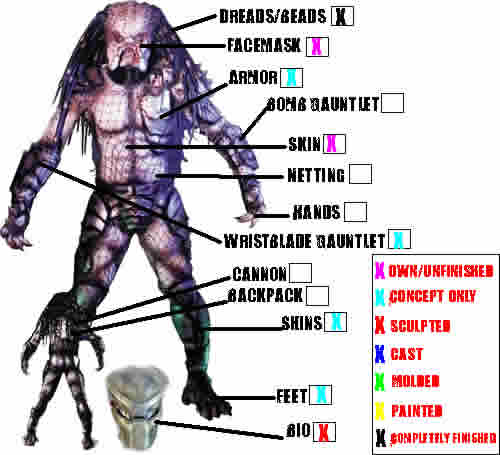 thanks for looking, as i get more pieces or complete something, I'll be sure to edit this first post.
Dave