Master Member
RPF PREMIUM MEMBER
Hey everyone,
OK, so it seems we're all going crazy for the Mando. (
Turn off that self destruct!
) I really like his sidearm, but none of the models out there seem to be hitting all the points I want in accuracy of detail, so I'm going to do one myself.
Updated Jan 23:
FULL REVEAL of FINAL MODEL and FEATURES! TAKING ORDERS and PRINTING has BEGUN!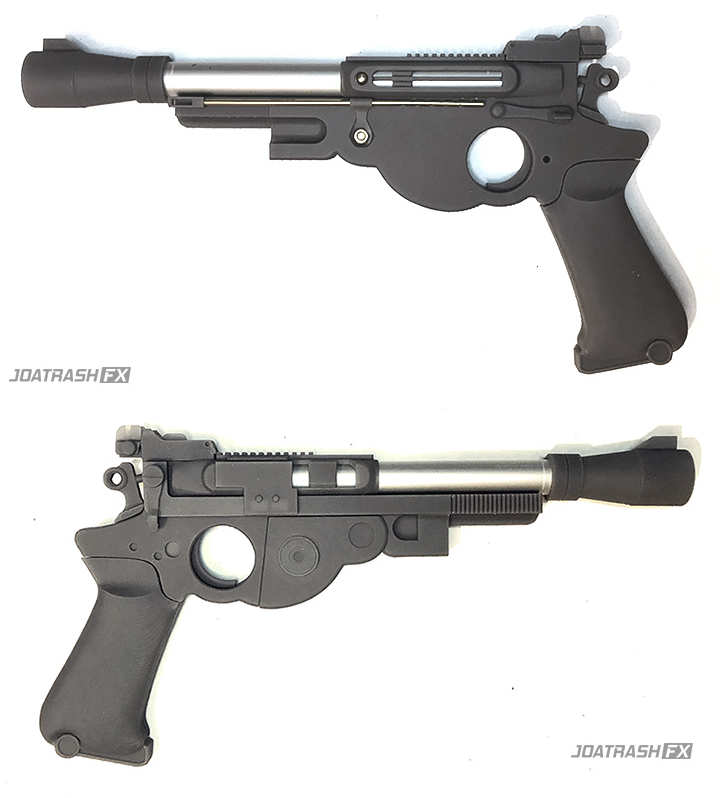 (Note: I forgot to insert the small rivets in the sides and include the little "front nub" in these photos, in case anyone is wondering. They are of course included!)
Details:
Dead-on accurate (according to "folks that know", haha)
Each model will be professionally 3d printed with a nice, smooth surface out of grey engineering-grade resin, in multiple parts for ease of build. This resin is durable and should withstand light trooping and rougher handling than cast-resin at the same thickness. (It's not a "stunt prop" though!)
Moving trigger (electric pushbutton for trigger spring action INCLUDED)
Hollow for electronics. Something like a Blaster Core 5 should fit and I made a special "hidden" opening for a speaker so as not to disturb the accurate look.
I will provide a detailed tutorial on how to do a nice blue/brown steel effect using a new method I came up with for another recent prop.
Real brass hand-machined cleaning rod and "slide nub".
Heavy aluminum barrel (special double-thick 2-2.5mm tube stock).
Final cost is $385 US
,
including
worldwide shipping. (It's fairly large and will use a lot of resin with several "print plates" needed and it will not be mass-manufactured since I can only manage maybe 2-3 per week. Kits will ship in order of full payment.
PM ME if you want one!


You can also follow my BUILD THREAD for more photos and info:
Mando Blaster, in Multiple Parts, Real Metal Beskar Ingot and Whatever Else I End Up Doing...
I realize that others around the 'net started making this ages ago, and I waited until after the last episode to finalize the last details after working every spare minute for the last couple of months on the model. I hope that those of you who know my commitment to detail think it was worth waiting for! I didn't want to rush it, and indications I've gotten from a few folks "behind the scenes" seem to hint that I got right the smaller details I was fretting over.
Note: Those that
committed
early, before the model was done, got it for a little less than the final cost, plus an additional "secret" perk, as thanks for trusting me to come through.
My special thanks go out to all of you for the trust and praise!


If you have any questions, drop me a message!


Confirmed / Committed (before model reveal) list:
ikevin1138 (PAID)
Scarecrow Joe (PAID)
masterjedi322 (PAID)
Boba Flint (PAID)
Eh Plus Cosplay (PAID)
DeweySkywalker (???)
UnitPD (PAID)
qwkartist2000 (PAID)
paulhaga (PAID)
darkchylde80 (PAID HALF)
framed (PENDING)
jarradfx (PAID)
tennantlim (PAID)
teragon (PAID)
sctcarts (PAID)
danomite40 (PAID)
zsherman (PAID)
donbert (PAID)
hatefrost (PAID)
Dao2 (PAID)
Kokanee (PAID)
Cableton (PAID
funslayer (PAID)
After model completion list:
BigBoss (PAID)
Ventoguy (PAID)
Last edited: