Master Member
RPF PREMIUM MEMBER
So I used to have images of my collection of Hellboy & BPRD comic book (and film) props - as well as quite a few licensed collectibles - on an image hosting site that finally shut down earlier this year, after being online for over 20 years. I thought I'd start a thread to create a new repository for images of my work, and will include some new shots (as well as new projects) and any build photos that I happened to take during the process of creating each piece. Some builds were better documented than others, but whatever I find in my archives will be shared.
As for the moniker "Grim Tim"... that was my user name on the old hellboy.com message boards back in the day (early 2000s). The nickname actually pre-dates that by a bit however, and originated when I went out on tour with Rob Zombie. But that's another story...
On the Creator Audio Commentary track for the special edition DVD of
Hellboy
, Guillermo del Toro briefly mentions the encounter that we had at San Diego Comic Con in 2002, referring to me as "Grim Tim." This is during the scene in the Russian graveyard where one of the pieces that I created is featured - the corpse resurrection amulet.
And Adam Savage mentions my old user name in a couple of his Tested videos, when talking about the spear prop that we collaborated on (in 2008 - 2010).
But I'm actually getting ahead of myself here. My intention was to start at the beginning and cover each piece in as close to chronological order as possible.
So without further ado...
This was actually the very first prop replica that I did that was inspired by the Hellboy comics. The idea came to me and I started on it while I was still living in Colorado (born and raised). I moved to Los Angeles in the Spring of 1998 to get into the film industry (which took a little while, but that's also another story...) and I completed it there in the summer of 2000 (according to the issue date on the ID).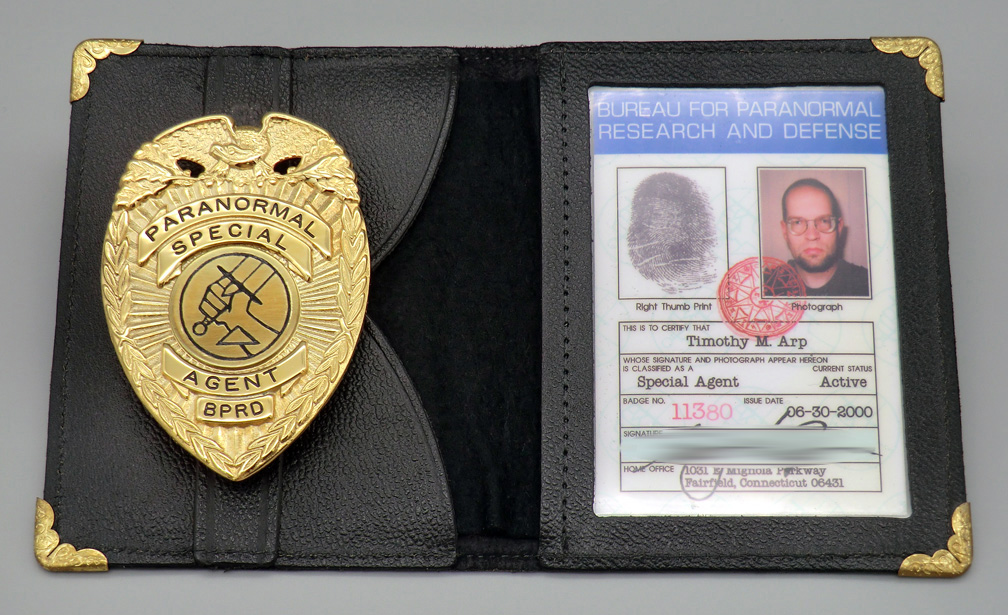 No, it's not exactly the same as the badge seen in the comics...
But it was the simplest and easiest way that I could conceive (at that time) to reproduce the prop in 3-dimensional form. The badge came from a law enforcement/security supply company catalog - the base form was customizable with whatever text you wanted engraved on the fields above and below the center roundel. That center roundel was an empty socket on the badge, so I had to come up with something with the BPRD logo to place there. I'd had a small business in Denver do some custom engraving for me on a couple marble display bases prior to this project, so I figured that they could handle this as well with no problems. I can't remember if I supplied the brass disc or if they had them, but they engraved the logo on it for me, as well as on a Zippo lighter that I threw in while I was at it. I filled in the engraved design with black enamel paint and attached the disc to the badge with epoxy.
The ID I created myself, compositing the elements together in Photoshop. I printed out the final version on inkjet photo paper and then laminated it with one of those do-it-yourself machines that I picked up at Office Depot/Office Max/Staples.
BPRD Headquarters was originally designated as being in Fairfield, Connecticut in the second Hellboy story arc "Wake the Devil," first published in 1996. The address and street name I made up, and were a tongue-in-cheek nod to the date of Halloween and to Hellboy creator Mike Mignola.
I put some more silliness on the back of the ID - which was a riff on some actual text that I found - even though it would never be seen. The leather badge holder also came from the same catalog that I sourced the badge from.