Sr Member
RPF PREMIUM MEMBER
Oy beratnas!
I've decided to do a generic Belter costume from The Expanse for Halloween 2021. As opposed to my Apollo A7L suit for last Halloween (
Apollo A7L Moon Suit
), which was all scratch built this build will be a good mix of found parts, 3D printing, and sewing to complete it.
I want to acknowledge the great folks over on the Expanse Cosplay group on FB (
Facebook Groups
), where you can find a lot of files (STLs, graphics etc) that one needs for a build like this, as well as a good wealth of friendly expertise.
MATERIALS LIST
HELMET
These are the parts i used for my Halloween costume this year. the base is the Chinese TK-1 high altitude helmet. You can find them on Ebay. The large back part doesn't fit the best and requires some grinding to fit over the corrugations on the back of the helmet.
www.thingiverse.com
USB extension cable (Amazon)
flex string of LED lights (Amazon)
1.0m gas mask pipe (Aliexpress)
SUIT
MAGID brand A.R.C. 1540 coveralls w/ mandarin collar (Amazon)
420 denier nylon ripstop black cloth (Amazon)
1" black nylon webbing (Amazon)
Diving Cap, 3mm black neoprene (Amazon)
Charhartt Men's C- Grip Impact Gloves (Amazon)
1/2" broadcloth piping (Amazon)
Airsoft helmet pad system (Amazon)
HARNESS + PACK
This is the control panel for an Expanse "O2 Backpack". Decals and other bits to follow, as well as the side handles, and upper hose plate. The v8 design is made for a "TFT FeatherWing - 2.4" 320x240 Touchscreen For All Feathers" display from Adafruit:https://www.adafruit.com/product/3315 The...
www.thingiverse.com
These are chest light housings similar to the Miller Belter Vac Suit in the second season of the expanse. they are designed to fit 3/4" diameter led modules.https://www.amazon.com/gp/product/B019MH34PO/ref=ppx_yo_dt_b_asin_title_o09_s00?ie=UTF8&psc=1
www.thingiverse.com
Ogio Mach5 pack (Aliexpress)
All Weather plastic grab handles, black (Amazon)
GUARDIAN HALO harness (Amazon)
6000mah usb power pack (Amazon)
BOOTS
SLAPLIT braclets, red (Amazon)
PU Leather fabric, black (Amazon)
So onto it! First bit to do is the Chinese TK-1 high altitude helmet.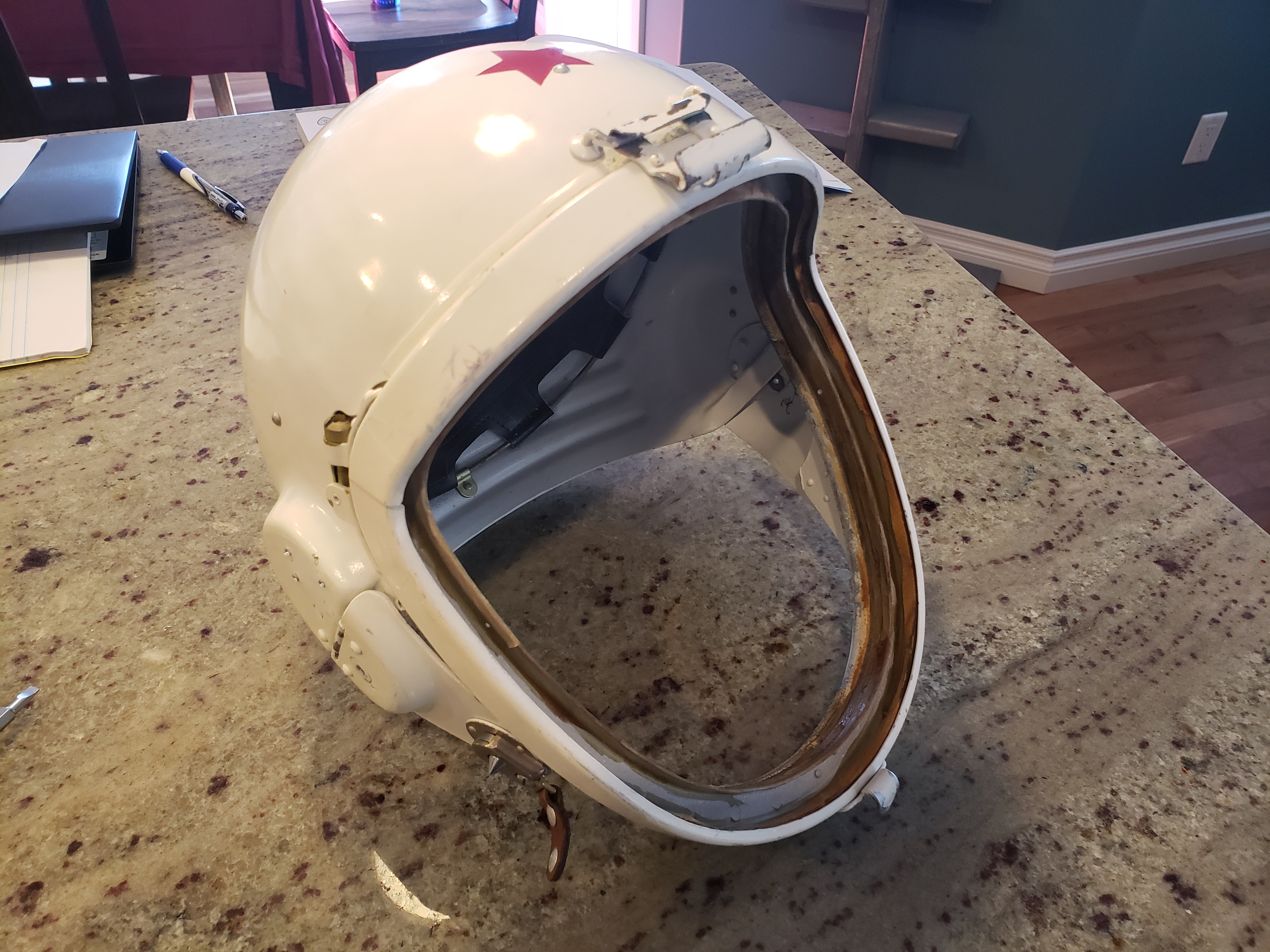 Here is a photo of mine mostly stripped of components. A fair bit of grunt work, keeping in mind the paint is lead based!
First component to be refinished was the inner mid faceplate. In the previous photo you'll notice that it was a lovely brown colour due to all the sealing wrap used on it. After stripping that off, leaving the part in coke overnight and a light sanding it was hit with a blast of aerosol graphite powder spray and buffed to give it a blackened (but worn) appearance. The outer two parts of this subassembly are getting a final coat of orange paint in the garage right now, more to follow.
Last edited: