Alright, with new photos and videos out, let's get this ball rolling, here is where we can keep all out findings on parts, material, sizing, ref pictures .....etc.
When new information arrises this first post will be updated to reflect the new information. So let's start the discussion
Capt. Steve Rogers has a new suit in "The Avengers " more form fitting and streamlined for the 21st century.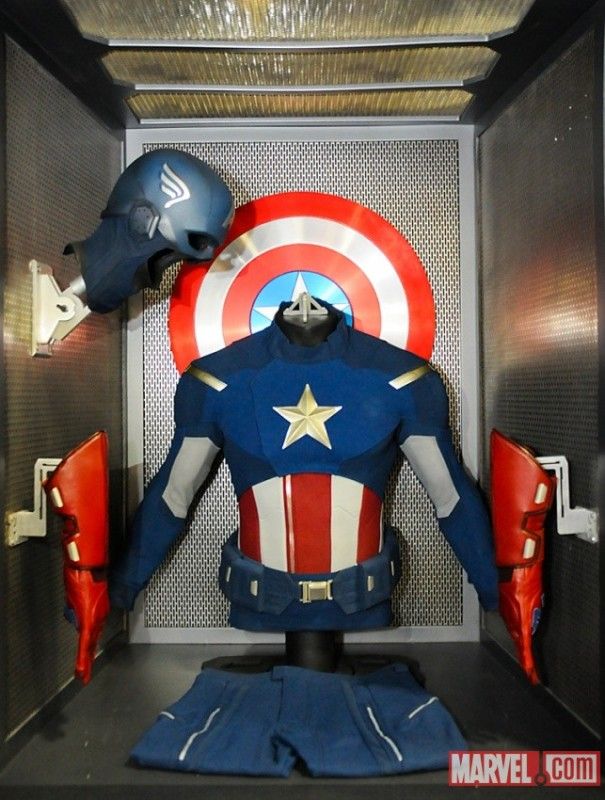 HELMET :
the helmet retains alot of the old lines and shape of the TFA helmet, simply streamlining it,sharper cheeks, removing the leather liner and inlaying what appears to be metal wings and "A" on the forehead.
SUIT :
Having yet to identify the suit fabric, whether it be an actual fabric or screen printed like the spiderman suits. We can only guess until clearer shots appear online. though the suit maintains the blue color along with red and white stripes across the abdomen, the stripes DO NOT wrap all the way around the body though, only wrapping about 3/4 of the body.
The main colors appear to be a dark Royale Blue, White , Red , and alighter shade of blue. along with silver accents on the shoulders. Zippers in the thighs and abdomen.
Chest Star Template by Gemini Khan :
http://www.therpf.com/f24/cap-americas-star-avengers-suit-template-122003/
GLOVES :
The gloves being mostly Red with Blue accents on the palms and silver accents on the forearm guards. They look to be made from mostly Leather with fabric between the fingers, palms , and elastic strapping. The gloves look to resemble motorcycle/sport gloves with the added knuckle guard and padding in the fingers.
BOOTS :
the Boots are the same red as the gloves, however being cobbled together from found items, the Upper section of the boot appears to be custom, while the bottom sole is actually from an Oakley boot or shoe sharing similar design.
OAKLEY S.I. ASSAULT BOOT™ 8 INCH
Oakley OAKLEY S.I. ASSAULT BOOT™ 8 INCH | Oakley Store
Shoes:
http://www.oakley.com/products/s-i-assault-shoe/11097-001
SHIELD :
the Shield retains the same look it had in TFA, a 26' Diameter aluminum ( Vibranium ) Shield,.
Comic Con shots :
http://www.therpf.com/f9/captain-america-movie-shield-91997/
Lovely Fan made from our own Chris F. :
http://www.therpf.com/f9/captain-america-shield-119947/
REF PICS :
Avengers: Captain America's Uniform and Locker - a set on Flickr
Comic Con 2011: Captain America Original Costume | Facebook
http://www.therpf.com/f24/avengers-new-costumes-revealed-teaser-poster-118431/
http://www.therpf.com/f24/captain-america-avengers-full-costume-124704/
A drawing of the layout of the suit from what we have seen, generously provided by IronWarrior777. :
Last edited: