The complete evolution of Lukes X-wing helmet.
Hi fellow X-wing helmet fans! As some of you might know I was commissioned a little more then a year ago to paint both the ANH and ESB masters for Efx Collectibles Luke X-wing helmet. Now that both of these releases are about to finally find homes among X-wing helmet fans I thought that I would share some info about this amazing prop! Imo, this is one of the most overlooked helmets in the original trilogy. There's tons of stuff regarding troopers, Fett, Vader and so on but not so much about this rather high profile helmet. The stuff I'm posting here are the pre- work done by me with loads of help from Chris King and Jez Hill. Once I was attached to the Efx project I felt that in order to produce accurate masters for the different versions I needed to fully understand the back story of the original prop and all it's different incarnations. Believe me, this helmet's been thru a lot. A true work horse of the original trilogy. I'm in no way taking credit for every bit of info regarding this helmet and if you feel you've made discoverys that's being posted here, just let me know!
OK, starting from the beginning! As many of you already know AA produced the 20 ABS vacformed helmets (pulled from a master made from a modified APH helmet) for ANH. There were no difference between the heroes and background helmets apart from the visor colors and interior detailing. At the Elstree art department paint schemes were applied to the heroes while the backgrounds remained unpainted white ABS with blue silkscreened rebel logo decals as the only add ons. Continuing on with Lukes helmet which is the main focus of this thread.
Lukes helmet didn't differ one bit from the rest of the bunch, it didn't receive any extra treatment or detailing it's exactly the same as the rest. What's interesting though is how many different faces or stages (if you prefer) it went thru. Also, was more then one made? Does it still excist today? Well, here goes:
Lukes helmet started of in a rather unfamiliar way, looking nothing like how most of us would define it today. At first people used to argue that more then one was used in ANH. Let me asure you though, only one Luke helmet was used throughout the original film. It did however receive several re-paints. The key to ID this is the rebel logos. They stayed on throughout the entire trilogy and never got replaced. Detail painting changed, weathering was redone and several things got tuched up but the decals stayed put with the only difference being more and more scratches as time progressed.
Moving on to the first "incarnation" of the helmet. This is without doubt the weirdest face. Looking very little like the final paint scheme which wouldn't be established until the cockpit shooting.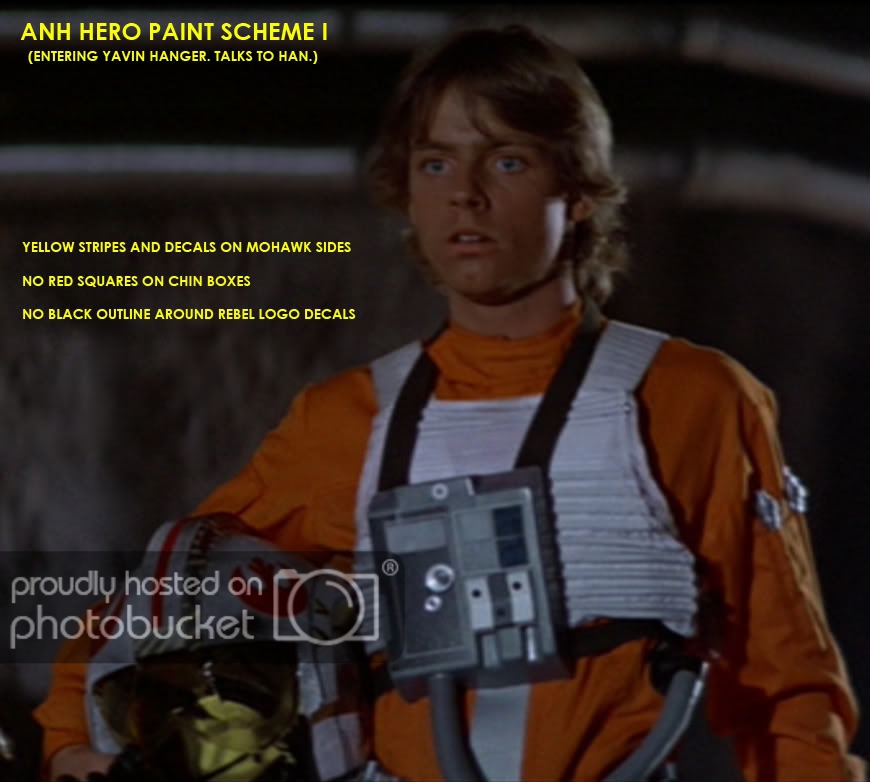 This version is only seen as Luke enters the Yavin hanger. Please note that the yellow box stripes extends all the way down the Mohawk sides. It's also missing the red cheek squares as well as the thick black marker outlines around the rebel logos. Besides from the same foam liner the troopers had it doesn't seem to have any interior detailing.
Second stage. This version is used before take off, when Luke enters the cockpit and also when he jumps out after the mission.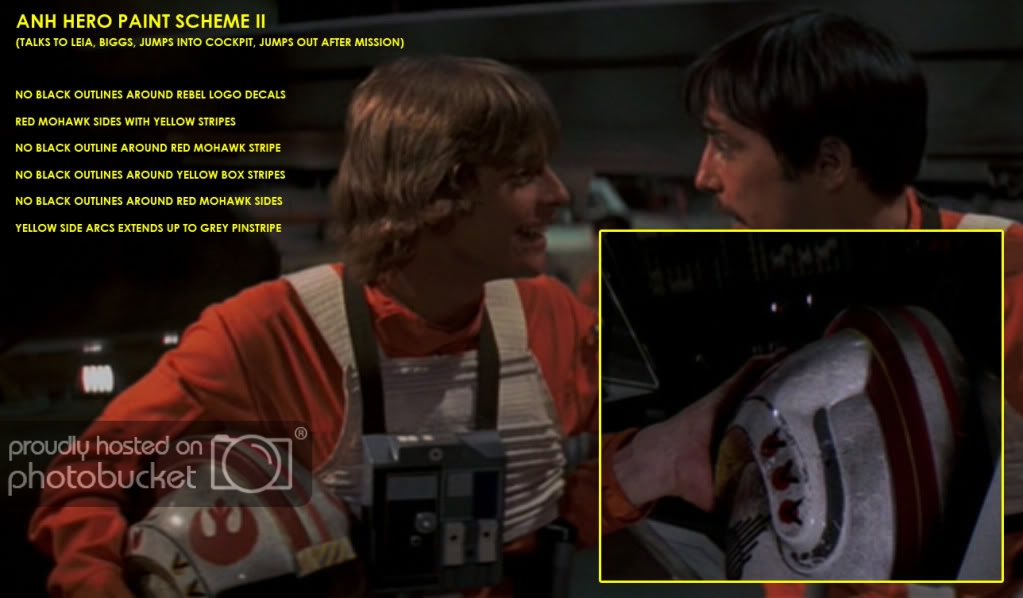 It's starting to look more like final prop but there's still a couple of things to take notice of. The rebel insignias are still missing the black outlines. As a matter of fact all of the black trims and outlines are yet to be applied. The yellow "side arcs" are also different as they extends all the way up to the grey pinstripe arcs. As you can see in the insert picture it's flaking quite badly so it seems like the Humbrol Enamel paint that was used for the paint scheme didn't agree with the ABS plastic.
Thired stage, weathering stage 1. Enteres the version we all know and love!
It now has all the signature details. From here on nothing regarding the paint scheme will change. Sure, several things is going to be tuched upped and repaired due to flaking and chipping but the paint scheme will stay the same. It has the Racal head set and the ear cups are installed. Please note though that the head set was worn on the actors head (they most likely shared the same set) and was never part of the helmet. Whenever Luke carries he's helmet (this goes for the entire trilogy) the head set is missing.
Now we need to start talking weathering as this is also a factor that keeps changing. It seems that the paint wasn't the only thing that had a hard time sticking to the ABS, so did the weathering. It's been suggested (but never confirmed) that the art department used a mixture of pine tar and shellac that was sponged on to grease down the helmets. Whatever was used it didn't stick very well and it seems that even light handling wore it off. Please note that the stage three helmet has a very even and rather thick layer of weathering applied. Not many scratches are present and it looks rather dull and uninteresting as far as weathering goes. Here's a rather interesting note. It ONLY appears like this in the cockpit scenes filmed from the side.
Thired stage, weathering stage 2.
Here's my favourite version of the ANH helmet or the "trench run" version as I like to refer to it as.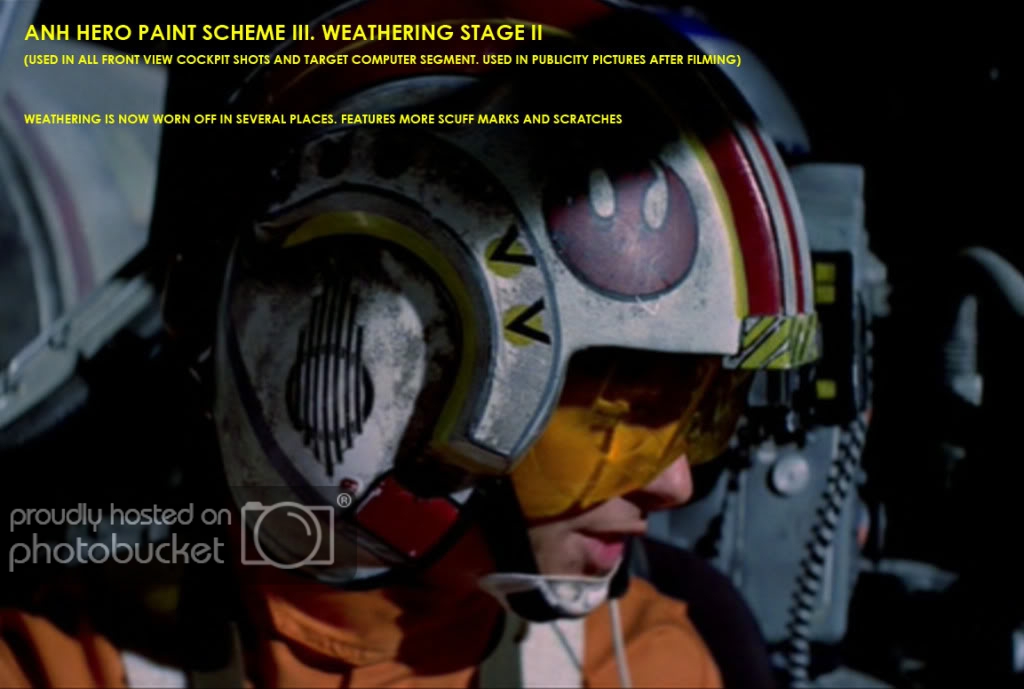 Compared to the "weathering stage 1" version which was used in the side shoots. This one is only used in front shoots of the cockpit and when the targeting computer emerges. These scenes were most likely filmed after the side facing ones. The weathering as well as the paint job has received a lot more scratches and are also starting to wear off on several places. This is the version I based the Efx master on. IMO, this is the coolest looking "stage" of the ANH helmet. It's also fairly close to how the helmet later appared in the famous publicity stills that was shot after filming ended. I also made a master which replicated that stage for Efx but in the end they went for the trench run master. Not a bad decision since that's the helmets true on screen appearance.
OK, that's it for ANH. I can see now that this has the possibility of ending up as the longest thread I've ever written on the RPF! For those of you who I haven't managed to bore to death just yet, on to ESB!
ESB Hero, weathering stage 1.
As you all know the Hoth scenes filmed in Finse were among the first ones filmed for Empire. The crew brought along Lukes left over ANH helmet and it was used in all outdoor action.
This version is basically the ANH helmet in it's "publicity stage" appearance. Everything looks exactly as it did when last used during the ANH photo session. As with all the non cockpit scenes it lacks the microphone. Also, note that the crew have figured out a way to position the visor in it's up position. This helmet was first thought of as a new helmet due to the fact that the decals didn't line up with the ANH appearance. Turned out it was nothing more then an optical illusion, the film was flipped in certain scenes. J In the image above it has be "unflipped" in photoshop.
ESB Hero weathering stage 2.
My alltime favourite SW helmet! It has it all!
This is how it appears in all cockpit scenes in ESB. Both snowspeeder scenes as well as the X-wing. I'm assuming though that the X-wing scenes were filmed after the snowspeeder scenes since it has more scratches and paint chipping in the X-wing cockpit. It's received a new heavy layer of weathering most likely with both sponges and airbrush. Once you study it closely it certainly appears like a wonderful complex multilayered weathering job. The chin cup mounts differently and the mic has the top fallen off. This was actually a very cool find discovered by Bryan at Efx. I think it was Gary Kurtz himself who pointed him in that direction. For years everybody has assumed a newer more sleek mic was used. It was also fitted with a tan colored pad under the visor. Probably for the comfort of the actors.
ESB Hero helmet 2!
Now here's something interesting! I was dead certain that ONLY one helmet was made and used thru out the trilogy. I was perfectly happy with that but I figured I would go over ESB one more time just to be sure. After I freeze framed every single scene I discovered that there was indeed ANOTHER….
For some unexplainable reason the Dagobah scenes were honored with a completely new helmet! It's only used here and it replicates the original VERY well. The only real give away is the perfectly aligned Rebel insignias. The fate of this helmet is unknown. It doesn't seem to be in the archive today and it was not used again for ROTJ. This is a true mystery prop! There's really no good reason for this helmet to excist. The original was still at hand, we know that since it was used again for it's brief appearance in ROTJ.
Alright, were almost there. Come on, if you read on for this long I'm sure you're up for ROTJ as well!
ROTJ Hero.
Say good bye to a true work horse of the original trilogy! This is the last time this prop will be seen in it's original state.
Yes, believe it or not but it is the original ANH helmet under all that dirt! The chin strap has been mounted differently and there's no mic tip. The visor is also mounted further down then how it was in ANH and ESB. Non the less, it's the same helmet. Sadly there doesn't seem to be any reference of this version out there. At least nothing that's been published. The pics that's available are all caps from the film.
Summing it up! Pheeew, my fingers hurt! The images used here were all screen caps. Nothing that hasn't been available for years. Sadly Photobucket has resized them much smaller.
If anybody wants to see them full size, give me a howler and I'll mail them to you.
Also, while I painted the masters for Efx I was indeed provided with a huge amount of reference material, some never published. I would like to note though that nothing really new that we didn't already know surfaced from them. However, what they did do was to show this helmets different stages in a resolution that completely blew my mind! They showed the helmet in such a scale that you could even see individual brush strokes in the paint! It was spectacular to be treated to such an intimate look of the helmet!
Finally, spit it out you say, what the heck happened to this prop! Sorry, folks. I can't really give an solid answere to that. There are some speculations, one thats certainly more interesting then the others. I've won't go into it though until there's pictures to back these claims up. It would only lead to speculations. Hopefully some one will pitch in with info regarding this. It won't be me though. I need pics as proof before I completely buy a story.
Thanks for your interest, hope you enjoyed the reading. OH, one more final thing….There…was …NO…real…APH's…used…in…the…trilogy…PERIOD!
Cheers,
Steve.
Last edited by a moderator: