Hello everyone, i finaly am getting started on the legs for my p1 suit. The first step in the process is to get my legs lifecasted up, so i have somthing to sculpt on. I ordered the supplies and took plaster bandage casts of my legs. It was an interesting process so far, i learned some things i did not know before. I learned that if you lock your knees for a long period of time you will black out lol. Here is the story - I got in all the supplies and got started. I vasalined up all my leg fur so i wouldent loose it all, and drew a dividing line down the side of my legs so i had a point of reference once the bandages went on. Now not knowing that it had a negative effect i locked my knees and proceeded to stand there wile my girlfriend applied the bandages. After about 45 min i was getting very dizzy and light headed. We were just about done when i blacked out and woke up on the floor with the plaster bandages destroyed. Im very glad somone was there because my girl caught 205 pounds of me and slowed my decent to the floor so i wasent injured. Soooo... had to order more bandages and try again. Second time went off with no problems, just had to keep my knees bent a little lol. So at this point i have the lifecast done, and im painting fiberglass into the molds to produce my positive. In the next few days i should have the legs out and sanded and ready to start the sculpt. I have all the clay standing by, and i want to make this as fast as possible. Once the legs are done its just a few little pieces to have this suit done, so im excited to get to work on it. Thanks for looking and hopefully if you read all this you learned somthing too lol.
Here is the bandages being laid out and prep work being done.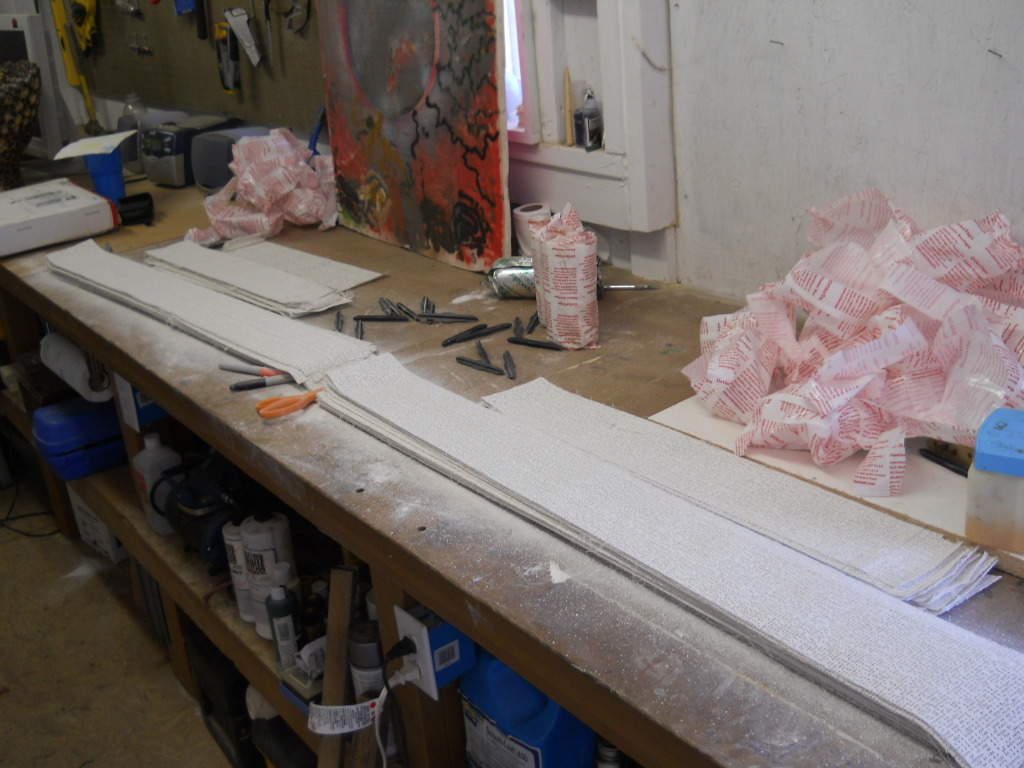 And here is the front of my lifecast getting fiberglassed.