I have wanted one of these probably as long as I have the wanted the NIKE MAG shoes from BTTF2. Search hard enough on-line, and you sometimes amaze your self with things that you find. Whilst a bust would be cool, I really don't the space in my cinema for something that big. And I am into 1:1 props, so 1/2 scale or similar was not going to cut it for me. So I now have an endo skull and I guess I will make a small Cyberdyne themed display for this.
I started work on this yesterday getting the fitted and sat it on a surround speaker where it will reside when finished.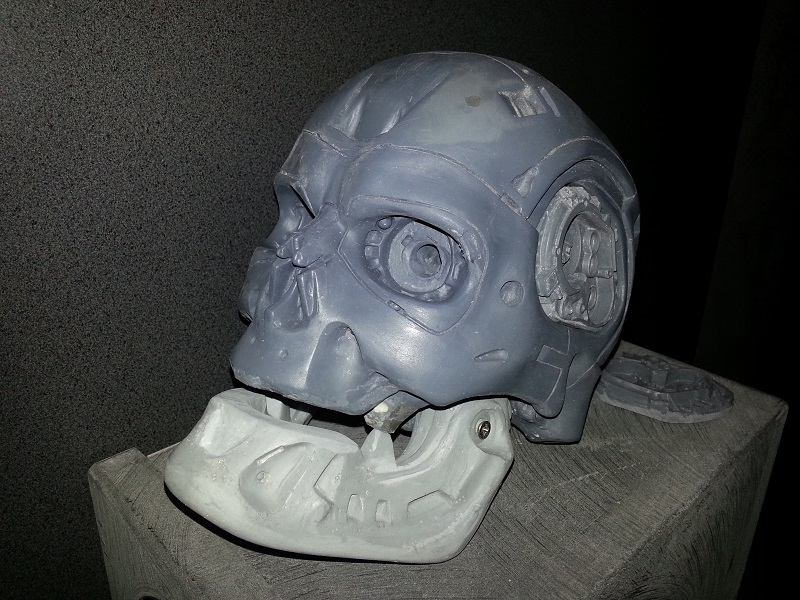 The KIT came with all the parts I need except jaw pistons. I am sure I can make them, but what I want to do is keep the jaw movable, as it is now.
A close up of the ear greebs. There is some good details here.
I was taken aback when I found the kit had real dentures. They look white here, but are very ivory and realistic looking, false teeth.
The Brain Chip. This is di-cast metal key-ring that cost me a whopping $8 delivered. I've removed the chain and will bog the hole.
Skull close up. Ideally (given I made jaw work), I'd like to use some silicone to take an impression of the CPU port cover and cast a new one, then cut out the one in this head so I can make a place for the brain chip.
So yesterday was about the jaw aligned and fitting the ears.
I think I got the jaw on nice and straight. It was three attempts to do this so will have fill in the other 4 unwanted holes. I am also going to see if I can track down the proper dome head bolts used. If not, then stainless steel dome socket heads will have to do.
So today will require a heap more cutting as I need to recess the ear parts well into the head. By the look images including @
Adam
Savages video, the flat bed (the fill in on the skull kit) is about where the details need to sit.
You might notice a small chip near the eye. That happened yesterday. Because this is a slush cast, there was a bubble trapped just below the surface and just the pressure of my hand moving the skull around cracked the outer skin. I have contacted the seller to find out what resin it is made from and it seems to be D65, so I should be able to patch this with little issue.
Over all, I am very happy with this and look forward to having my own T2 Endo Skull.
Last edited: