Member
RPF PREMIUM MEMBER
Hello SaberFans!


Last year, a customer of ours commissioned us for a variation of an SWTOR concept/game saber. He wanted the rear grip changed to something that he felt would be more comfortable. Well, we loved the design as well and had to make one of our own. We started them both at the same time, but I had other pressing builds to get to, so it got shoved to the side several times over the last year or so. About a month ago we were close to finishing it to put up for sale, when we were contacted by another customer, and he asked if we had anything available. When we told him about this saber he snatched it and waited for it to be finished.

For reference, here is a cropped pic of the concept art of this saber from the SWTOR site:




We named it "Astus Bellator" for "cunning warrior", since this saber is a Sith saber in the game namely for the Sith Warrior class. Seems however, we always end up putting a Jedi color in this saber
The design does lend to either side of the force coin however, so it really is beautiful in the Cyan color powered by the LEDengin 10W RGGB. The FoC color is a nice orange/white and looks very much like a movie flash.

We kept all of the features that we used on the previous version, named "Heretic", but went with a grip that is accurate to the concept art/in game saber. We also wanted to do something more special with this saber. I have been itching to do a nice display chassis for the longest time, but unfortunately, I don't get to "play" much anymore and haven't gotten to experiment as much as I would like. This time however, since the build was spread over a year, I had time to play and come up with a plan of exactly how I wanted it to look. I used a variety of materials, from aluminum to make the discs and spacers, to copper and brass tubing for hiding the battery pack and the wiring. It was a lot of wiring to hide as I used every LED slot on the CF, plus the FoC wiring and everything still managed to come out neat and clean. A real Aqua Aura quartz crystal sets off the crystal chamber and is backlit by a blade color matching aqua LED. Finishing off the chassis is a hinged speaker mount for easy access to the SD card. Two days before final assembly of the saber, I realized I forgot to account for SD card access since the CF wasn't going to be moveable like on other designs I've done (i.e. Starkiller etc), without panicking too much I came up with the idea to use some hinged spacers that I had and use one of them as a "lock". By leaving enough play on one side to turn the spacer a quarter turn, I'm able to lock the mechanism in place or release it. It makes for a convenient way to access the SD card without messing with any wires or even touching the CF.

Since last year, I've had lots of practice soldering SMD components (thanks ERV'!
), so instead of just 7 SMD LEDs in the bargraph, I was able to squeeze 14 on the PCB that I used, so there are two LEDs for each accent pad. It is SUPER bright, and mesmerizing to watch. The switches are two tactiles actuated by machined aluminum switch hats that just stick out enough from the box wings to be usable, but not in the way. The heavily vented blade holder is accented this time with a profile matching crystal blade plug. It really goes with the whole design and I'm pleased with the way it came out.

Quick Specs:

Custom machined hilt replica of an SWTOR game/concept saber
Custom reveal chassis with aqua aura quartz crystal chamber
Custom hinged speaker mount
10ft weathering
Crystal Focus V5
Crystal blade plug accessory
10W LEDengin RGGB mixed for Cyan bin 1 with Orange FoC
7.4v Li-Ion Battery Pack hidden in copper chassis tube
Pics: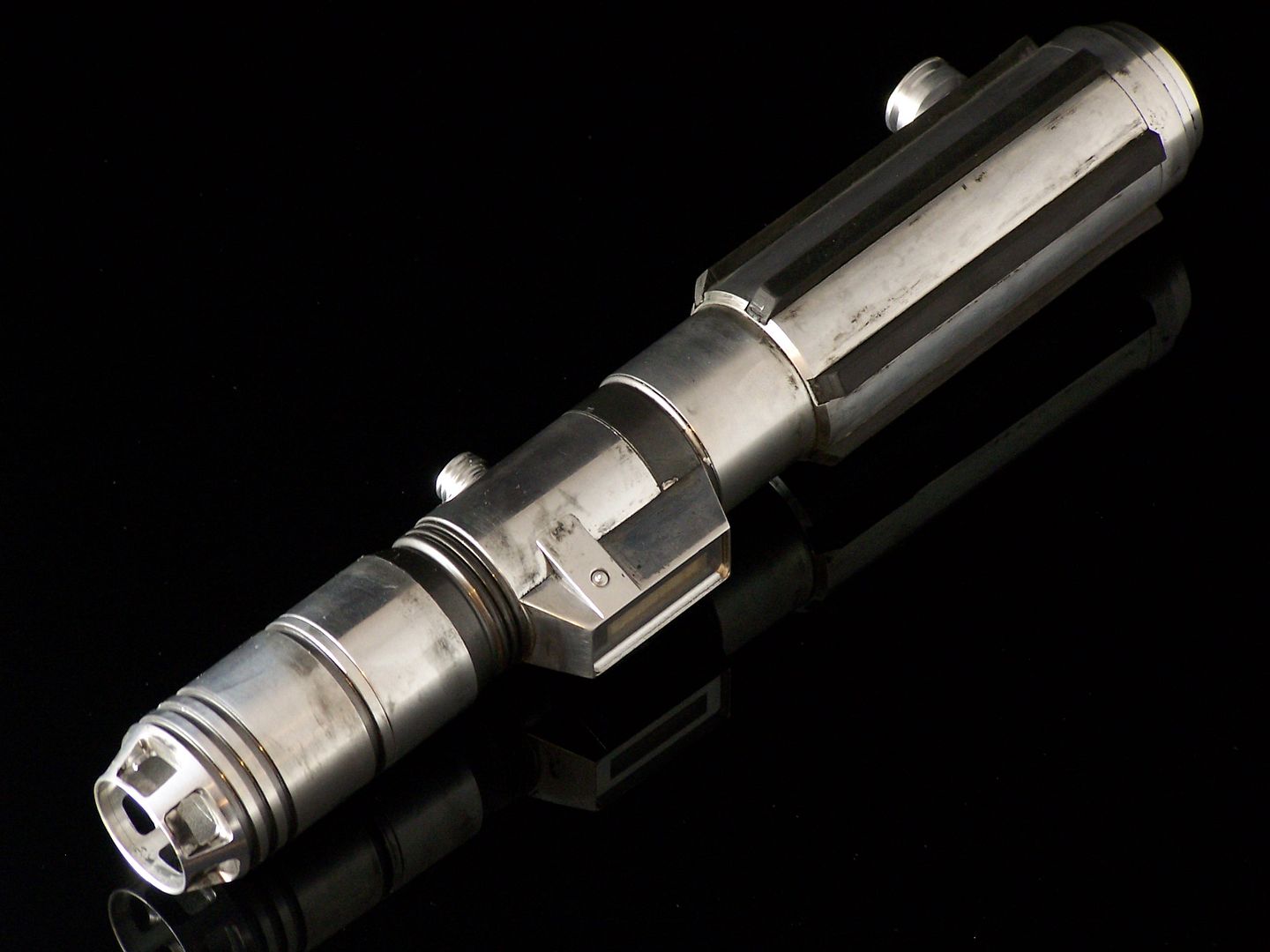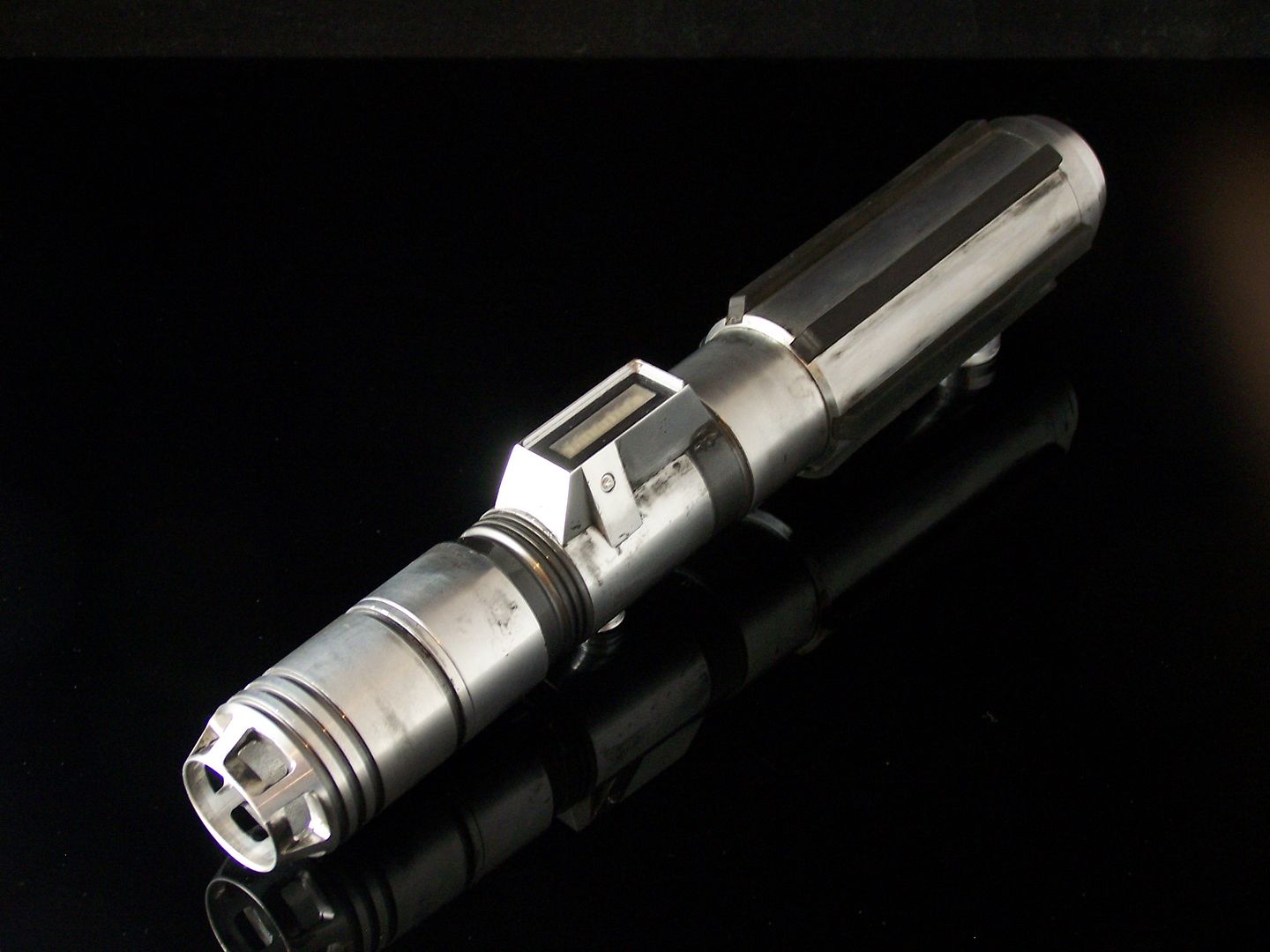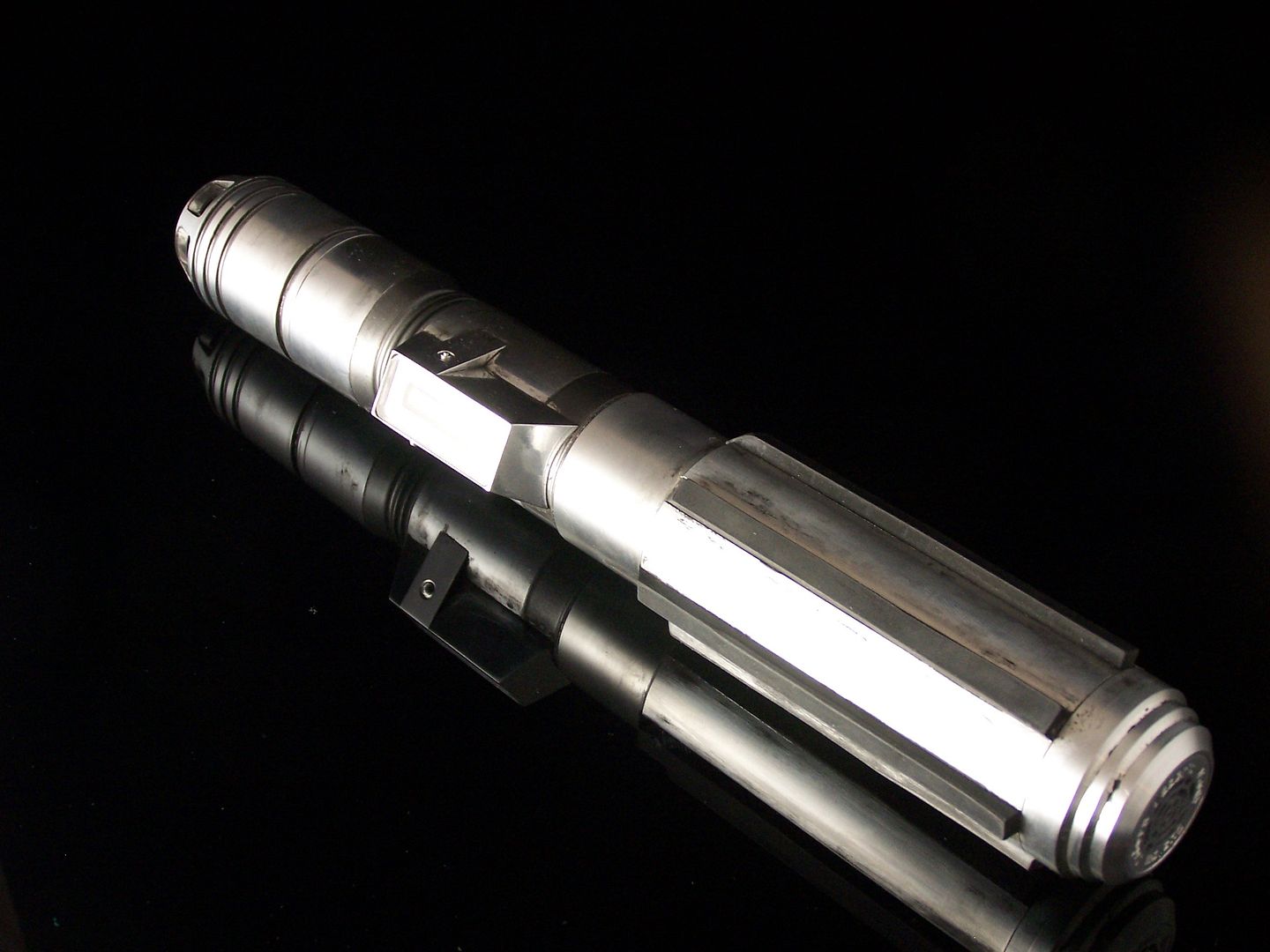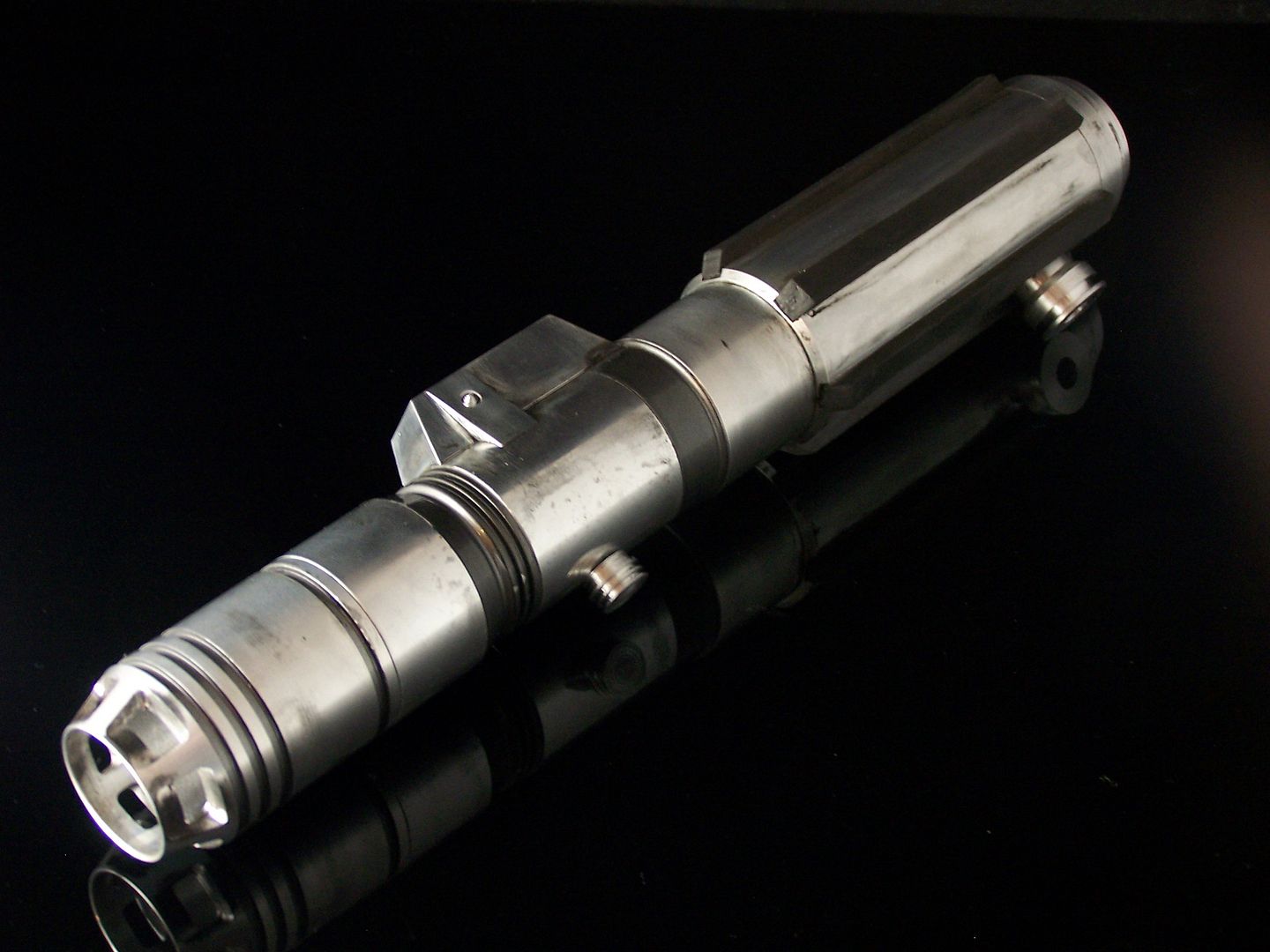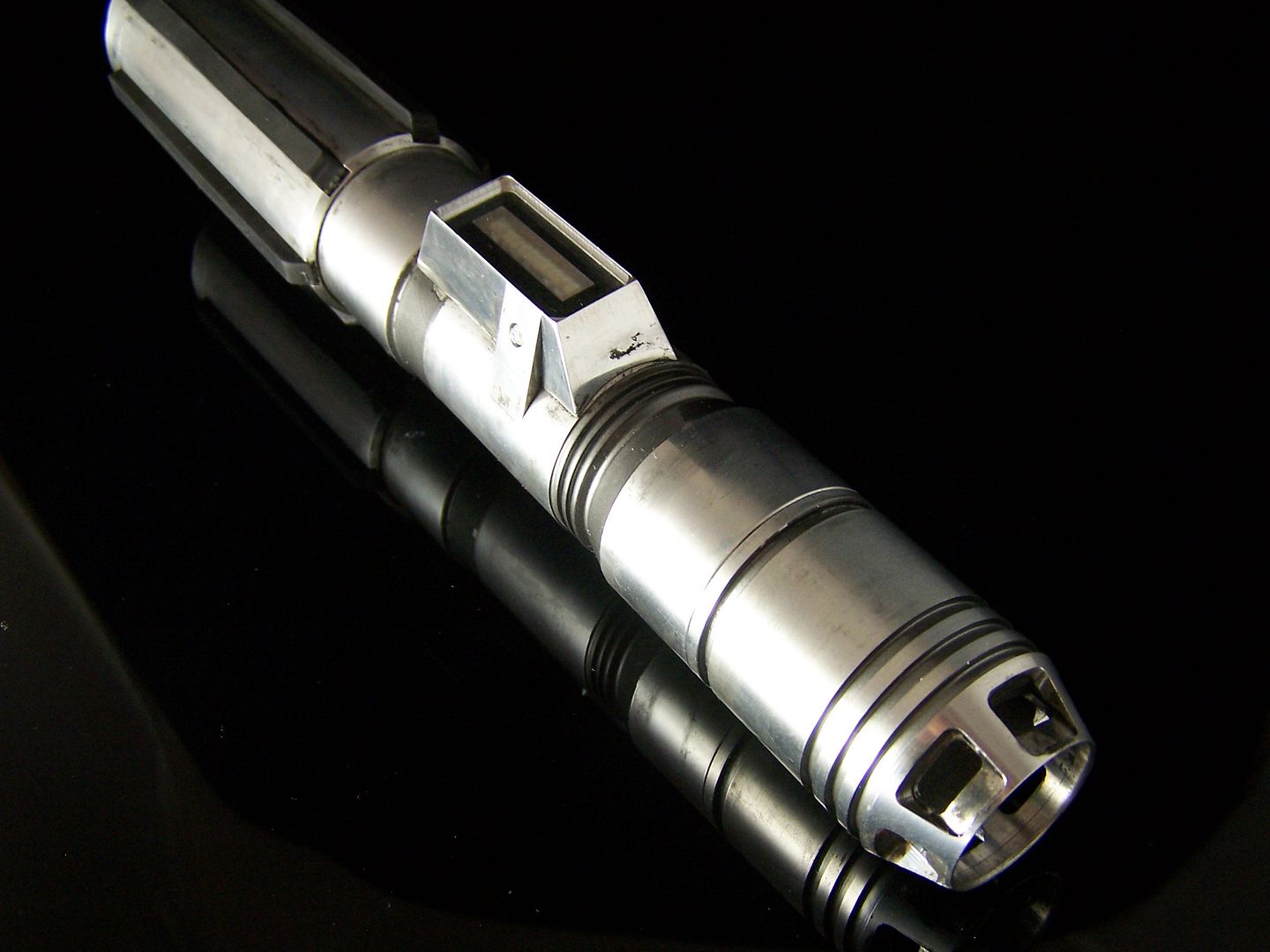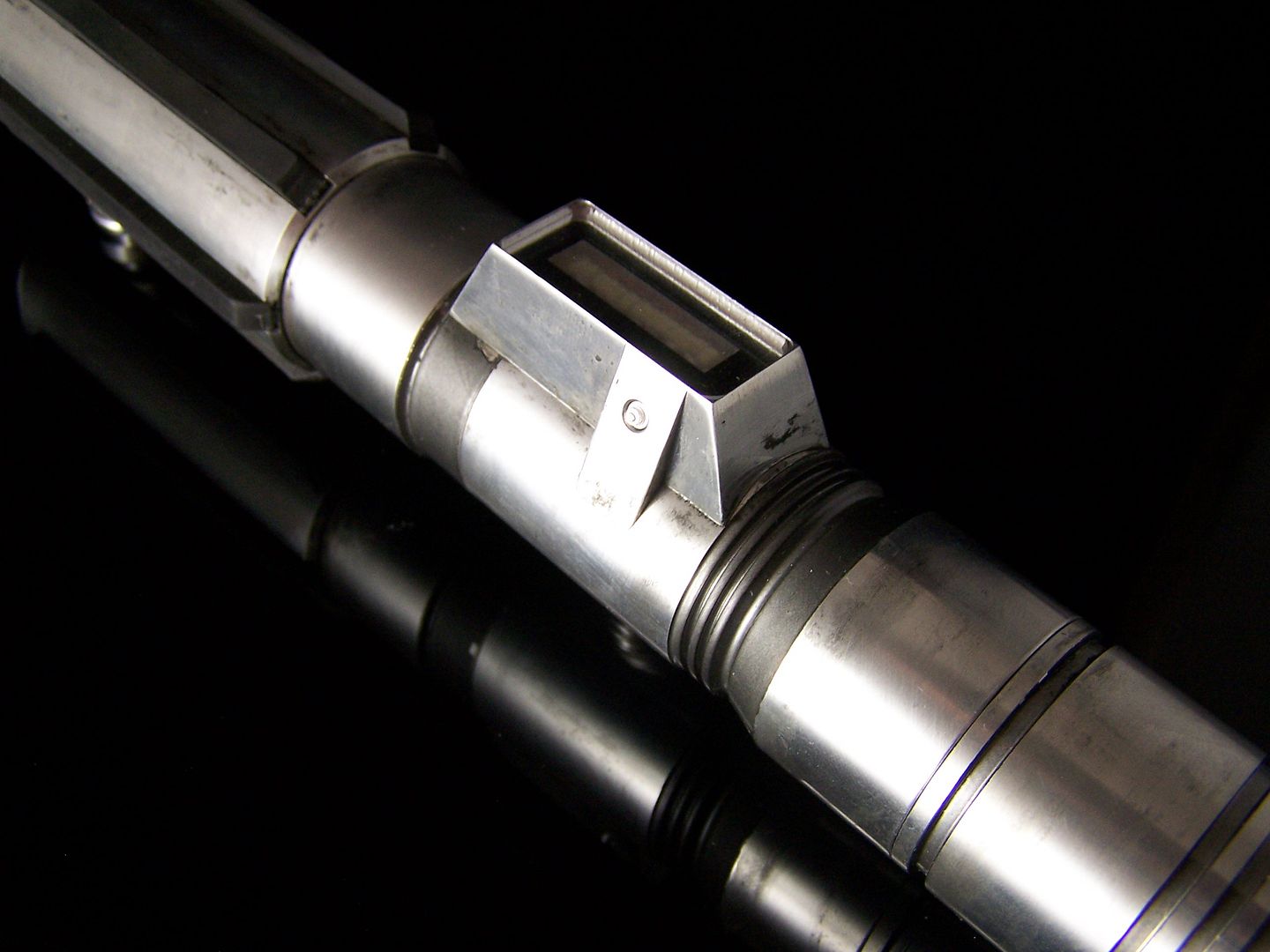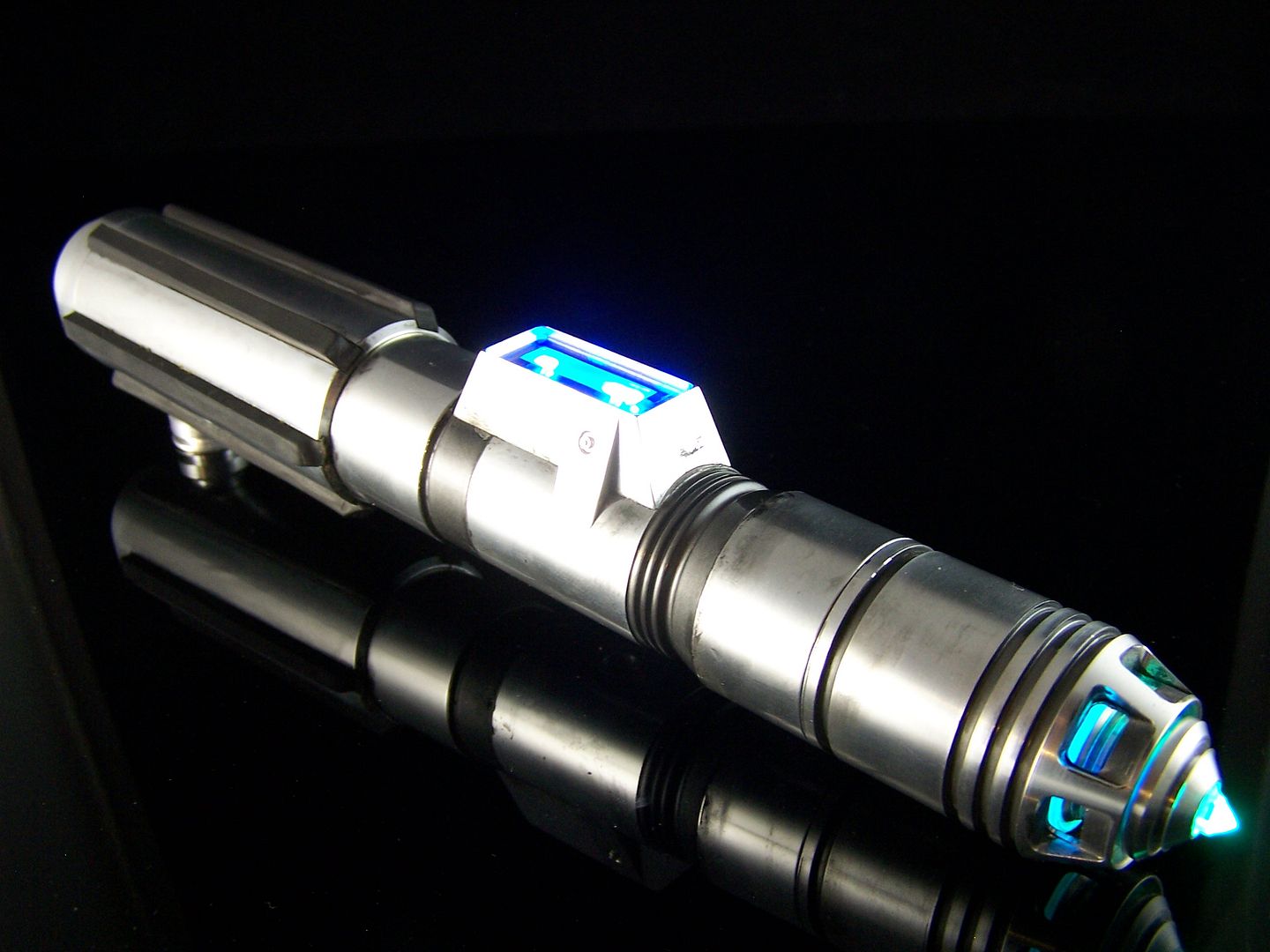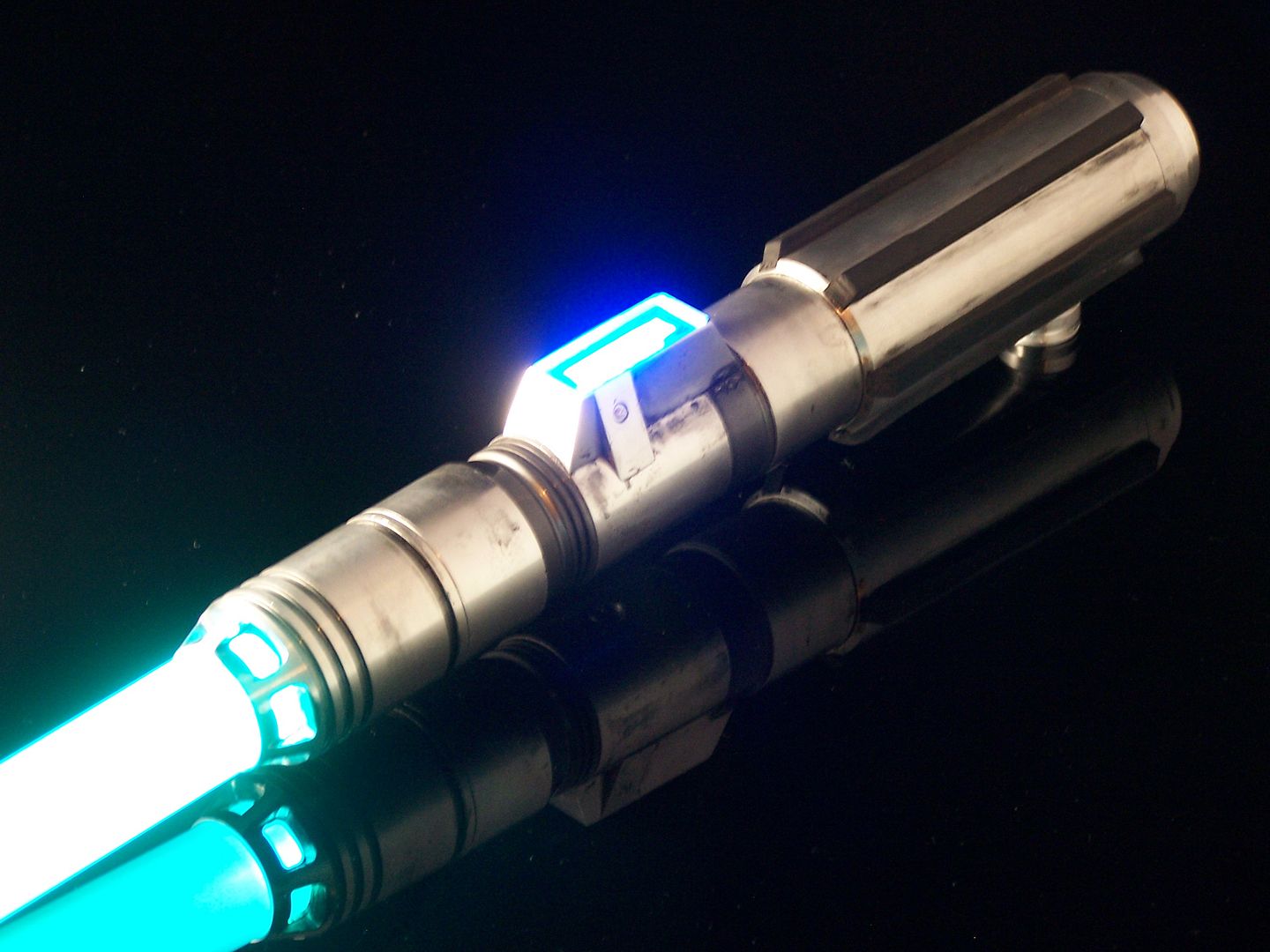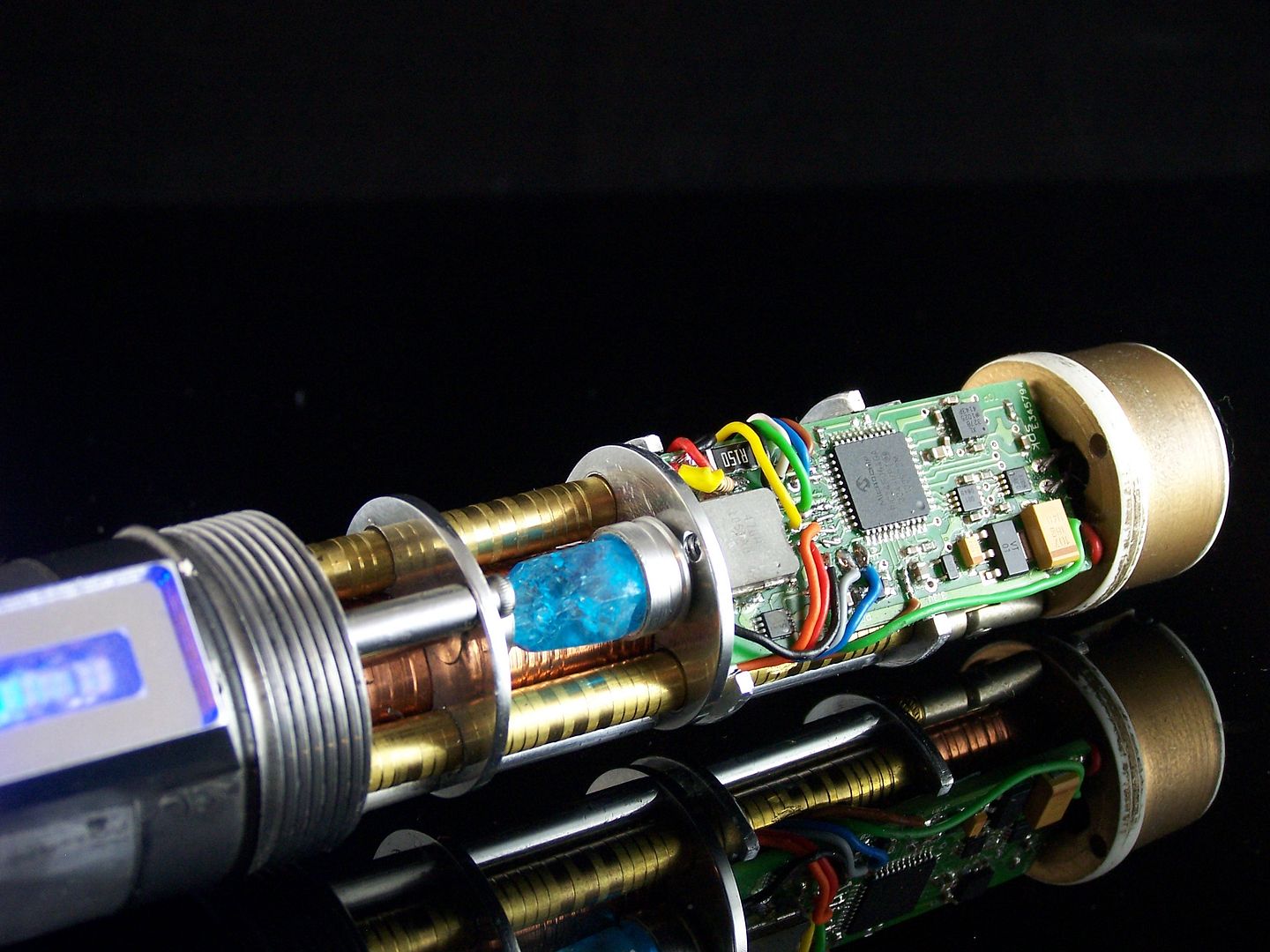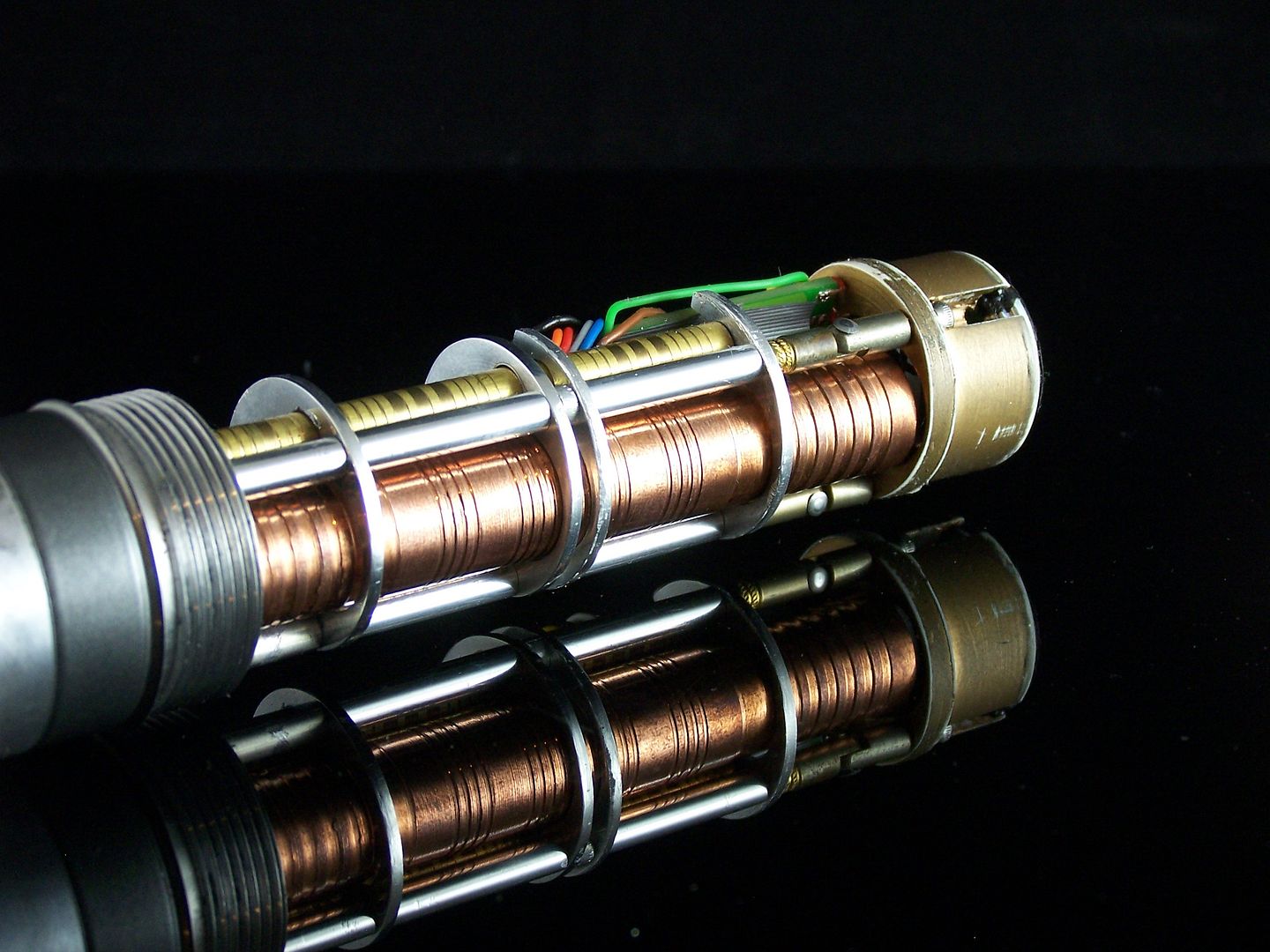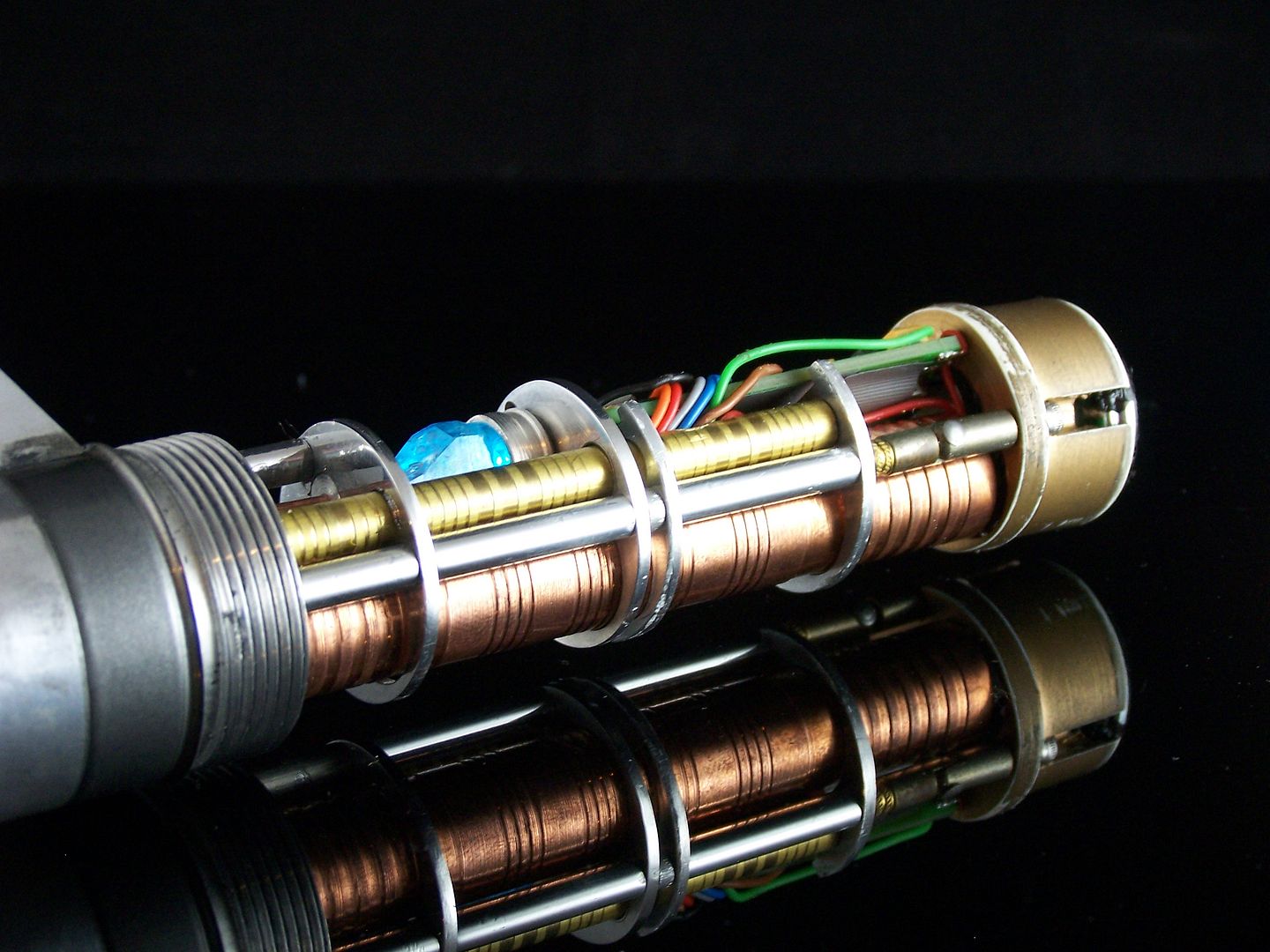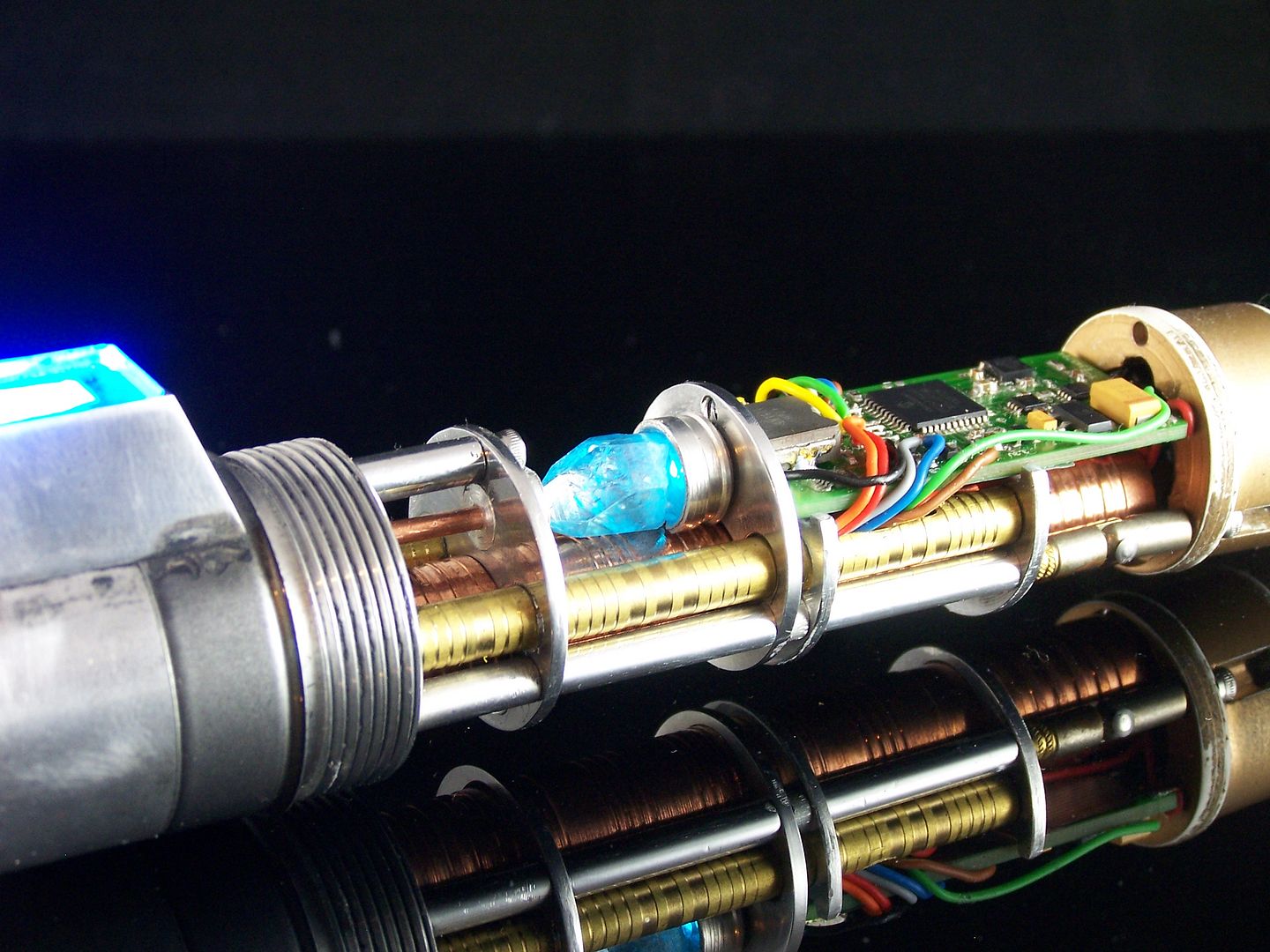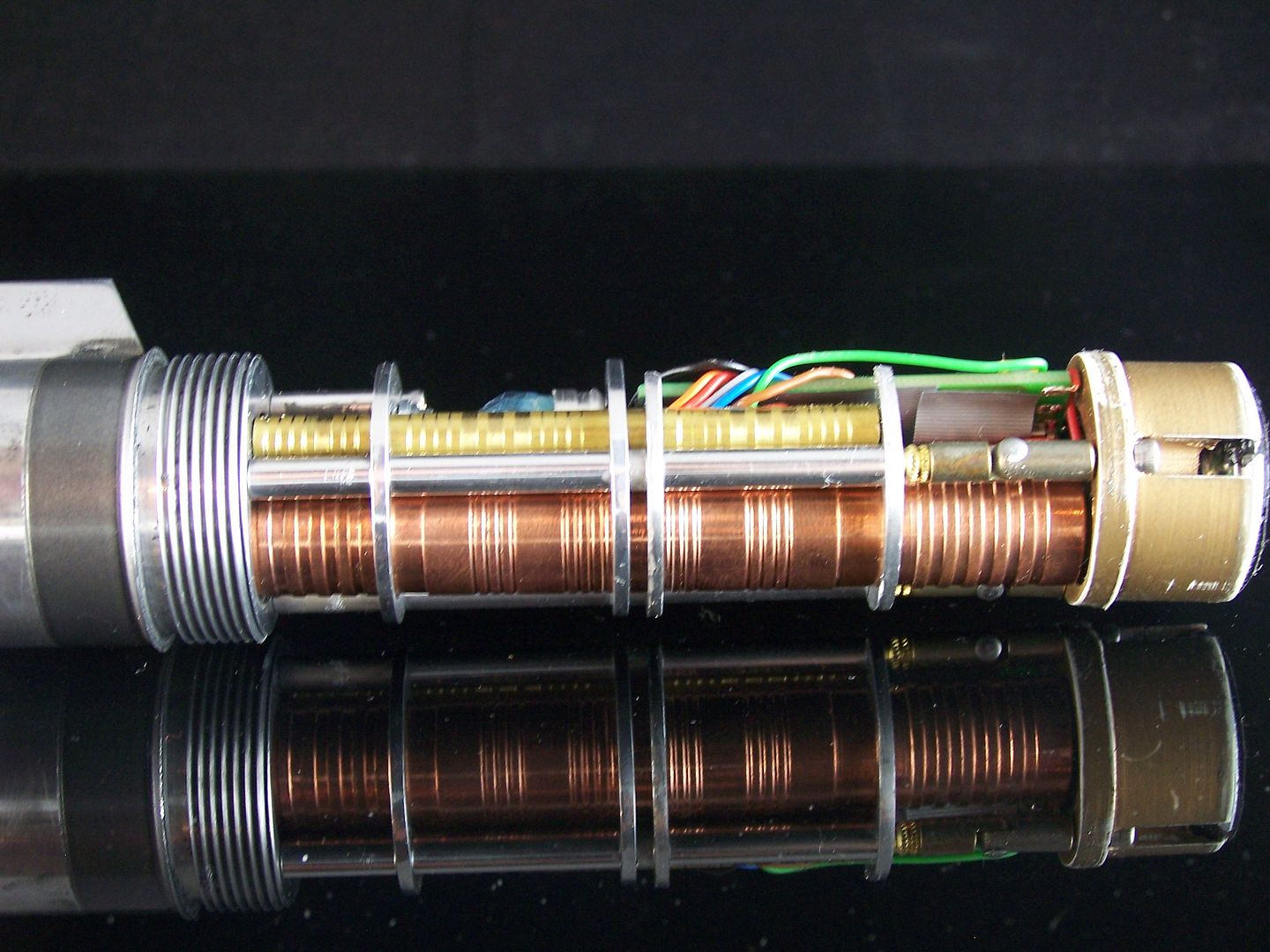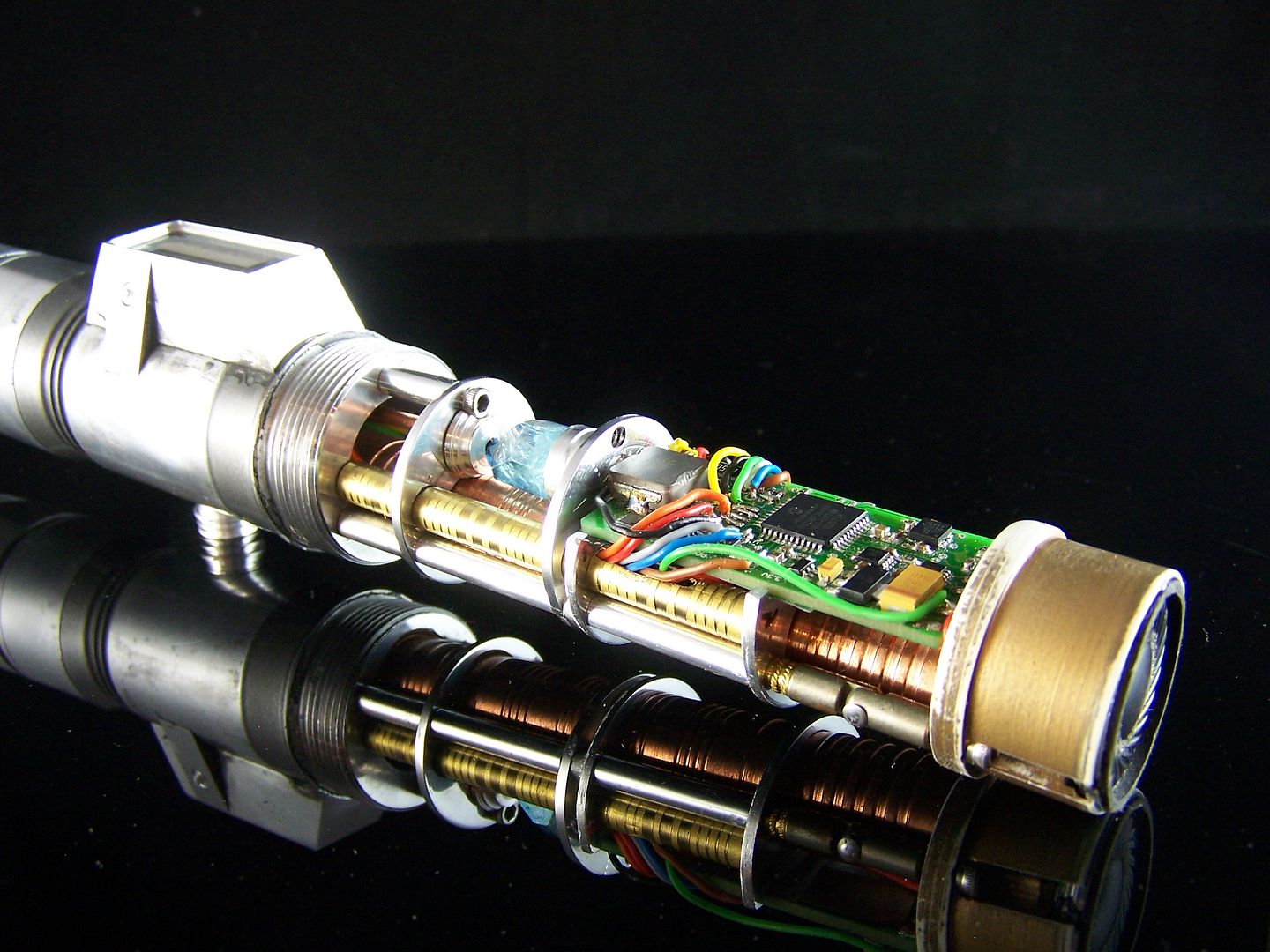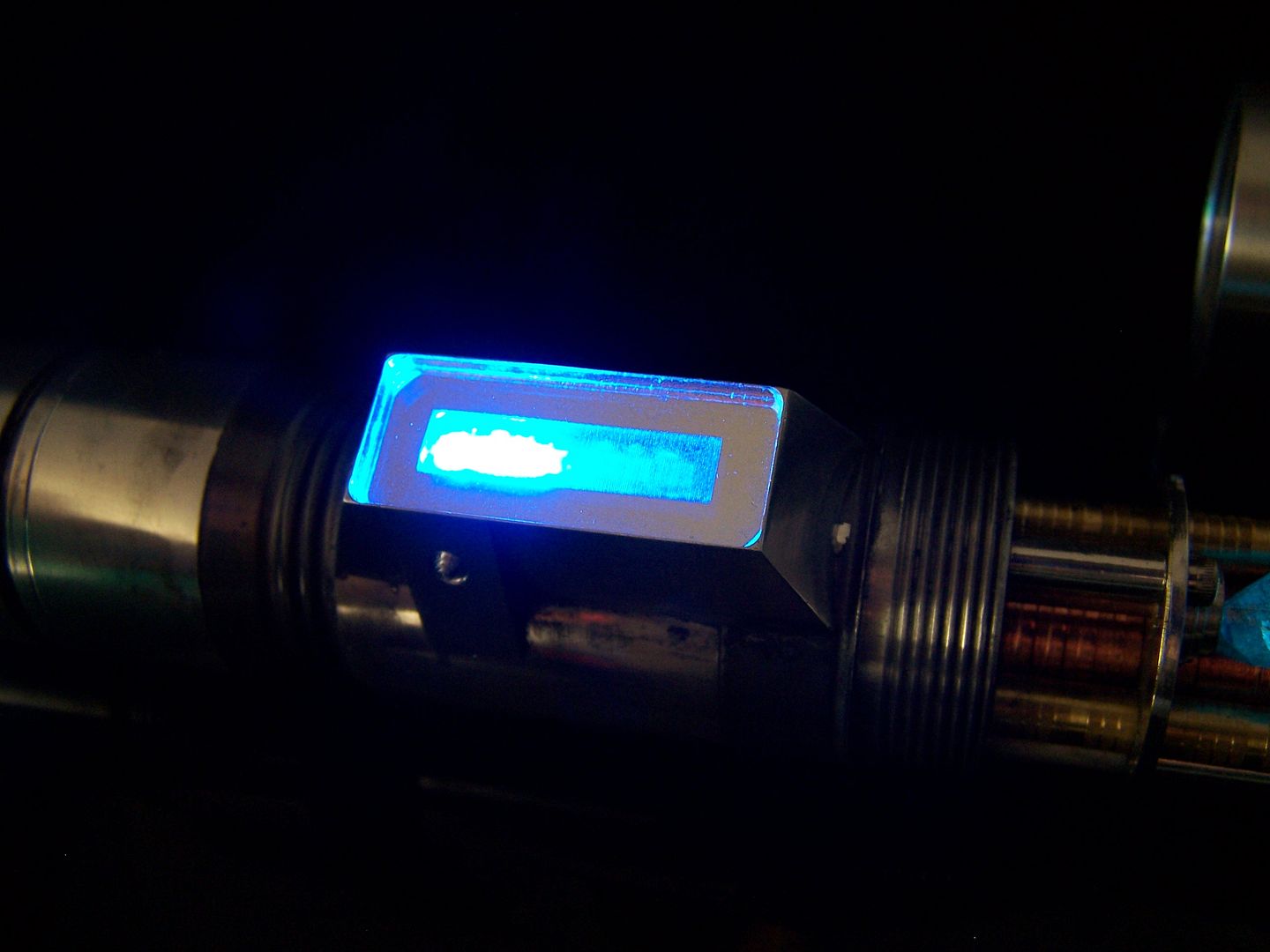 Video:
http://www.youtube.com/watch?v=l692V4CH8-o
​