FOR THE HONOR OF GREY SKULL!
So since quarantine is driving me out of my mind I thought I would show everyone my latest sanity project. After making Connie's new sword from Steven Universe I thought I would try making a similar sword from my other favorite cartoon, the new She-Ra and the princesses of power on Netflix.
There you have it a work in progress sword of protection. I used a template I bought from a YouTube cosplayer and made it out of Eva foam.
Honestly this whole project has been a exercise in problem solving. You might notice the blade and cross guard are different materials.
That's because I normally use Eva floor mats in my prop building but forget tp the floor mates are the real thing stores are sold out of I cant find them any anywhere. Must be a lot of board cosplayers out there like me. Luckily I had a roll of this other foam to make the cross guard and handle out of. Problem is its slightly smaller then the floor mat foam. So instead of being able to carve the cross guard details in like I was I originally planning. I had to build them up out of thin craft foam which actually came out looking really good.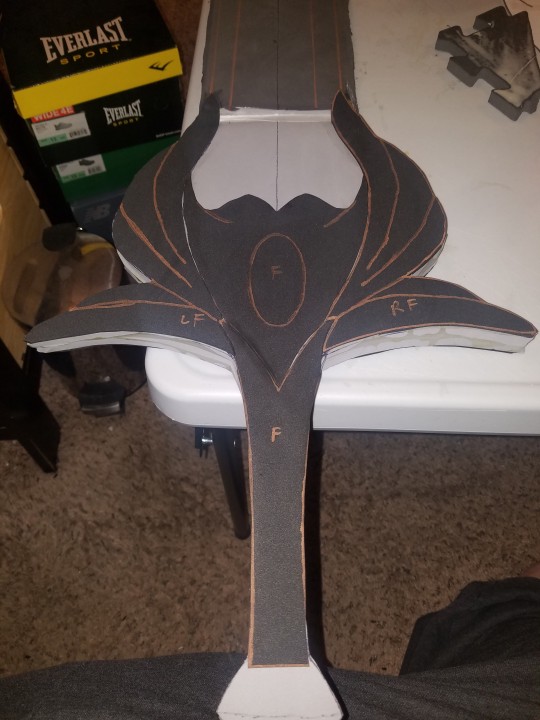 But I thought I only had to build up the wings on the side so I cut a glued those first. Then i realized I needed to bulk up the handle, and then the center piece as well. If I had know I would have saved myself a lot of head ache and just cut the whole sides as one big piece. Oh well were always learning as we go if that means i have a lot of seam gaps to fill in later so be it.
That's all I have for now sorry i don't have more pics from earlier when i was cutting the main body but it was really simple. just cut out the two halves cut a channel down the center to put in a fiberglass marking rod from home depo. honestly those things are my favorite new core for foam props there cheap, readily available and fairly strong for how thin they are.
next i just have to grind the edges and bevel everything tomorrow to refine the shape. I got a new belt sander to do that with which I'm super excited to use I'll post more as progress is made. may also have to make a jig so i can use the belt sander standing so i might post pics of that. if anyone has any tips or wants to point out something horrible I'm doing wrong please say so down bellow. So till next time peace love and death to the horde!
Last edited: