Alright, a bit of back story to go along with this...I was recently invited to a New Years Eve party by a girl who goes to my church, the only (and best) kicker, is that it is a costume party. This particular girl loves Sweeney Todd, and asked me if I could dress up as him. I said I would, but I didn't have the costume. :lol
Now, I've considered this costume for a while, so I wasn't..not...prepared. I dug out the pinstripe pants I had purchased about 2 years ago, that were a "just in case purchase". I even had several ref. photos saved. I also started looking around for leather gloves to cut the fingers out of. I wasn't able to locate any, however I found some nice wool looking ones at Khols for $11, so I picked them up. I also hit up Goodwill, and found a worn leather belt for $1. I'm going to use my usual black dress shoes I already own.
I posted a thread about Sweeney a few weeks ago, and then recently Spirderfan11 PM'ed about purchasing his shirt, vest, and scarf. I jumped at the chance, and received it yesterday. (Thanks again mate!) Because I'm compulsive, I tossed it all on yesterday to see what it would look like. :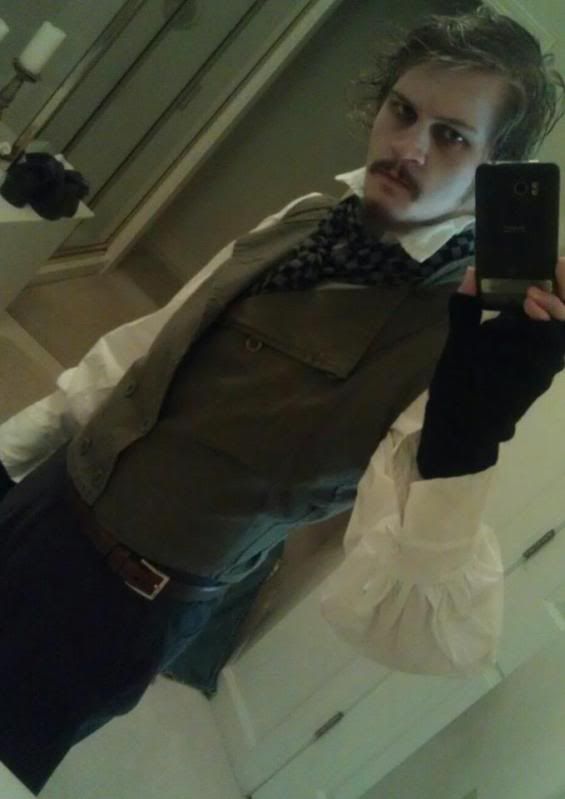 Shortly there after, I started weathering the shirt and vest. I put the shirt in a brief tea bath, and I also started trying to put the "lighter" spots on the vest. BUT...I've ran into an issue. I don't know what else to do, to give the vest a more dramatic worn look and to vary the colors of weathering more.
Right now I'm just using some makeup, and then some sandpaper. Are there any other techniques anyone would recommend I use that could be done over the next two days?
Edit: I forgot to mention, I am also going to do blood splatter on the sleeves of the shirt, which I'm about to start on here in just a moment. :love
Last edited: