I've been working on an improved suit cooling mechanism that I can bring to Dragon*Con, in hopes that I can stay a little bit cooler during the parade. I figured I'd write it up here to give other people ideas and to explain my process. Here's an overall picture of the system: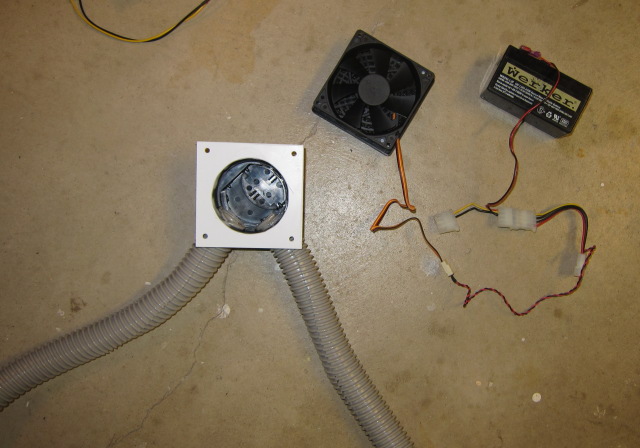 (And yes, I know that strictly speaking, cooling fans aren't weapons or armor. Bear with me here.)
The fan I'm using is basically a 12 volt computer fan that I bought at
Micro Center
. I looked through their selection for a fan that had a really good airflow but didn't take a lot of power, and I ended up with
the Scythe Kama 92mm fan
. At 55.55 cubic feet per minute, I figure it should be enough to pull a bunch of air through.
The battery is a rechargeable lead-acid battery like you'd get with an uninterruptible power supply (UPS). Something like
this battery from Amazon
should work. It's 12 volts and has a capacity of 1.3 amp-hours. I think the fan takes 0.12 amp of current, so I could run the fan for about 10 hours off the battery. Of course, if I connect other stuff to the battery, it will use up the battery faster. I made a different version of this project with a blower fan that takes 0.68 amps of current, meaning that I'd get about two hours of cooling from one battery charge.
The fan housing is built from a cylindrical-shaped thing that I got at the local surplus store, but really, any sort of plastic or metal box would work. The actual cooling is delivered through two large hoses that come out of it, something like
these corrugated tubes
. I wanted to make the tubes as large of a diameter as possible, because larger tubes mean more air flow. As an example, a tube with an inside diameter of 1 inch has a cross-section of 0.78 square inches. A tube with an inside diameter of 3/4 inch has a cross-section of 0.44 square inches. Since I want as much air as possible flowing through the thing, I chose the larger-diameter tubes.
At this point, I have to admit that my design sucks. No, not that way -- I actually mean that the fan acts as an exhaust fan that pulls hot air out of the suit through the tubes, then exhausts it. I got the idea from someone at a costuming panel at last year's Dragon*Con, where he said that pulling hot air out is better for cooling than pushing cool air in. I tried it out, and it seems to work.
Here's a close-up view of the system:
I also put a cover on the exhaust side of the fan so I wouldn't get anything caught in it. The label for the filter has a helpful explanation of just what all the filter can do: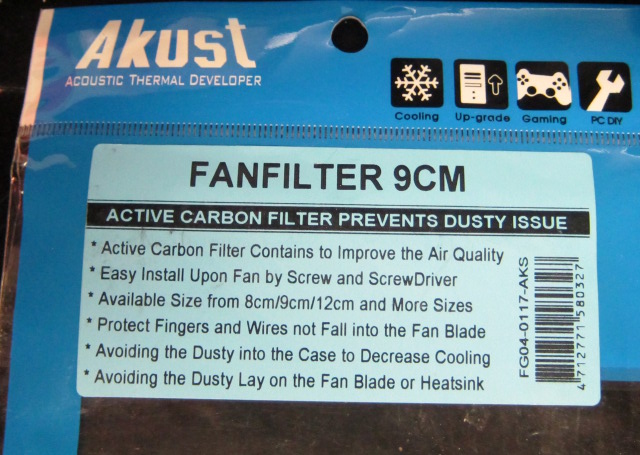 Yes, you can be avoiding the dusty into the case, and you can be avoiding the dusty lay on the fan blade or heatsink. I was mainly interested in protecting fingers and wires not falling in the fan blade.
Anyway, with luck, I should be able to stay a little bit cooler in my suit and not cook myself to death in a hot climate. I'll let you know how that turns out.