Well-Known Member
RPF PREMIUM MEMBER
Hello everybody,
I'm currently working on my final research paper in a writing class. The paper has to argue for or against a debatable topic. The topic I chose was the existence of Bigfoot. My paper will be supporting the existence of Bigfoot. While examining the world famous Paterson Film (image below) I had the thought, "hey I wonder if RPF'ers think it was possible for a costume like this to be made in 1967." So here is my question for the costume experts of the RPF.
Do you think that a costume replicating the image below could have been made in 1967? Please give your honest opinion.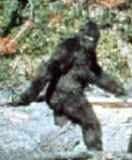 Thanks for reading and any opinions given.