Sr Member
RPF PREMIUM MEMBER
Hey folks. Long time no post!
These last years I've been busy firstly finishing my costuming degree and then being railroaded by disabilities and then well... you know what's going on in the world. Been a big ol' creative slump BUT I have managed to work intermittently on a few things. One is Steve, from Accounting. Steve's my little nod to What We Do in the Shadows, both the movie and the series. He's essentially a horror-style werewolf but he's just this very normal and boring accountant who works in a big corporate office who just also happens to be a werewolf.
I'm actually sort of... 80% done? I started with the head, then hands and feet, made a tail and now it's just the body to go along with final airbrushing and embellishments. This post is really to spur me ahead to finally get my arse in gear and finish it all off, hopefully before halloween. Not that halloween's a big thing over here, but at least I can have fun. So - on with the weirdness. I'll do a few reply posts with process stuff I think, so it's not just one gigantic chonk of photodump.
Since I did the head first, let's start with that. I didn't really do any design work, just collected a bunch of photos of snarly wolves and werewolves from pop culture. I wanted a scary but slightly silly look with an oversized nose and pinpoint pupils in the eyes so it was creepy, but still goofy. From there I jumped straight into foam carving. Rough as guts to start, as you can see:
Bought the jawset off etsy and after a lot of faffing to get it to fit, I embeded wire into the jawline to support it and used that to allow me to do a spring closure, which is my go-to for resin base masks. I find it's more reliable than elastic and easier to swap out in case something goes wrong. I sculpted and cast the nose (monster clay, hydrocal/burlap mould, black tinted dragon skin silicone) to be really big, and thankfully the size worked well on the base. The eyes I made up in photoshop, printed on photo paper and epoxied to glass dome cabochons as I normally do. The eyelids were worbla at this stage, the lip bases are felt and the vision ports are 20/20 buckram as per usual. Ears - the above one had ears based on my normal wolf ear pattern but I wanted more backwards-pointing ears so I repatterned and did them in EVA.
So at this point, I'm here. Base ready for patterning and skin: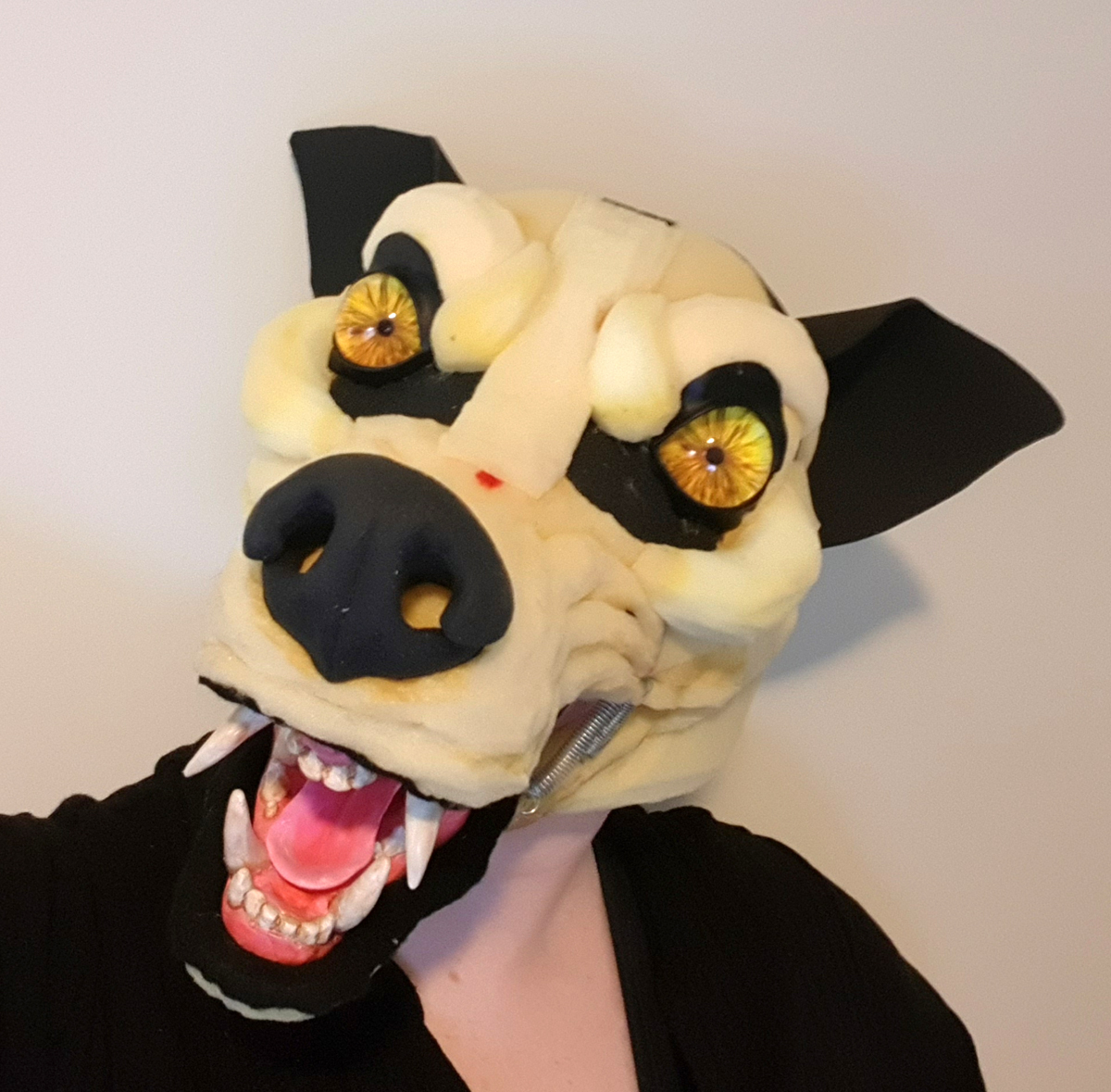 Then, it's patterning time. I used this mask to make a tutorial back when I had a patreon going since it's such a complex shape. Simple duct-tape patternmaking method, never fails if you make sure to do it carefully and mark it up correctly. Results: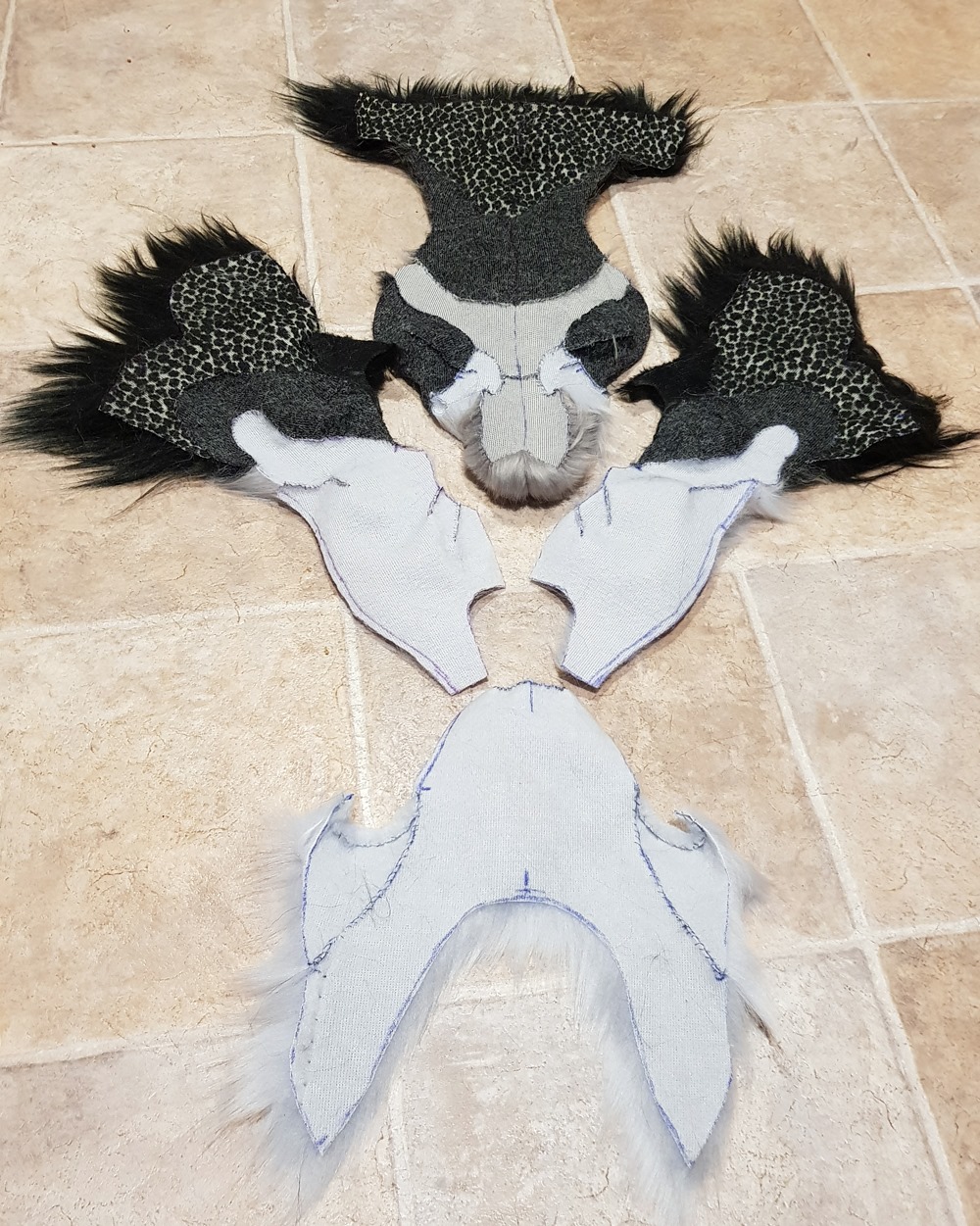 Then we get the horrifying floppy face skin stage, which I kinda love for how awful it is:
Glue it on carefully, shave it, sculpt the lips over that seam in apoxie sculpt and you end up at the "complex but bland stuffed animal gone a bit wrong" stage, the process of which you see here: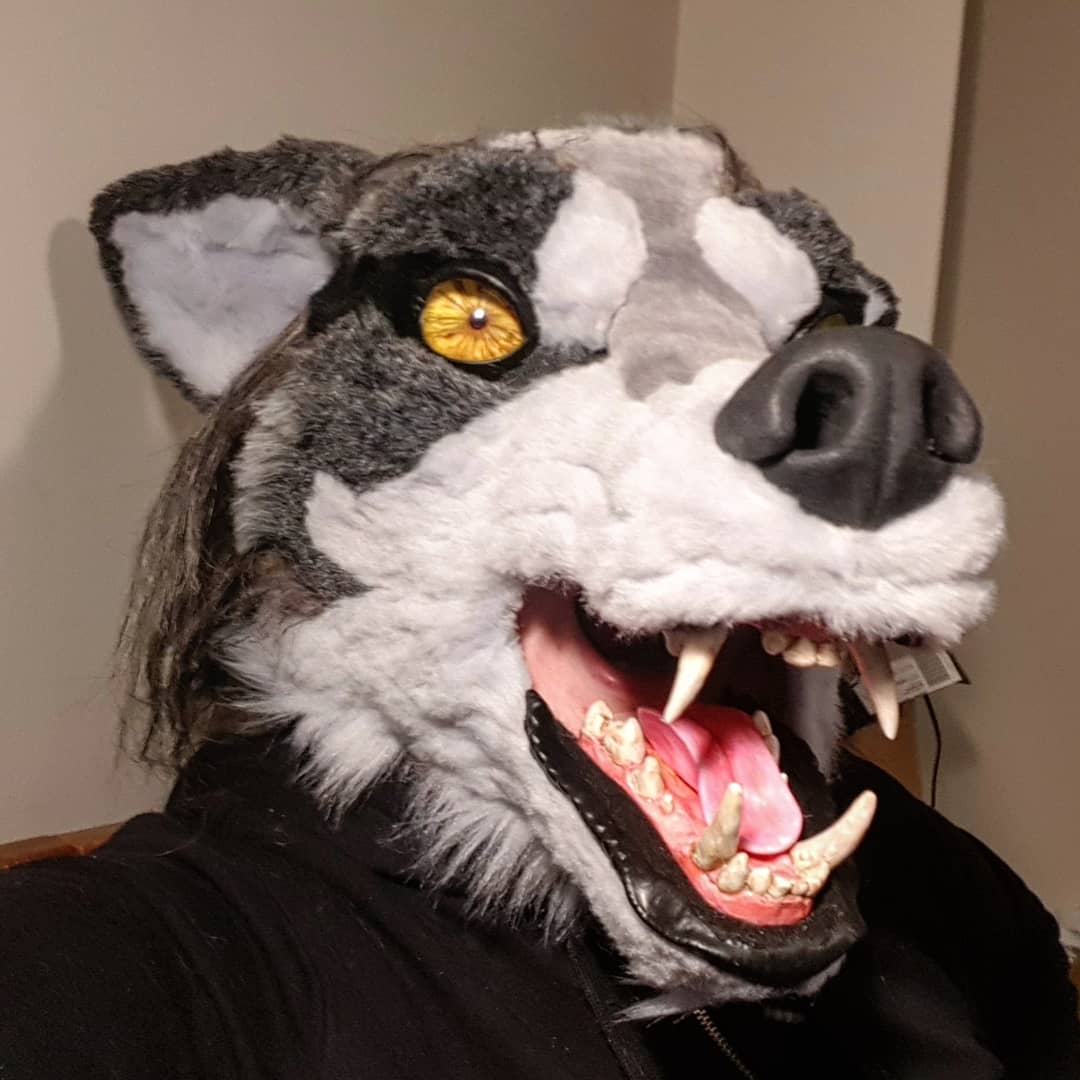 Messy! Still, not terrible. After that, it's finishing touches - namely adding the neck piece and airbrushing. I didn't add a back neck piece since this one's going to have a raised neck piece attached to the bodysuit for that "hunched" look. Airbrushing is freaking magic though, I swear. The difference is crazy. Thankyou, magic awkward finger-hurty loud PSSH pencil.
Steve face - DONE.
I love this one. It's a nice combo of creepy and silly, and it'll go great with the dumpy office werewolf dadbod-muscle suit combo I'm going for. Aww yiss.
Next post - hands! (I promise it's shorter from hereon in, lol)