Sr Member
RPF PREMIUM MEMBER
Hey gang,
I wanted to share just how much Indiana Jones means to me before I started in on my Grail Diary attempt. My parents took me to see
Temple of Doom
at the movie theatre when I was about 8 or 9 years old. We watched Raiders of the Lost Ark on VHS a lot! Haha, these kids don't understand the VHS years! Indiana Jones was a family experience for me. My parents loved the movies, and as a kid I wanted to BE Indiana Jones.
My parents bought me the "official" Indiana Jones Fedora from Dillard's for Christmas in 1984 and I wore that hat out! I had the close-enough-kids brown leather jacket! My Dad tracked down the real WW2 bag at an old Army Surplus store, and he bought me a real bullwhip. I used a cheap toy pistol I painted black, and had some Doc Marten boots and I spent the next few years pretending to be Indy! Indiana Jones meant more to me than some can possibly imagine. Indiana Jones was and is a family affair for me.
My first Grail Diary was something my father and I threw together from a leather Diary he bought me in 1989. We eventually pressed "Pause" on the VHS version of Last Crusade and I literally traced over the big, curved tv screen on the few pages we could see. So, my first Grail Diary Replica was something I did as a kid with my Dad.
Those memories are some of the happiest of my life. Working on making my first Grail Diary as an adult with my own kids these past few weeks has flooded me with feelings of immense joy.
To all of the incredibly kind and gracious members over on Club Obi Wan (Indygear.com) who shared decades of Grail Diary research, I give my many thanks. People like Holt and Indy Magnoli and many others (who are all members here on the
RPF
as well) I don't believe for a second I could get this Grail Diary made without alllllll that has been so freely shared here.
Sincerely, thank you.
Tonight I wanted to get the feel of the handwriting used on the pages from the "Gallery" on the Last Crusade DVD, so I printed them and grabbed some tracing paper.
Step One: This is hard work but I'm having fun!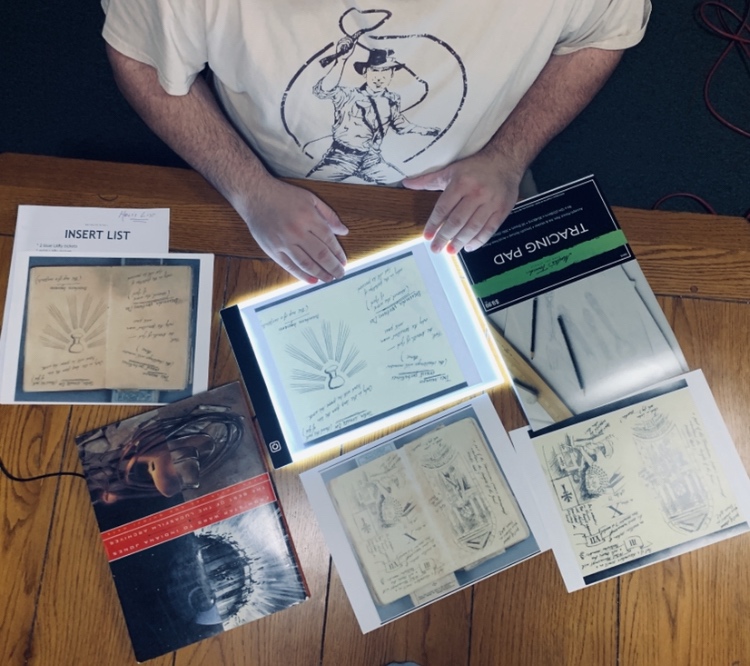 I'll share more as I go along. Thank you for watching.
-Chuck
Last edited: