Hi, for whom is interested on this scale, I have a few 3D printable models available on Shapeways site to sell, in 1/2500 scale.
https://www.shapeways.com/shops/Shiftdel
Including in the batch is a D9 class Klingon ship, which I am quite proud of, although it gave me a lot of work, as the 3 views from FASA game simply do not match each other. At this scale, it is not possible to see a lot of detail, so I try to show up the most important. I still do not have a printed copy to show from it, I will post here as soon I get one.
Here are the pics:
BoP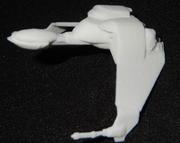 Larson
Jenghiz
D9