With a Star Trek exhibit in town for a couple of months (
Star Trek: Exploring New Worlds | The Children's Museum of Indianapolis
) , I was inspired to build a replica of Khan Noonian Singh's necklace from "The Wrath of Khan". I always liked this prop as it symbolized Khan's hatred of Kirk for his exile and for the death of his wife. I used a PiH shot of the original for inspiration and dug through several boxes of parts for the component pieces.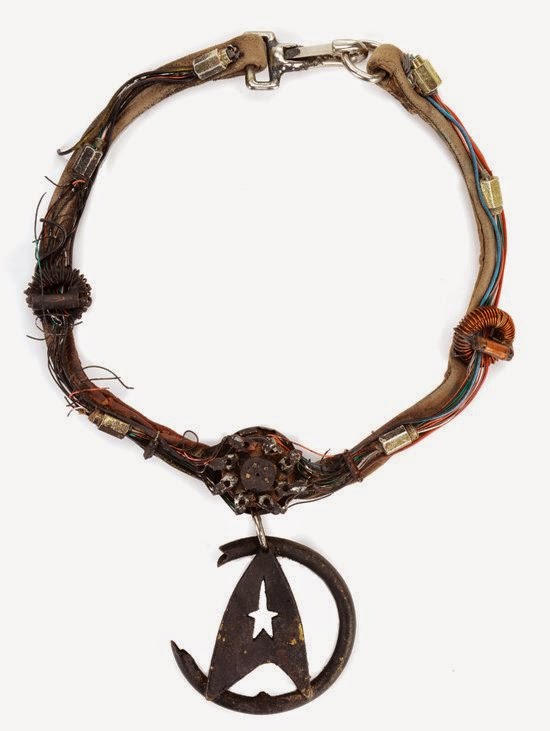 The central part of the prop is the burned and broken Starfleet buckle. The original is described as 2 ¾" outside diameter. The closest that I could find easily was a 2 ½" od brass ring from Tandy Leather. I cut the Starfleet logo from some scrap brass.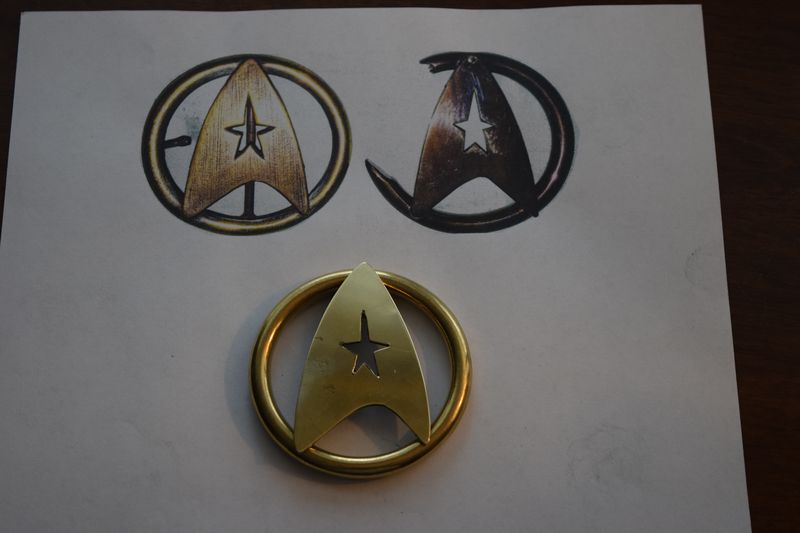 I silver soldered the logo to the ring and found out that the torch I used gets hotter than the melting point of the sheet brass, but since it wasn't too bad, I went with the more damaged look. I used a Rustoleum flat black spray can that was nearly empty to add the black weathering, wiping off some of the paint spatter. The can was so old that the paint came out in big droplets, instead of a nice spray, which actually worked better for the effect.
I scavenged some wires of different colors and gauges for the wire bundles and happened to have an old rotary switch, similar to the original. I thought that I had a couple of those donut chokes, but after digging for a suitable period of time, I cut out shapes from some Masonite and wrapped them in magnet wire. The small chokes on top of these are dowels wrapped in bare copper wire from a rat's nest of telephone switching gear wire.
Those octagonal nut-like pieces were cut down from a ¼" X 7 ½" aluminum turnbuckle – got three from each one. I used the splatter paint to distress them and secured the wires with hot glue.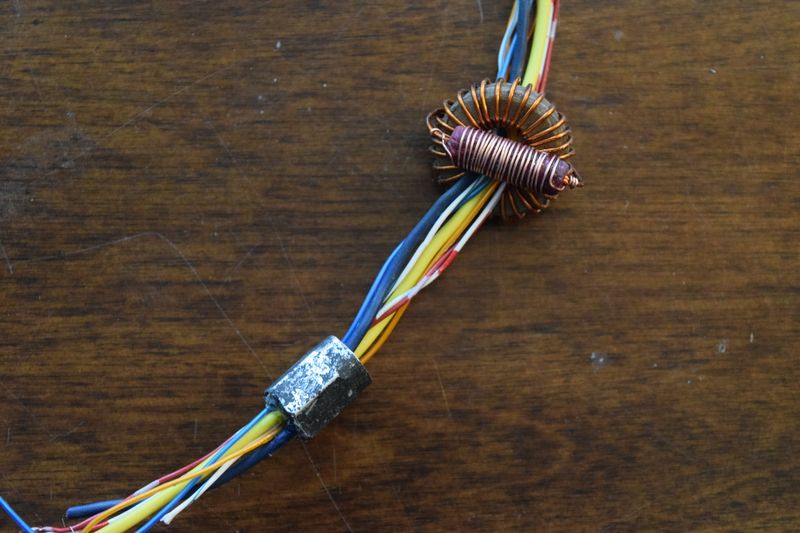 The clasp and D-ring also came from Tandy Leather – they are ¾" size. Splattered.
After remembering that the human body has a bunch of complex curves, I came up with a template for the leather strip that everything attaches to and cut the shape out of some thin suede leather from an old coat.
With everything secured to the leather, I was pretty happy with the results. I could wear it bare-chested as Ricardo did, but I am not going to shave my chest, so it will just have to be on over a shirt.
Not too bad for a bunch of scraps and about $10 worth of parts.
David