Master Member
RPF PREMIUM MEMBER
Captain's James Hook - Dagger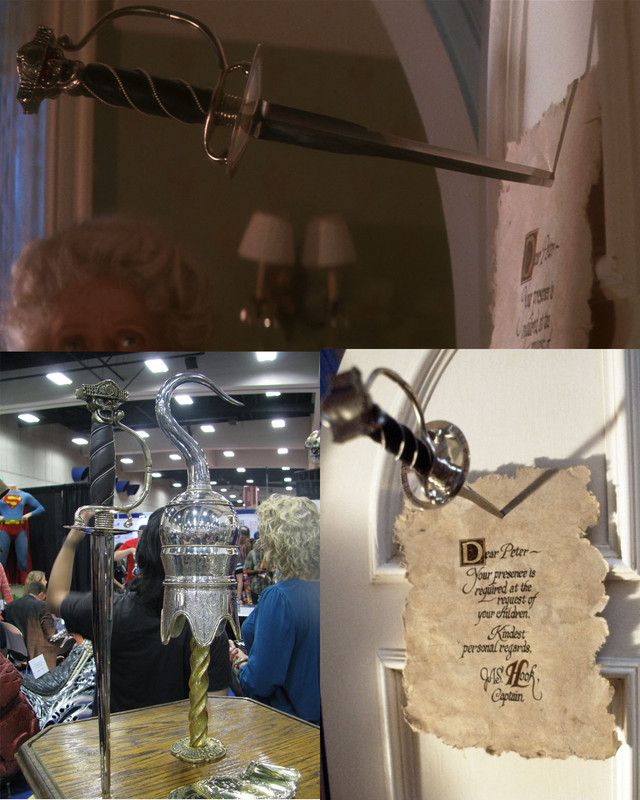 ​
Hi guys,
we are finally here for a new project! This is just to test the interest of this dagger.
We thinked to this prop when we relased our Hook! Now finally we go on with this project.
We'll start from the wonderful sculpt made by Legend642 and will rework it to be able to cast it in metal.
Blade will be made in carbon-steel and the upper part will be made in zinc, brass plated (or gold plated).

This is a BIG dagger, just look the pics of the original one compared with the Hook. I think it is the ultimate piece to be display along your Hook!


If you think that this project could be for you, just let me know, I'll add you in the list. If we'll have a good request we'll proceed with this. It will require months of works!

LIST:
1 - Onkelpsycho

DHL TRACKING: 9420582474


2 - MCINTOSH275

UPS TRACKING: 1Z889W030456419156


3 - shpider

DHL TRACKING: 1207441756


4 - Thieveskingali

DHL TRACKING: 4018503731
5 - warrenhouck

DHL TRACKING: 7758492033


6 - EmmaInCandyland

DHL TRACKING: 7964377374


7 - xena10ares

DHL TRACKING: 1439320190


8 - Tenaciousbt

DHL TRACKING: 6577210990


9 - HookMovie

DHL TRACKING: 5613770525


10 - Pitbull

DHL TRACKING: 9895992481


11 - russellsch

DHL TRACKING: 8619813366


12 - ahoudini

DHL TRACKING: 7176443024


13 - eaviii

DHL TRACKING: 8010474835


14 - DarthRH

SPOT LOOSE


15 - pssdffjay

DHL TRACKING: 1285601450


16 - Liberance

DHL TRACKING: 2201738895


17 - blastmaster

DHL TRACKING: 6577210990


18 - Retroneon

DHL TRACKING: 5829967032


19 - mbmcfarland

DHL TRACKING: 3447931826


20 - MartMyMadFly

DHL TRACKING: 7852668331


21 - Eurojunkman

DHL TRACKING: 7805899706


22 - bluecoyote

DHL TRACKING: 5802034766


23 - skahtul

DHL TRACKING: 7501138842


24 - Gen0

DHL TRACKING: 8147105094


25 - wraithride

SPOT LOOSE


26 - TomVDJ

DHL TRACKING: 3368870411


27 - TomVDJ (2nd Dagger)

DHL TRACKING: 3368870411


28 - xkuco

DHL TRACKING: 7758503104


29 - LuckyS7evine

DHL TRACKING: 8581212975


30 - LuckyS7evine (2nd dagger) DHL TRACKING: 8581212975
31 - scud42

DHL TRACKING: 2289048101


------------------------------------------------------------------------------------------------------------------------------

32 - Greeky04

DHL TRACKING: 5651917762


33 - LtPinkerton

SPOT LOOSE


34 - RareBlueMonkey

DHL TRACKING: 5720311461


35 - zenix

DHL TRACKING: 6329142536


36 - Mcostantini (facebook)

DHL TRACKING: 9741796466


37 - Skeysta

DHL TRACKING: 8147110915


38 - chitotoy

DHL TRACKING: 8729228826


39 - bpalaganas

DHL TRACKING: 4791560115


40 - ScottageCheese

DHL TRACKING: 2259745751


41 - thegreatgalling

DHL TRACKING: 3645535342


42 - Jorg (facebook)

DHL TRACKING: 4334168510


43 - GeoffMartin3299

DHL TRACKING: 3645539306
- PRICE 369$ plus 70$ shipping
44 - Brandon K (facebook)

DHL TRACKING: 8729235141


45 - nintendstroid DHL TRACKING: 3833710510
46 - codeman18

DHL TRACKING: 1320182091


END OF THIS RUN
------------------------------------------------------------------
Below you can find a pic of my dagger completed
Last edited: