Well-Known Member
RPF PREMIUM MEMBER
Hello all!
FIRST OFF: This is not a tutorial or walk through on how to do the FULL costume, just one way to print, mold, cast, and attach webs to fabric.
Some folks have been asking how to do the Raimi 3D webs, and so I thought I'd give a little bit of a walk through on how I made my partial-Raimi-Spider-Man costume.
I started working on this idea for the No Way Home premiere/a con I had planned to go to, a casual Spider-Man costume that I could wear under a shirt, vest, etc. I ran out of time for this, and so moved onto other things, but recently came back to it.
Something somewhat controversial that I did here was use silicone rather than urethane rubber. This was done for two reasons: One, I already had all the supplies for silicone webs from a previous project. And two, I wanted to prove that it could be done with silicone since I've seen some folks say it couldn't be. That being said, I highly recommend folks just use urethane rubber, it'll be simpler in the long run, and if I didn't already have all the silicone supplies left over from a previous project I would have used urethane rubber as well. It's easier to darken the sides of the webs and attach to fabric.
The materials/tools I used for this project:
Dragon Skin Silicone
(or you can use
Urethane Rubber
, I'd do more research into what rubber will be best for you though.)
Metallic Pigment powder
Silicone pigment
(not needed if you use urethane rubber)
Sil-poxy adhesive
(You will need a different type of adhesive for urethane rubber)
Psycho paint
(Use a black permanent marker if using urethane rubber.)
Some sort of paint thinner (I used mineral spirits)
Primer
3D printer
Plaster/plaster bandages
Vaseline/mold release agent
Some kind of body form to stick your costume on while you apply the webs
(
MATERIALS USED JUST FOR THIS PARTIAL COSTUME
these wouldn't be used for a full suit.)
A compression shirt
Purple or deep red airbrush paint
An airbrush/compressor
For the webs, I got them from Kendlandrum's files
HERE
For the spider, I could not use the file he has linked there, so I used the photo in the same thread, traced it in illustrator, made an SVG, and extruded in blender. With Ken's permission I might share the 3D spider at some point?
Anyways, first I spit up the 3D webs into the smaller parts in blender so it would fit on my Ender 5+, with rough estimates of the sizing based on my measurements (since only the chest would show for this, I wasn't too concerned on getting it 100% correct.) If you are making a partial suit like me, make sure to double check you have the right sections, I don't think I did (figuring out where only small portions of the webs connect without a pattern is HARD.)
The webs were printed at the lowest layer height (so the highest quality) I could and turned ironing on (I didn't want to sand this too much besides on the very top of the webs).
I did the same with the spider, but unfortunately it got caught in the plaster at the molding phase and I ended up just printing the mold.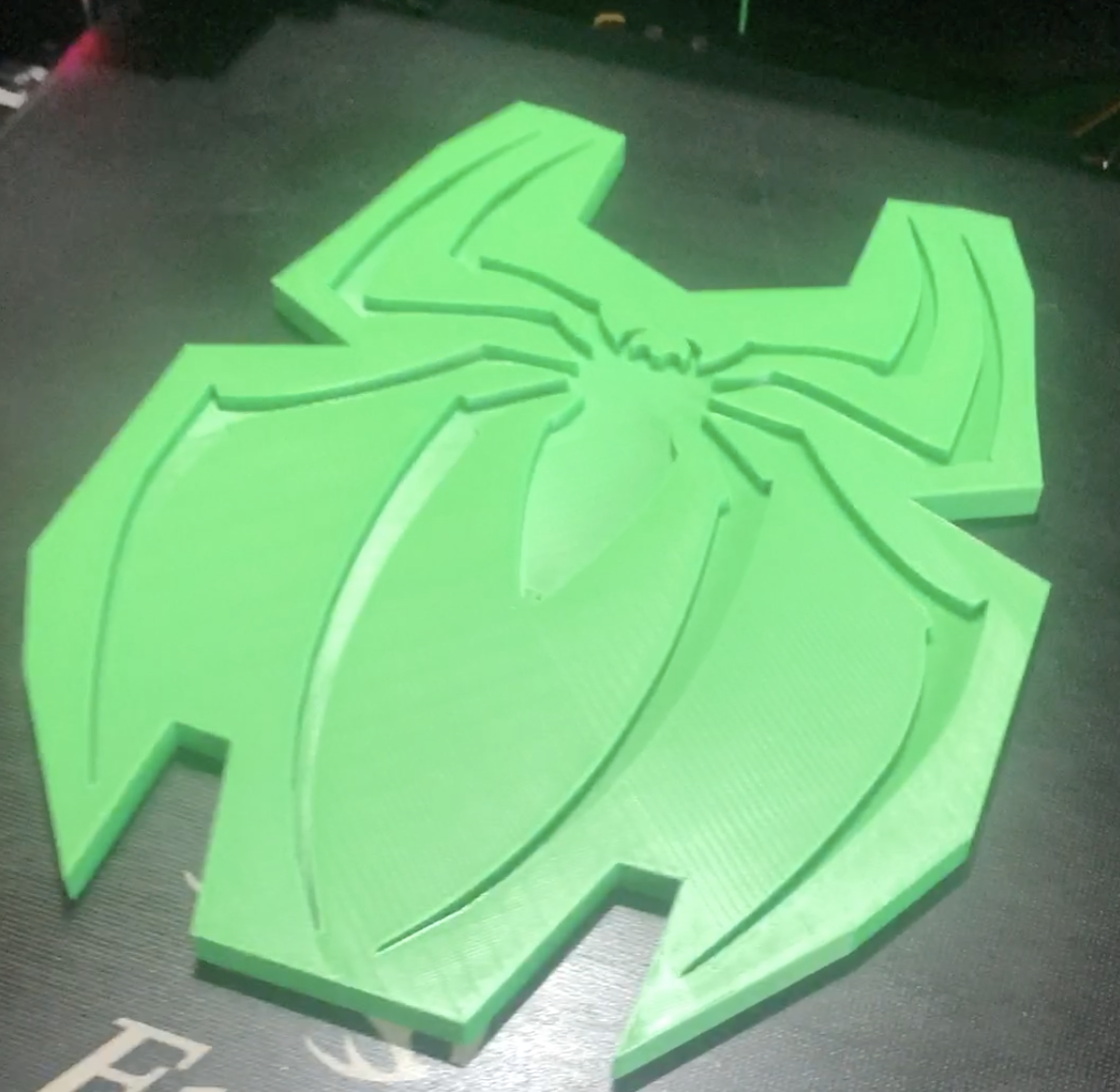 Looking back, I think I'd print the mold to the web rather than the buck. Yes, that's a lot of filament, but molding it is a lot of plaster and I think the prices for a full suit of web would just about even out.
An alternative to 3D printing the negatives molds is you could CNC it if you have access to that tech at your home or local makespace
. If I do this again, or if I make the full costume, that's probably the route I'd take— I believe that's also the method SpideyPlanet uses.
With the webs and the spider, I did several layers of primer/filler before sanding the very top, and spraying down with a few layer of matte spray paint to really have the layer lines be smoothed out.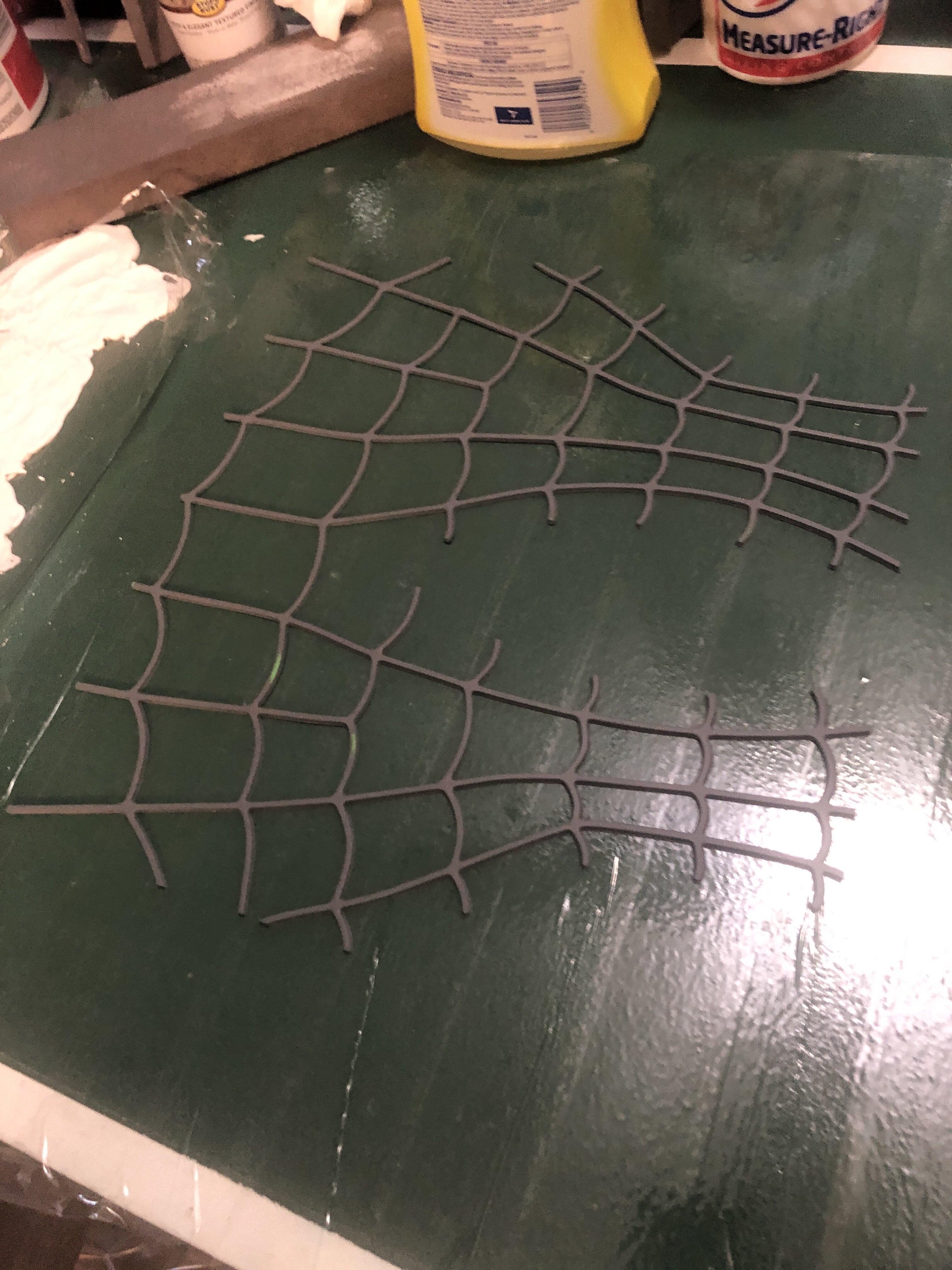 This is not for those making a full costume (as you'd get the pattern printed onto the fabric) but I also printed a stencil for the brick pattern by printing half the pattern, laying some mesh on top of the unfinished print, and then I used an airbrush to spray on the pattern. Wasn't incredibly uniform or neat, BUT it worked for what I had in mind.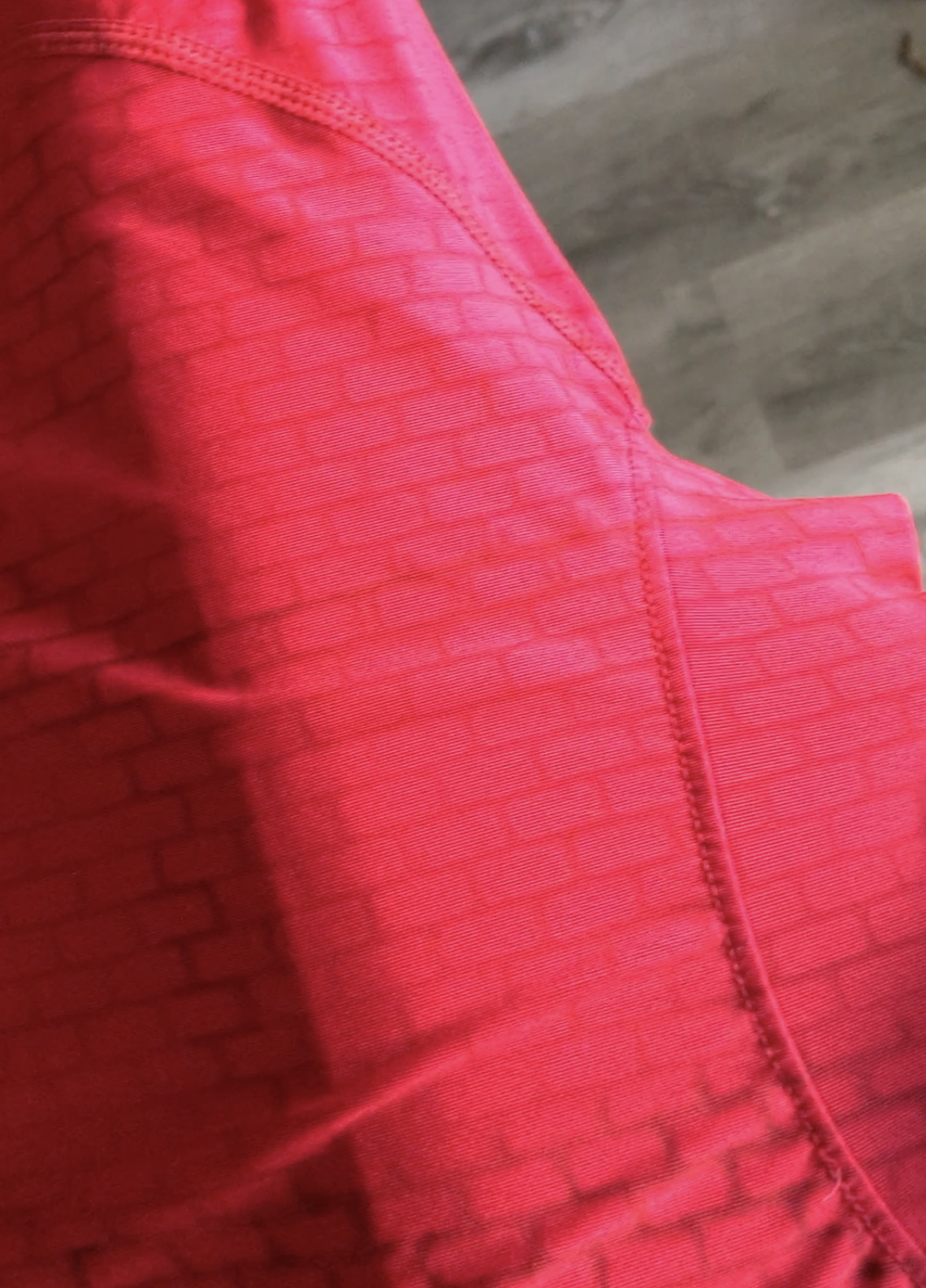 After that, I glued the webs down to a plastic removable surface—make sure you do this part well, I did not and got some parts of the web fully covered in plaster, top and bottom and when I de-molded it chipped parts of the mold I had to fix later. Add vaseline or any sort of release agent at this stage as well.
I then poured plaster over top this, and reinforced with some plaster bandages and plaster-soaked-burlap. Can be done with craft-grade-fine-cement, resin, or whatever other rigid mold making material you can think of.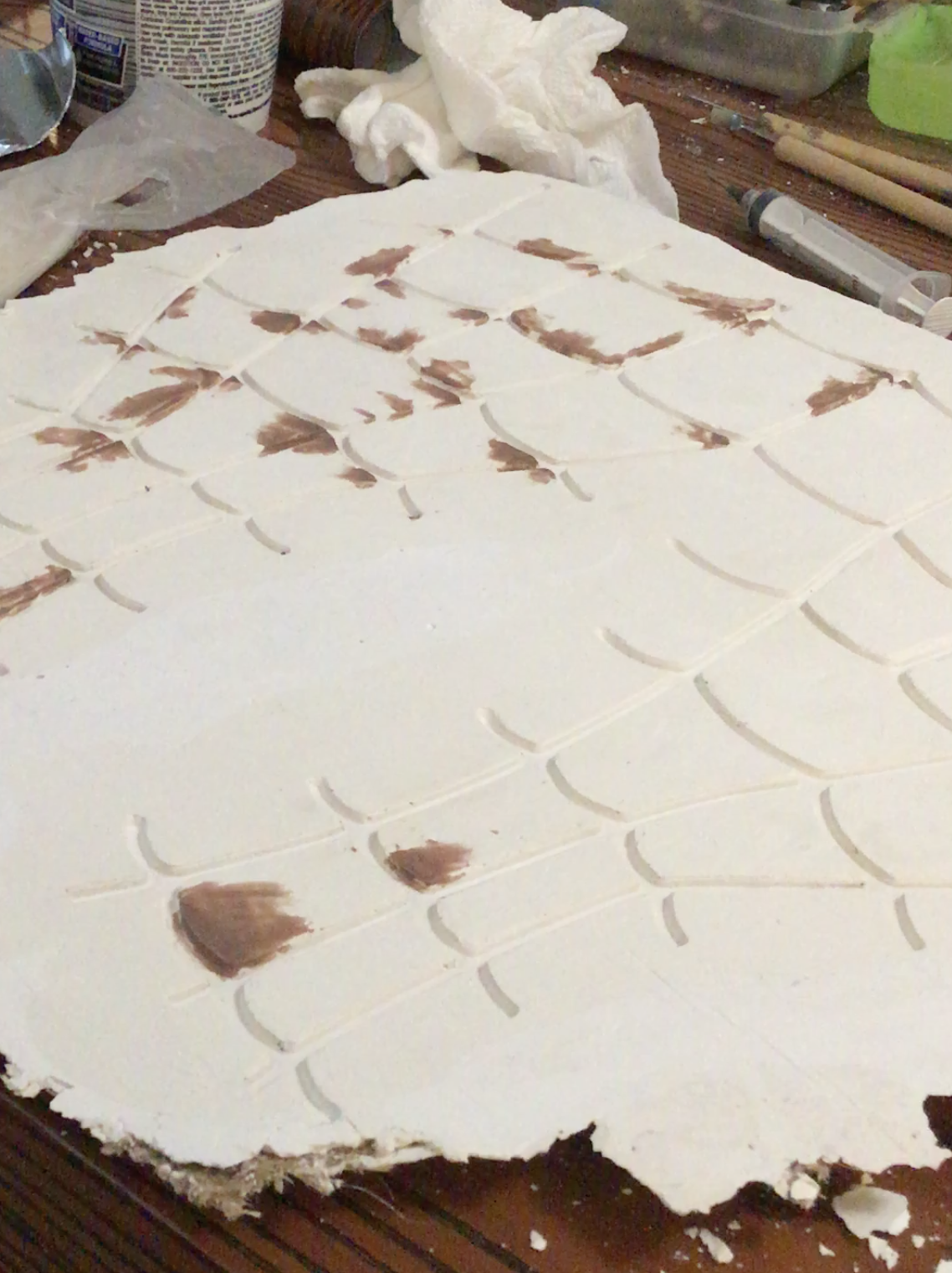 Now it's time for the casting. For the webs, I put a small amount of the silver metallic powder into the mixed silicone. For the spider, I did a combination of black and white pigment to make it a sort of deep charcoal. I think I used about 80 grams of silicone per web mold here? A tiny amount goes a long way.
I then spread it around with a putty knife, making sure there was hardly any silicone on the surface.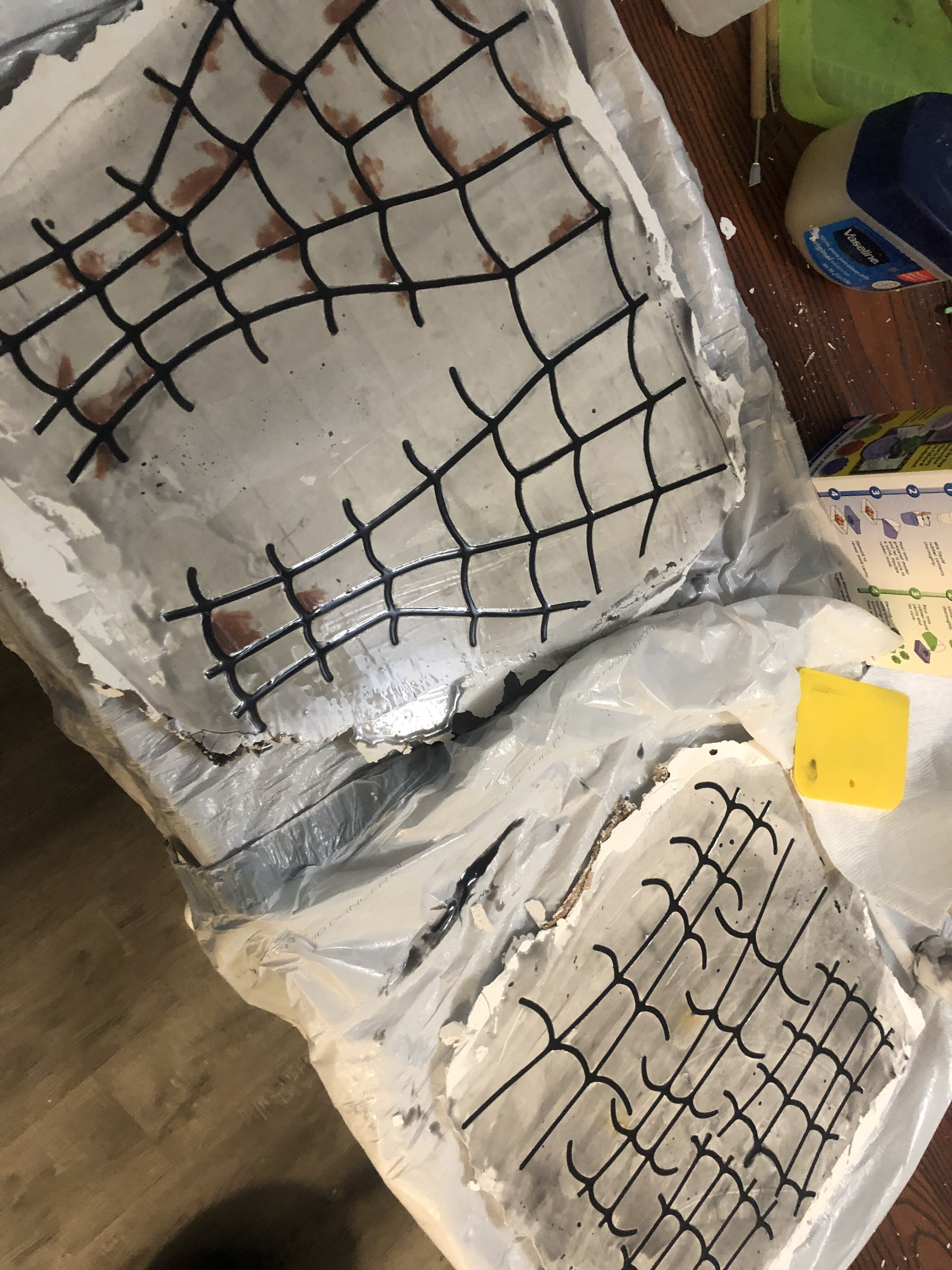 After it dried overnight, the silicone was pulled out, each web and spider flashed, and then I moved on to the trickiest part of the process: darkening the sides.
If you are using urethane, this part is actually fairly easy. You can color the sides of the webs with a marker, let it dry for about a week, and then run it through the dishwasher.
For SILICONE, not much sticks to silicone. My original plan was to airbrush thinned-down psycho paint onto the webs, and then scrape the black off the top of the webs. My problem was that my psycho paint was rather old, and even with a LOT of mineral spirits to thin it, it really didn't want to flow through the airbrush very well, so it clogged it up instead.
I then did the more time consuming method of hand painting all the webs with psycho paint that had black pigment in it. I used a combination of brushing and dabbing to cover the whole web, and then I scraped the top off— it worked pretty well! The airbrush method would have had better coverage, but I'm still happy with how this turned out (if it were for a full fledged costume I'd be a bit more picky.
To attach the web to the body, you need to have some sort of form that is close to your own body/shape and size. There are loads of great tutorials on how to make that sort of form with tape and stuffing, but I bought a mannequin (both for this and to display future costumes).
Attaching the webs was a time consuming process, but it was simple enough. I applied the sil-poxy to the bottom of the web and pressed the web into the fabric, holding it down for about a minute. The only tricky thing for me was lining up the pieces properly without a guide. I definitely didn't do it right, but again it worked for what I intended it for.
The sil-poxy holds up, and the fabric+web can be stretched and pulled fairly well.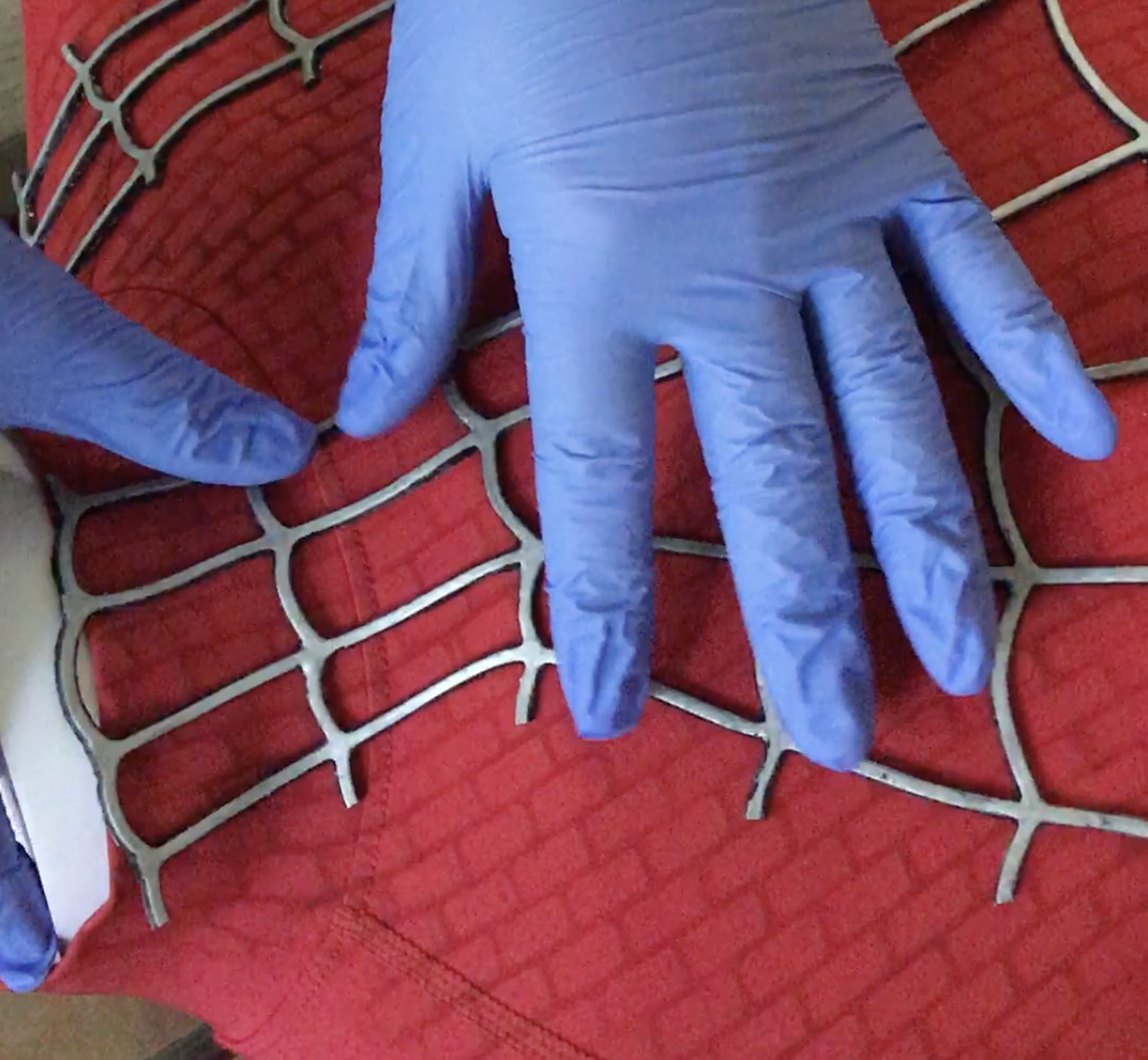 And there we go! It was a long and tricky process, I definitely didn't line everything up 100% right (I totally goofed in lining up the webs for the side and back of the neck, and. definitely made it too big), and I can think of a thousand ways I could do it better if I were to do it again, but I hope I helped some folks out there who are trying to figure it out for themselves.
Last edited: