Warp Models did a resin kit of one of these long ago in 1/72. Even though the design was not at all accurate to the show, it was a popular kit and has somewhat become the de facto standard to what the lift was.
Here is a shot of the actual lift from the series. Kind of boring IMO.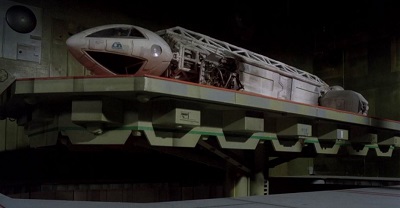 I decided to design one for the new 1/48 MPC/Round 2 kits, using the Warp kit as a basic guide. This should be fairly easy to print and assemble provided one has a 12" print bed. The total size is about 339x720 mm, so I'm going to segment the large base and pad into about 6 pieces. I elected to leave out the staircase (since who would need to go down the stairs when it is elevated or sunk into it's alcove), but it wouldn't be too hard to add that in. If anyone has any other ideas, feel free to suggest them.
I eyeballed the size of an Eagle (the long rectangular object). The hydraulic pistons are separate items so the builder can choose what height they want to display it at. Greeblies on the base are separate, and can be printed on a resin printer for better detail.
TazMan2000
Last edited: