Sr Member
RPF PREMIUM MEMBER
Hey everyone! So a bit of backstory to what I'm about to show. I work in an industry where we make very high end x ray equipment for materials research. We use spherical washers and recessed washers for various things, like aligning and clamping different parts of the system just so. So when I got back into prop related stuff I took another look at the Obi saber and realized what we have been looking for are what's called "recessed washers" or "countersunk washers."
They're used in a variety of applications, but a common one is aerospace engineering. You find them on military vehicles and assemblies, and they are often made of specialized alloys with various coatings for durability in various environments. A lot of planes use them, and some modern companies, like Boeing or the Bell Helicopter company make them or have them made for specific uses. I reached out to
coolhanluked
and we discussed the washers, I sent a link to some I found on eBay, which actually ended up being quite close, just a bit too thick, and the diameter is ever so slightly large based on my measurements. A few months later
2Cell
reached out to us and shared a site that has a collection of military style washers, which are made to fairly tight tolerances. I'll get back to this part later. I think the goal now, is finding a vintage part, or a manufacturer working to a different standard than these washers. These washers are made specifically for a purpose, or to match a specific sort of tolerance, so there are a large variety of them, and there is a possibility the ones used on the saber came from one of the innumerable military and aviation engines the props department had access to.
What I have found is a part made by a modern manufacturer to a very similar tolerance to the washer we see on this saber. There's a possibility the part we are after is no longer made, or was, just like the upgraded large assembly on the Derwent engine, a relatively small run of parts made for a specific purpose, and they just happened to be a close/tight fit over the transistors.
Anyway! With some ideas in mind I decided to finally nail down some dimensions. I know a few members of the community have made washers in the past, but I didn't have any of those in hand to judge against, so I used an op amp and the length of the graflex clamp as my scaling tools. We're all familiar with this photo:
There's a small amount of lens distortion, though thankfully the clamp is smack dab in the middle. So I printed the photo out, with the clamp to scale, at 50mm or 2 inches wide, giving the transistor/opamp a diameter of 8.23mm/.324in. So I figured from here I could get the outer diameter of the washer pretty close, and using another photo, I could get the approximate thickness of the washer itself.
Using these two photos and measurements as a guide, I went to Fusion360.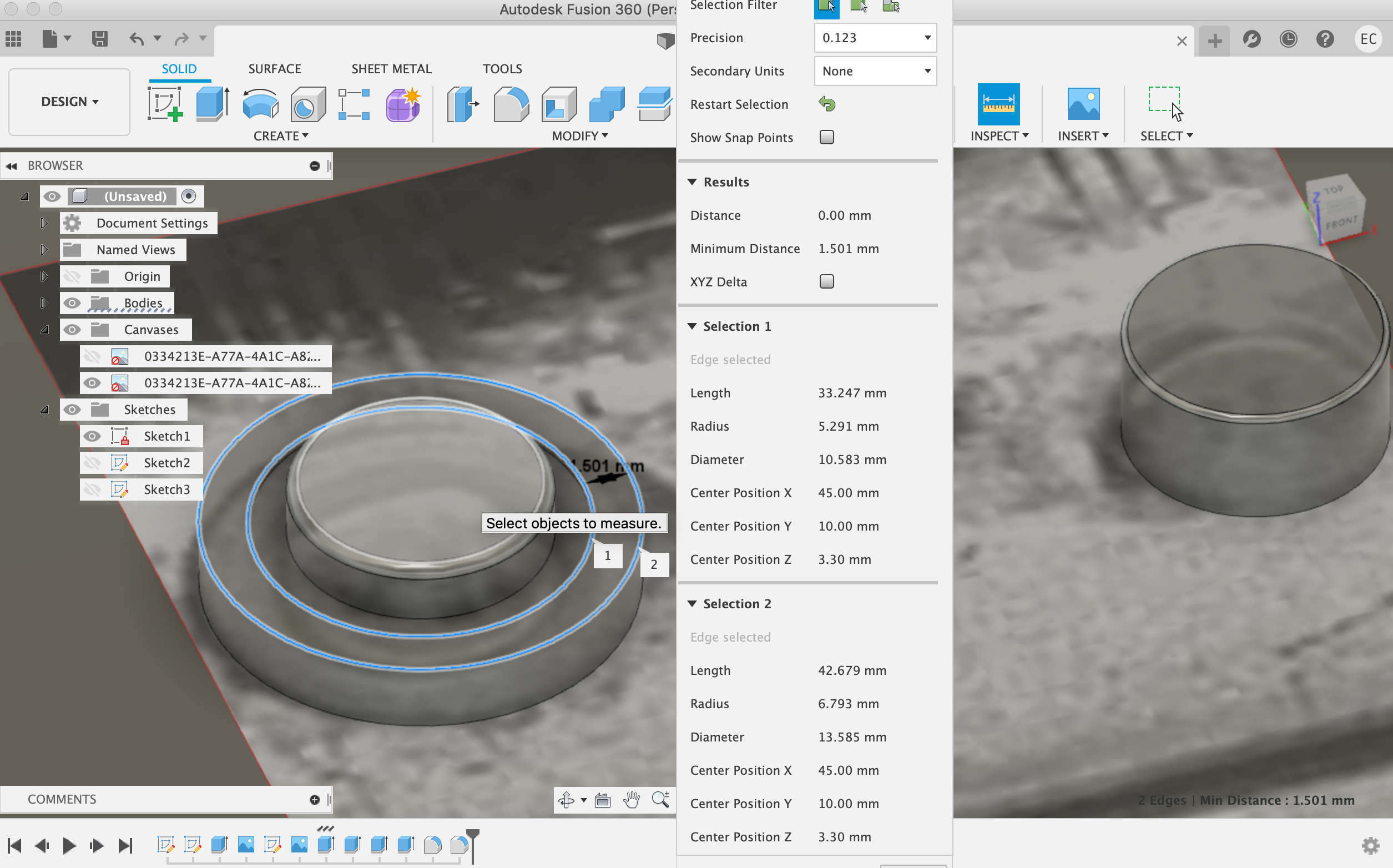 I scaled the photo, and began drawing directly onto it, outlining first the transistor, and then the washer. My measurements were basically the same as when I did it on paper. The OD of the washer is 13.585mm/.535in, and the recess diameter is 10.58mm/.416in.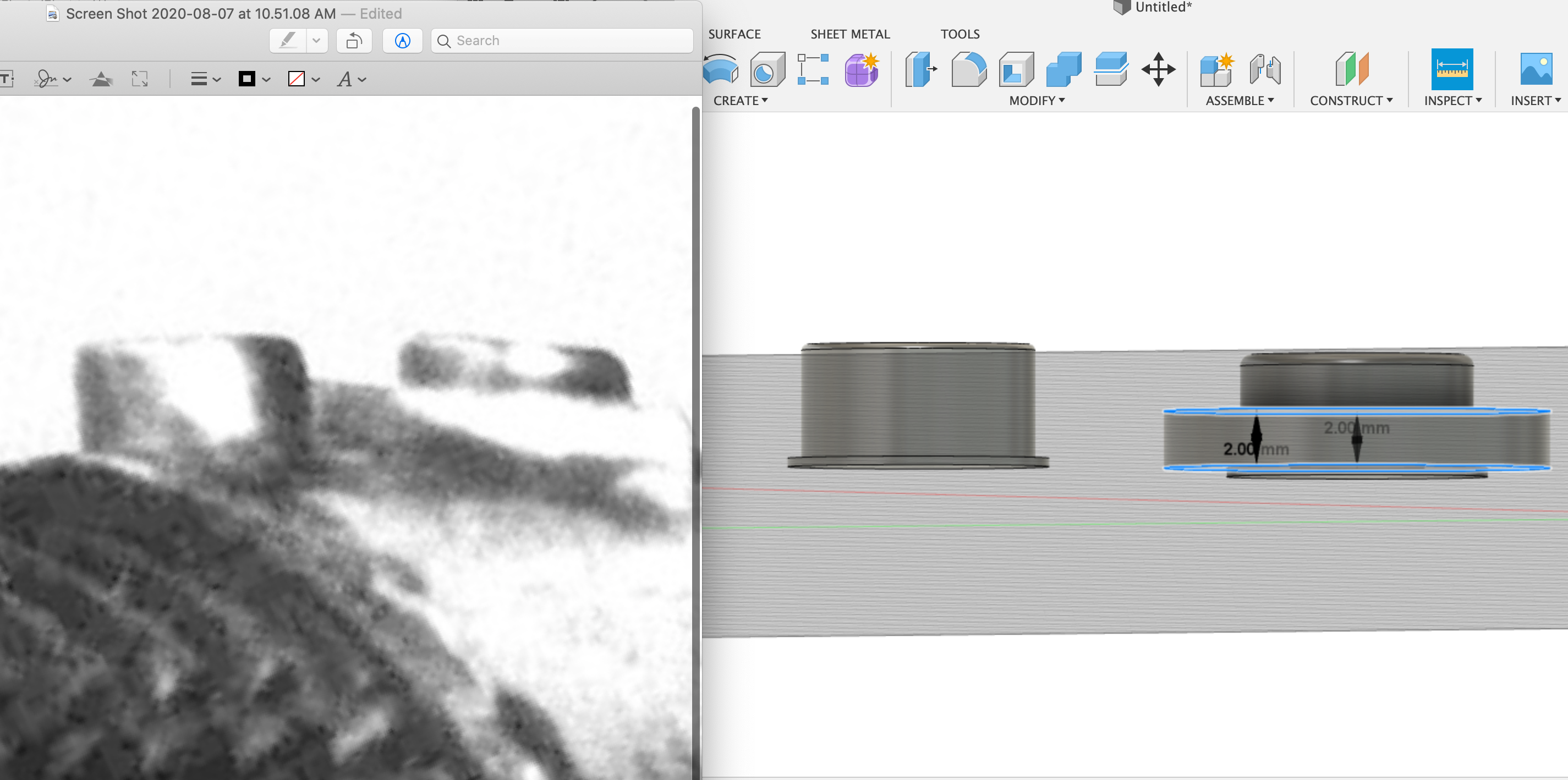 Using this next photo, I tried to suss out the approximate thickness of this washer. 2mm seems about the perfect number here.
So given this exploration the dimensions we are looking for are as follows:
13.6 mm OD
8.23 mm ID
2 mm thick
10.6 mm recess diameter
.535 OD
.324 or 5/16 ID
.078 thick
.416 recess diameter
The actual dimensions of the found part from the military washers source are as follows:
14.45mm OD
8.04 mm ID
1.6 mm thick
10.4 mm recess diameter
.569 OD
.316 ID
.063 thick
.41 recess diameter
So as you can see the found parts isn't an exact match, or at least not by my scaling, which is of course subjective and done with grainy photos that are washed out. The photo where you can see the height of the opamp/transistors seems to show the washer has a slight rounded section to the top of it. That could affect the perceived diameter of the washer as seen from above slightly. As you guys can see, the difference in overall OD is .85mm as per my measurements, which is of course pretty small.
That being said, on my personal saber I have turned the washers down ever so slightly on my lathe, so the OD better matches the part found on the prop.
When looking for this part, the most important part for me was the recess diameter and the thickness, as the hole can be enlarged easily with a dremel, and mine are just friction fit to the op amps. The OD can also be trimmed easily, so I was happy enough to find a part that is only .85mm off in OD, which can be easily corrected. I'll attach some more photos of my actual washers on my saber as comparison between the real photos and what we have here.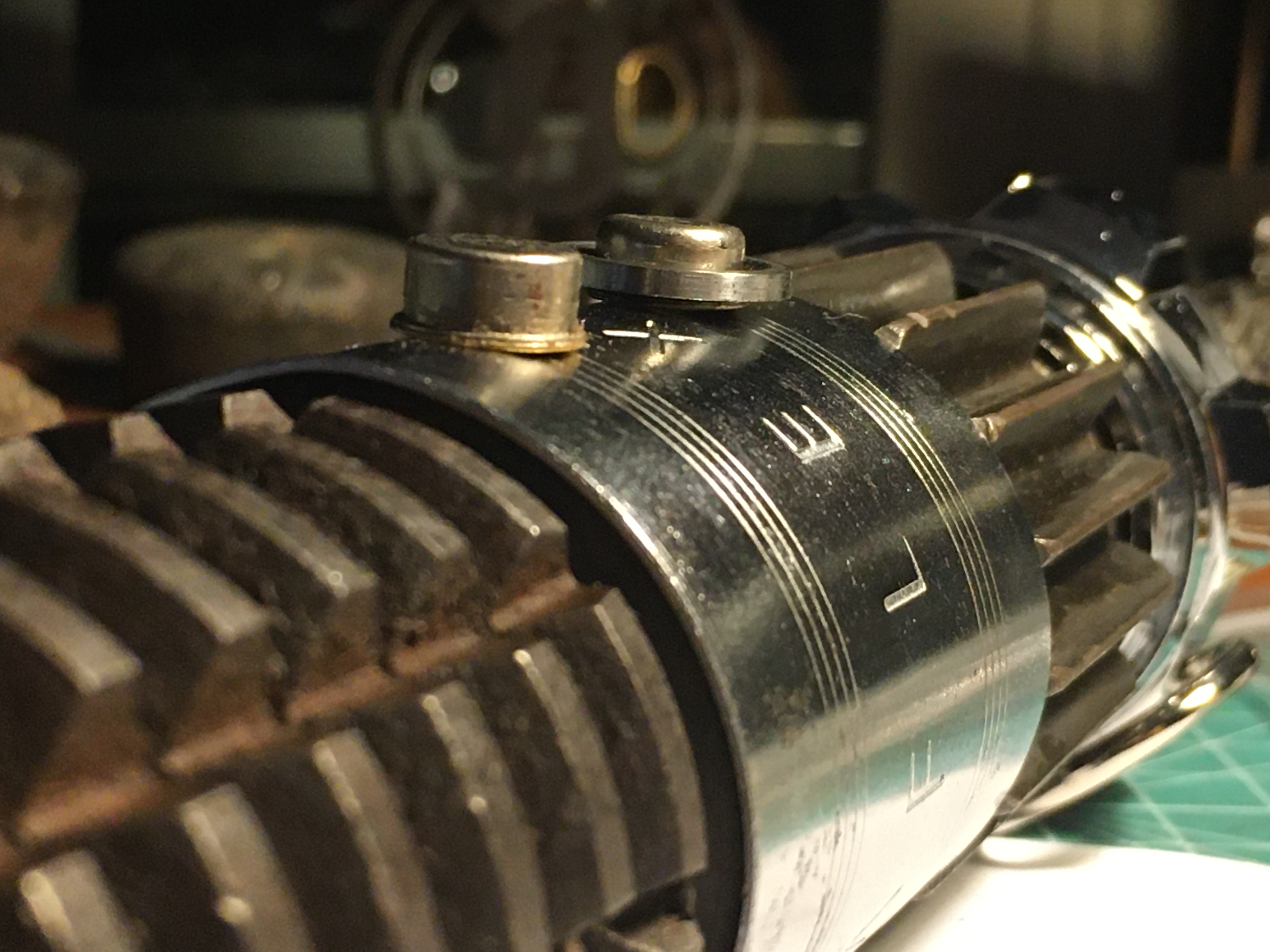 From left to right:
A washer I made from aluminum based on my measurements while I waited for the washers to arrive.
A washer "as is"
A washer with the finish removed
A machined washer
And below, a machined washer on an op amp
So this is pretty much everything I have related to these washers that hasn't been a dead end. I strongly believe that this is what was used on the original prop. The washers that arrived had a coating on them that took maybe 30 seconds with some scotchbrite to remove, and enlarging the hole with a dremel was easily 5 minutes of work for both washers. I do believe that op amps were likely not used, and instead it was to-39 package transistors, as the casings are the same size and the op amps have a ceramic disc on the back that is a nightmare to break down and drill through. If I was a prop maker working to a deadline, I would try drilling one of those, stop, and then drill a regular transistor instead, as they are much easier to drill. I also recently took a long dive through the rabbit hole of spherical washers, as they are often sold in male and female portions, or 'convex' and 'concave/dished' respectively. The closest I was able to find is what is called DIN 6319-D which is the bottom portion, though the ones I bought, which were spec'd close to what we are after, did not match what so ever. I am not convinced spherical washers hold a promise, but they tend to have geometrically similar features to the recessed washers. The issue with these parts is that they exist in the exact proportion that we expect to see, just much larger than what we need.
So! exalted ones! I think given the history of incredible detail oriented work on this forum, perhaps with some concrete (I think) details to look for, and a better idea of what we are after, maybe an exact part can be ID'd if it exists. So have at it my friends, good hunting!
I do have a bunch of these left over, and if people are interested, message myself or
2Cell
who also has some extra! If people are interested I could machine down more of the ones I have to better match the OD on the original prop as well. Hope this helps!
-Emiliano
Last edited: