Active Member
RPF PREMIUM MEMBER
Here's another chance at another REAL MG-81 a.k.a DL44 flash hider. This will be a 5 days auction.
This is a 70+ yr old relic. What makes this rare is not all MG81s or the MG81Zs had flash hiders. A grail item, for some, this will be the last jigsaw puzzle for DL44 enthusiasts. Once this is gone, it'll be gone!
NOTES:
Condition: Brittle, and has rusted. SOLD AS IS, NO REFUND. Strictly for display purpose ONLY. Pictures are the item itself.
Shipping: Item is from Jakarta, Indonesia. All shippings will go through EMS (Express), trackable, and reliable. Allow 1 wk + to reach, and allow another week to go through your own customs.
Thank you for viewing, & please ask me for questions regarding item.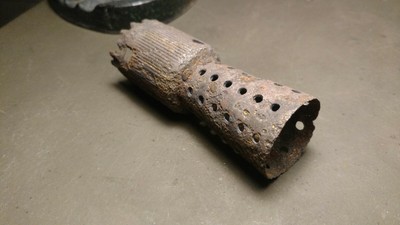 %0a<br>%0a<br>Original MG81 part in as found condition. Imported from Poland 5 years ago. Extremely rare part. Not many of these were originally made and many of them are long gone. A rare item even in the relic condition it is. Sought after by gun enthusiasts and hardcore Star Wars collectors &...
Last edited: