Myself and my good friend at LIGHTBENDERS have been developing over the past 6 months a new version of his Timer.
The EGYPTIAN Timer [REV. 1] YouTube video:
The EGYPTIAN Timer [REV .5] YouTube video:
[REV. 5] CHANGE LOG:
Preamble changed from "GEnSEr" to SEASON 5 "52 52 52"
Speaker is now MOUNTED to the underside of the TOP board
7-Segment displays ALL changed from BLACK to GREY
Solder-Mask changed from GREEN to PURPLE
*** GRAYHILL SERIES 87 MATRIX Keypad NOW WORKS ***
Emitter LED's BOTH on unique parallel paths
SCARAB LED on unique path
SCARAB redesigned by 'Curious Goods Inc.'
Processor UPGRADED to a 32-bit,64-pin 512kB Micro-controller
I have also begun to track down materials for the construction of the prop itself.
MATERIALS:
RED #2423 ACRYLIC (2 1/16" W x 4 3/8" L x 1/16" H) [EXACT COLOR# used by PROP MASTER]
RCA RCU4GLW Remote (RCU4GLWC/RCU700)
Acid etched MAGNESIUM plate (WINGED SCARAB designed by Curious Goods)
GRAYHILL Series 87 (MATRIX/7-PIN version) [EXACT KEYPAD used by PROP MASTER]
RED LED FLAT-TOP (Winged SCARAB LED (Blinking/NON Blinking)
WHITE LEDs (EMITTER LEDs)
NEED:
BRASS TUBE (3/8" or 1/2" diameter) [RIBBED]
GLASS/PLASTIC/ACRYLIC Lens for EMITTERS
SILK-SCREEN Printed 'HRS MINS SECS'
CNC cut ACRYLIC face-plate
PICTURE [MY CURRENT BOARD]: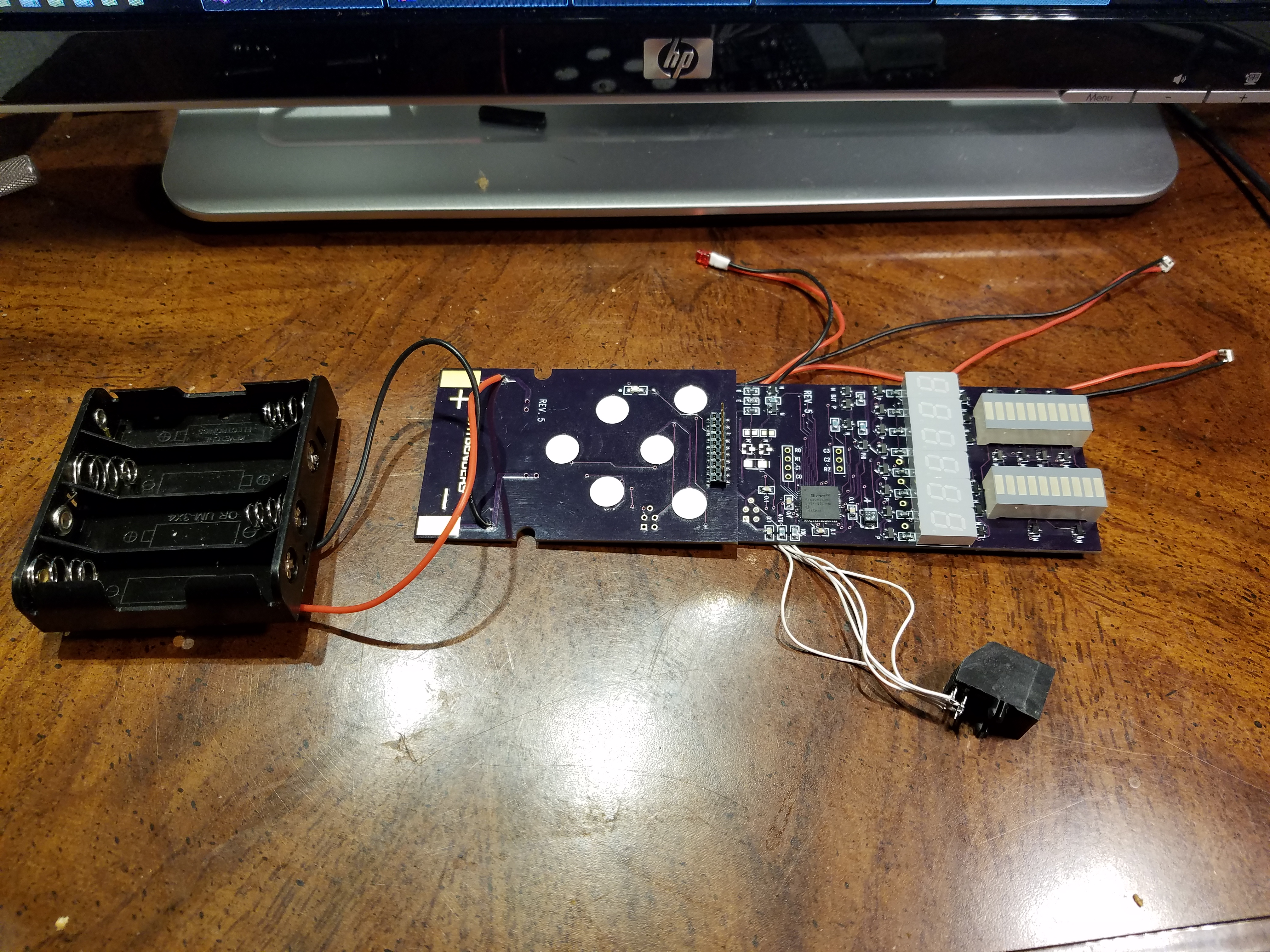 NOTE: Before I mount it into the RCU4GLW Remote, I have it hooked up with the 4 slotted AAA Battery unit to supply the 6 Volts required for the Circuit. The OTHER black device attached is the PROGRAMMING INTERFACE. The surface mounted speaker is on the underside. The WHITE dots on the bottom half are the push button domes for the RCU4GLW PIE keypad. NOT pictured here is before we completed the programming for the GRAYHILL Series 87 Keypad. The Keypad functions as a modifying device the resets behaviors, turns LED's on/off are replaces the need for the 3 toggle switches on the ORIGINAL prop used on the show. The REAL prop from the show used 3 toggle switches to turn off the LED lights while still counted down. It also changed the state of the blinking red LED above the WINGED SCARAB from blinking, to solid, to off. The RED #2423 ACRYLIC FACE-PLATE is the EXACT material/color# used on the actual prop with the information I was given from the PROP MASTER who designed the EGYPTIAN TIMER. The WINGED SCARAB is also made the EXACT same way as the actual prop. They ACID ETCHED the design. With the advancements in modern CAD, we can now easily create VECTOR art for the average user, and not restricted to expensive business software. The resulting WINGED SCARAB is PIXEL PERFECT 1:1. The WINGED SCARAB from CURIOUS GOODS is quite literally the PIXEL PERFECT BEST you can get for the EGYPTIAN TIMER prop enthusiast...
WHAT I AM LOOKING FOR IS HELP ON OBTAINING WHAT I HAVE LISTED IN THE NEED SECTION, HELP ON CONSTRUCTION, MAJORLY NEED HELP WITH FINDING THE PROPER BRASS EMITTERS AND HELP WITH THE FACE-PLATE...THE SCREEN PRINTING ON THE FACE-PLATE WITH HRS MINS SECS, AND FINALLY RECOMMENDATIONS ON WHAT TO USE AND HOW OT CUT ROUND HOLES FOR THE EMITTERS AN CUTTING SECTIONS OUT FOR THE 7-SEGMENT DISPLAYS, THE LED BAR GRAPHS
PICTURES OF WHAT I NEED:
SCARAB [NO PATINA]: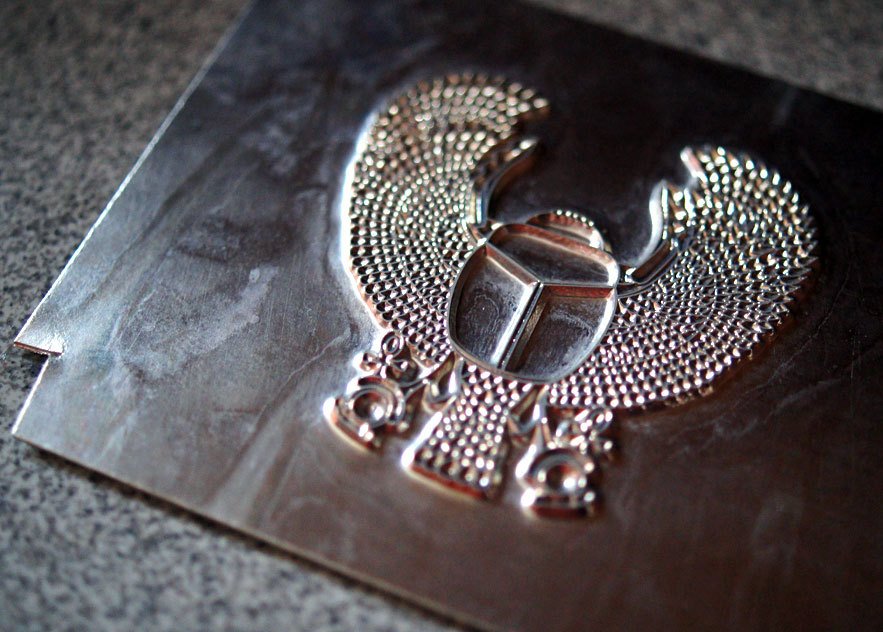 ACRYLIC FACE-PLATE [RED #2423 1/16"]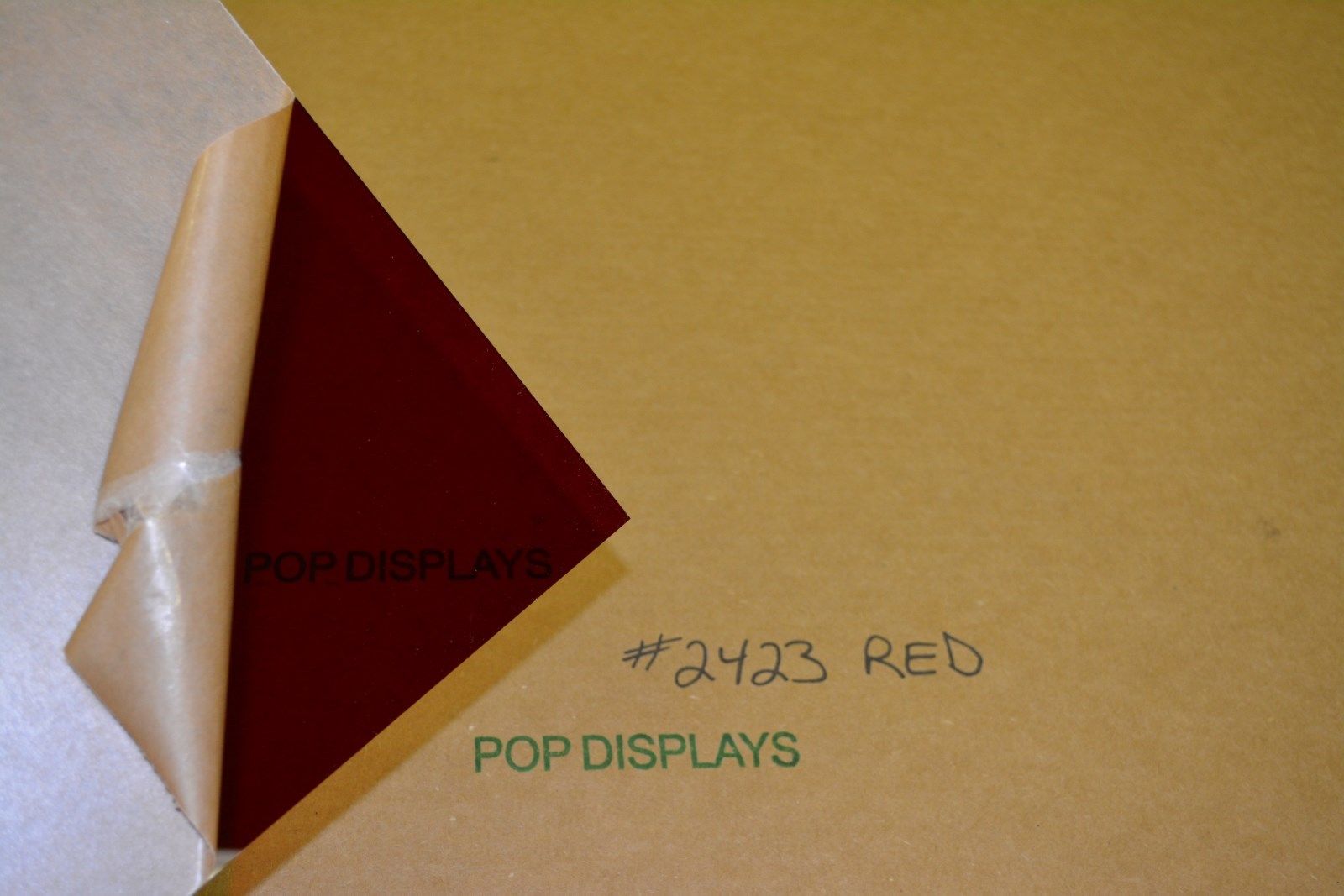 Last edited: