In honor of Star Wars Day, my latest WIP.
Slave 1 is probably my second favorite ship after the Falcon and I managed to find one at normal price at Newtype.com (Woot!). I've got the priming, shading, and base coat on everything at this point, and I've been experimenting with chipping methods since they feature so prevalently in the paint job. I've been happiest with AK Interactive Worn Effects chipping fluid. I have found that if I spray it in just the areas I want, I can control the effect much more tightly. There will always be a healthy dose of randomness, but I can contain that to the areas where I want it.
May the Fourth be with you.
I scribed some panel lines on one of the extra base curbs to practice chipping with the AK Interactive chipping fluid. On the left side, I carefully sprayed the fluid on just the panel lines, on the right side, I sprayed it over the entire face. Based on this, I'm confident that I can get the chipping where I want it. I do need to be careful on any raised edges, If you look closely you can see some raw plastic where I got a little too aggressive and rubbed down to the raw plastic. I'm hoping this won't be an issue with the actual parts since my test was not primed.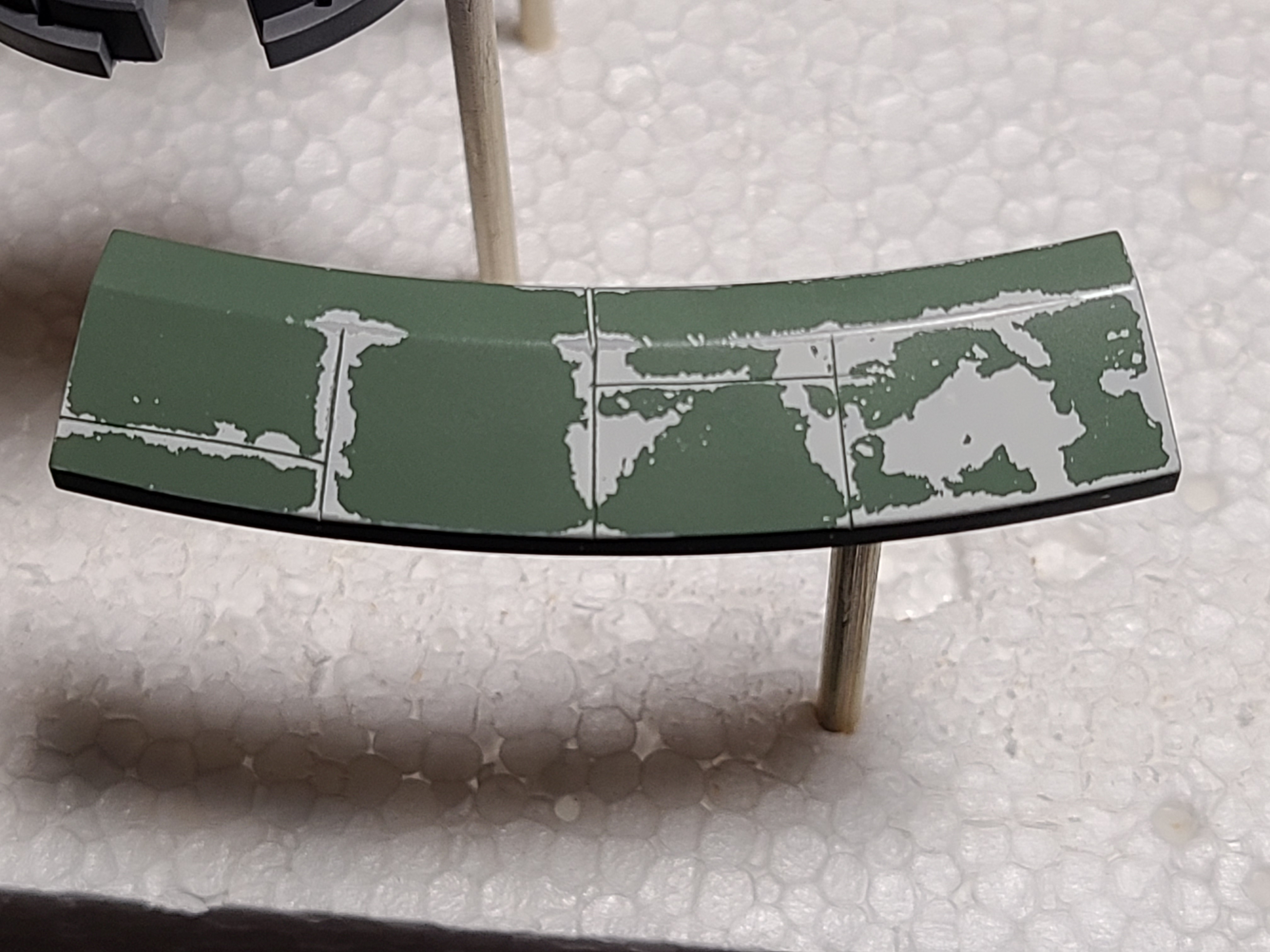 Base coat on the engine shroud. I preshaded and left the base intentionally a little light since there will be a lot of layers on top of it. The shading comes through much more clearly in person as opposed to in the picture.
Nose base coated, the shading shows up much more clearly in this pic for some reason, even though the coverage is about the same as for the shroud.
All of the bits, everything with the off white base color is done at this point.
Underside bits done with the light olive and medium grey. The dark bits on the base will get a go with burnt iron pigment powder to give it some metallic sheen and darken it up a bit. The stabilizer pivot machinery will get a darker grey coat that will have a fair amount of random chipping all over.