Here's what i've been working on this weekend so far:
Source Images: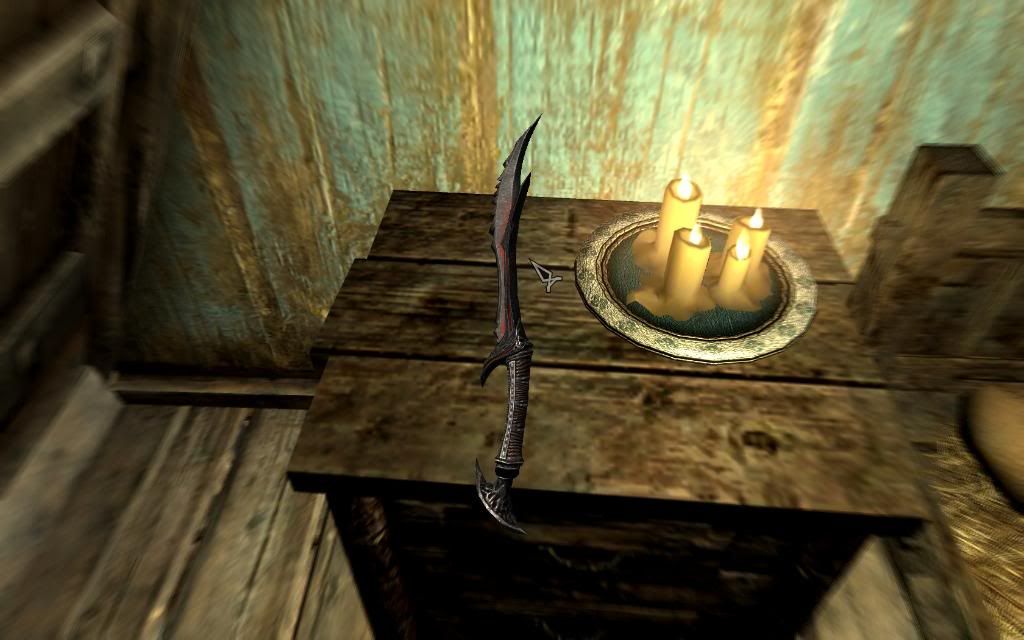 The runes carved into the trimming can be seen here, but the 'player weilding model' is different from the menu model, as the player weilding model has an extra edge along the back of the trimming.
The dagger itself:
I cut the dagger out of 9mm thick mdf board using screenshots and my own freehand drawings for reference, so innacuracies are probable if not inevitable. I marked out the position of the trimming along the back
I noticed, using the screenshot, that the serrated edge of mine was WAY off as a result of screwing up the bevelling and shaping with my dremel.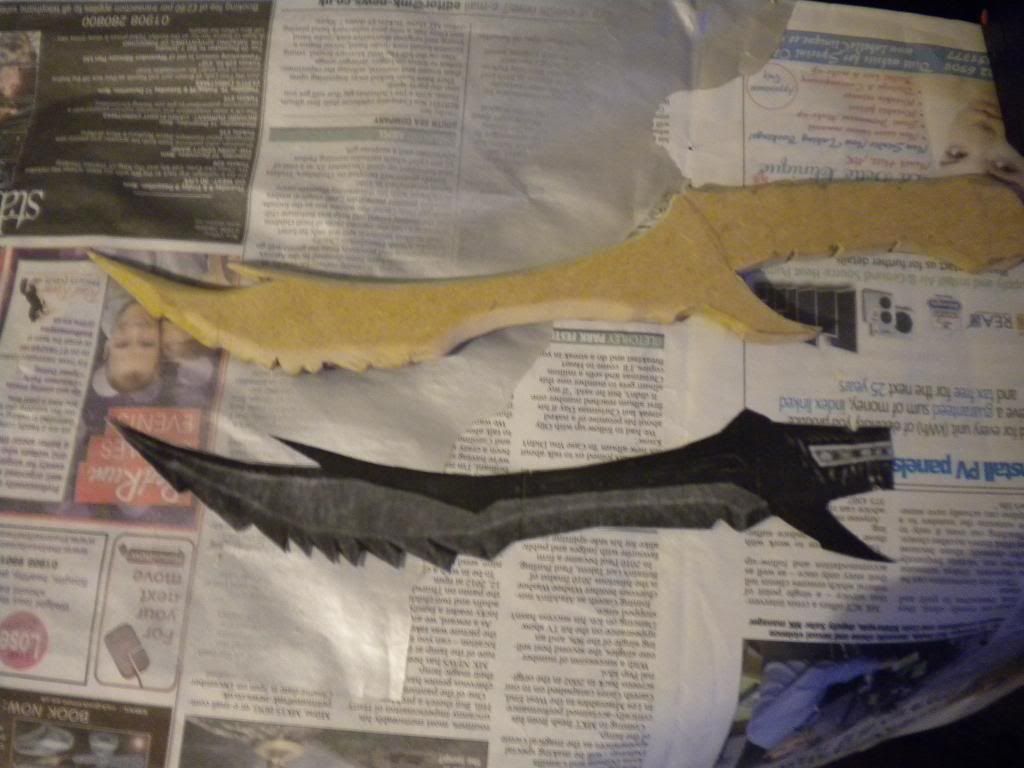 With the power of Irn-Bru and metal epoxy i managed to make the edge much more accurate. I used metal epoxy for its rigidity and strength, though it is rough, and will go over it with isopon 38 easy sand to fix some of the gaps and cracks left in the metal epoxy. Sorry about the quality of the image. The contrast was acting funny and i didn't have the patience to mess about with the settings :lol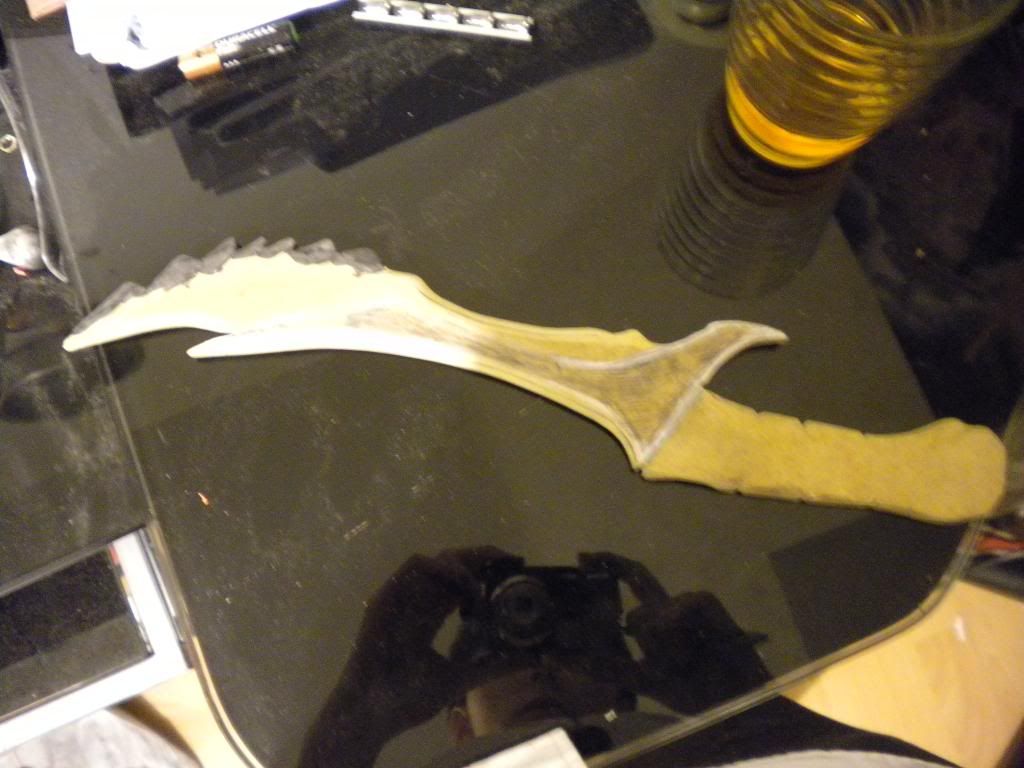 I used some more epoxy for the trimming on the back but used too much and it's too thick, which is better than it being too thin but at the moment it looks too bulgy and rounded.
The brick that it's leaning on is insulation foam carved to look like volcanic rock for the display base of the dagger as though it has just been found on the volcanic shore of a plane of oblivion. I intend to add red/amber lights underneath the base so that it produces a candescent looking glow from the vents cut into the foam. Jm419 gave me this idea, with their display stand resembling mustafar for their Anakin Skywalker epIII light saber replica. I will also add a foam brick with daedric writing carved into it to resemble the stone tablets found in the ruins on oblivion.
A photo for size reference, i'm worried i may have made it too small... eh, it's a learning experience.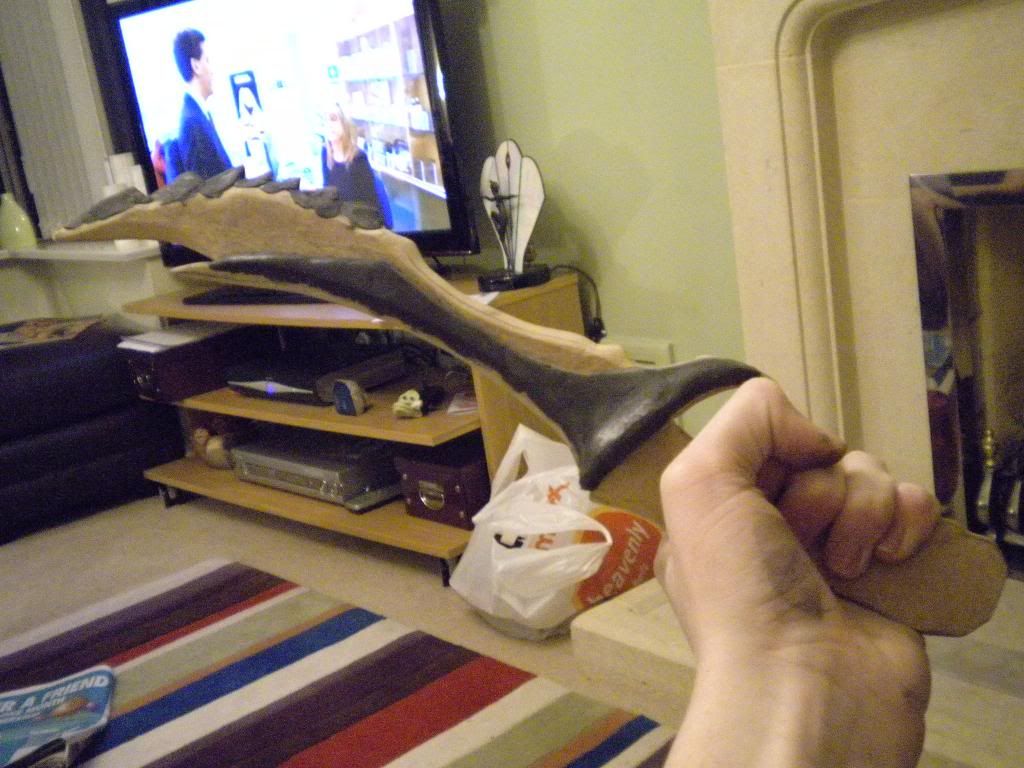 Only one side of the dagger has the trimming sculpted onto it, and i was wondering if it would be possible to make a mold of the trimming so that when i cast it i would have a piece of trimming that would fit on the opposite side of the dagger. Probably not but it's worth asking I guess.
once done the dagger will hopefully be fitted with between 4 and 6 LEDs, powered by a bunch of button cells. god knows how i'm going to fit them. I'll keep you guys updated.
-Andy
Last edited: