10/20/2013 UPDATE - ARMOR IS NOW COMPLETE!!!
Completed Photos on Page 5!!!
--------------------------------------------------------
EDIT: Check out my facebook page here if you have any questions or want to see more pics, I am better about responding to messages on there:
https://www.facebook.com/creepyboris
Hey guys, thought I would make this my first post!
I wanted to dive into the world of foam building by making a set of unique armor, after a long time deciding I finally settled on the Daedric armor from Skyrim. Problem is there is not too many builds I could find of this armor, and especially not in foam.
I started with the pep files I found online in this thread:
http://www.405th.com/showthread.php/36462-Skyrim-Pepakura-Files/
which I then modified to make them more foam-friendly.
The armor is made completely out of EVA foam and hot glue. Detailed with craft foam, acrylic paint, hot glue, and varnish. More details can be found in the thread.
View attachment 213706
View attachment 214976
View attachment 228396
View attachment 229595
View attachment 229598
View attachment 229597
View attachment 230479
View attachment 235098
View attachment 250923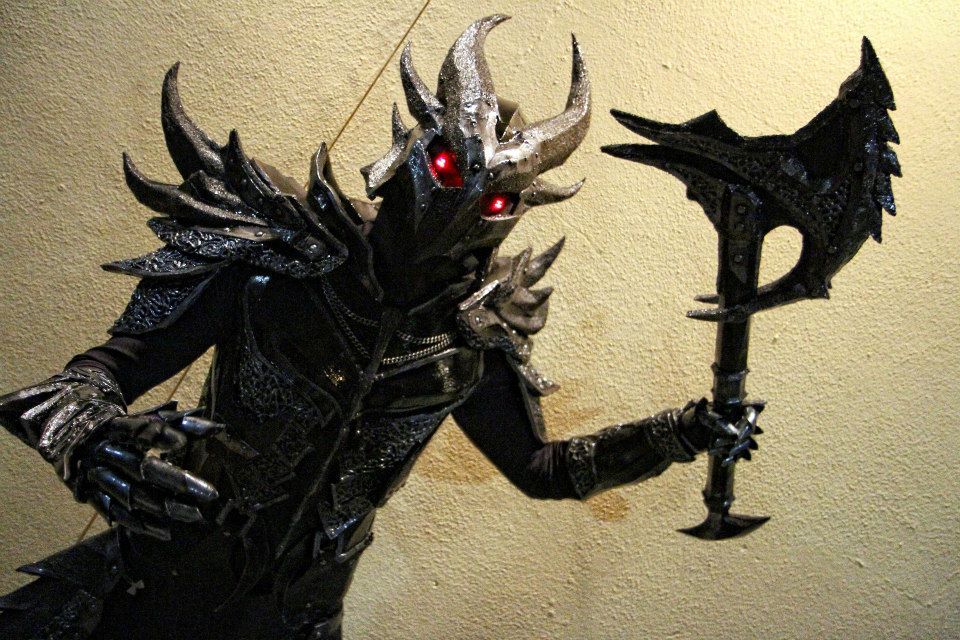 Here is a link to a separate thread I made for my Daedric War Axe prop:
Daedric War Axe (Skyrim) - pic heavy
This thread will document the whole process from start to finish.
--------------------
So far I have completed the chest and back pieces of the torso. I think they came out pretty good considering its my first time working with foam.
I am currently working on modifying the shoulder files for foam. I am also going to make a duct tape dress form of my body so that I can finalize the fitting for the sides of the chest piece. Will post updates in this thread. Please feel free to post comments/questions/suggestions.
Last edited: