As the debut of my Predator was more succesful than i imagined, i have started to put together some add ons, carry withs etc.
will be adding dread rings soon, and a few bone necklaces and trinkets etc
However i always wanted an excuse to carry a skinned skull and spine with me in civvie street, so after sourcing a local supplier of anotomically correct skulls, bones and human bits n peices, on ebay, $80 later, I have a skull and right hand
the hand has enough bones to make a necklace and or hang a finger or two from different parts, if i so desire
the skull, well jaw bone actually, will hang from my belt. (pretty sure i saw that in one of the flix)
A spine is en route as we speak and will be secured to the skull, which thru trial and error (ok i fluked it) now looks like i just hunted some poor dude who cut me off in traffic and peeled his head like an onion, thanks to mixing tamiya 'flat red' and modellers 'white scenic glue' into a flesh like mixture.
it dries quite quickly, so haste is of the essence, majority was applied with a cloth, and the chunkier bits a small brush..
however this quick dying actually left a 'skin' on the mix, which i was able to use as pieces of mmmmm lumpy flesh
finished effort is much better than i anticipated....thoughts?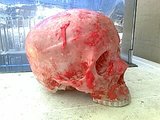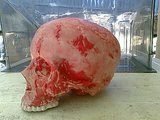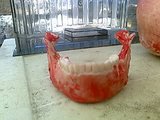 will add to this once spine arrives