I know. You saw cheap shoulder cannon and thought 'Oh great. Here we go.' Hopefully you'll be pleasantly surprised. I know I am.
So with my move looming over my head and all my stuff being packed up, I of course had an urge to make something so I thought, 'why not a cannon to go along with my bio?' I initially wanted to sling it and mold it and such but since everything was packed and I didn't wanna open a bunch of boxes only to have to repack stuff in a couple days, I decided on foamies. They're cheap, lightweight, and fun to work with. I documented the whole thing so I apologize for the picture heavy post but here it goes!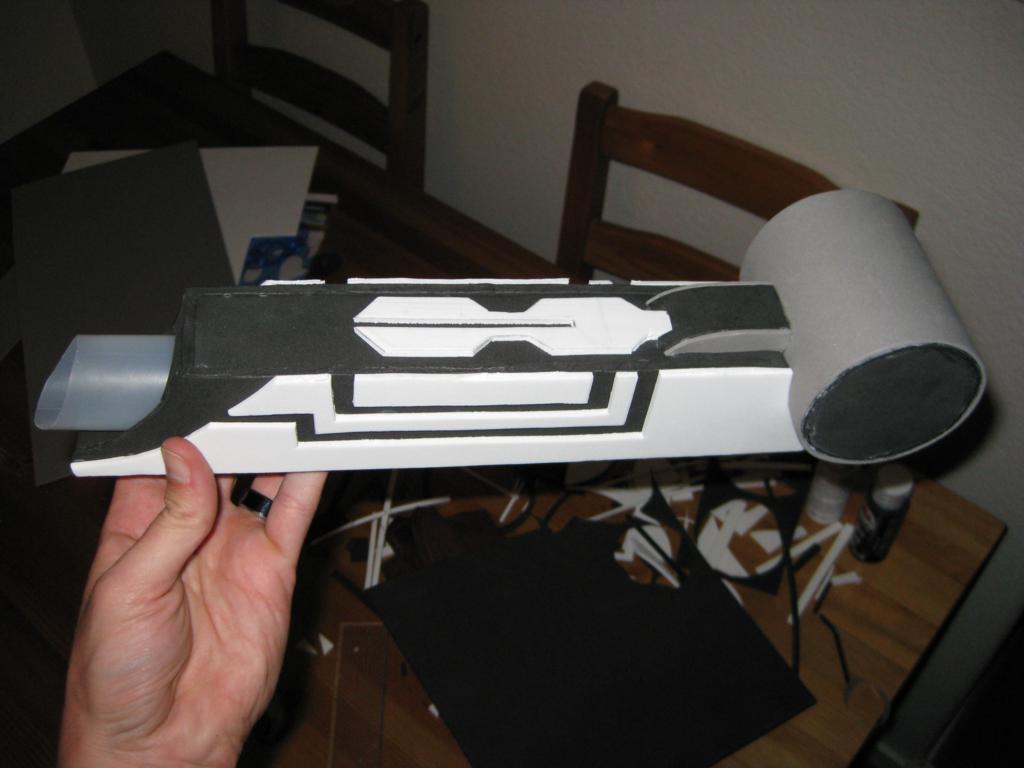 o I went out and bought 3 different thicknesses of foamies; 2mm - grey, 3mm - white, 5mm - black. $3
Pop - $1.30
Black paint (since I was out) - $1
I already had some other paints that I used, the ModgePodge (or PVA glue, your choice), brushes, and plastic primer (for the barrel tip(more on that to come)).
I cut out my basic design out of the black foamie and used an old tube of paint for the barrel.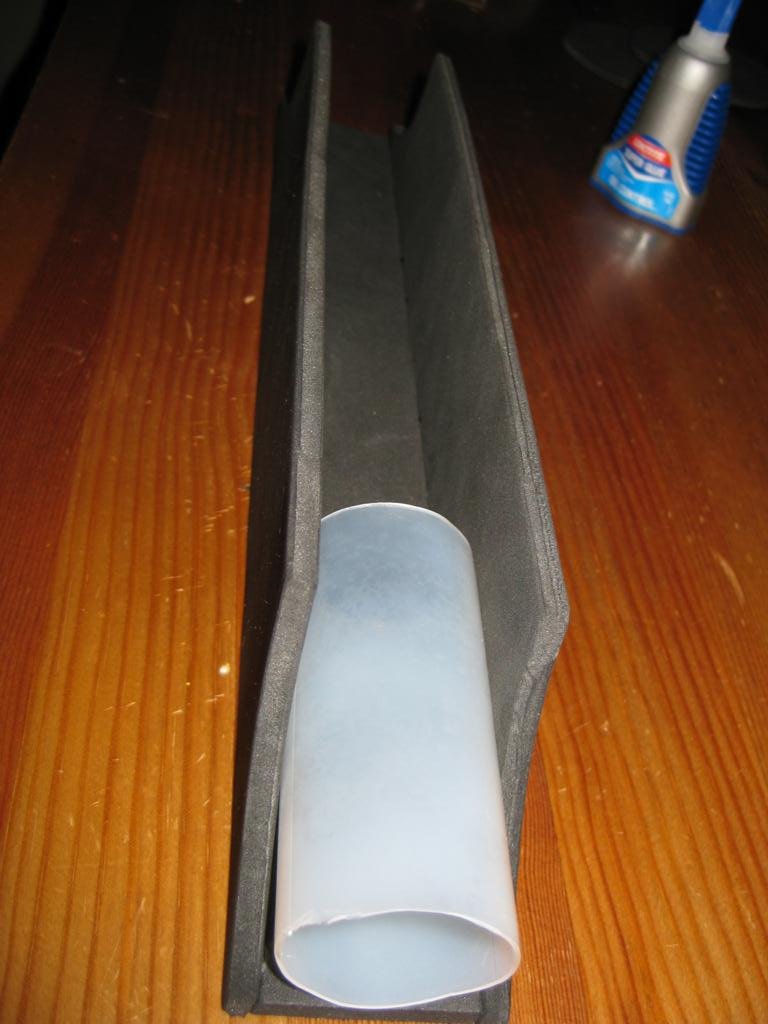 I then took the the white foamie and sketched out my design and began to cut out some more bits and pieces.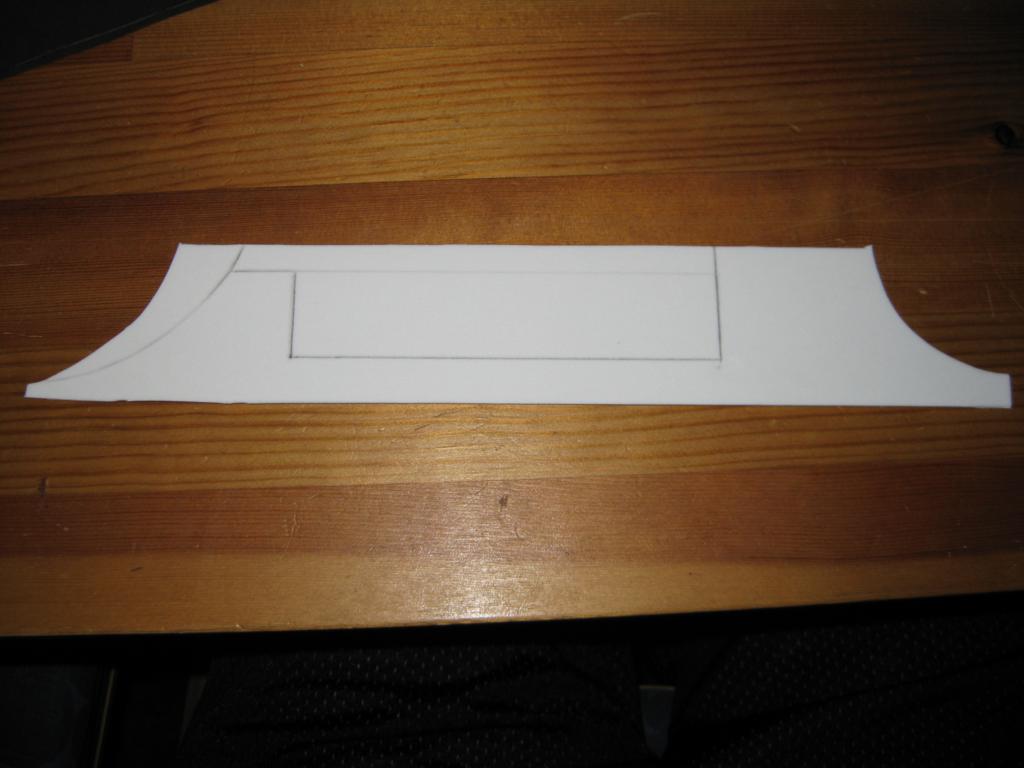 To glue the pieces down I used a scrap as a spacer so I had the same spacing for all my pieces and I used some super glue I had on hand. You could use PVA/ModgePodge to glue the pieces together if you wanted to.
I then used my pop bottle, after drinking the contents, to make the generator end piece. I cut it to size, removed the label, cut 4 foamie circles and placed two inside of the tube with a dab of glue to hold them in place and two flush with the ends.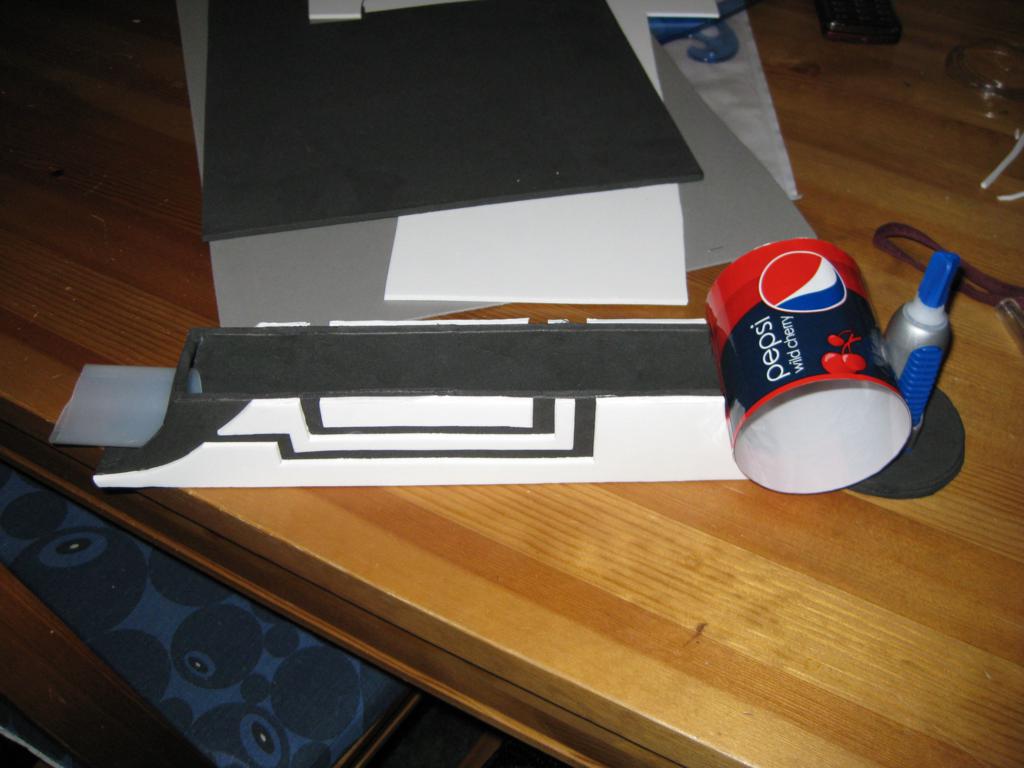 I then skinned the end with my 2mm foamie and attached it to the body of the cannon. I had a basic shape! I then added some more bits and bobs (I think they're called greebles or something like that) to the body and the generator via glue till I was happy with the design.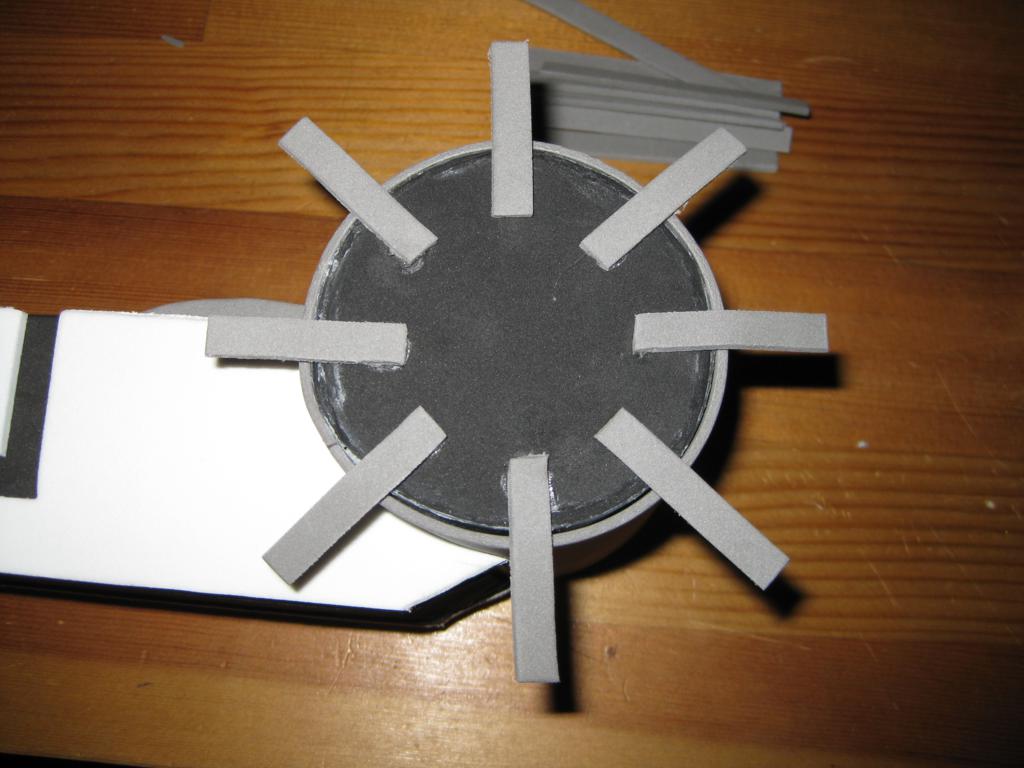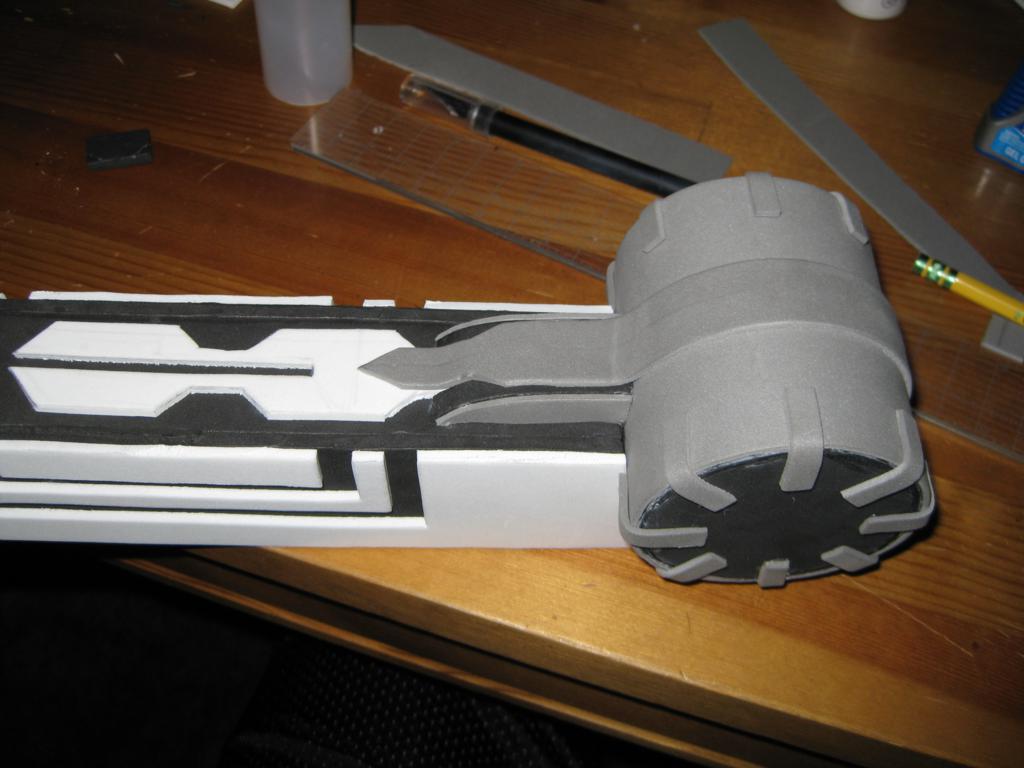 I took a regular #2 pencil and made the lines along the greebles to give it more depth. Here is the final design before beginning sealing it! (The barrel was removable and since I planned on using some plastic primer on it anyway before painting it I didn't ModgePodge it, hence why it is missing.)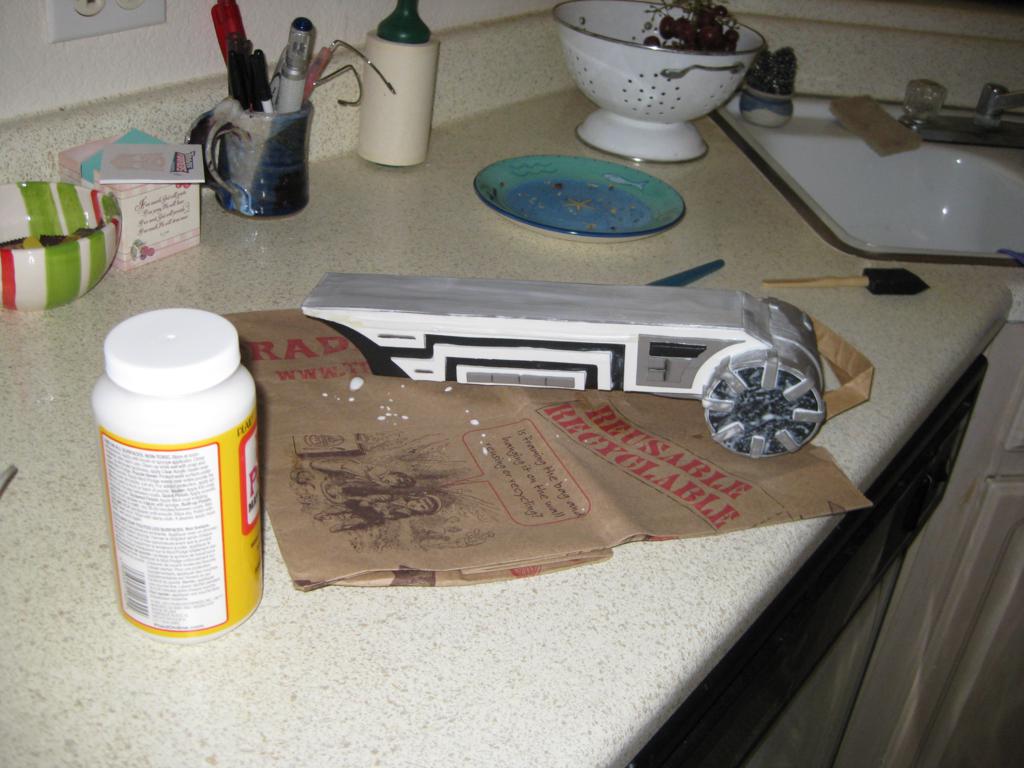 Here it is all sealed with the newly primed plastic tip.]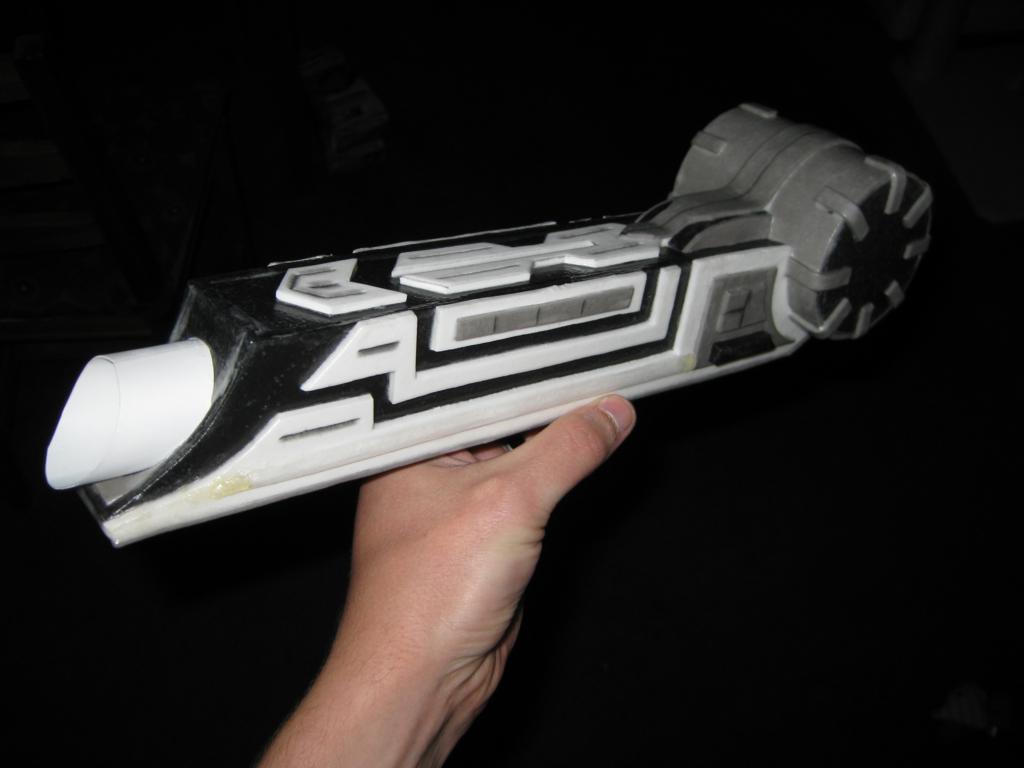 Following The Big Gunns' foamie painting huntorial found
here
I began with an all flat (or matte) black paint coat via sponge brush.
Then I did a layer of black and latex mixed together to give the piece a little texture. Sorry for the sorta blurry pic.
Next I did the black and silver layer and then I added a grey and silver layer just to give it a little more depth and coverage. Finally I did a dry brushing of straight silver and did some little touch ups with silver and gold. Then a clear coat with a matte spray paint (cause that's what I had on hand. Big Gunns recommends clear plastidip but I wanted to keep my cost to a minimal.)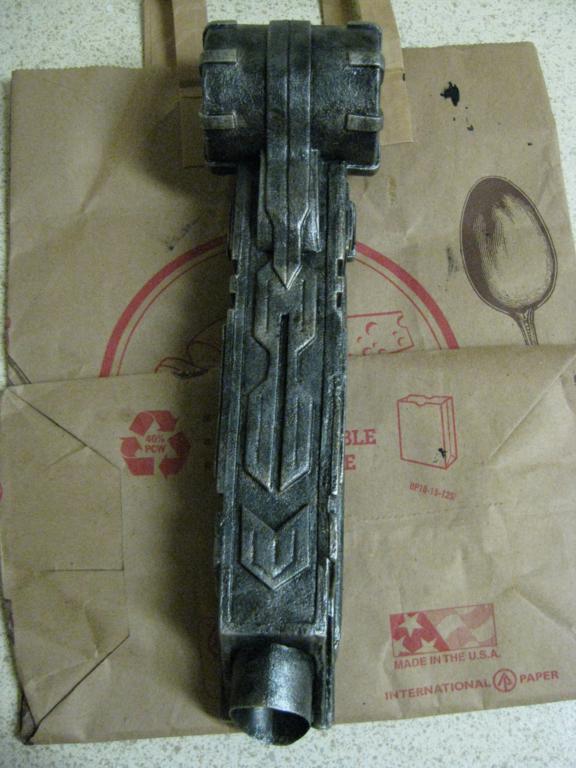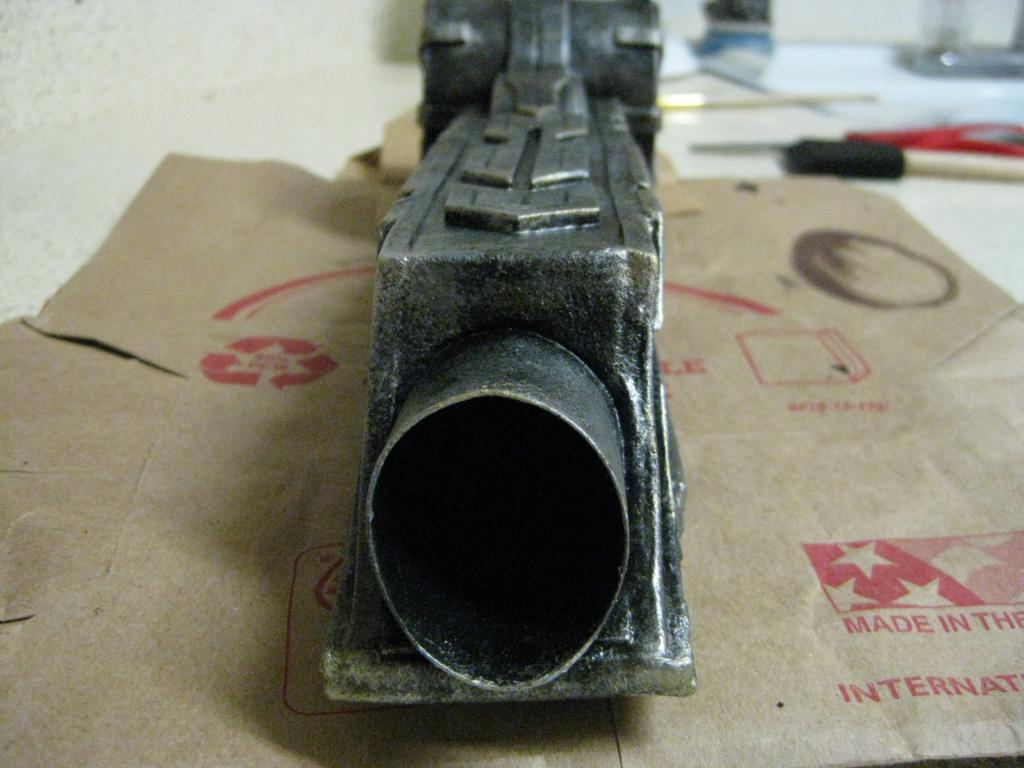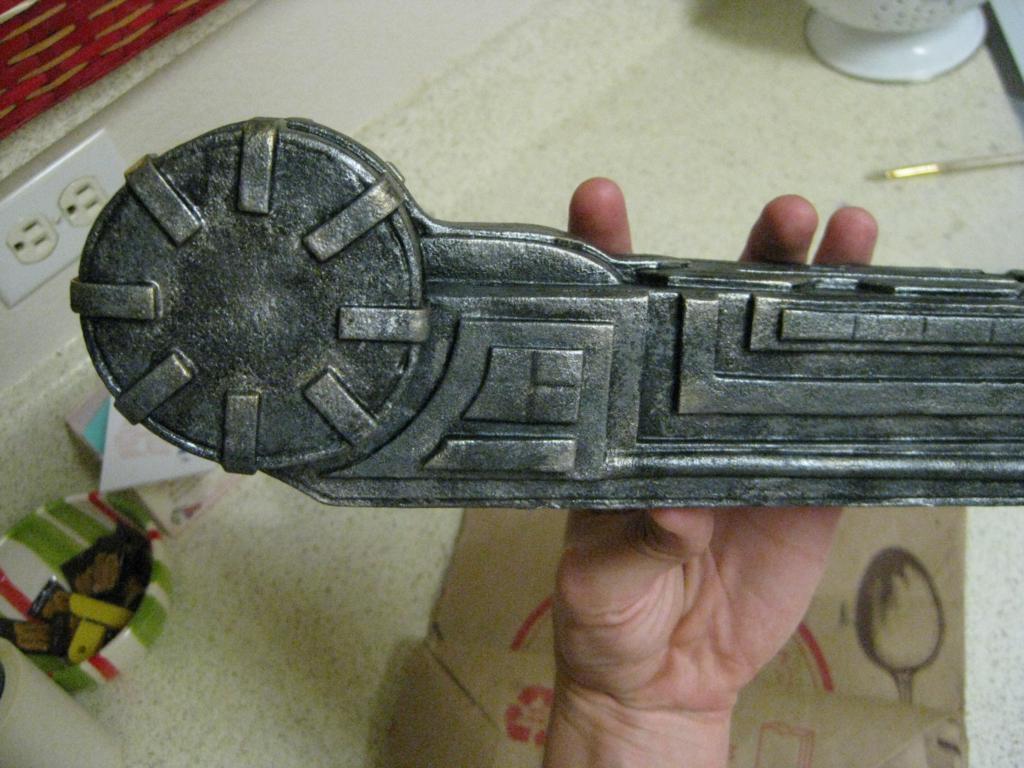 That's it! I am stoked and really happy that it came out as well as it did. The cannon in total is 13.5 inches long and weighs in at a whopping 3.1 oz. Its so light! I am my own worst critic and thus I see things that I would change but all in all I am pleased with the outcome considering it cost me a grant total of 5 bucks and took 2 days start to finish. I have enough of my foamies left over that I may try making an arm but I need to find a design I like. We shall see...........
Micah
Last edited by a moderator: