Sr Member
RPF PREMIUM MEMBER
I tend to be pretty late to the show when it comes to video games. I didn't pick up any of the Halo games until Reach came out and my first Fallout game was the fourth one. That said, I'd been hearing so many good things about Jedi: Fallen Order that it didn't take me long to pick up a copy for the PS4. Now I pretty much suck at playing video games, so I'm still only about halfway through the story. Specifically, I'm stuck on the part where we meet this lady for the second time:
That's the Second Sister, one of the Imperial Inquisitors on a mission to hunt down the remaining Jedi.
Now I suck at gaming, so she's been repeatedly kicking my butt in a lightsaber duel that is likely going to take me days to figure out. But that hasn't stopped me from wanting to bring this character to life. Originally was just going to shop around for a nice, smooth 3D model so I could print the helmet and call it done, but I never came across one that I was happy with. Instead, I decided to start with the in-game 3D model which someone was good enough to rip and post online. Here it is imported into Netfabb: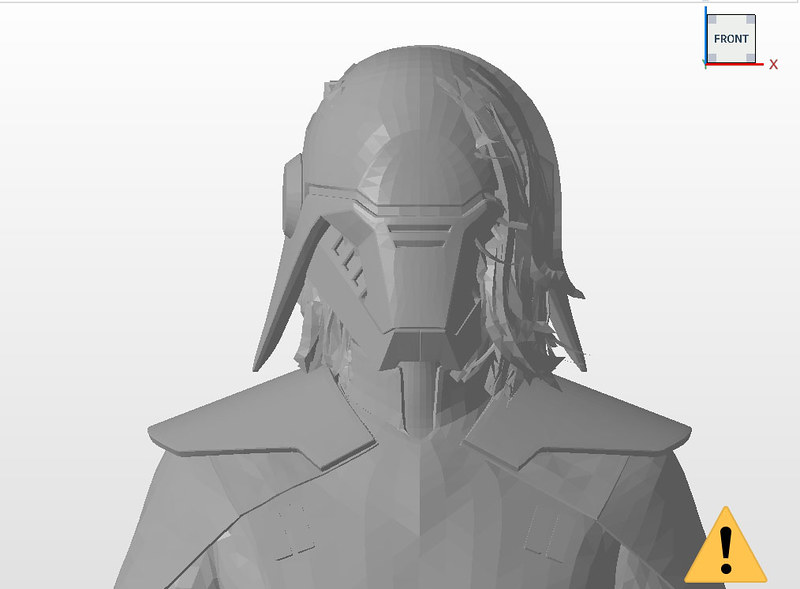 At first glance, the model is a bit of a mess. That's because it includes everything. Soft parts, body parts. Even her hair, eyes, and teeth are mixed in there. After deleting the geometry I didn't need, here's what the hard parts looked like: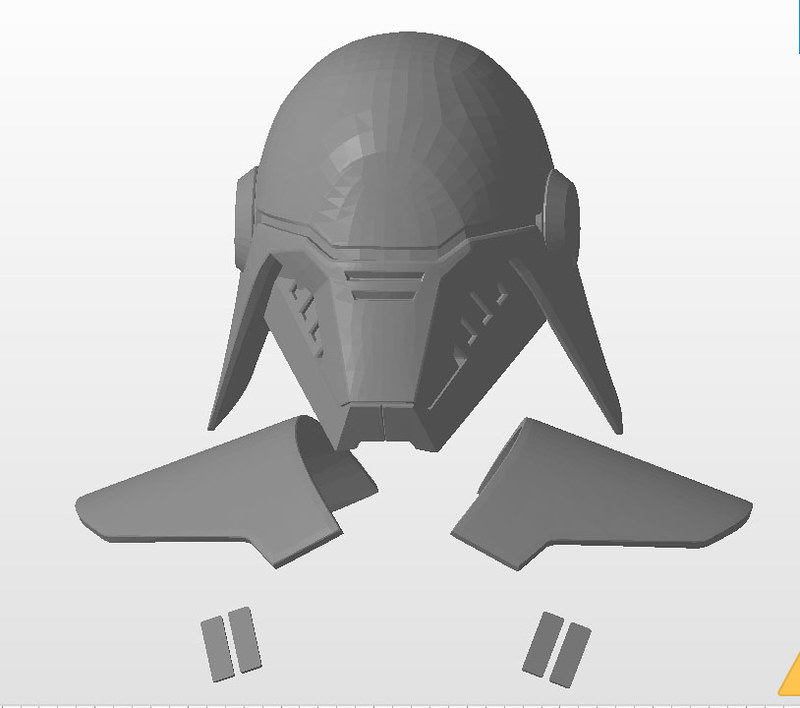 Much better.
Here are the hard parts imported into Armorsmith for a digital test fit on a slightly taller than average female figure: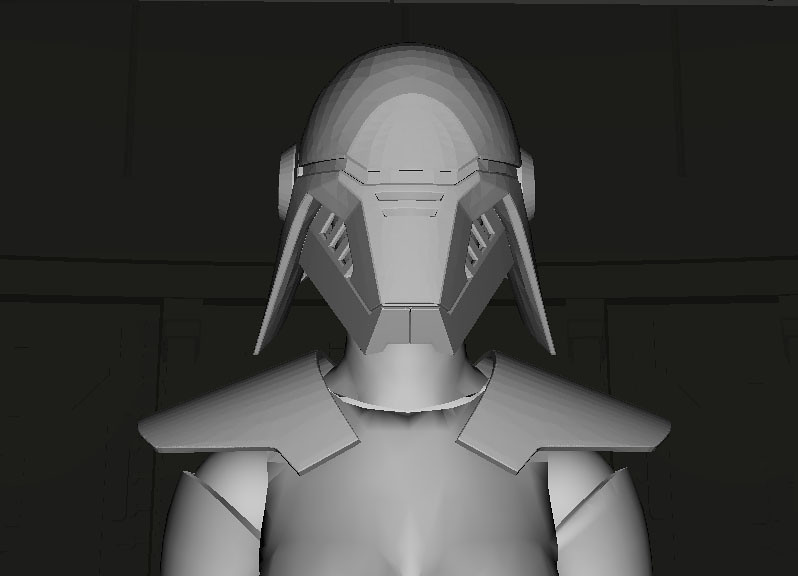 Taking a couple of slices out of the helmet model, I printed a quick and dirty size tester. Here's Dr. Girlfriend trying it on: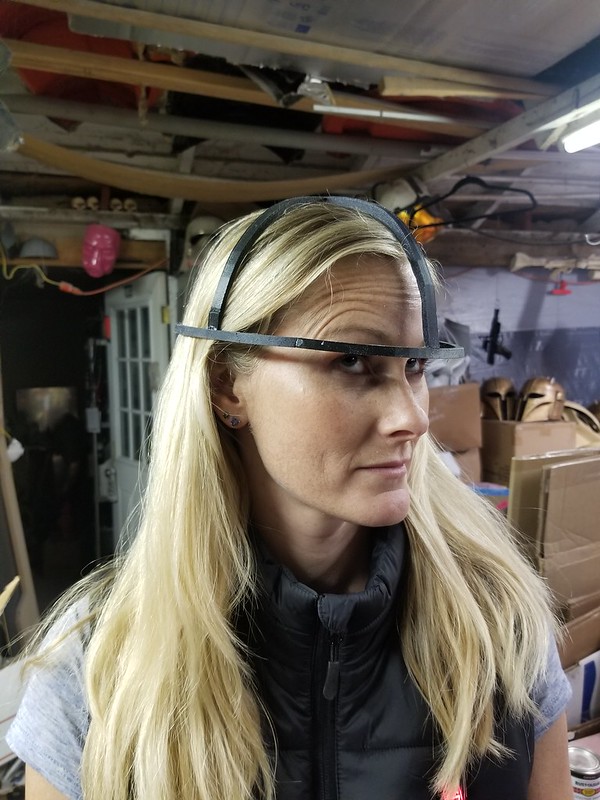 It fit her 21.5" head with room to spare, but it was a bit snug on my 23.5" head:
Satisfied that this was a good size for her (and potentially an adequate size for me) I went ahead and printed all of the helmet parts:
At a glance, it looked good, but it turned out to be really snug in the cheek area:
Looking back at a full-color render of the in-game model, it was even worse for the on-screen character:
That bit of skin tone is her cheekbone sticking out through the geometry of the helmet. So I had to make it a tiny bit bigger. I also changed the angle of the cheek vent area to make the cheek indents a bit shallower. The larger modified model is almost indistinguishable from the original test:
When Dr. Girlfriend tried it on, it still looked good:
So I got to work smoothing it out. Step one was rough sanding the whole thing to knock the corners off of the low-poly print: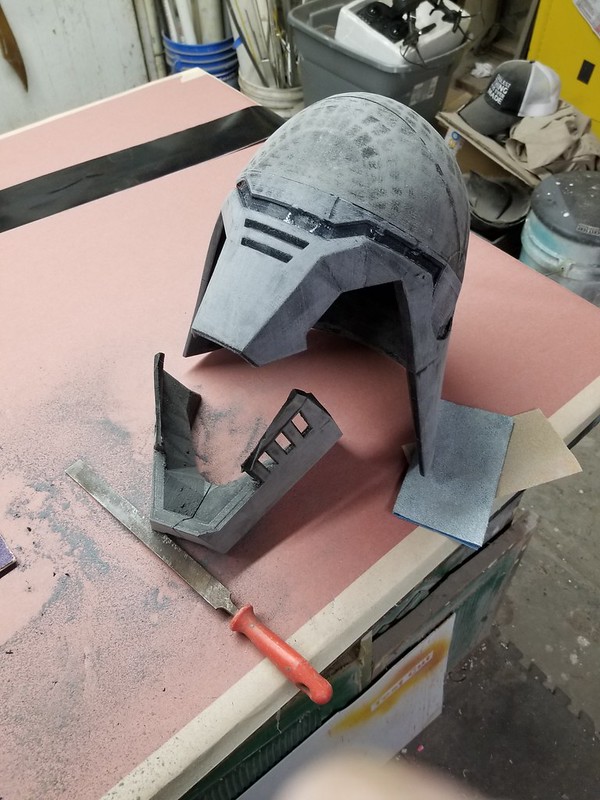 Then a layer of Bondo and some more sanding:
At the end of the day it looked like so: