Hi guys, I'd like to present my long-term project - a scratchbuild X-wing. Seems like there's a lot of these recently
I actually started a few years back, when I wanted to create a 1/48 paper model. I started looking for references and I found this site. Using all the materials I could find, I created a set of blueprints and a 3D model, both of which I'm improving over the time. Then I build a pair of fuselages from paper. They looked fine, and I got plenty of references, so sometime around the beginning of last year I decided to build a studio-scale version from balsa.
So, this is some of the progress from the last year and where I'm standing now:
0.early blueprints created from a 3d model
1.humble beginning, size comparison to half-sized paper model
2.aft fuselage frame
3.wrapping the frame with 1,5 mm balsa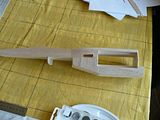 4.carved upper part of the nose
5.nose attached to the fuselage - I had to break it off and glue it back two times due to slight misalignment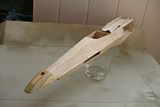 6.overall view
7.top view
8.current state: filler applied over more than half of the body and the kitparts that I currently have
The fuselage shape should be ready soon, then I'll apply more wood filler on all the surfaces and sand it smooth. I'll hopefully get the Saturn V kit soon, then I'll start making a wing prototype.
And - I'm most thankful to all the guys that share photos and information about the studio models and their own builds! I wouldn't be able to get this far without the info from this site.