Well-Known Member
Gone but not forgotten.
Ello folks,
So, I decided to scratch build an original Spaceship/craft/sum-it-or-other. I was determined not to copy a style or genre. Very difficult with me being a big Star Wars fan since 1977. I was nine at the time the movie came out so most of the designs were burned into my brain pretty good.
I decided I didn't want it to be from a galaxy far far away, I thought it would be more interesting to go towards a more feasible design with a not to distant future kind a look.
I thought about the year 3011ish should do. I wanted it also to be little bit relevant in today's world, so, during this thinking process I just happened to be watching my sport of choice, Formula 1. Red Bull Racing had just won the F1 World championship (2011) with Sebastian Vettel driving. What about Red Bull deliveries in the 3011 I thought, (as you would) how would Red Bull get its product to where ever in 3011. Bingo? You see the Red Bull logo everywhere, plus I thought it would make a very cool paint scheme.
So, I decided to build a Red Bull delivery-thingy-what-sit from the year 3011.
I made a few pre-liminary sketches incorporating design elements I liked. I felt the key was the cockpit shape. I always liked the shot in Alien, when Ash (the synthetic) climbs into the pilot seat of the Nostromo, and its an underbelly canopy, with the whole planet layed out under him. So after much searching I found my canopy material and established the design from there back.
I made a small model just to see if my vision of the wing profile would have 'flow', look 'feasible' & be 'cool', my 3 main criteria for this build.
So after that 'short' intro, here are some 'story so far' pix.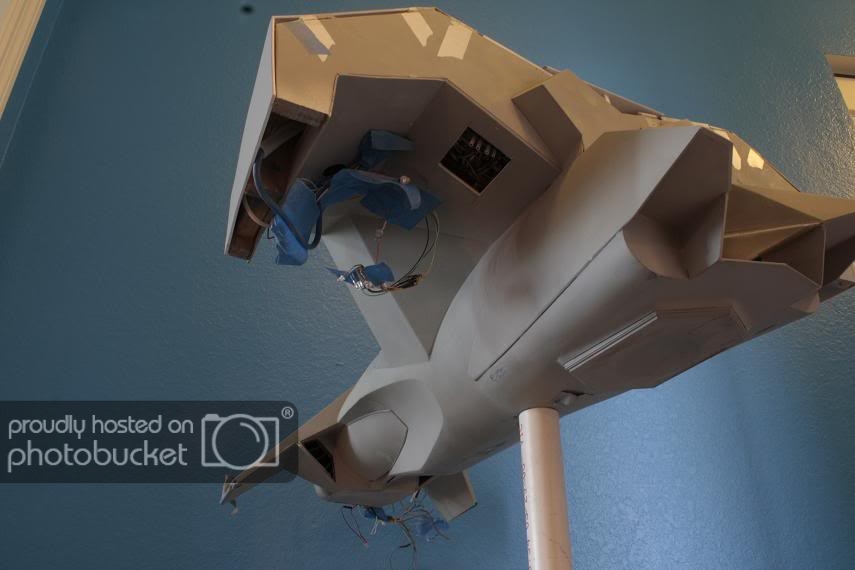 Currently working on the main engine asseblies
Thanks for looking
The Nylon Gag
Last edited: