This was originally a reply in Dans thread below but it became a little too long, therefor i started a new thread for anyone that is still on the bench about spending $300 (£225) on this bio, long story short... dont bother, hand your money over to Hez or Casey or any other talented true predator fan that will offer the product you deserve at this price.
A quick note first of all, just for comparisson shots, i used my P2 bio that i brought about 3-4 years ago from ebay, I have absolutely no idea who made this bio so if anyone here knows, or even made it then give me a shout as id love to know. hopefully i wont find out its a re-cast but if it is... its still better than sideshows efforts in everyway except materials (its pretty fragile) which may tell you something?
I am weak minded i know but after cancelling my order due to Dans review i replaced my order fo scar, perhaps i wanted it to be a bad dream or a mistake but mainly due only to the fact that as Dan said, it would be nice to have the whole set up on the wall. I figured i would simply put Scar straight up on the wall as far away from my PC desk as possible and try to ignore the piss poor cost cutting lenses that this otherwise nice looking bio comes with. Alas a large box arrived at my door this morning and and i got that childish excited feeling despite not having too high hopes of the piece over all. I have to say though, unfortunately this piece is even more of a HUGE dissapointment than i was expecting for reasons i will list below with a few pictures.
Right, down to business, Il start with the few Pro's about the piece. The sculpt its self is really nice. I know many people think of Scar as a poor mans P1 but im one of those that thinks more of this Bio as a nice tribute to P1, if you really look at them they are quite different in several ways and i really like the Curves on this bio, therefor despite being very slightly warped (wether the movie version was im not sure??) this is a great looking piece imo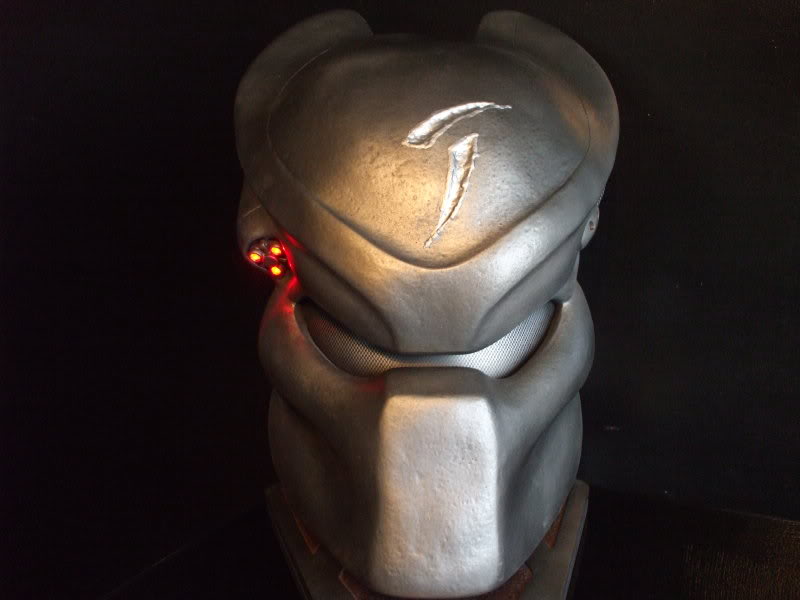 Secondly, the stand is beautifully crafted and works very well. It is ver sturdy and looks fantastic, it also features a nice hammer effect so that the whole piece fits nicely and flows very well. The magnet is a great feature also as anyone who has Wolf should already know. I was a little worrid about placing a heavy item high off the ground (wall mounted) with just a magnet to hold it up but i needn't have worried. This things almost pulls the bio out of your hand when you get close to connecting it its that strong.
Another pro point (im ignoring the Paper lens here as im trying get the good points up to a total of 3!) Is that the materials used on this piece seem to be of good quality, the bio its self has a nice thick/heavy feel to it and you get the impression that it would survive minor misshaps if needed just not being ran over as already proved
Now to the unfortunate bits. I think Dan adiquetly covered the paper lenses so i wont go into detail on them except to say he was spot on with his description, the printing pattern its self is very poor and to use paper parts on a $300 collectable, especially on a part as vital as the eye's is just unbelievable, its almost sickening infact!! It really do's boggle the mind and i hope whoever signed off to that decision isn't in a position of power for the future pred bio's from sideshow? So now that is said and done, my main problem with this piece is the paint, As you can see from my picture above a 5 year old in a primary school art class appears to have painted mine and unfortunately has forgotten to weather it at all!!! Now i realise Scar was a youngling with no experience so it could be argued that the bio's should be a clean silver and i would even agree..... IF it didn't have the scar imprint, by the time he scared his mask he had been in several fights and the mask should depict this, further more the prototype on sidehows site looks fantastic with its heavy wethering and the mask's we recieve should be the same. Mine genuinely is just one colour... flat silver!!!!
Compare it to my Fan mad P2 which is worlds better! Still on the subject of paint, unfortunatly, the child that painted mine left several hairs/brissles under the paint work! and im not joking.....
That hair is huge! if i pulled it off i would have a long unpainted line on my bio and there are atlest 6 other hairs that iv seen so far, bear in mind i opened the box only 30 mins ago! Who is in charge of quality control over at sideshow???
So ignoring the obvious visor, the paint is the main dissapointment for me, but there are a couple of other things. Firstly, mine sits at a slight angle on the stand, its not hugely noticable but it is enough to annoy me, also, the bottom LED casing on mine is slightly warped and gives the impression that the led is out of place which is also annoying, wheter this is the case on all of the bio's or just mine im not sure??
There are a few other small things but Dan mentioned most of them (too subtle hammer effect, horrible brush strokes etc) so this will do for my little review, i think iv added a few other dissapointing facts. So if you are on the bench and still considering buying this piece, well ultimately it is up to you but i really can't recommend it. From a company like sideshow this could have (should have!) been superb but due mainly to over the top cost cutting and poor paint work, it is a massive dissapointment. As i said at the start, Support the fan base and give your hard earned money to Someone who will put a little pride into their work and send you a fantastic display piece that this unfortunately isn't
Sideshow, Please get your act togeather for Celtic, chopper and any other Bio's you have planned? Please, Please, PLEASE!
just to lift the mood slightly, i happen to think a P2 would look great on your stand
Best regards All, Matt