Scar Predator Replica by Favio U2
IMPORTANT !!!!!!!!!!!! TRANSLATE TO ENGLISH IF U WANT TO COMPREND THE DESCRIPTIONS.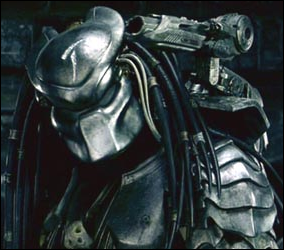 Bueno, aca vamos

costo aprox. $60, mucha dedicacion y 2 meses de trabajo.

A continuacion voy a dar una breve descripcion a c/ foto. Mi Propia Matriz.
[align=right][/align] Hecha de alambres.


recubrimiento con cinta de papel.



Para formar la mascara.

Recubrimiento de la matriz con Vendas de yeso ( tiras ).

encubrimiento con Yeso para que tome cuerpo. y lijado para impurezas lijado de impurezas e igualaciones Visor del depredador, hecho con mosquitero y radiografia.

algunos retoques

agujereado de Laser plasma.

rellenado y corrigiendo mascara

corrigiendo, buscando la repliques

relleno final

laser terminado y adaptado

visor finalizado y corregido

correciones finales, Efectos finales ( de salpicones y rayaduras ) listo para pintar

primera mano de pintura plata

otro angulo

semilisto, pintura pierde brillo

por ser unica mano.



Coneccion Plasma Laser



Consiste en un sistema cazador, detector de luz,
cuando esta oscureciendo , las luces se encienden automaticamente

Aca comenzamos la coneccion,


[swf=[MEDIA=youtube]CPVQaX3BK4o[/MEDIA]

link:

Esta seria la coneccion, usar el Transistor es a su gusto, yo no lo use,
antes q nada es recomendable tener conocimientos basicos de electronica,
elementos :

primordial :mejor q nada tener un tester. e ir probando si en la salida tenemos 4.5 v, q es el voltaje para alimentar los 3 leds ( en serie ) si no consigen ese voltage, manden una resistencia antes de los leds de 600 ohm aprox.

3 leds comunes ( rojos 1.5v , 0.1 ma consumo ) en serie
1 resistencia de 100 k omh
1 ldr : (resitencia luminica)
1 llave de punto , opcional si se quiere apagar por completo
1 pila de 9 V plasmamos el circuito atras de la mascara ( El sensor a la izquierda para q le valla la luz )
[align=center]

Trabajo Finalizado

[/align]

Luces en accion tas la noche.

Este es mi guarda.

+ Yapa



Scar dibujado por mi. [swf=[MEDIA=youtube]Xs4yWmFZpxs[/MEDIA]

link: Video Plasma sensor.

cualquier duda sobre el proyecto un MP

Gracias y espero que lo hayan disfrutado.

Last edited by a moderator: