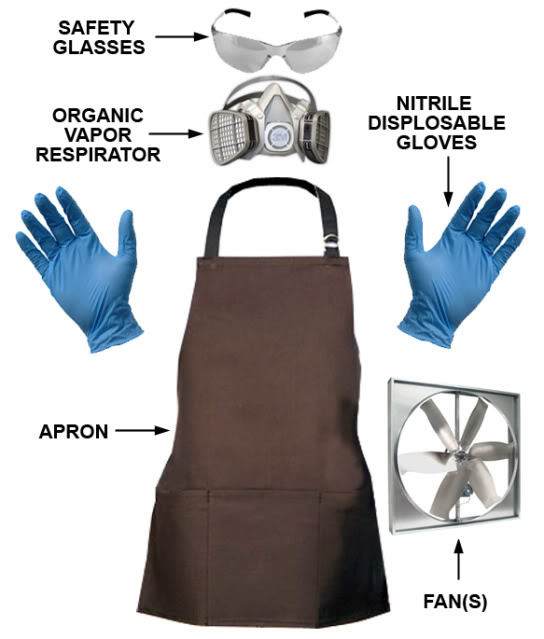 Foreword -
While we all enjoy the creation of the props we know and love so well, it is important to understand that there are health issues to be aware of that are involved in this process---serious ones.
First and foremost, your body is composed of a number of mucous membranes, most notably in your lungs, eyes, and skin. These organs are particularly vulnerable to airborne vapors created by the curing of resins and particles derived from fillers like Cabosil, as well as talcum powder some people apply to their molds to aid in the casting process. Make no mistake, these materials
WILL
irritate your eyes, skin, and lungs without protective gear. No hobby is worth risking your health for, so please read the material below---it could save your life.
MATERIALS
Polyurethane based resins/ rubbers/ foams
Repeated exposure to these materials will actually cause you to become hyper sensitive to them, to the point that by merely opening a container of it will cause an allergic reaction, which is the least of your worries. Not only are these materials harmful in their liquid state, but also as airborne particles, generated by sanding resin parts.
Vapors
In addition to vapors from curing resins being a hazard, inhaling spray adhesive/ spray paint/ mold release, etc. are equally as hazardous, because the microscopic air bubbles these materials "ride on" that come out of a spray can will "live" inside your lungs once inhaled. There's no way to get them out, and over time lung problems will develop. In addition, the inhalation of some adhesives can cause brain and nervous system damage as well.
Powders
Talcum powder is well known as an agent that aids in the casting process. What many do not know is that is a finely ground material, similar in structure to asbestos, which can cause pneumonia and lung cancer. Cabosil is another well known material used in casting, usually used as a filler. It is comprised of finely ground glass particles that will cause just as much damage if not more than the talcum powder.
Hydrocal and Ultracal are not as potent in their powdered form, but that doesn't mean you want to be inhaling these materials either.
Silicone Rubber
Can cause skin and eye irritation. While not as potent as polyurethane based materials, care should be taken to limit or avoid exposure.
Additional Info
For more detailed information on the products and materials used in the creation of props, read the MSDS sheets that are usually included in the box. If these sheets are not included in the box with your product, consult the manufacturer. For your convenience, here's a link to Smooth-On's web page containing a list of their products with individual links to the detailed MSDS information on them:
http://www.smooth-on.com/technical_msds.php
EQUIPMENT
Safety Glasses/ Goggles
These will prevent liquid materials as well as solid ones from hitting your eyes, causing damage as well as blindness. Aside from liquid resin causing permanent damage to your eyesight, spinning projectiles derived from working with your Dremel tool will be deflected.
Respirator
Undoubtedly the most important piece of safety equipment. It will not only protect you from vapors, but particles as well.
It is important to get a NIOSH rated respirator, such as the 3M 5000 series. Model numbers are 5101, 5201, and 5301. These respirators also feature detachable particle filters that attach to the main vapor ones.
Disposable Gloves
Nitrile gloves work better than latex gloves because they are less prone to tearing. Vinyl gloves are also better than the latex ones for the same reason, but do not hold up as well as the Nitrile ones.
Protective clothing - apron or Tyvek suit
If you've worked with the aforementioned materials above, you know what happens to your clothing and shoes when this stuff gets spilled on them.
An apron is easy to put on, and will protect against most spills. A long sleeve shirt should be worn to avoid exposing your arms to these materials. The best protection can be had by wearing a Tyvek suit which is a head-to-toe lightweight white material.
Adequate Ventilation
Depending on the size of your work area, you will need to have a fan, or series of fans positioned in the wall or in windows to suck harmful vapors and particles out of the room.
A simple way to judge if you have enough suction in your ventilation set up, is to turn on your fan(s) and close the door to your work room. take a small amount of baby powder and sprinkle it where the gap is between the bottom of the door and the floor. If the powder is drawn in, you have enough suction.
Good luck and good health!