So The Rocketeer is on my list of top ten movies, (which is actually about 30 movies long). I've always loved the look of the costume, especially the helmet. It has a great 30's art deco feel to it. Ever since I saw the movie I wanted my own helmet. Well I found out that a friend of mine worked at design Setters back in the 90's, and had a production made helmet. They were willing to let me mold it and cast up a few helmets, as long as I didn't make more than a few and that I destroyed the mold when I was done. So I made an ugly, quick mold and cast a few for me and some friends. it's taken me about 5 years of on again, off again work, but my Rocketeer helmet is finally done. I didn't take any pictures of the inside, but thanks to
Valor
for making such a great liner, I highly recomend picking one up if you are doing a Rocketeer helmet. So on with the pictures.
Here it is fresh out of the mold, before I did any trimming or sanding.
I trimmed out all the openings and then painted it with an automotive clear coat, with gold powder mixed in. Nice and durable.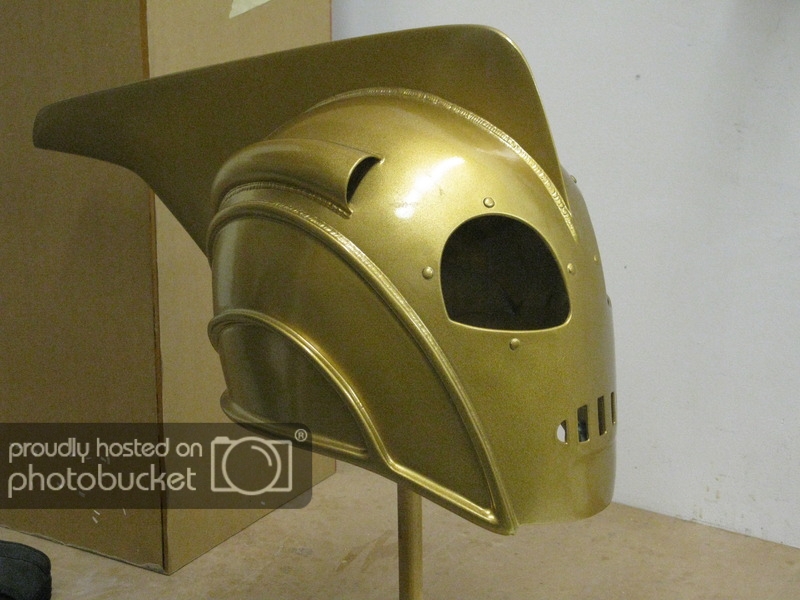 Next I started the weathering process. I first hit the helmet with some 0000 steel wool to give it a slight brushed look, and to give it a little tooth, so that the other paints would adhere better. I then used different acrylic washes, and removed areas with acetone and a sea sponge. I mixed a few different colors of rub 'n buff together to get a dark patina color for all the deep recesses. Rubbed it on and then used a clean rag to remove it from the high spots.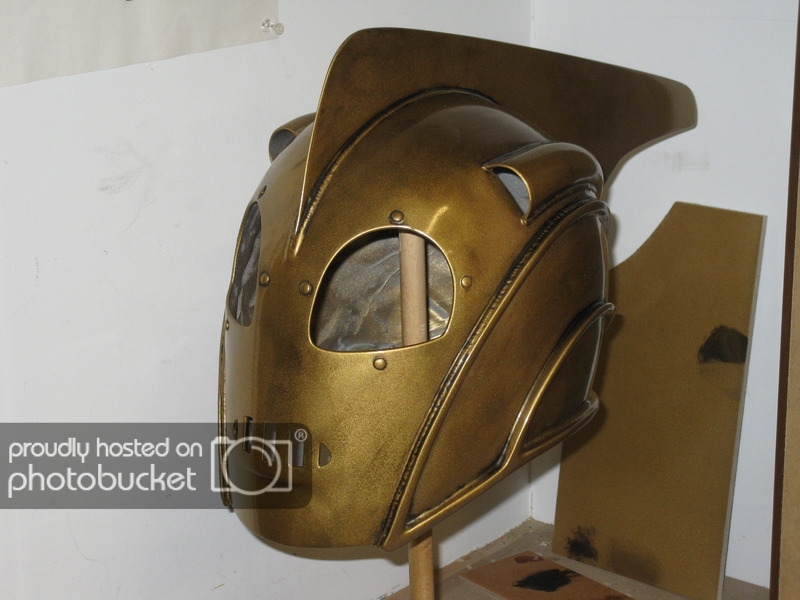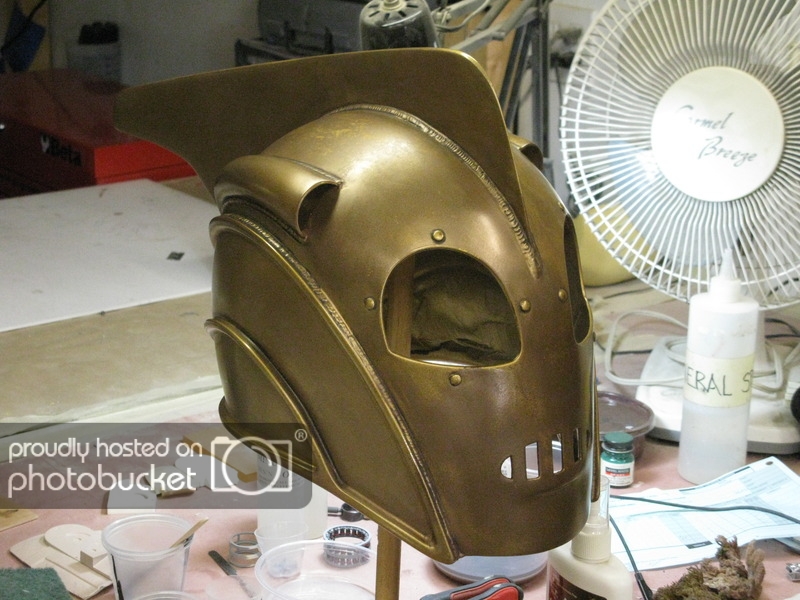 I also wanted a custom stand for the helmet. It took me a while to come up with a design, but I finally settled on a stand inspired by the design of the jet pack.
I started with three layers of MDF. I wanted a few hollow areas, so that's why I did the three different layers, with the middle layer being smaller than the other two.
I then started cladding the outside with 1/16" thick acrylic that I cut on the laser cutter.
After I got all the parts glued on, I bondo'd all the seams, added fins, and painted it with an automotive silver, followed by a clear coat and some subtle aging. I also added some gum for luck. I made the gum out of epoxy putty and added a little color to it.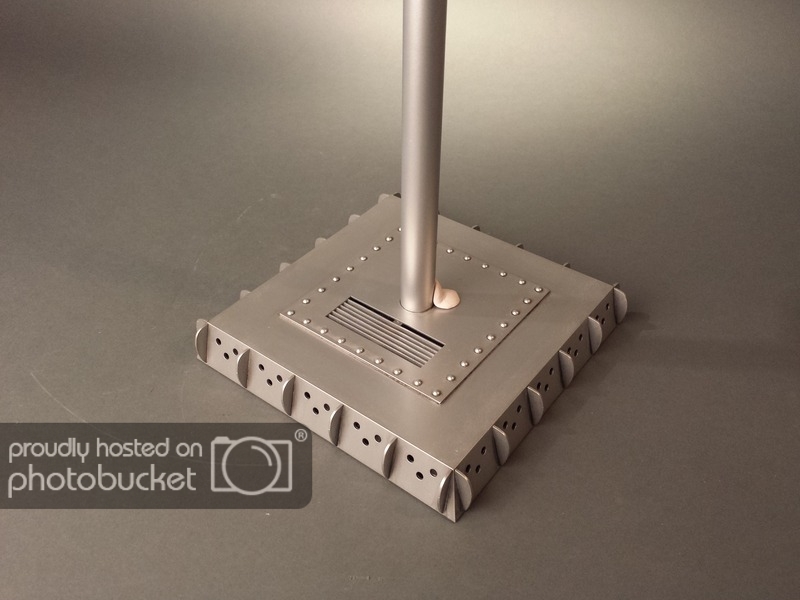 Here's the final thing with lenses, aging and stand. Thanks for looking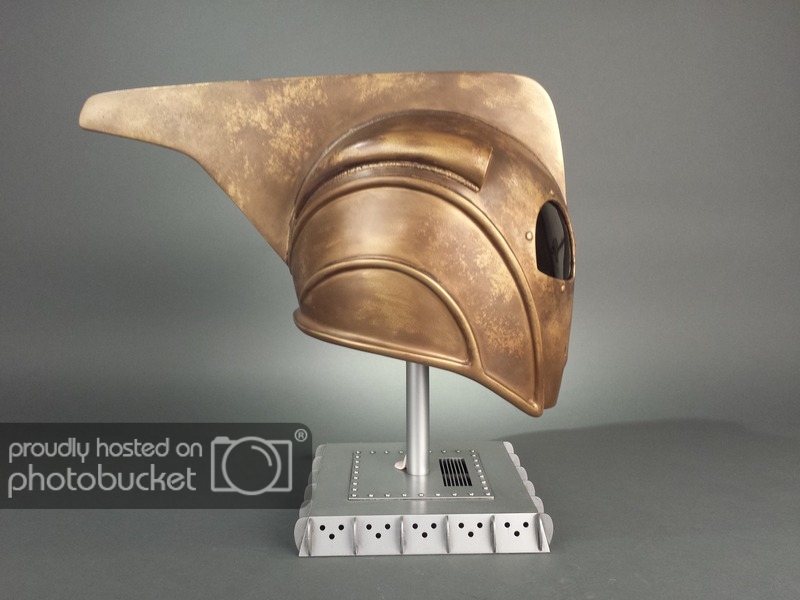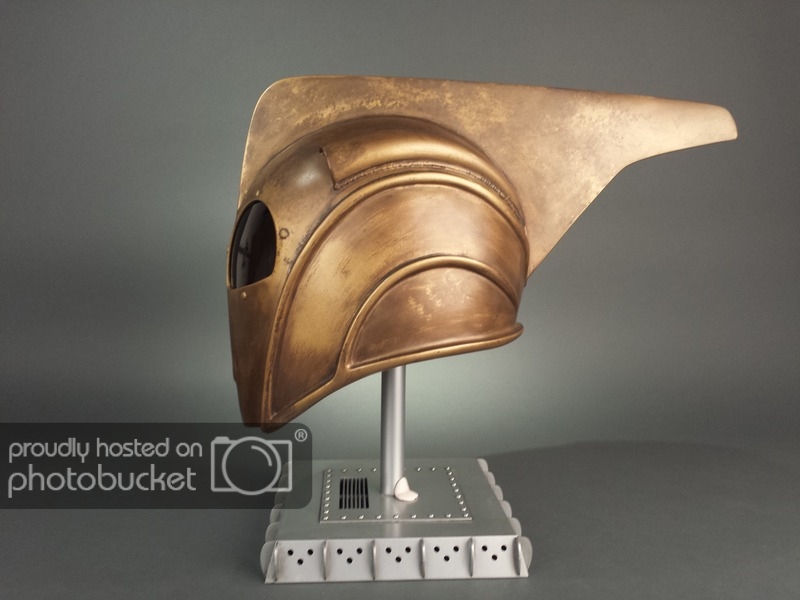 Last edited by a moderator: