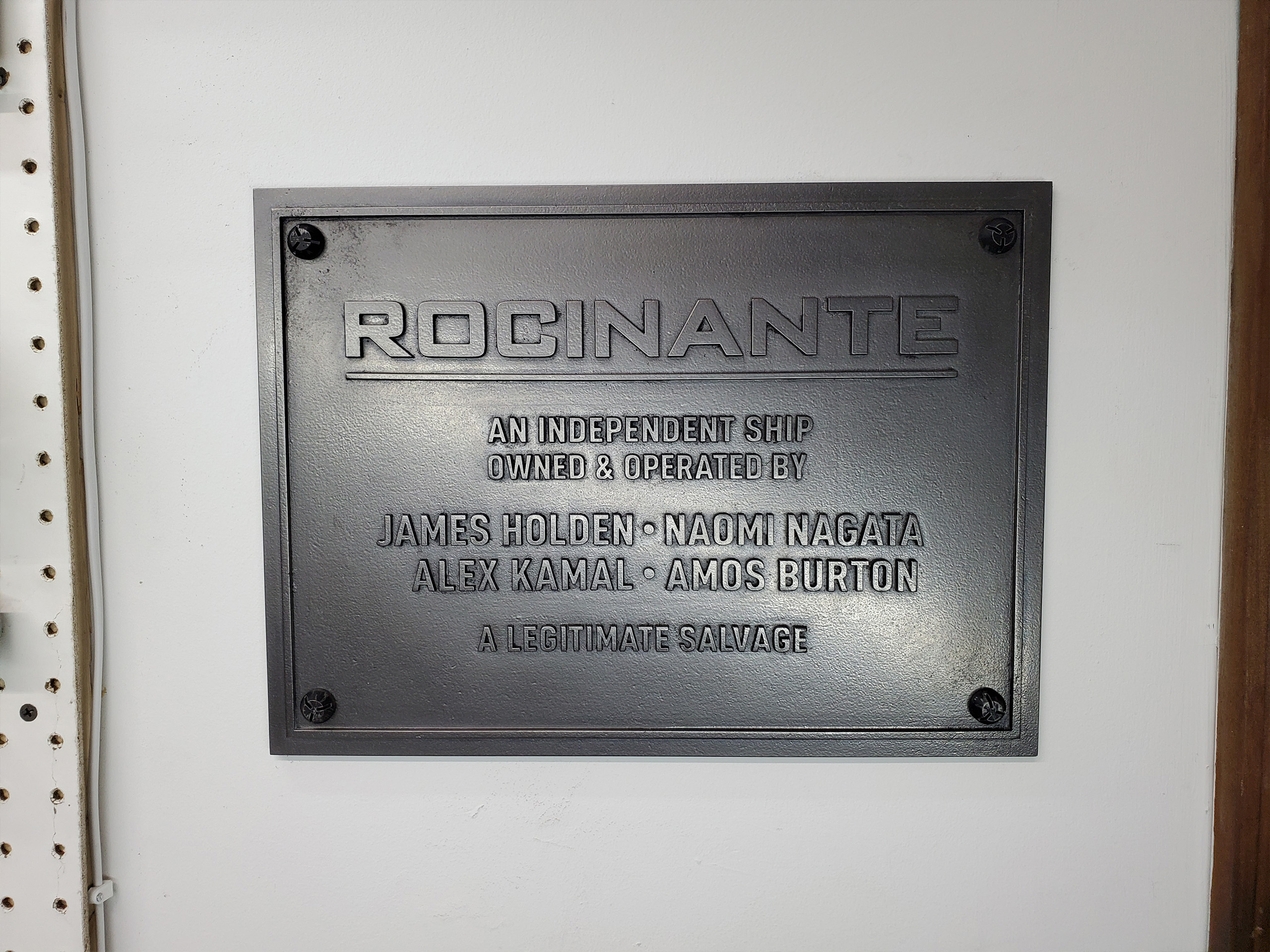 I just finished binge watching The Expanse during lock down, and I found myself really wanting to make something from the show. I decided on the name plate from the Roci. I figured it was something nice and simple and wouldn't take up a ton of room. The whole project was finished in a weekend so this is a nice one and done, but I took a whole bunch of photos along the way.
Luckily there are a bunch of really good reference photos out there, and the fonts used were fairly common and easy to determine. I started by replicating the layout and overall dimensions in Adobe Illustrator.
My original plan was to 3d print the whole piece so I moved my line art over to SketchUp and got to work. I quickly found three big problems with this approach. First, the biggest 3d printer I have access to is my friend's CR-10 which has a maximum build size of 300mm and is too small. The second problem is that I would need to break the plate up into two pieces to make it fit; meaning creating joining seams and a lot of extra finishing work. Third, printing each half would take almost 24 hours each due to the massive surface area. Instead, I was convinced by the same friend to simply laser cut the pieces out of 1/8" MDF which would take a whopping 20 minutes.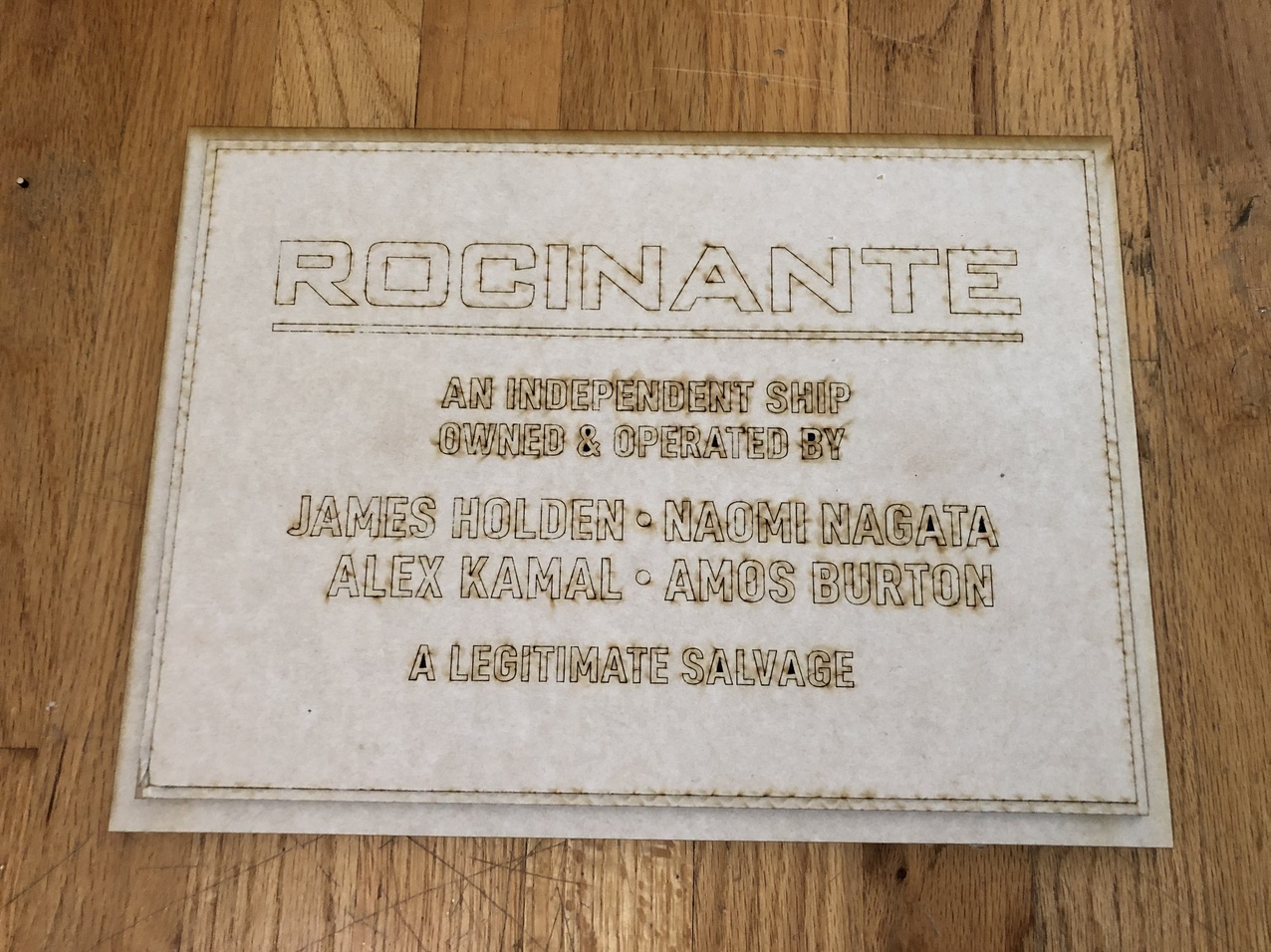 Luckily, it was very easy to export my original Illustrator artwork out into SVG files for the laser cutter. The whole plate is made out of three sheets of 1/8" MDF. One sheet for the letters, and two glued together to make up with 1/4″ back plate with recessed holes for the mounting bolts.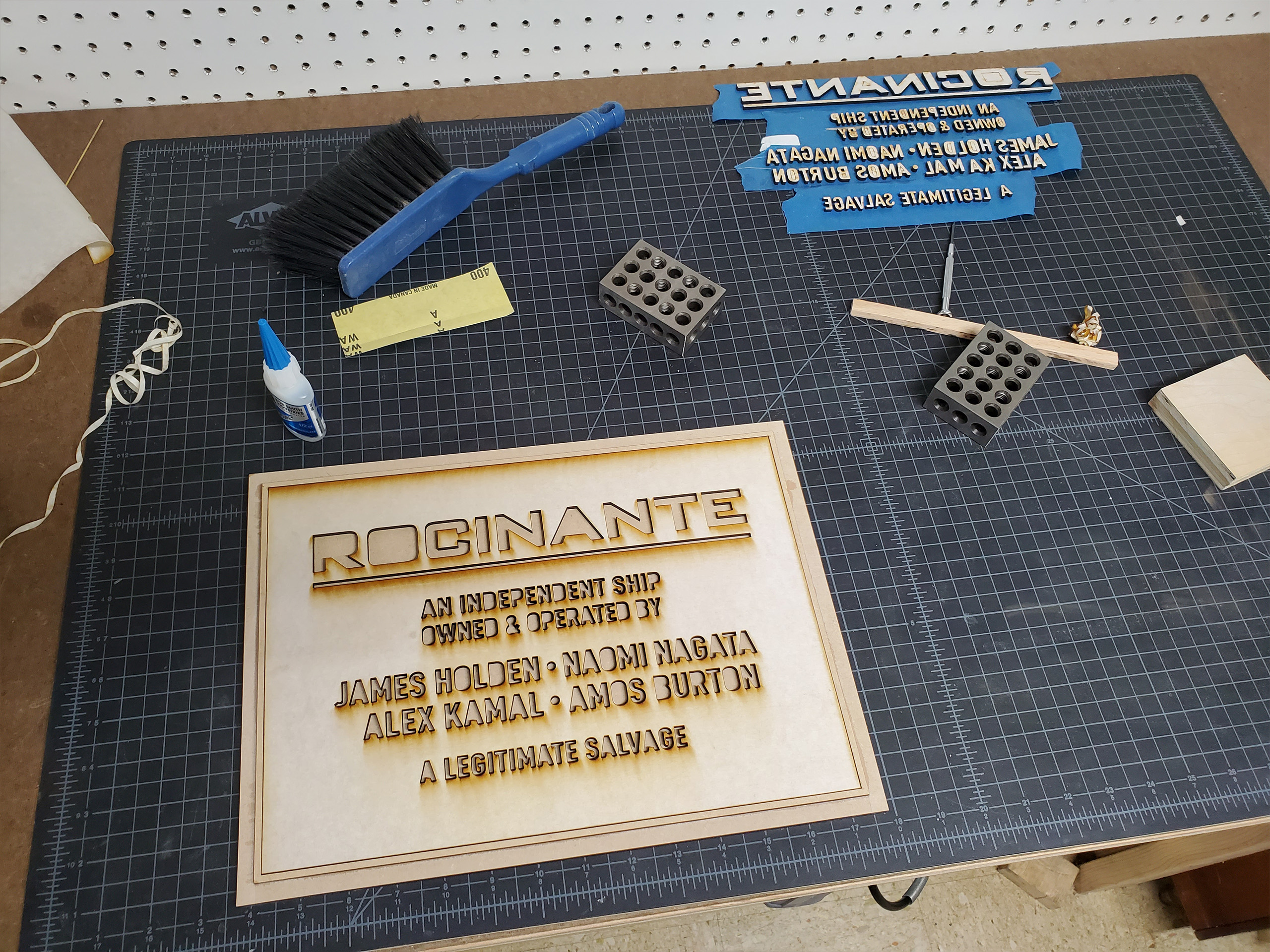 With everything in hand, I glued the two base plates together and then carefully used the "letter discard piece" as a template to glue each letter into place individually.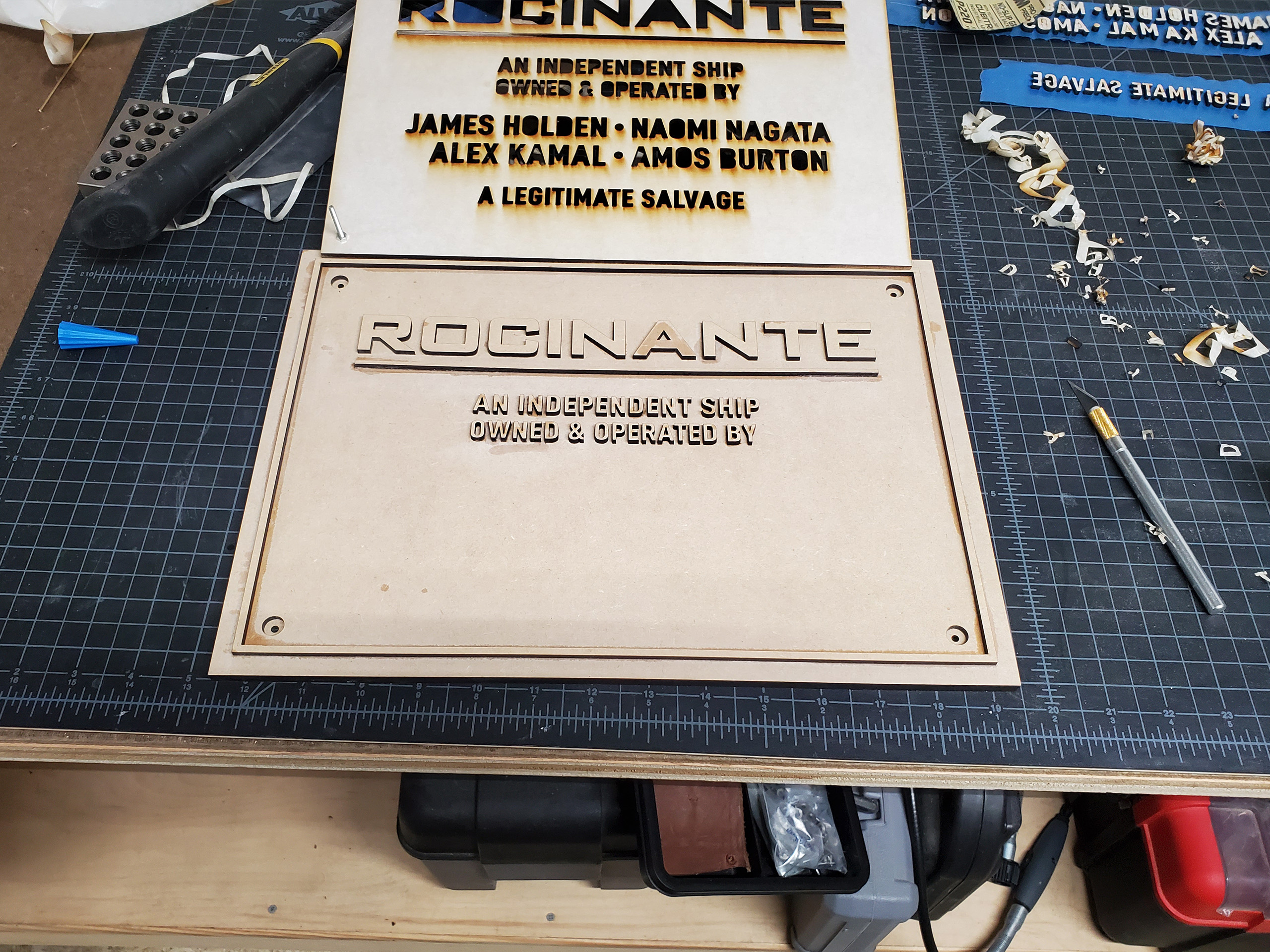 This part took a few hours and a lot of patience. I would place the template down, and then glue two letters into place using thin superglue. Then, remove the template and wait for everything to dry before repeating.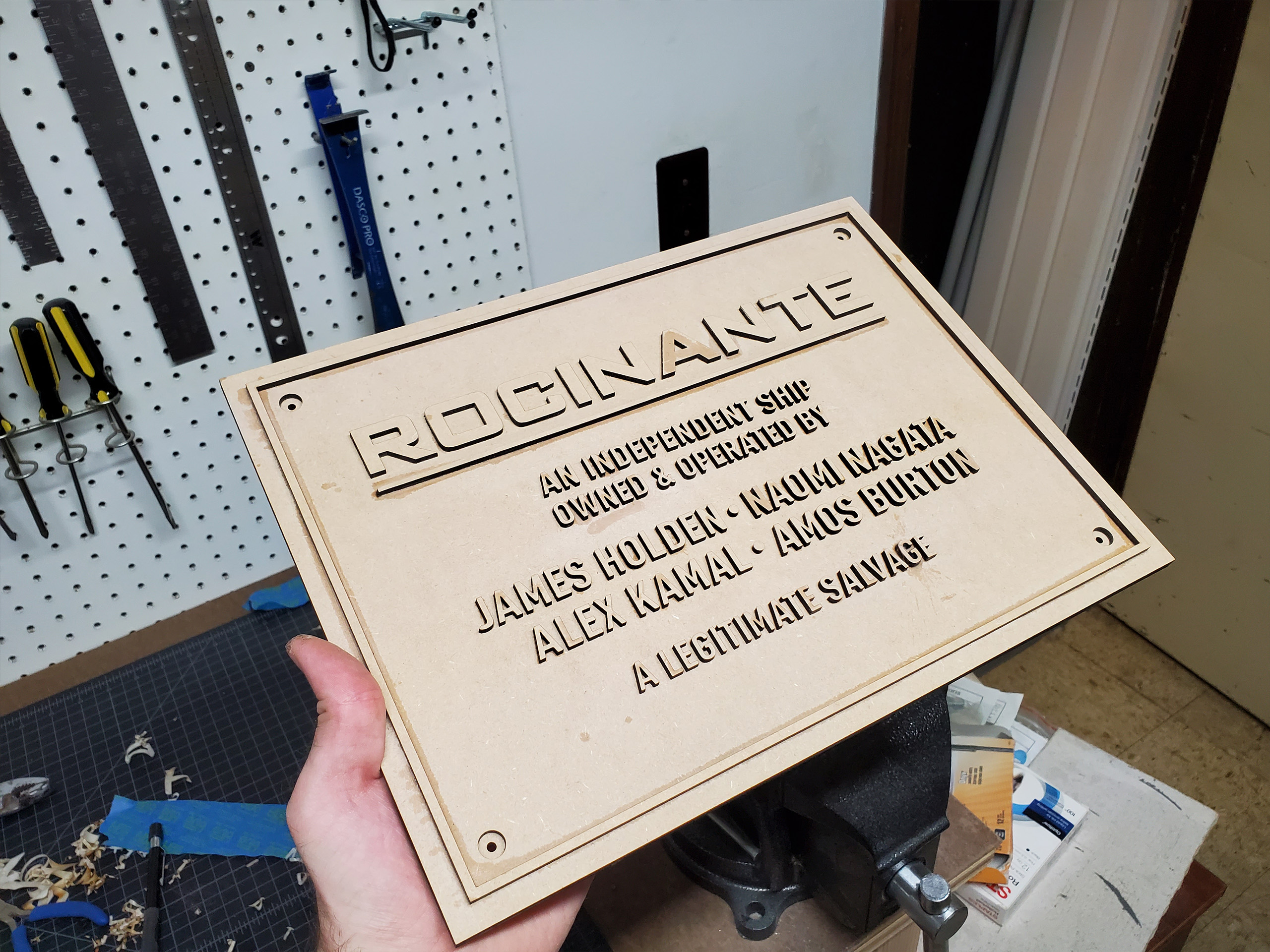 Here is the completed glue up. You can't see it here too well, but my fingers are absolutely caked with superglue at this point.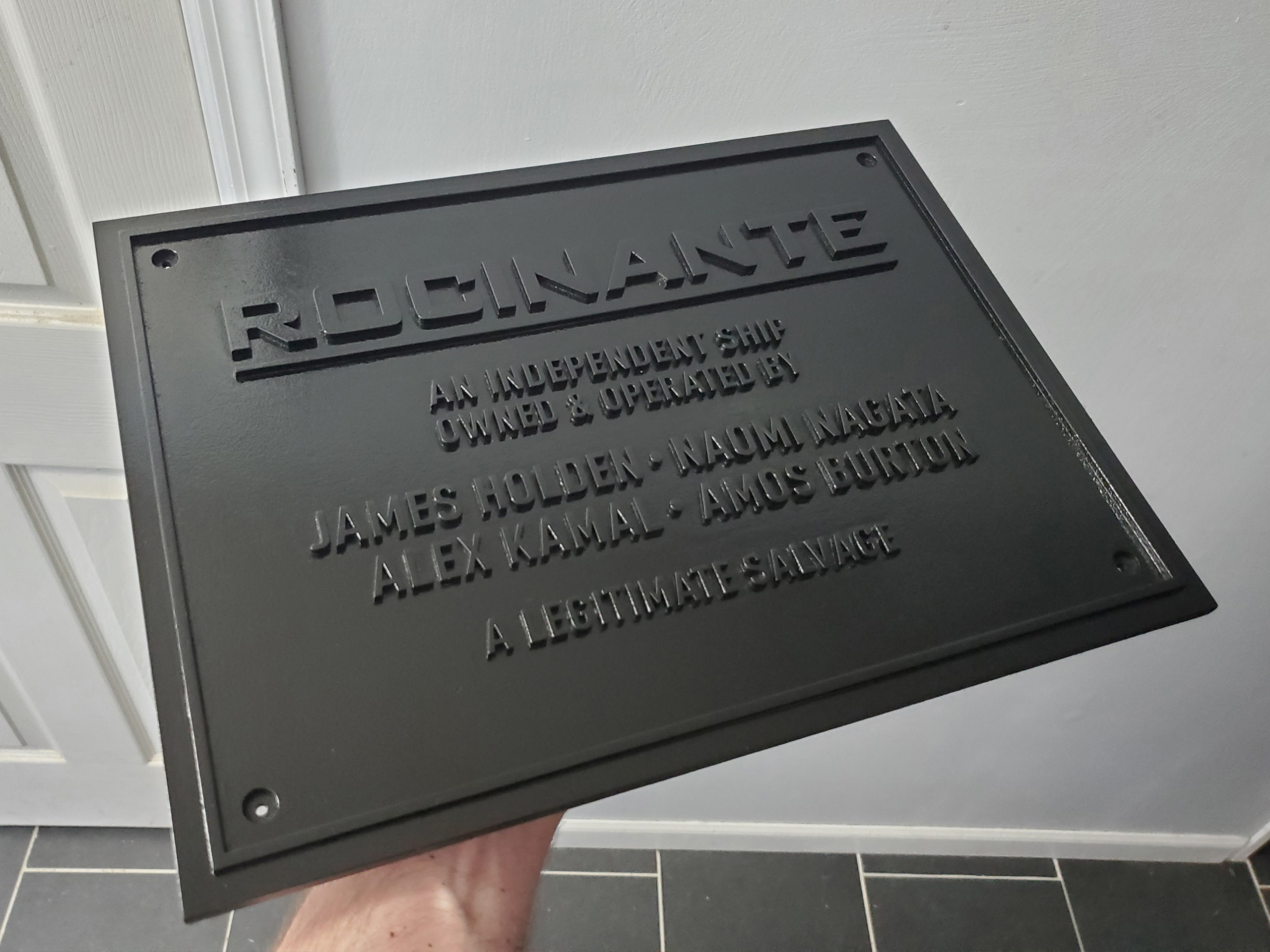 The next thing to do was lightly sand the whole piece and give in a good thick coat of gloss black to seal everything together.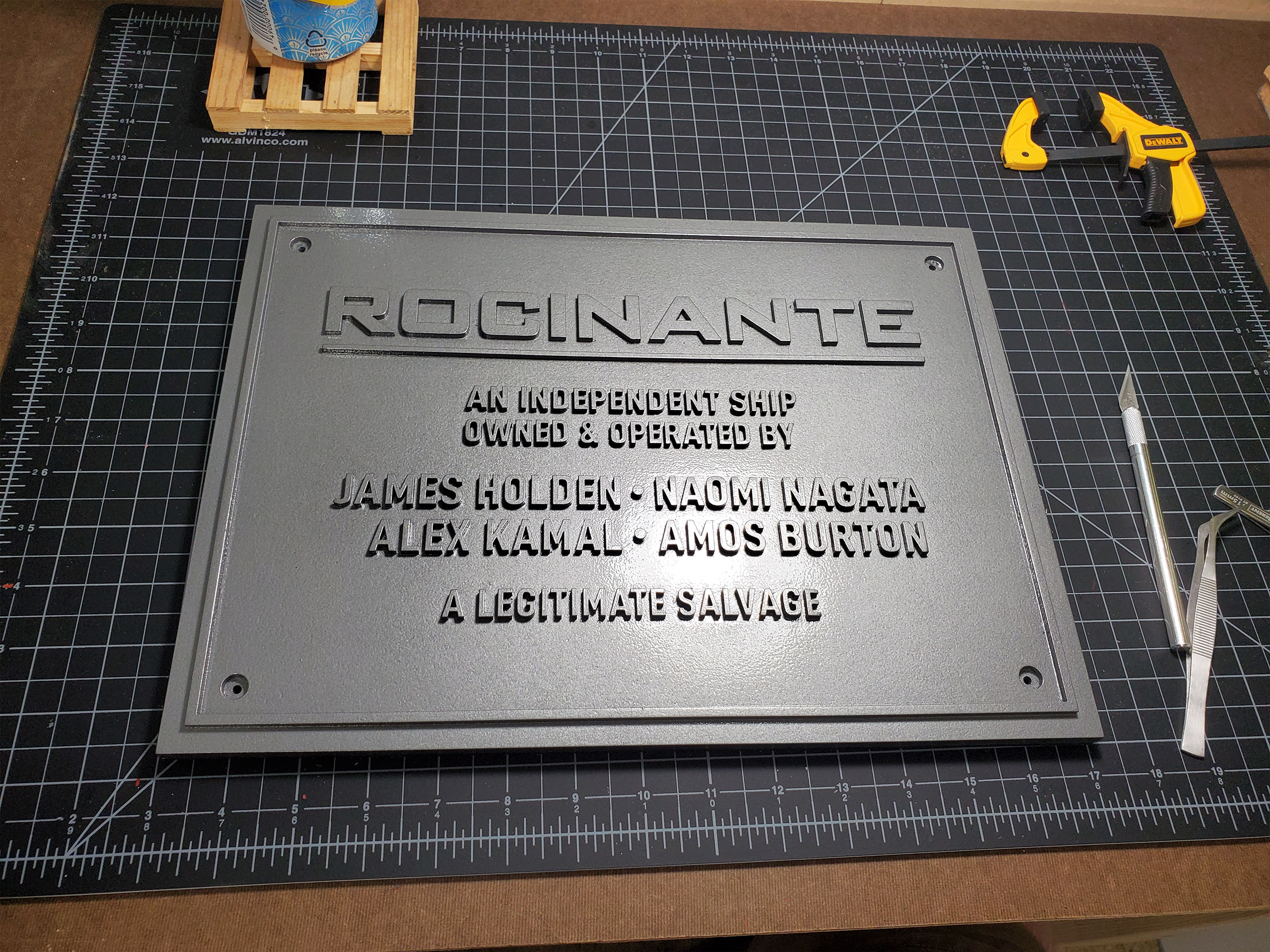 The piece was left to sit for about 24 hours to dry. Then I painted the whole thing with Rust-Oleum gray hammered finish paint. This gave the whole piece a nice slight texture to make it better resemble metal.
Here is an up-close of the texture.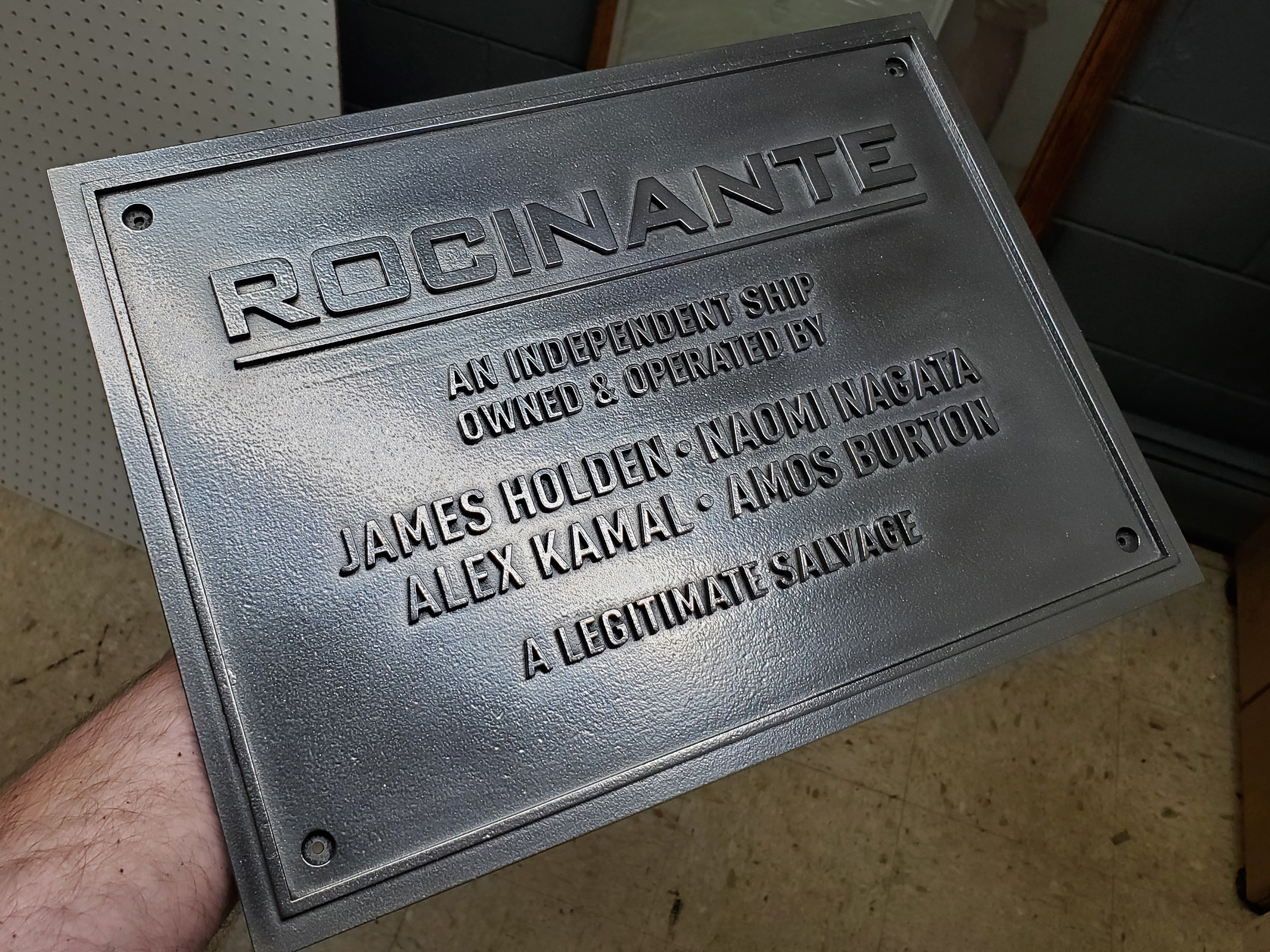 Next I gave the whole piece a final rubdown with powdered graphite to really sell the metal look, and a clear coat of aqua gloss to seal it all together.
For the corner bolts, I created a quick model in SketchUp. The bolts each contain a small 5mm magnet which attaches to the screw used to hold the plate to the wall.
Here is the completed bolt head printed on my resin printer ready for paint and weathering.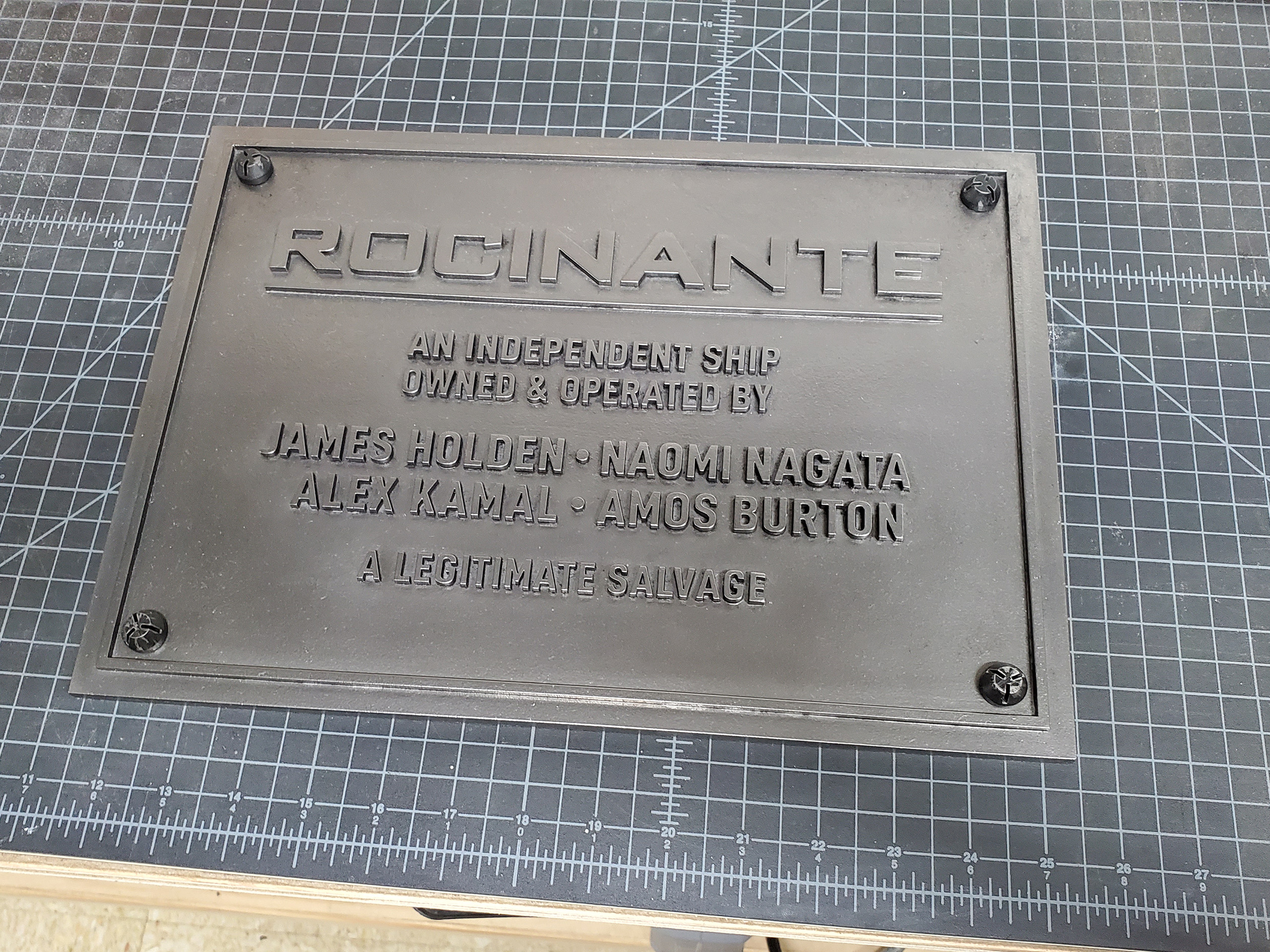 The plate was giving a light weathering with black acrylics.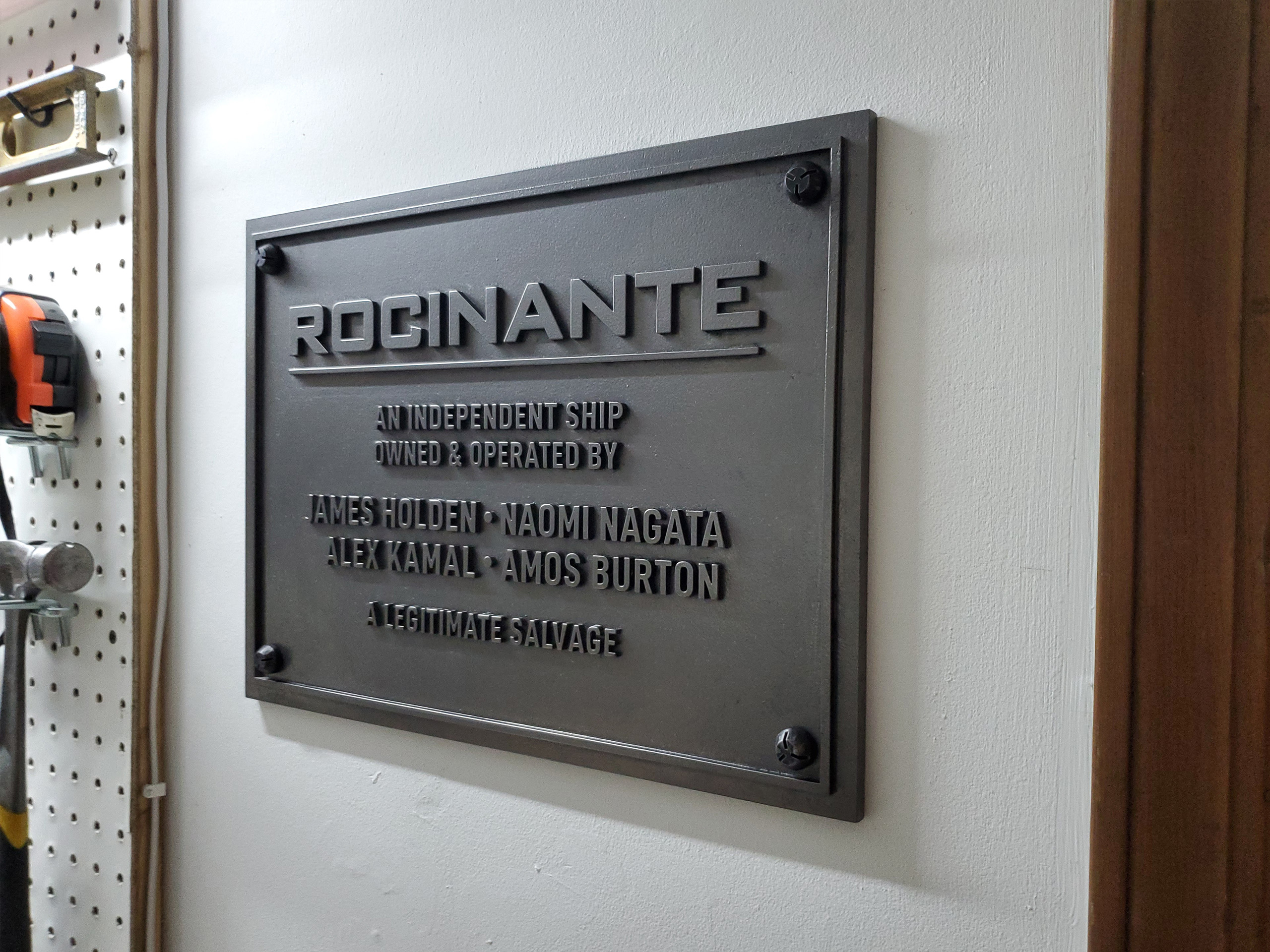 With everything done, I hung it on the wall of my work room. The completed piece is 14" x 10-1/4" and I think really looks the part. This was a nice quick build and only took three days from start to finish and most of that was watching paint dry.
Thanks for looking! I posted this on my website too if anyone is curious to see my other projects.
Last edited: