Recently re-watched Harry Potter and The Goblet of Fire and seeing Rita Skeeter's Quick Quotes Quill again, I thought this would be a cool prop to have. At one time, I'd considered making a full size replica of Fawkes, so I knew the feather shouldn't be a problem and found them at
MoonLight Feathers
. After some more searching, I found that RPF member
Tammy
had started on this prop as well but hasn't finished it yet. I was also thinking of turning the "pen part" but I couldn't find a solid apple or acid green colored pen blank. They seemed to be either the wrong color
green
or they have swirls in them.
Then I came across the already made QQQ prop replica. I remembered seeing the box in the lynx0099 collection, so I figured it was probably a decent replica. There's also a couple of YouTube video reviews of it. I thought perhaps though, that the feather could be improved. I believe the QQQ replica is only available from the WoHP at Universal, but I was able to get one through eBay. I then ordered some feathers as well.

I was hoping that the feather in the replica was held in place with hot melt glue, but after 5 minutes heating it with a hair drier and after closer examination, I believe it's actually Locktight (cyanoacrylic glue) – not something one should heat with a hair drier. So I had to cut it off.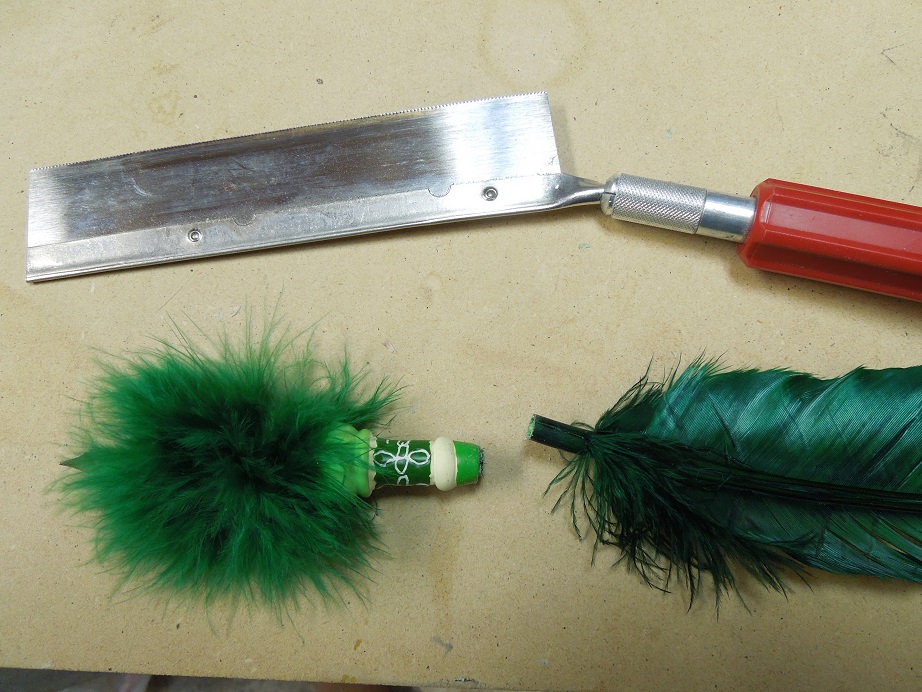 I used a small file to smooth off the cut being very careful not to touch the pen part because I believe its painted resin. I then used a Dremel to sort of ream out the remnants of the "old" feather, and also clipped off a bit of the quill of the "new" feather.
Using 3M adhesive, I glued in the new feather.
Probably took the least amount of time of any prop I've ever made!
ATL
Last edited: