Sr Member
RPF PREMIUM MEMBER
First Run Full!
On a recent trip back to New Zealand, I made some very interesting industry connections that have allowed us to offer this incredibly accurate Thermoptic Pistol, as used by Major played by Scarlet Johansen in the Weta produced Ghost In The Shell.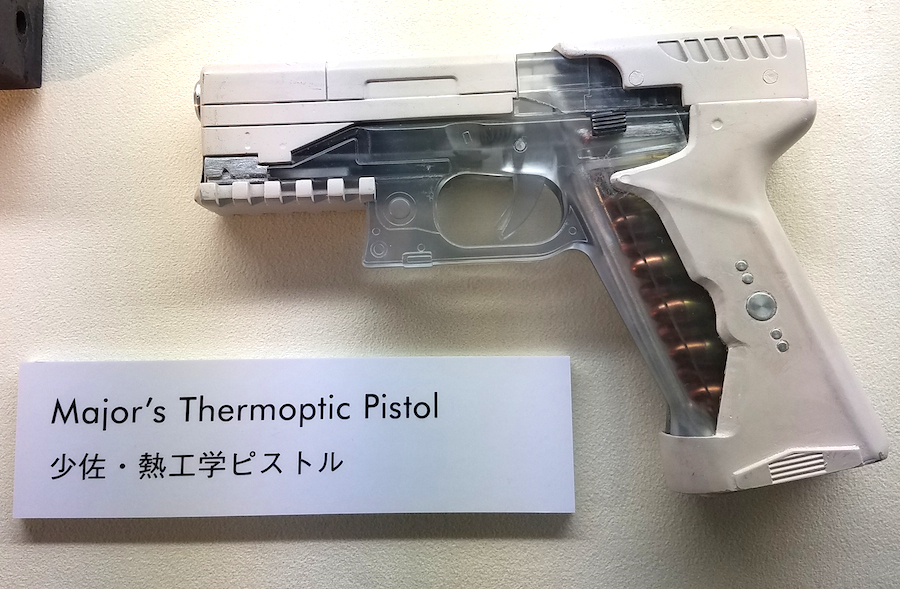 While I can't name names, etc, what I can tell you is that we have had access to some pretty incredible reference material, resulting in what we believe will be the most accurate replica available. Construction will utilise similar techniques used to create the original prop. The master will be 3D printed in New Zealand on a high-resolution SLA resin printer, then prepped for molding. Molding and casting will also be done in New Zealand by a professional prop maker, resulting in a mixture of clear and white resin parts. These castings will then be sent to my workshop in Canada where we will prep, paint and assemble the finished pistols, ready for shipping.
Our design work begun in August this year and here is our final design.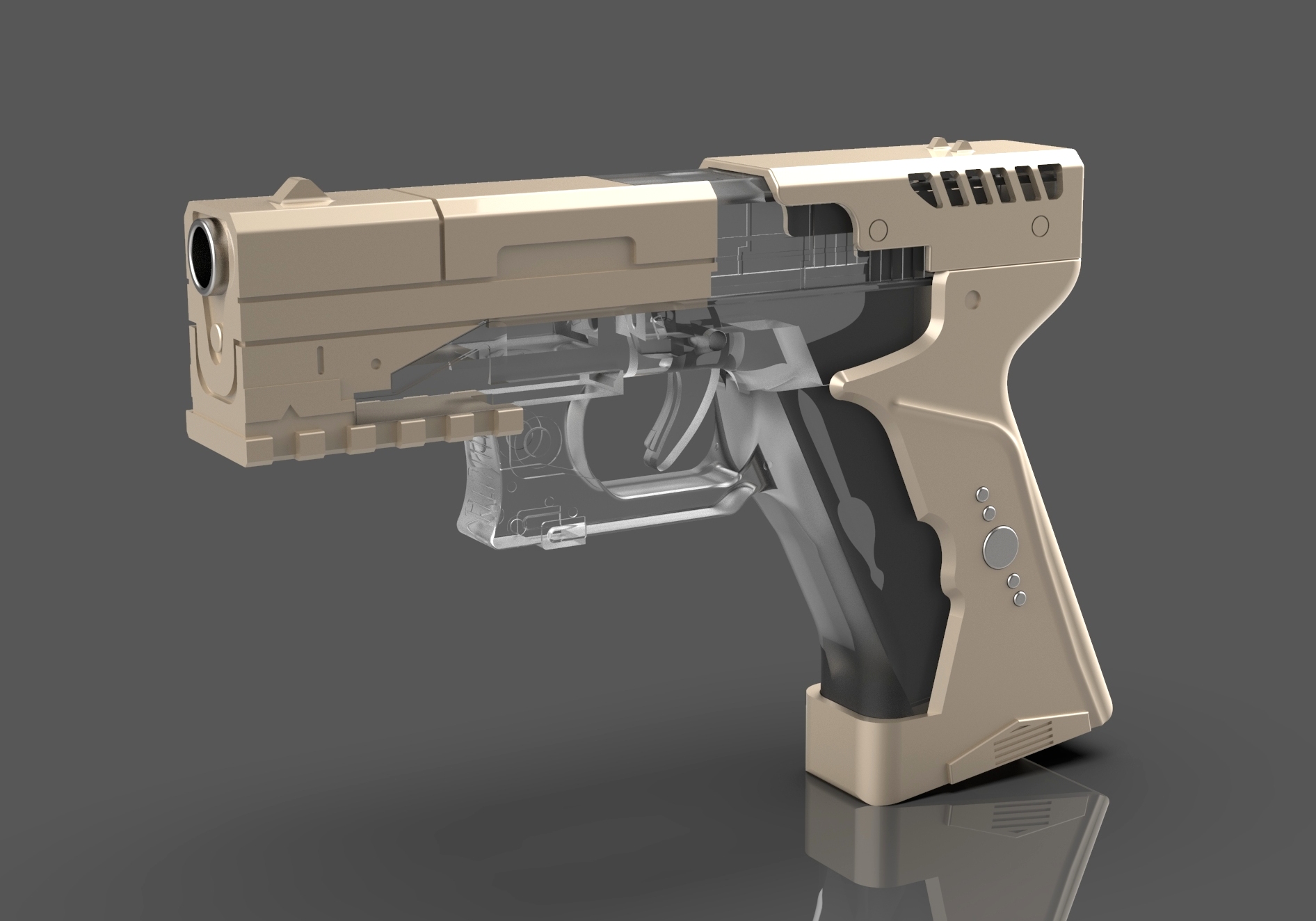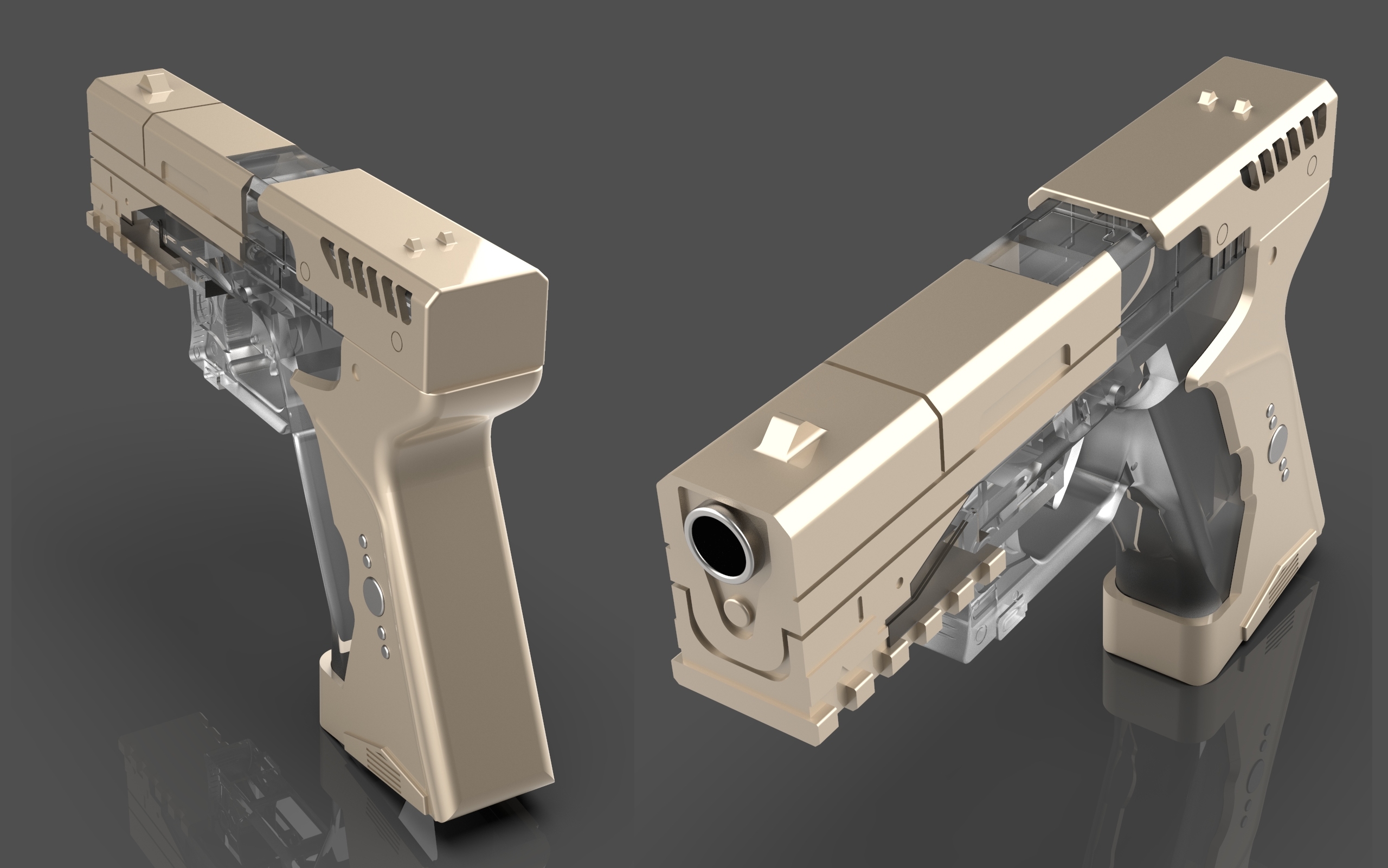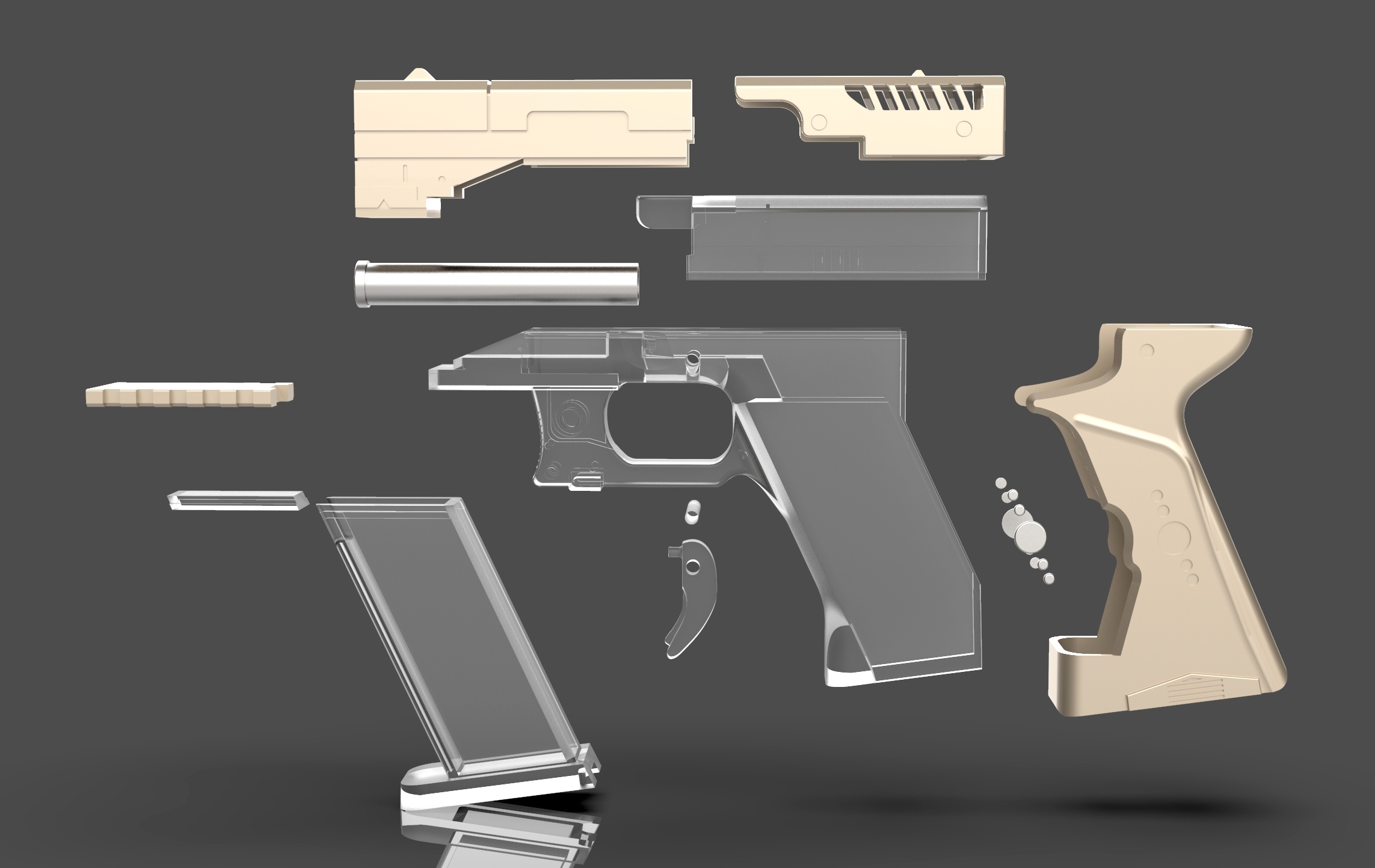 There are 3 changes that will be made by hand to the resin master...
- adjust front and rear sights
- create beveled edge on front of rail plate
- create more curve on the front of the grip shell (at the bottom of the grip)
We printed a test-kit from a slightly earlier version of the design on a standard PLA printer to ensure the parts will work for molding. We are very happy with how this test-kit turned out.
The pistols will have a working trigger, with a visible internal spring like the original prop.
The replica will have a removable mag, held in place with magnets.
The mag will be hollow with a sliding top panel. This is so we can ship the replicas with empty mags so buyers can add their own dummy rounds, eliminating the concerns of sending "ammunition" through customs. The hollow mag fits 9mm rounds which will diagonally stack in the mag, as they would in a real Glock 17. There will be a spring (or similar) in the bottom of the mag to securely hold the bullets in place.
When comparing our test-print to a real Glock 17, the dimensions are spot on. Our rear outer shell even fits perfectly over the Glock receiver.
Time frame
:
Dec - final design signed off -
Complete
Jan - resin master printed and molds made -
Complete
Feb - June - casting
June - finishing work
July - shipping
As you can appreciate, while we feel confident with this timeline, factors outside of our control may cause us to have to adjust it to suit. We will of course keep everyone posted as things progress. Been around here long enough to understand the value of communication.
Pricing:
Pricing these has been quite the trick due to the numerous factors involved. So much time has already been spent on this prop it's definitely more a labour of love than anything! That said...
$340
plus
$25
shipping (worldwide)
$200 deposit up front to secure your place. The remainder to be paid once the replicas are ready to ship
Paypal -
tarrymortlock@gmail.com
Please include your RPF name and "Thermoptic Pistol Deposit" in the details
Welcome aboard!
1st Run List:
FULL
1.
Sean
- deposit paid
2.
RhinoActual
- deposit paid
3.
el toro
- deposit paid
4.
Max Jenius
- deposit paid
5. Jon (non-RPF) - deposit paid
6.
shpider
- deposit paid
7.
RbbyRbt
- deposit paid
8.
Cytochrome
- deposit paid
9.
revoltage
- deposit paid
10.
Sam Lowry
- deposit paid
11.
VJEL
- deposit paid
First run is full
. If you want one of these, please post that you want to be on the second run (don't pay a deposit).
2nd Run Interest List:
1.
loveyuri
2.
Punisher96
3.
Nakanokalronin
4.
BlindVoyeur
Cheers,
T.
Last edited: