My ex had given me this back on Christmas 2009...and I was actually thinking 2010, but looking at these old pics, Christmas tree matches all the 2009 pics....crazy talk .
The AMCE comic store in Longwood Florida had had this model for quite some time, so she bought it for me.
Well, I had put a few models together, but nothing too serious, and really didn't know a lot about things.
Here I am...and had all my hair still....crazy what 13 years can do.....
Not sure if this is an original 1983 kit, or rerelease years later. Someone would probably know on here for sure.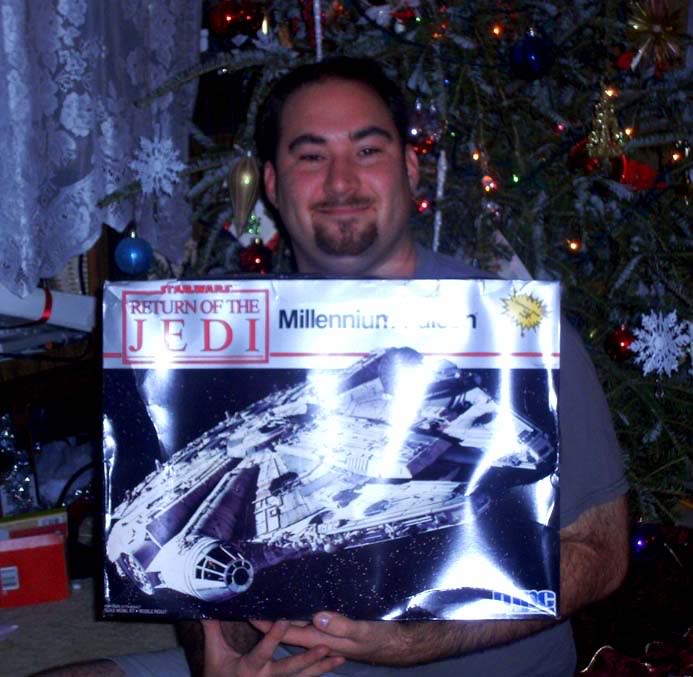 Back then, didn't even know anything about priming/cleaning anything for a model before painting. Built it and then mixed up some light grey, and there I went.
The kit didn't really have a front part on the cockpit, so I made this from cardboard and painted it grayish with dots.

Once done, it came out like this, which at the time, I thought seemed pretty good. Now I realize that Han and Chewie have been neglecting a ship (car) wash in quite some time.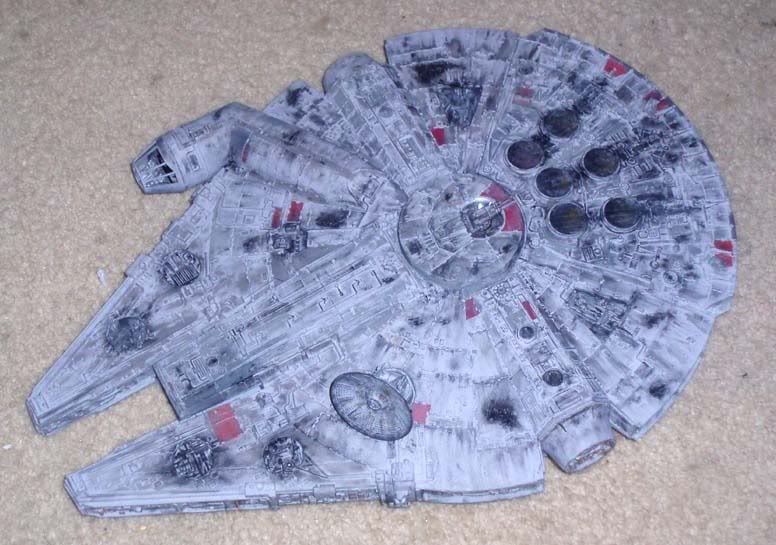 So now as I continue to recover from the surgery I had last Thursday, thought I'd tackle fixing this up....but, with the kitchen all torn up from a water leak, and waiting on the insurance to go over it all and decide how much we can spend to replace everything, my model building desk is a bit inaccessible.
So since I can't finish up the Metal Gear Rex I started, or the scratch built Drop Ship, why not move to another area of the house and start another new project. Makes complete sense to me!!!!
View attachment 1672111
Here it is today. Flash made it a little bit brighter looking than in person. You can see the fishing string where it use to hang.
So really, I've never done anything like this before and wasn't even sure where to start or how far to go. Decided to just go at it however I thought seemed best and decided to see if it would come apart to fix up a few parts...and with some nail polish remover, most of it did.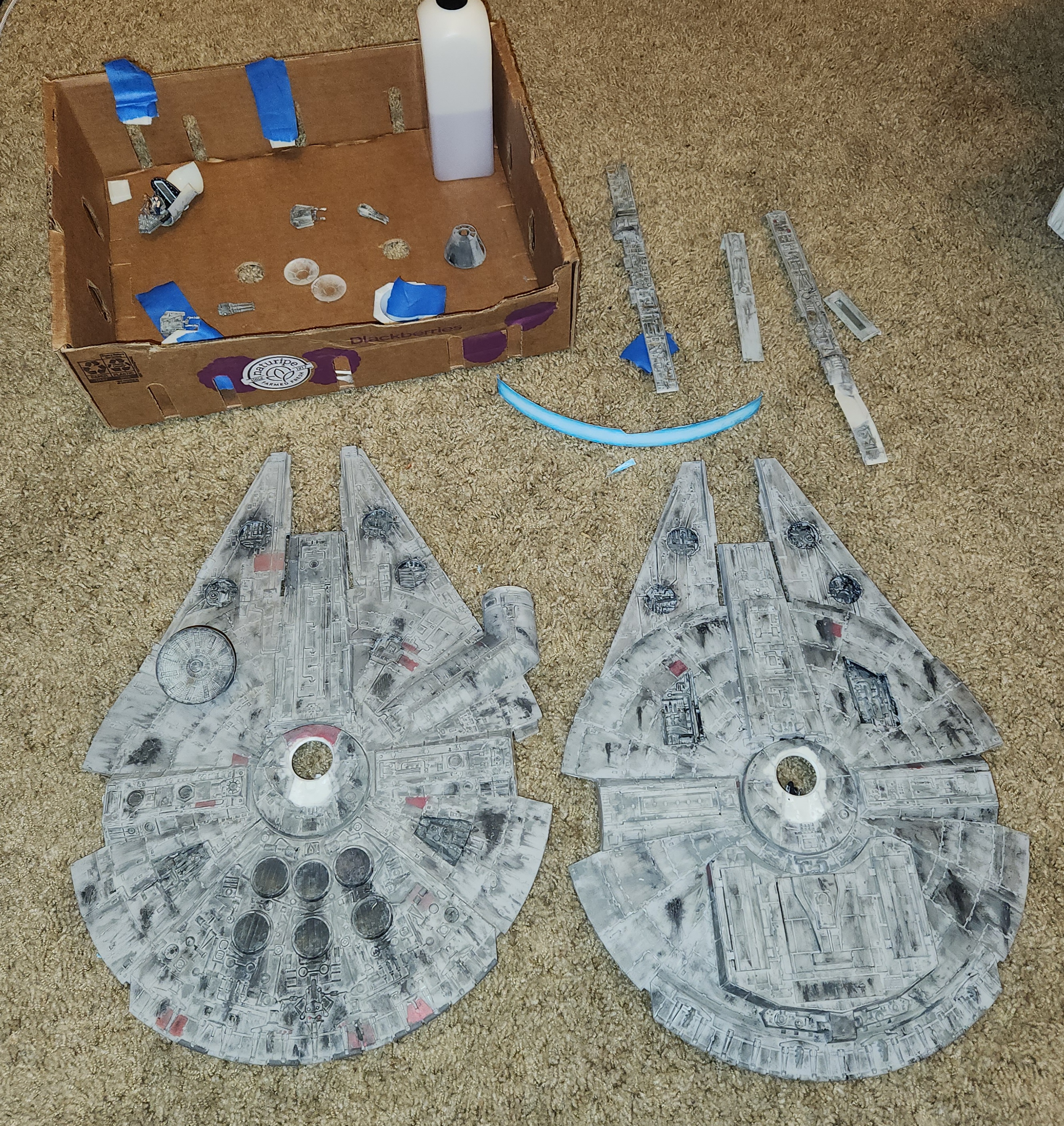 This is the only part to break on me, which is fine, as I can scratch something to resemble how its suppose to look anyways. The piece that broke doesn't really fit the bigger piece, but there nowhere else it could have come from...weird. I don't think I'll add any lights. I probably will hang it again, but have the back end face a wall anyways.
Got the windows out, but the nail polish seemed to make them a bit cloudy. Want to see if anyone might have an easy fix to clear them back up.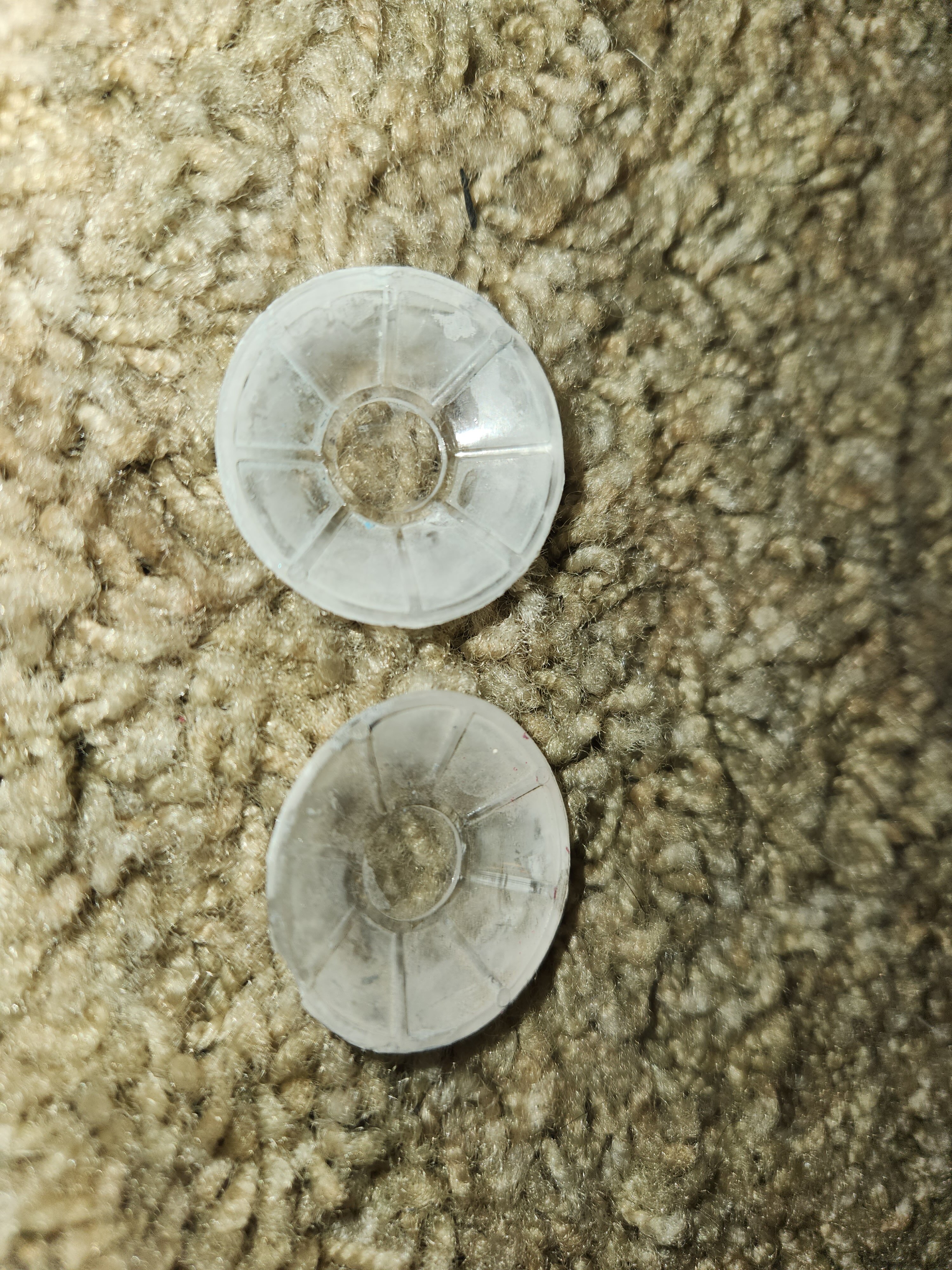 Oops, pic didn't rotate....but, I washed all the pieces in the tub with some mild dawn soap I have and scrubbed everything with a soft toothbrush. Figured after 13 years and moving several times, it would have some dirt and dust that couldn't just be vacuumed off. Now all the pieces are in the closet drying off.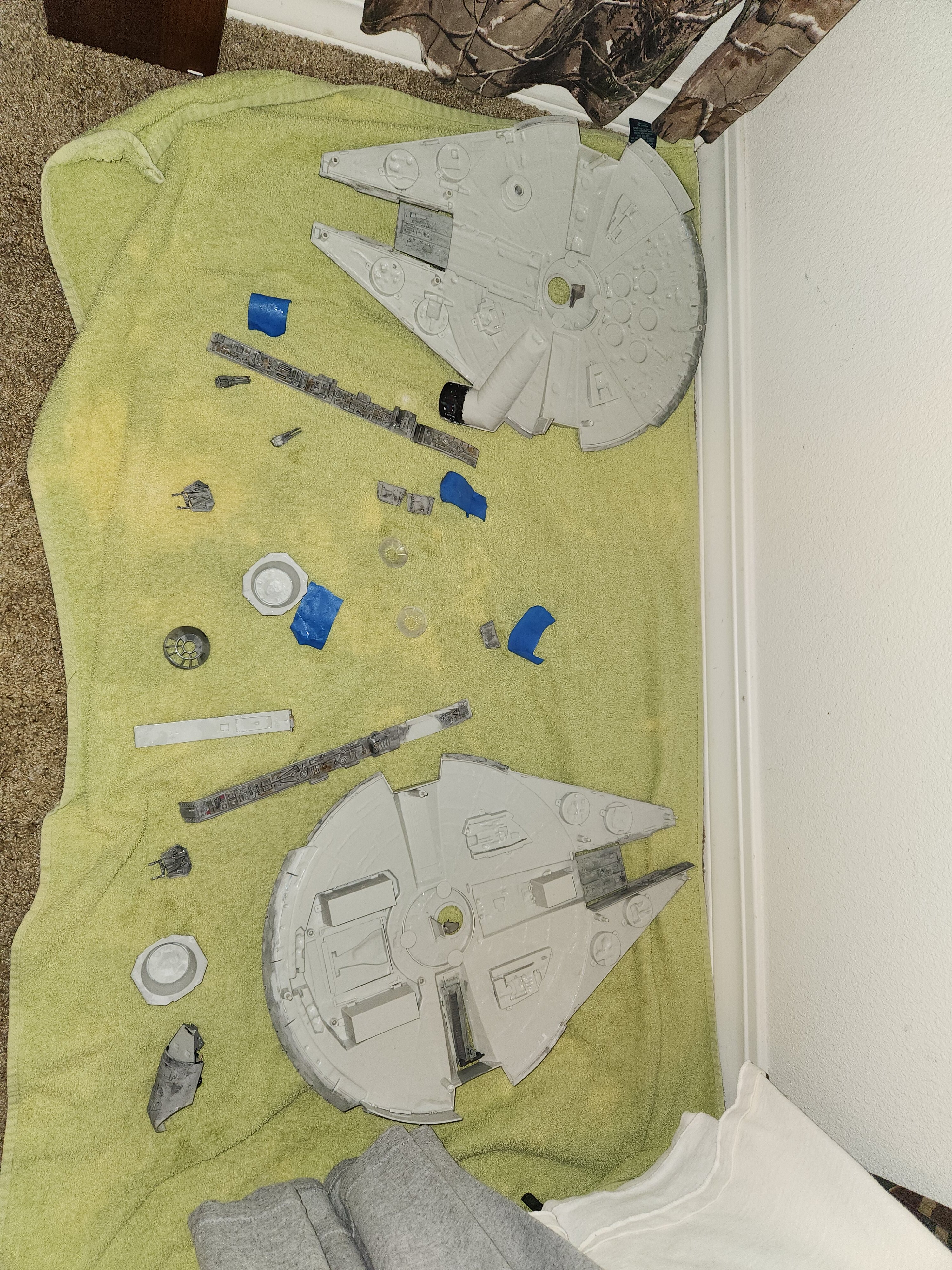 From here to figure all the rest of the steps to make this much better. Try to get the back end scratched up. Thanks to the members here at the RPF, I learned to use styrene, as before, I'd never heard of it and was using poster board or cardboard for for fixing stuff like this, like in the cockpit. Not sure if I'll fix that part up, or keep as is.
Once ready, I'll properly prime it, and then going over tons of ways for a base color, a lot of people seem to recommend using Tamiya AS-20 USNAVY Insignia White.
As long as its close enough. This will never be perfect grade anyways.
From there I'll just hand paint in all the details, but going a LOT closer to guides on the internet.
Even though its a Return of the Jedi kit, without really even knowing back then, I left the front landing gear boxes off, as I never liked it as much with them....so based on the ANH 5 footer it is.
If anyone has any recommendations for me, speak up now.
Other than that, I'll do what I can to make this old kit much better, but without spending a ton of time or money on it.
Also, going through those old pics, found my death star model kit, which is my spinning avatar, but 5 or 6 years before I fixed it up and finally painted it.