Just received my custom bonehunter bio from Uratz. Thanks Mike! Fast arrival!
This thing is more awesome in person!! Now I have to figure out what paint scheme I want to paint it! Looks awful nice the way Uratz painted it but I think I will try something different! Suggestions welcome!! It fits the ruffkin mask I have for sell pretty well! See pics. I WILL TRY TO GET BETTER PICS.THESE TURNED OUT BLURRY!
ADDED SOME PICS: Started with coat of grey primer then black then silver then gold then copper then more gold. Then dirtied a little with flat black and sponge. .
B)
DELETED OLD PICS THIS IS THE NEW LOOK! LOYS OF LAYERS OF COLOR. THEN I CUT MY FINGER AND ADDED BLOOD TO THE NOOKS AND CRANNYS AND SEALED IT WITH CLEARCOAT.
Just kidding about the blood!
How do you like it?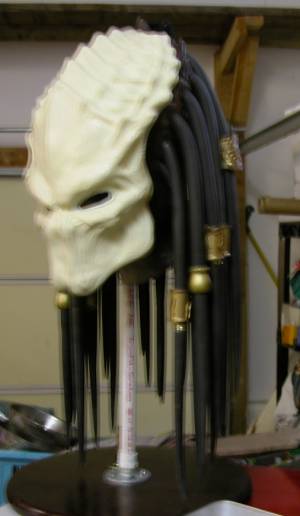 Last edited by a moderator: