Master Member
RPF PREMIUM MEMBER
I did this project/tutorial about 10 years ago. This is not a major project but it is something simple you can do quickly and with little skills, tools, and supplies.
Rank Pips:
These are 15mm in diameter and 5mm thick. You can make them yourself or get the found item they are believed to be.
EAO Series 01/31 Pushbuttons lens.
http://www.eao.com/eus/en/products/condensedcatalogue/byseries/SERIES_31.pdf
BTW: the rectangular ones are for imperial ranks.
the round lens for series 31:
RED = part number 31-933.2
BLUE = part number 31-933.6
This info is about 10 years old:
I have called around and I have found no min for orders in many cases. The SRP is $1.15 each. The only way I found to get a discount is to order $250 worth of items and get them for $0.98 each. Hardly a huge savings.
Distributors of EAO switches in your area:
Switches, industrial switches, 8mm 16mm 22mm 30mm switches, pushbuttons, emergency stops, rotary and selector switches, indicators, sub-miniature, key-lock switches, rugged keyboards, PIN-entry keypads
Backing:
50x50mm with rounded corners (this size can be used for Commander (blue) and Major (red). For other ranks, you will need to scale up/down as needed. For other rank information
check here
for inspiration.
If you cannot cut sheet metal or get the backing milled from metal as in my picture (backings made by Corellian Exports):
You can opt for cut to size plastic and silver/chrome spray paint as seen here: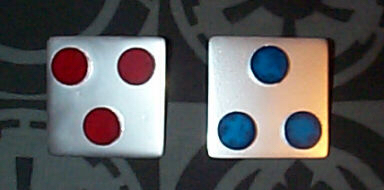 I added a military ribbon clutch pin bar on the back.
Applying pips to backing:
You will need:
-silicon general purpose sealant
-wax paper
-super glue gel
1. insert a generous amount of silicon sealant into the hollow back of the buttons. Put enough so that it will overflow (don't worry about making a mess this stuff peels right off when dry).
2. Flip over face up onto the wax paper. Press down so that the excess sealant squirts out the side. Once again don't worry about a mess.
3. Allow to dry
4. Lift he buttons from the wax paper and peel the excess sealant from the buttons. The result will leave a translucent flat backing to the button.
5. Add one drop of super-glue Gel to the flat sealant area of each button and place onto the square badge.
Last edited: