These are all Revell-ogram scale (1/4105), a mish-mash of scratchbuilds, scratch-bashes and already existing resin kits. Enjoy.
This has been repeated elsewhere years before, but here's the RTF I'm slowly workin' on. I'm recently getting back in to modeling after about a two year hiatus, other than occasionally picking up amodel and dusting the shelves, I've only finished one model in that time.
Anyhow, I've got a lot of different Battlestar Galactica ships in various stages of construction/painting. About a third are in the primer stages with about half of those still getting detail added to their hulls. These I'm calling in-scale w/the old Revell-Monogram "Battlestar Galactica" battlestar kit - 1/4105 scale, as previously mentioned. They're workable for either TOS or TNS, so far as I'm concerned.
These initial pics are just a small part of what I currently have. I've built up my RTF - and Colonial Fleet - to be somewhere around 60 ships, IIRC.
The Colonial Fleet ships will be in another thread or two later.
For ease of identification, I've numbered the various ships in the first pic so that the kitbashes, scratchbuilds and scratch-bashes are easier to identify. If nothing else, it's less confusing for
me
! Click on the thumbnails to go to a larger image.
Slightly Overhead View.
In these pics, I've got a total of 19 ships. Six are actual ship designss from BSG - appearing in both TOS and TNS - and are also resin kits from various GKM producers. Eight are kits in the mediums of plastic or styrene and from a couple of different vendors. Three are "scratch-bashed" ships, using almost entirely pre-existing model kit parts or toys as the majority of their construction. Two of ships are completely scratchbuilt. Two of the other three I've got that are still under construction are scratch-bashes and one is mostly a scratchbuild with some resin castings of model kit parts - mostly armor and plane - being included in the mix. Many thanks to the Techmanges for their assistance!
1) is one of scratch-bashes that uses the base of some sort of toy - from the Star Wars line, I think - as the basis for the main hull. She's got a pair of 1/10,000 Imperial Star Destroyer engines from
Odyssey Slipways
and a detailing pieces from my spares box, the origin of which escapes me, but it's shaped like a spoke. I'm debating adding more detail or leaving her pretty much as-is as I sort of like the utilitarian look. I'm calling her the Aquarius Freight Hauler
Easy Does It
.
2) is my almost entirely scratch-built, original design agro ship. I scratchbuilt the main hull and then used piecesparts from various seconds I'd received from Odyssey Slipways and a cut up ERTL/AMT Reliant kit for detail pieces and engines. The forward command piece is from a 1/10,000 Imperial Star Destroyer from OS, the engines are from the accurizing kit from OS for the ERTL/AMT Star Destroyer kit. Not shwon in these pics are several other detail resin castings of parts from various kits, to include a detail piece for the central engines interior. The agro-pods are from the MiniModel Madness
Valley Forge
kit from the 1972 movie url=http://www.imdb.com/title/tt0067756/]Silent Running[/url]. I was able to purchase several sets of these directly from Chris Larson w/o having to purchase a complete kit. I'm leaning towards the name
Dern
for this particular ship.
3) another scratch-bash. This one uses the aft section of the S.I.D.S. Konami "toy" from U.F.O., part of a broken chip-clip for the forward section and various pieces/parts from my spares bin. Most notably is a pair of the aforementioned Odyssey Slipways 1/10,000 scale ISD engines and a command section from an OS
Victory
-class star destroyer. I figure this one to be some sort of research or communications ship of Aerelon Registry.
4) is a work-in-progress, meant to be a tanker. It's the main hull for one of the small Bandai Starblazers kits - I forget which number in the series- and will get some additional detail at some point in the future. The main things I'll likely only be adding is a main engine and some sort of superstructure for the bridge area. Otherwise she'll be pretty much as you see her here.
5) a small transport ship which is the Odyssey Slipways Old Republic Heavy Cruiser. It's a straight build, no extra's. I've not given her any background as she's mostly just a filler ship, so to speak.
6) is the Arra Shuttle from the series "Space:1999" available from MiniModelMadness. It serves as a passenger liner in my RTF, but has no other background.
7) a small transport ship which is the Odyssey Slipways Imperial Interdictor Cruiser. It's yet another a straight build, no extra's nor any background given.
[NOTE: I've since removed this from my RTF]
8 ) Is another scratch-bashed model. The base kit for this is the
Valley Forge
model from MiniModelMadness. . I used castings of engines from Chief 400's scratchbuilt
Daedalus
-Class USAF Battlecruiser from "Stargate:SG-1" that he took to WonderFest 2007 - and for which he won an Bronze. He had several seconds castings of the engines he'd manufactured for it and gave them out at our suite at WonderFest. The main hull section and forward framework is from the MiniModelMadness kit, there's some Evergreen hollow tube-stock running down it's center, two pieces from the C.E.D. Models VF-1B Conversion kit for the forward command section and a piece from an unkown model kit as the lower section for the primary landing bay. She'll have a total of seven agro-pods along the framework - three on the top in a row and two sets of two along the bottom, set at angles from the top. This ship will be named
Saturn
, I think, after the Greek god of agriculture.
Another View.
9) another Odyssey Slipways kit, this time the 1/2256 scale Blockade Runner from their Star Wars line. As with many such ships, it's just filler, thus has no background. It's a nice, small ship that needs a little cleanup, but not bad overall.
[NOTE: I've since replaced this w/the ARVEY Model Products 1/4222 version, scaled to the old MPC Imperial Star Destroyer]
10) is the very nicely done Mineral Ship from
ARVEY Model Products
. I've not sat down and compared this kit to the pics of the TOS studio model or the TNS CGI model, but it looks very darned close, going fro memory. The only problem I've encountered with this kit is that the aft section sags rather badly past the third circular pod causing the engines to hang down too low. Otherwise a great representative of the ship seen in both the TOS & TNS RTF fleets.
11) is another of the
very
nicely done kits from
ARVEY Model Products
- the Flattop/Foundry Ship. While lacking in some minor detail - mainly the visible engines on the underside of the main hull - it's a excellent representation of the ship from TNS BSG and another kit that I highly recommend for your own RagTag Fleet. I've got two more unbuilt and will add at least one of them to my RTF as-is. Might modify the second, tho....
12) is the Prison Ship/
Astral Queen
from
Timeslip Creations
. This is a beautifully done model of one of my personal favorites from TOS, as well as TNS. Well worth the money, IMNSHO!
13) the Cylon Tanker from MiniModelMadness. It's got issues, but can be built up to a decent enough representation of the ship from TOS BSG with a little work. I had to cut out a 1/2 or 3/4" section in the middle to get it the proper length, then also drilled out the engines a bit to give them more of the bell-shape they're supposed to have. My background story for this one is that the tanker was captured by the Colonials at some point and pressed in to service w/the RTF.
14) is yet another ship from MiniModelMadness, this time the Colonial Movers freighter/transport. Like the Cylon Tanker, it's got issues, but can be built up to a decent enough representation of the ship from TOS & TNS BSG with a little work. My main issue w/it is that the forward section only
barely
represents that seen on either of the TOS model.
[NOTE: I've since replaced this w/the Timeslip Creations version, scaled to the old rest of the fleet and MUCH more accurate!]
Four RTF Ships.
15) is yet another a tanker from the aforementioned small Bandai Starblazers kits - I forget which number in the series this is, as well. This one will also get some additional detail at some point in the future but not much in the way of extra's as I sort of like her as she is.
16) happens to be one of the few scratchbuilds in my fleet and is a Work In Progress. I'm designating it an older-style destroyer/escort from the Colonial Fleet, pressed back in to service and slowly upgraded as the Colonials are able to do so. The forward command section is part of a base from the aforementioned S.I.D.S. Konami miniature/toy. The engines are seconds castings which I picked up at a WonderFest past, being from an all-resin Buck Rogers kit. Everything in between is Evergreen stock of one sort of another - angle stock, square stock and regular sheet stock. She'll eventually get more detailing done to her and possibly get a new set of engines. DEFINITELY still a WIP, tho.
17) is the
Event Horizon
from
the movie of the same name
. The kit is from Mini Model Madness. Like the Cylon Tanker and Colonial Movers, it's got accuracy issues, but can be built up to a decent enough representation of the ship from TOS & TNS BSG with a little work. My main issue w/this kit is that the neck section is starting to sag a bit. I figure it for a research or exploratory vessel.
18 ) next up is the Timeslip Creations
Rising Star
model, originally from TOS BSG, but mentioned a few times in TNS, as well as another ship of the same type was seen in the special "Tele-Movie" for TNS entitled "Razor" as part of the small Civilian Fleet that Admiral Cain and her ship
Pegasus
came upon - and then raped for technology and foodstuffs that were deemed critical, as well as personnel with specific skill sets that Cain deemed required for her to continue her one-ship war against the Cylons. This is yet another beautifully done model of yet another of my favorites from TOS, as well as TNS and is very worth the price! I can't wait for their version of the Gemini Freighter and Colonial Movers to be released.
19) is one of the older - no longer produced - Component Ships line from Ravenstar Studios, designated in that line as the
Clewis-class strike cruiser
. In my RTF it's serving as a manufacturing ship, currently producing spacecraft parts and complete Vipers.
A few group shot pics of my RTF ships.
Far Left of the first two pics
Moving to the right...
Moving a skosh
more
to the right...
And the far right.
Outboard view featuring my Aquarian Freighter,
Easy Does It
...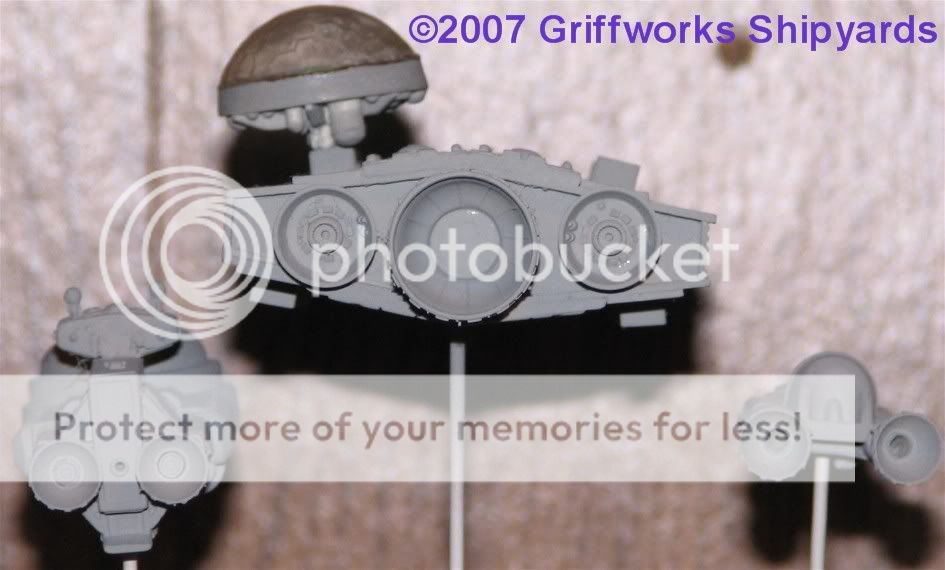 Aft View. I've added a detail piece to the center engine bell on the agroship since this pic was taken, as well as painted these ships.
Left outboard view showing my Aerelon registered research vessel.
And that's it. I hope you've enjoyed these pics of my RTF ships. I'd like to remind folks again that these are older pics. I'm posting them to show the history/progression of my work.
More to come.