Hi Guys,
Long time lurker and fan, some of my work has been kindly shared on the RPF Facebook page before so I thought it was about time I shared my work on here. The first costume I'd like to share is my Queen Ravenna, I made this in the summer of 2013 as my qualifying costume for the European Cosplay Gathering in the UK (I'll share my winning costume in the finals, Black Widow, in another thread). I would change a of things about this costume now as I've continued to learn but its still one of my favourite outfits.
There are a lot more photos of my costumes on my
Facebook Page
The first piece I started on was the crown. Its constructed out of styrene sheet, then covered in filler, sanded, 2 pac primed, more filler, sanding etc... The rivet details were fast cast half spheres I cast out and glued on (I think with death glue). Painting was a bit of a 'see what happens' process using a mixture of silver spray, hammerite, ageing spray, silver finger and sanding with some dark details added and rubbed in. Finally a sporadic layer of gloss was puffed over random areas to give it a beaten metal appearance.
The chains hanging from the crown were clamped with a loop that was then threaded through a wire and glued onto the inside of the crown - they're surprisingly strong on there.
For the forehead piece I sculpted it flat on a sheet of styrene after a lot of fiddling with the size and pattern before creating a silicone block mould of my sculpt.
The next step was a bit of a stab in the dark as to whether it would work or not, with me pouring fast cast into the mould and just as it started to harden I pulled it out of the mould and shaped it against my forehead (queue stupid photo of me!) Amazingly this worked and anything else shape wise I wanted to alter I could do with a heat gun. After cleaning it up it had a similar paint finish to the crown and magnets attached to the ends which clamped on to coinciding ones in the wig.
My wig for Ravenna was a lace front with a really beautiful natural achey blonde colour. It was quite hard to figure out what happens at the back of her hair though, as there are barely any shots of it so I took a little bit of artistic license with some of the braids.
This is the base of my corset for Ravenna and my second attempt at making it. I drafted a corset pattern using my measurements and adapted it to an 18th C style, dividing each half into 4 parts. Figuring out where all the bones would go and also support the tabs that I had added was quite a lengthy challenge!
The corset was made up of a heavy silk outer layer and silk lining. The chains were all hand stitched on (took ages) and the hunt for those metal leaves took a life time but eventually I found some I was happy with. The skulls and large beads were all cast out especially for this corset as I couldn't find anything that matched.
After a lot of squinting at her corset I decided the beads looked like vintage coiled rope buttons. I found a pair of earrings on eBay that perfectly matched them so I decided it would be cheaper for me to just buy those and block mould them so I could cast as many buttons as I needed.I sprayed them all black and then dry brushed some silver over them to pick up the highlighted rope detail.
Skulls! Gotta give a big thanks to my co-worker and friend miss Emily Pooley for doing a scaled down crow skull for me. I gave her a real skull (that were all far too big for the corset) and she created a beautiful scale model for me, which I then did a silicone block mould for and cast out in fast cast.They barely need any tidying up, just a few holes drilled in and a puff of white primer and clear lacquer.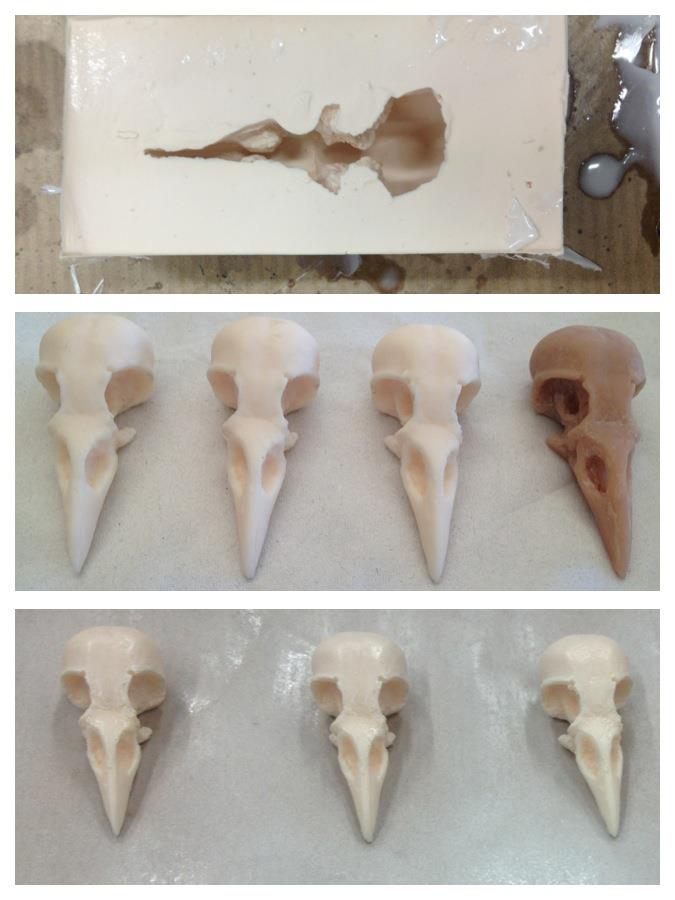 The skirts were made up of a hoop skirt, petticoat and then a silver silk pleated layer and a black chiffon with a lot of time spent on hand rolling all the hems.
Sleeves!Organza silk base with a structural/decorative seam in the middle. Then lots of hand dyed/aged lace, cut, pinned and hand sewn onto the base of the sleeve.
All sewn up together and all the lace meets perfectly along the seam hurray! There was also a button sewn along each line of lace. The puff sleeves are silk organza. There's then a long flowing sleeve attached made of chiffon and a lot of beads... All the sleeve components are sewn onto the corset, so everything is just in two parts of top and bottom.
And then voila! You can see more about this costume on my Facebook page I've made an album dedicated to it
here
photo by Rich North, post by Colin J Smith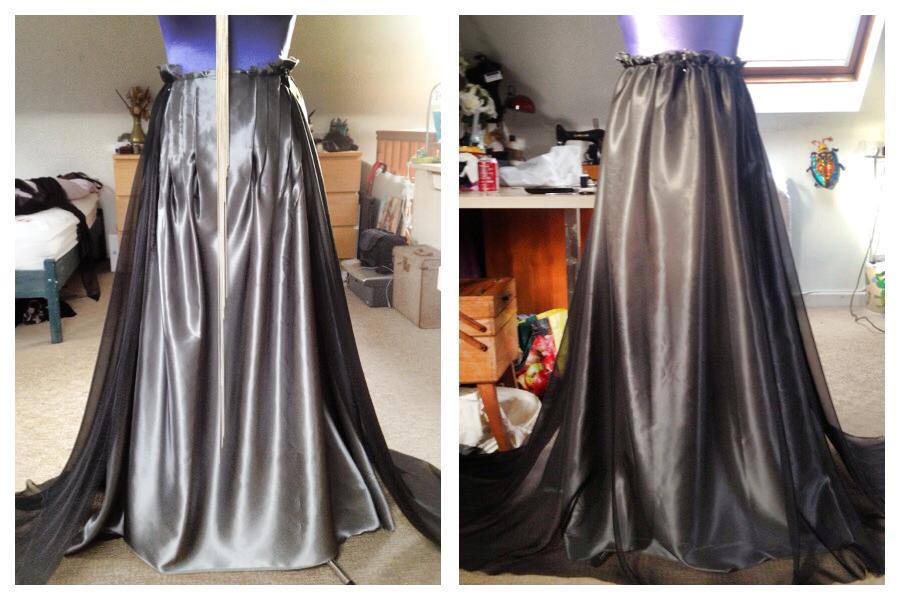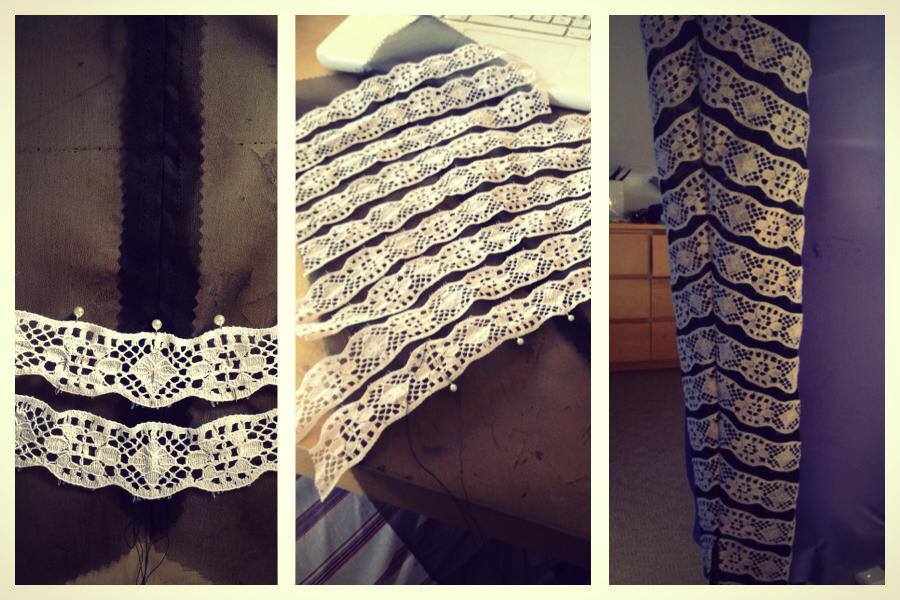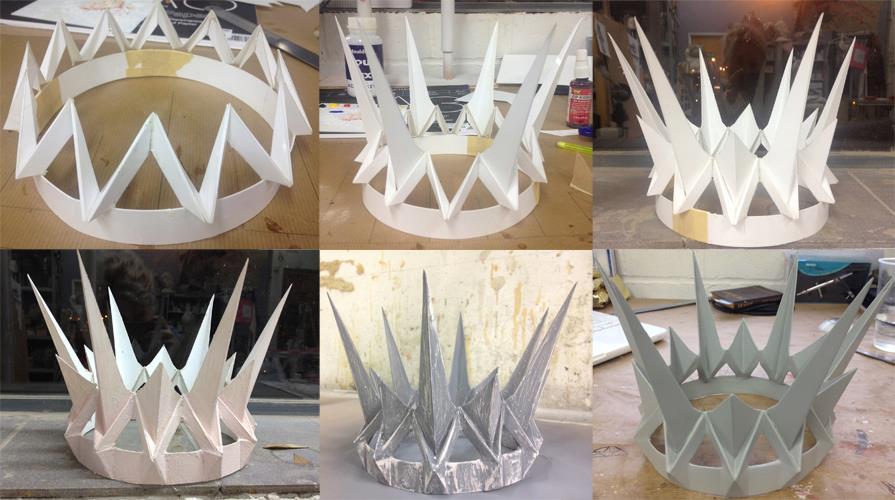 Last edited by a moderator: