Okay since some people already hate me here i want to make it up to you guys...I'm originally a pixel artist. and on those forums the criticism i give is well respected and is very soft compared to others...so i'm sorry if i bugged some of you guys....BUT since i'm a pixelartist i will take request for pixelart...
post a pic of your custome or sketches or whatever and i'll make them in LSW style (old dragonball game style for GB color)
example:
The Apprentice
(had 2 lightsabers because i made him in force unleashed 2 style)
I had a site on which i had everything displayed but it's off-line until i make a new one...
REQUESTS:
1.
2.
3.
4.
5.
I will only make 5 for now cuz my exams are coming up and lately I have little time for everything...
maybe you're wondering why you should do this?What can you do with it?...well you can put it in you sig or use it as an avatar...or do whatever the hell you like....it is yours...just don't claim as your own...
UPDATE
I taught maybe because of the alterpose example no one is interested so here's a better one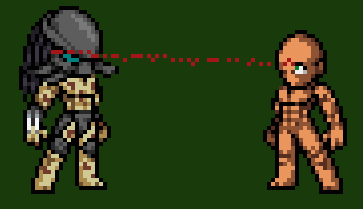 this is also to show measures comparison...