Hey guys,
First off, I apologize if this post is against the rules. I've tried everything to get in touch with Art for the last week to ask permission to post about it, but I've gotten no response to emails or PM's here and on The RPF. I'm not a predator costumer, and I didn't want to flood the forum with useless posts just to increase my post count. I've been a member of the RPF for a long time though, and meet the seller requirements there.
Anyway, what I'd like to tell you about is this: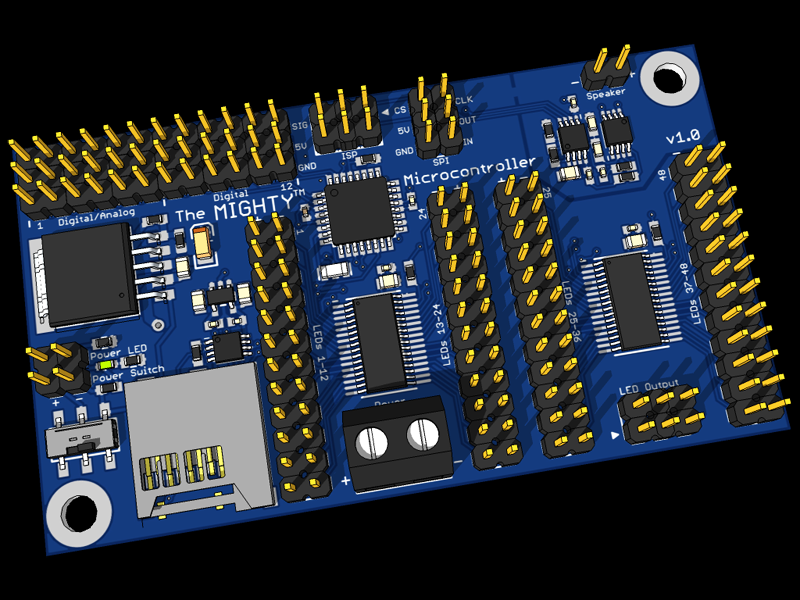 This is the MIGHTY Microcontroller, and I have a Kickstarter campaign going to raise fundng it:
http://www.kickstarter.com/projects/shawnswift/the-mightytm-microcontroller
The MIGHTY is an inexpensive circuit for adding light, sound, and motion to any prop. It's like having a light kit, sound chip, and servo controller all in one.
You tell it what to do by putting scripts written in BASIC on the MicroSD card along with the sound effects and music you want to play. And you control it with switches and knobs you attach.
It has a 2 watt amplifier on board, so it puts out sound equivalent to what you'd get out of a pair of desktop PC speakers. The base board can control 48 LEDs, and you can increase that number by adding expansion modules. One expansion module would be enough to allow you to drive all the LEDs on both the inside and outside of the computer gauntlet.
The expansion modules also allow you to control lasers. One module is enough to drive all three lasers for your targeting system.
No module is needed for servo control, so with the board above, a 24 LED expansion module, and a 3V power module for the lasers, you could control everything on your suit including the shoulder mounted cannon from your computer gauntlet.
You also don't need any resistors for the LEDs, so connecting them is as easy as plugging them into a cable and plugging the cable into the board. And, if enough people here are interested, I would also a set of inexpensive 9-segment alphanumeric display modules with the Yautja language, to make it even easier to assemble your gauntlet. (I could offer modules for the orange X and blue grid of LEDs as well.)
Anyway, once again, I hope I'm not breaking the rules by posting about this here. I just thought you guys would be interested in it. Your wrist computers were the original inspiration for this project. I was thinking about making one, and when I realized how complex the circuit would need to be I wondered if there wasn't some way I could make one circuit that could drive any props, so that I wouldn't need to design a new circuit every time I want to build something.