Just wanted to poke my head in and share some of the progress on my 1:1 P1. I've been posting progress pics over at the RPF, but wanted to post them here as well, where they'll probably be more at home anyway.
I started off with a Morris costumes rigid foam display, but decided to just use the torso as a base to show off my PredatrHuntr finished head. My plans were to completely repaint and detail the torso so they would match up better.
Here's what the earlier display in progress looked like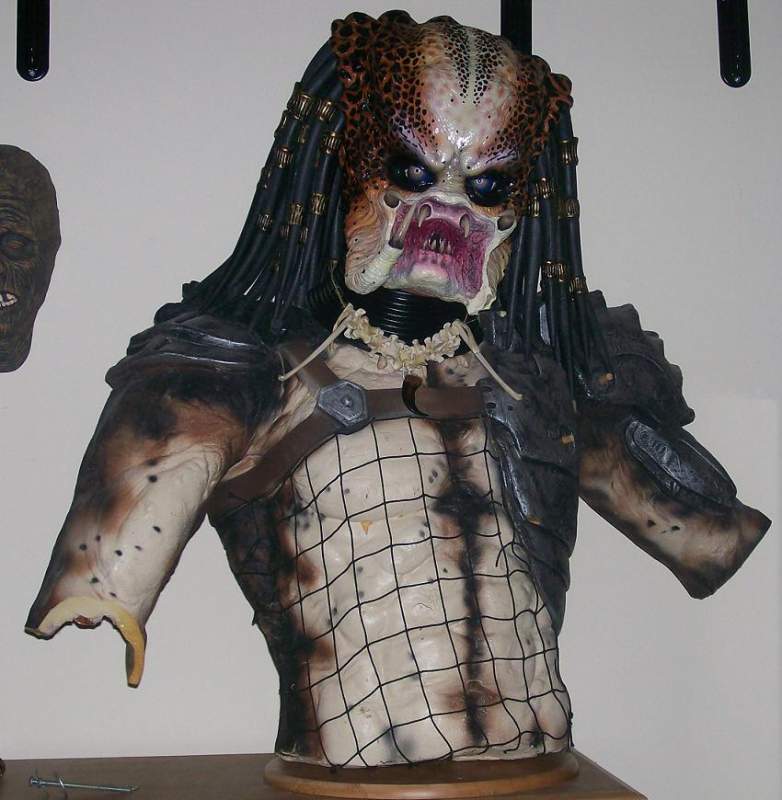 And a shot of the rear. Nothing fancy. just a rigid foam torso that looks fine from the front, although it def could have used a repaint.
Flash forward. I then decided the rigid foam display wasn't enough. So I went about seeking out a resin one. It wasn't long after that that I decided I wanted to go all out and do a full body display. I figured I would canabalize my legs from the Morris display, put them on a metal support structure, fill them out in the back, and mount everything up from there.
Here is the start of the legs, slightly reposed, with one foot taking a step up. The feet are foam filled fiberglass.
I really don't have as much time to work on props as I used to, due to doing a lot of writing in the evenings, so I worked out a deal with my friend and fellow propoholic, Bob Farmer. He's doing a lot of the work for me, and I think it's coming along nicely.
Unfortunately, when PH's head arrived, one of its mandibles was broken off (see first pic). Bob not only fixed that, but tilted the mandibles inward to be more accurate:
Another little tweak that Bob did is correct the eye sockets. Many people may not realize, but on all the castings derived from the Winston molds, and their subsequent recasts, the left eye (or right as you look at it) is higher than the other. Must have been a casting flaw. There was also a pretty big gap around my eyes and the lids. Bob corrected this by cutting out and lowering the socket and also closing up the gaps: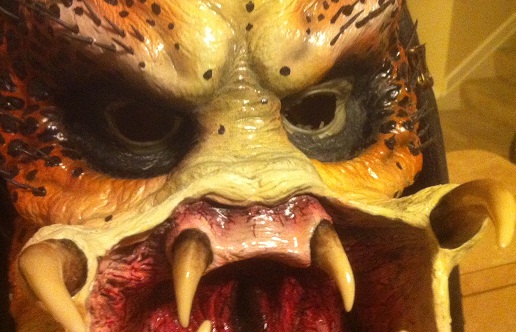 There was a weird extra strap that extended from the harness rig down the Pred's side on my casting. At first I wasn't sure where that came from, but then I figured it out. The castings that came out of Winston Studio's didn't have the leather harness at all, so the original caster sculpted all that in. He put that vertical strap in because he thought it was supposed to be there. Why? Well, I had to research the pics but there is a seam thing where the netting comes together in that area. The artist must have believed it was part of the harnes setup.
My hope is to make a disply that is uber accurate, so I had Bob remove that area and he's resculpted it back in with Aves. The netting seam will be done later, when I add netting.
I procured P1 hands. Nearly every fiberglass / resin display out there sports P2 hands because that's what came out of Winston's. I was very glad to have gotten some P1's for this display.
Here's a progress shot of the slightly reposed fingers, and the hands, torso, and head are being test fitted. Lots of putty work had been done at that stage. Lots of cleanup yet to do, but I think it looks pretty good (and menacing) so far. Bob's really listening to all my requests on how I want this thing to look:
Another progress shot. You may notice there's a slight problem with the blade side gauntlet. It's positioned wrong for the way I want that hand.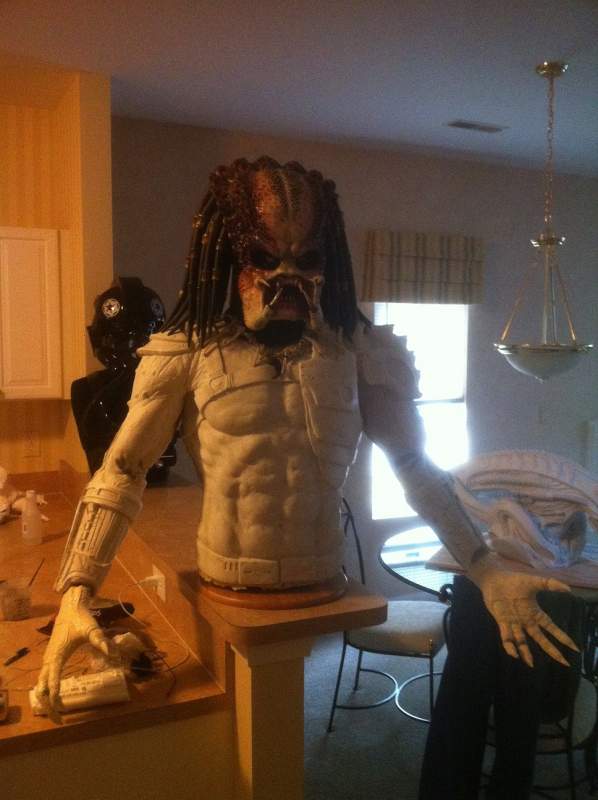 The fix for the gauntlet problem . . . cut and reposition the forearm. Unarmed: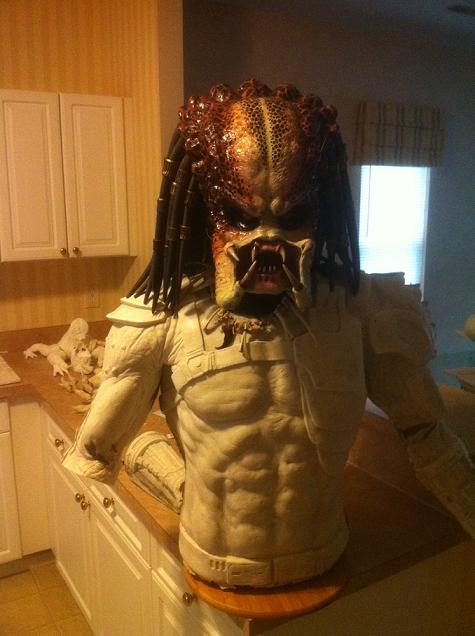 And rearmed, with the gauntlet rotated slightly:
Hope you guys like the pics so far. And looking ahead, here's an example of the paintwork from the guy who will be painting this beast. I will have some specific requests on how I'll want mine done, but there's no question, Joe is able to do good Pred work: