First off, stripped off all the 'wood' parts and primed- Found this great primer that etches into plastic and metal removing the need for sanding (the most tedious part!) After priming I painted on then stippled my 'Steelgohst copyright magic rust paint' (iron powder mixed into acrylic paint, shh it's a secret) - it's important to stipple as brush marks will show later if you don't! If you want a really heavily rusted look you can make this using just brown paint and stipple it on thicker, that enhances the effect. for this one I'm doing a realistic old steel, not too heavily rusted, so I made the paint this muddy grey colour , then I applied a catalyst to start the rusting process and put it in a plastic sack overnight.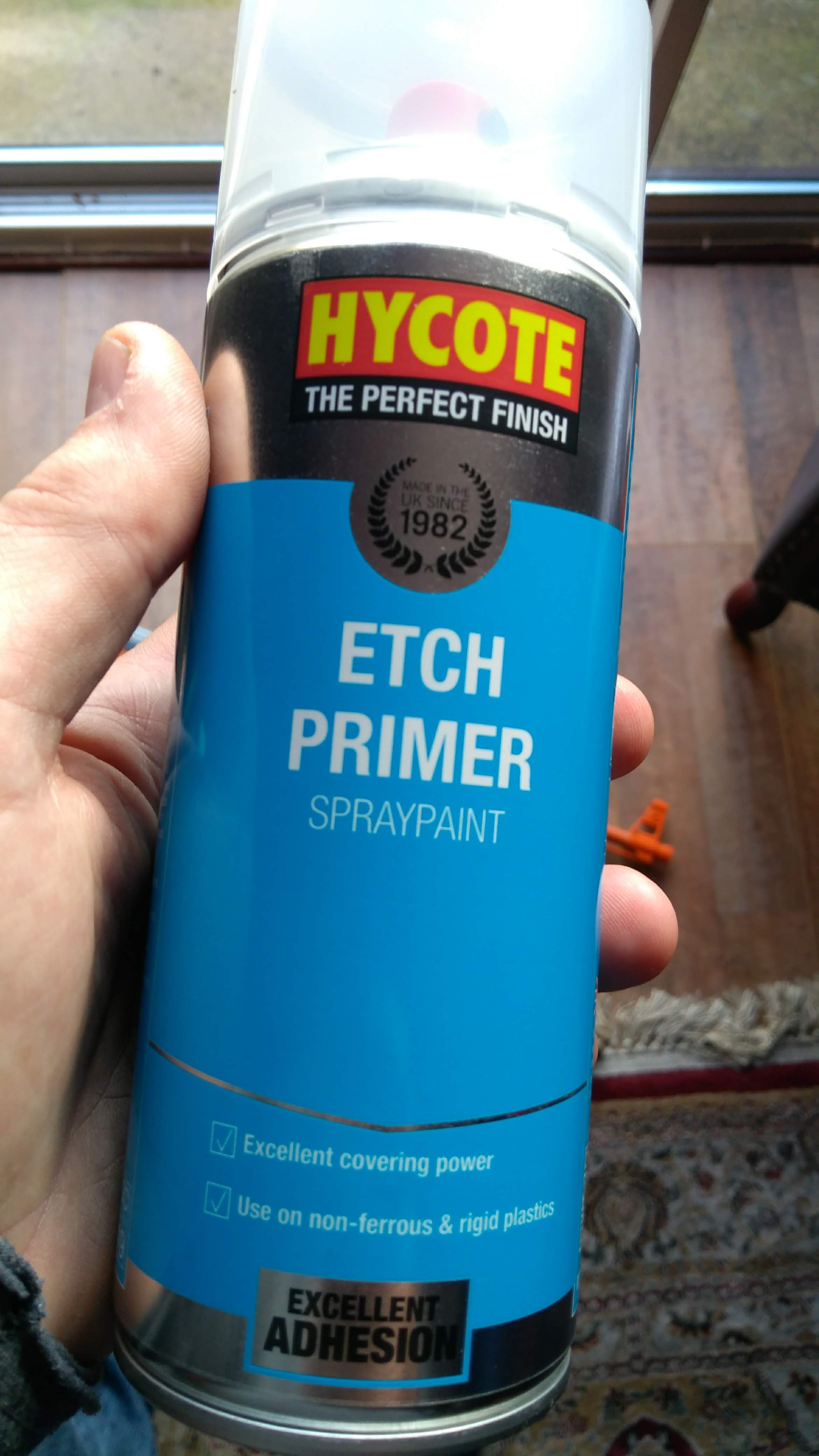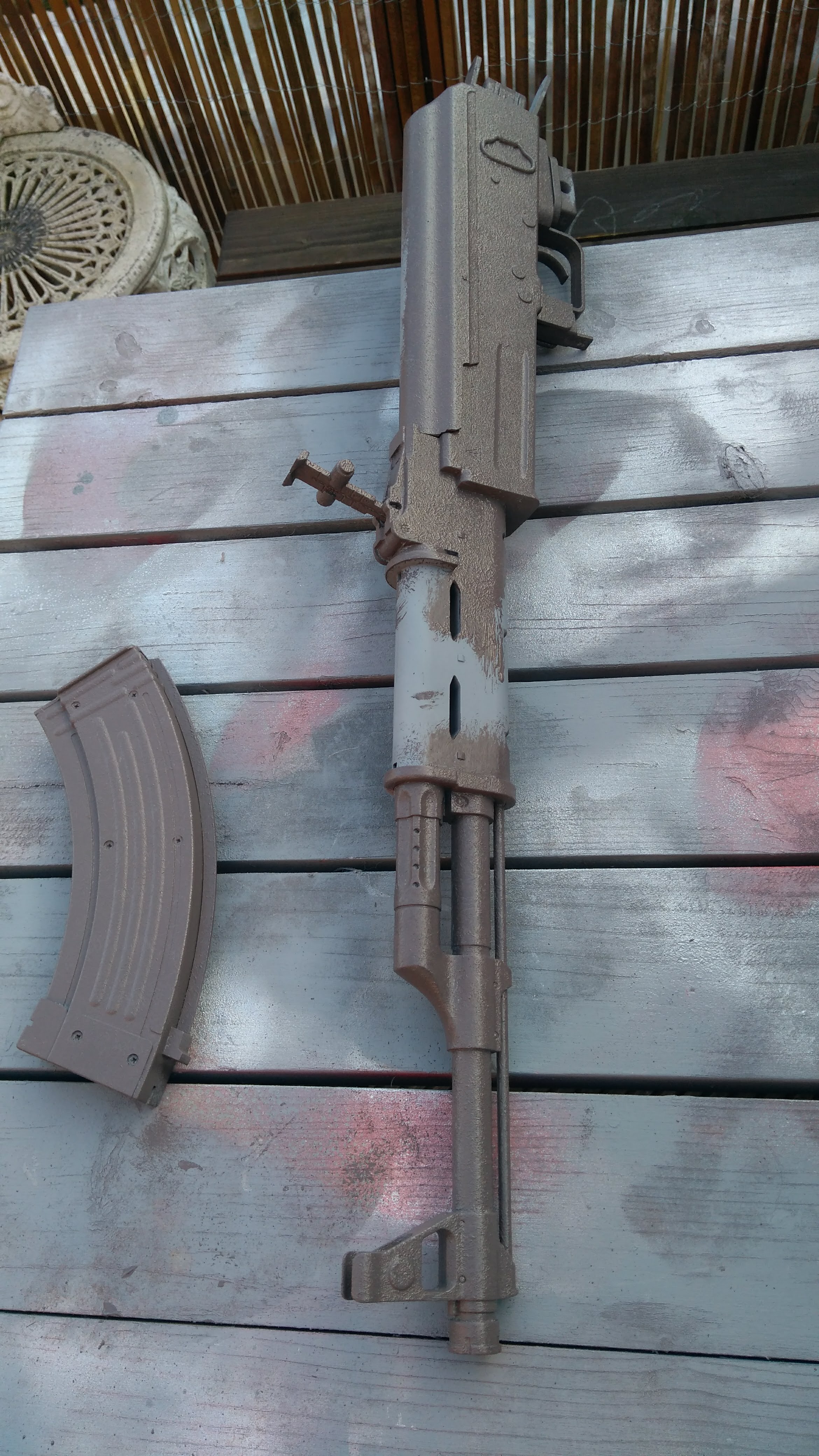 Day 2 - the magic paint has done it's thing, the next step is to arrest the rusting process by sealing it with a matt spray varnish, this also makes it more hard wearing and stops the rust staining you and everything else! I also find that this also gives a very nice realistic metal finish, as opposed to just a hunk of rust. The next step is to go in with the rusting paint again, this time more strategically and artistically, using a small brush ( a nice battered one like this is good) and giving thought to which bits might rust more than others, so mostly applying to cracks and crevices and hard to reach parts. Then that gets some catalyst on it and put to one side again overnight.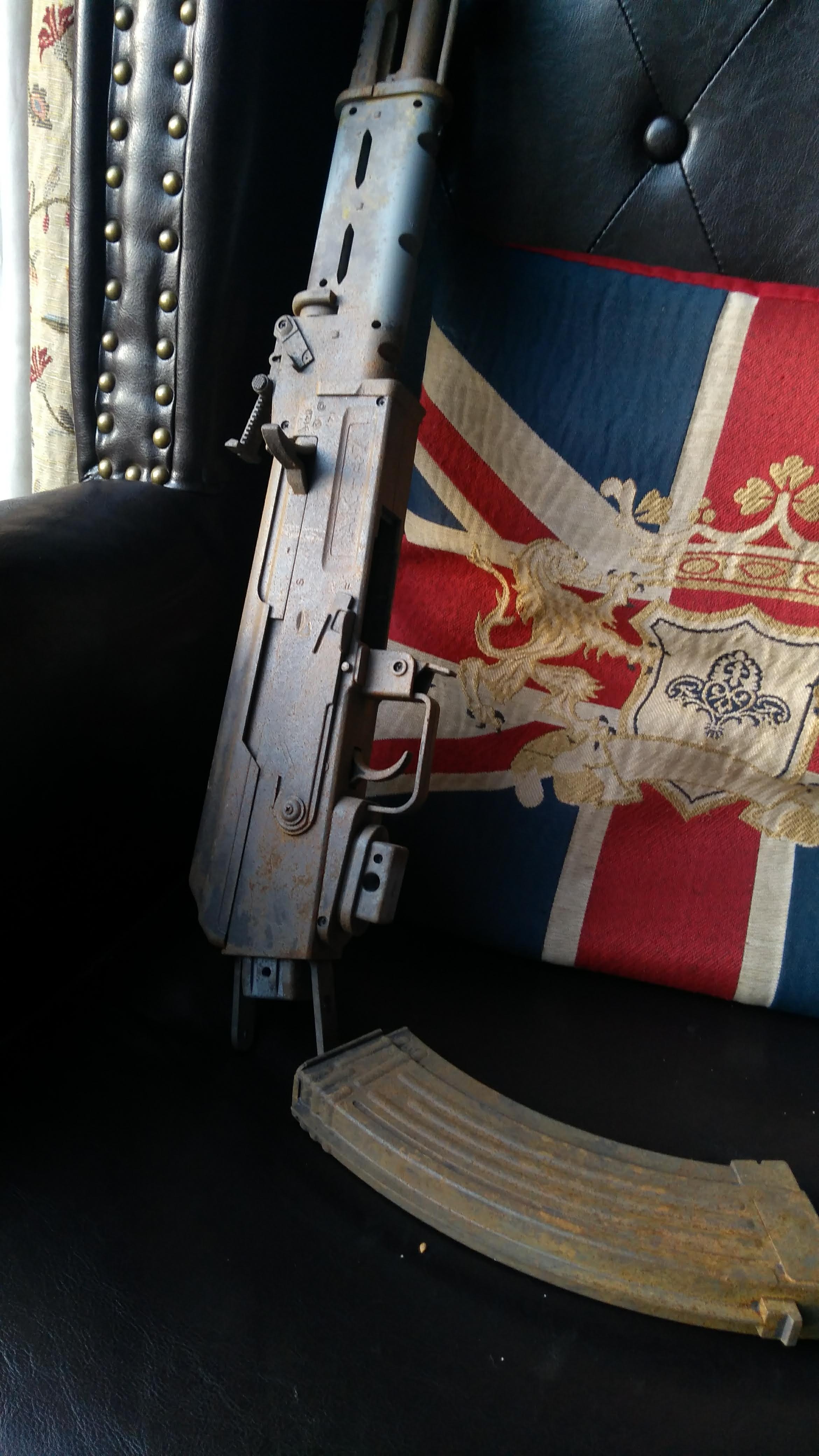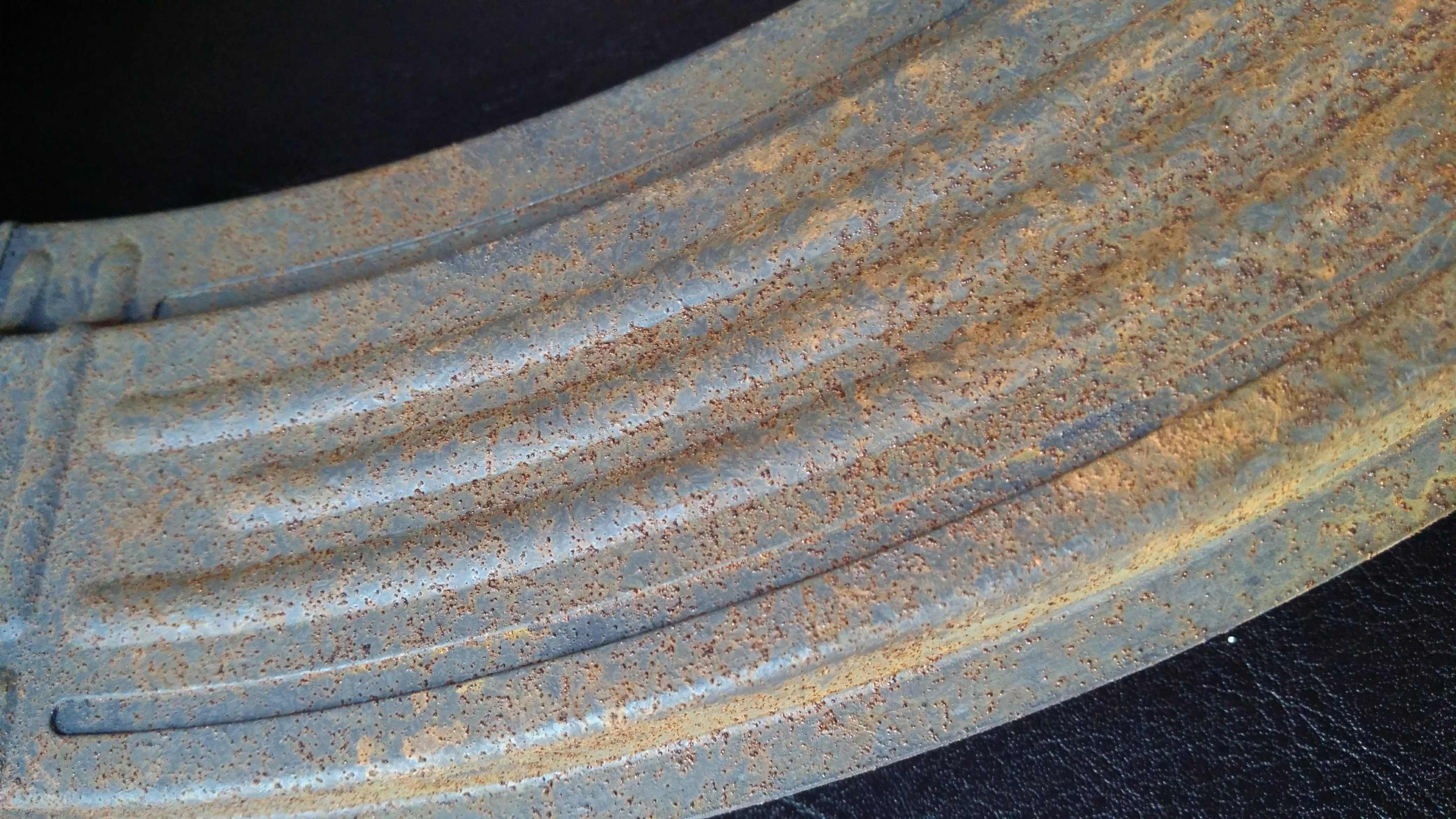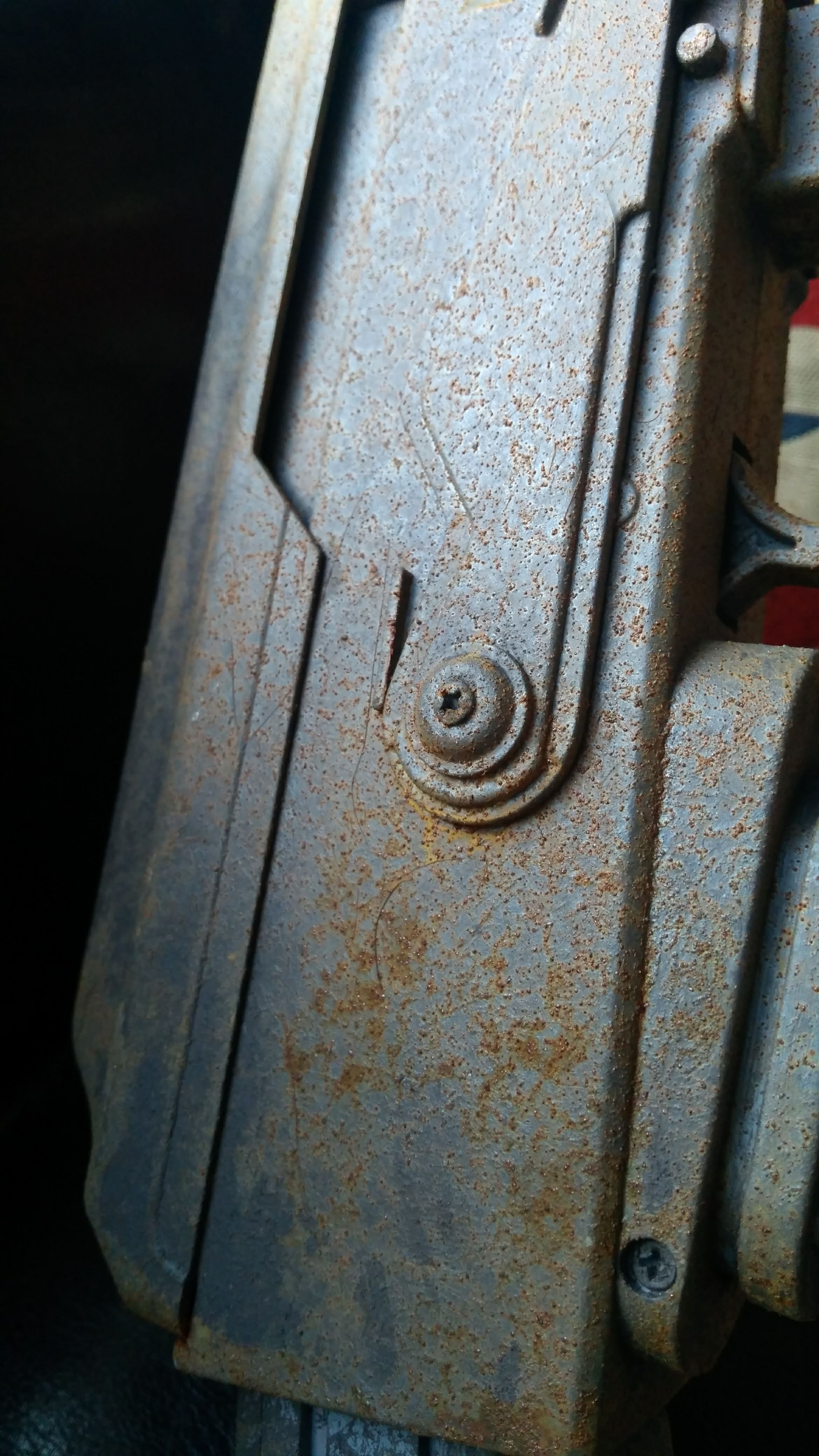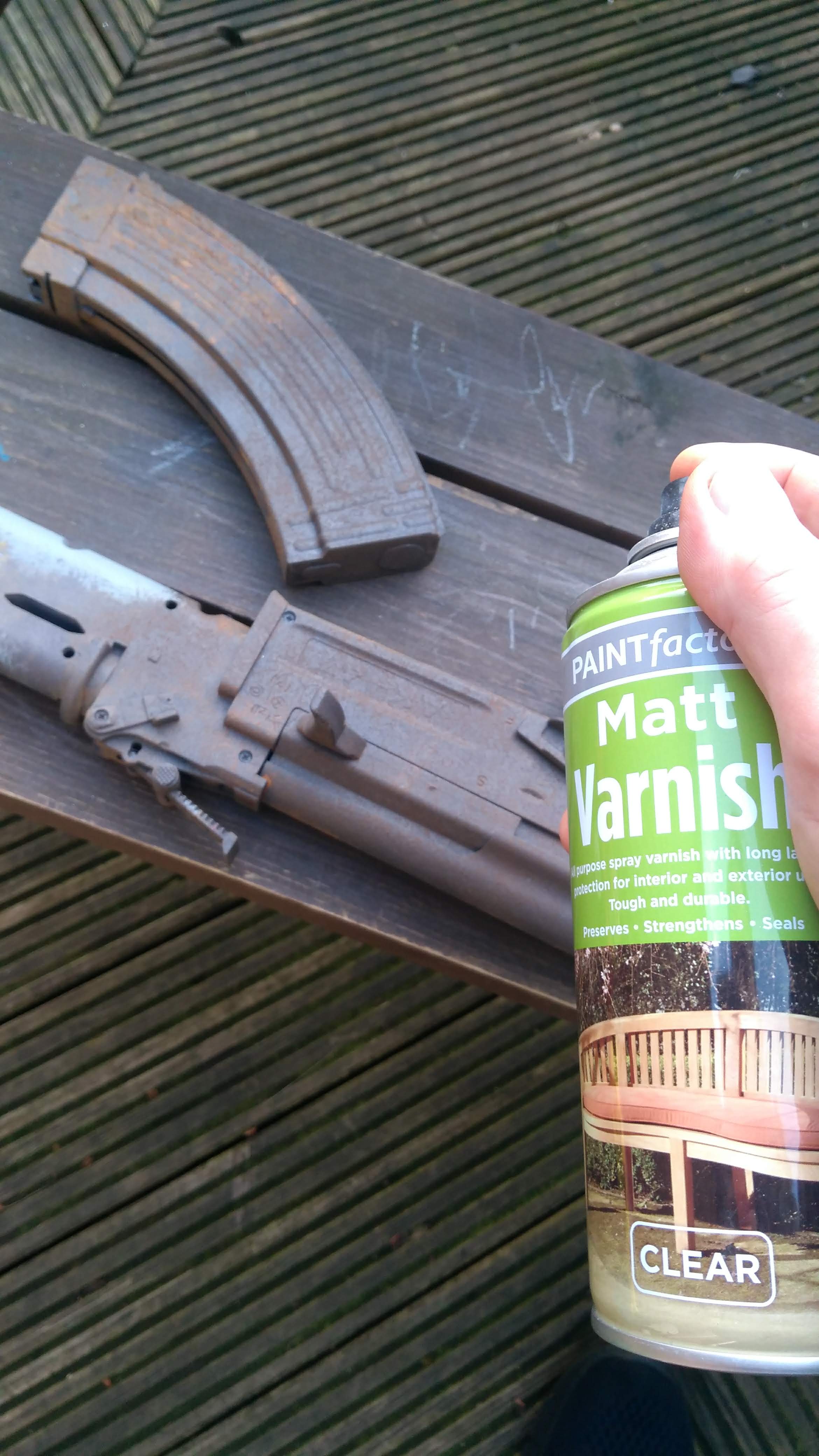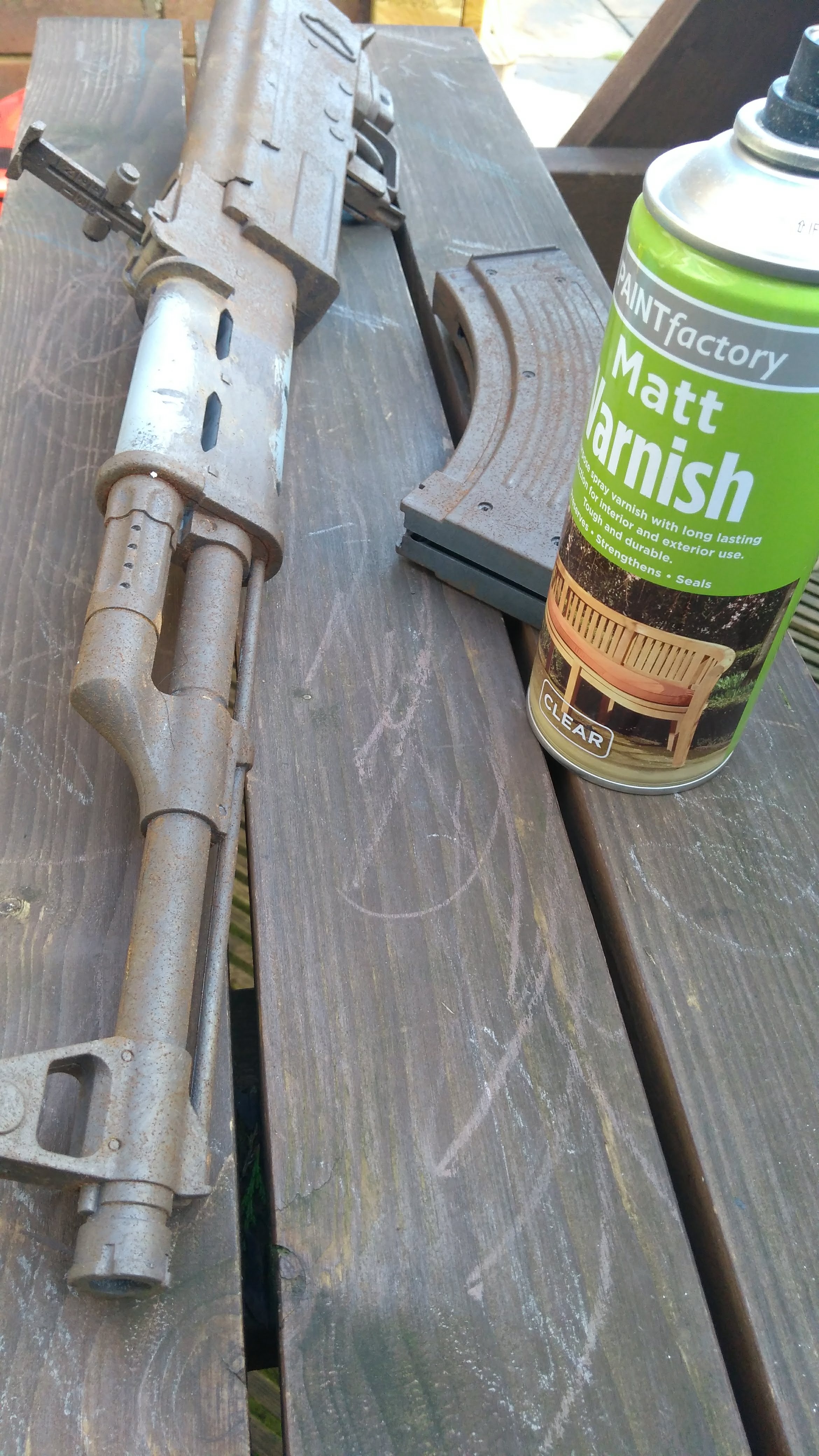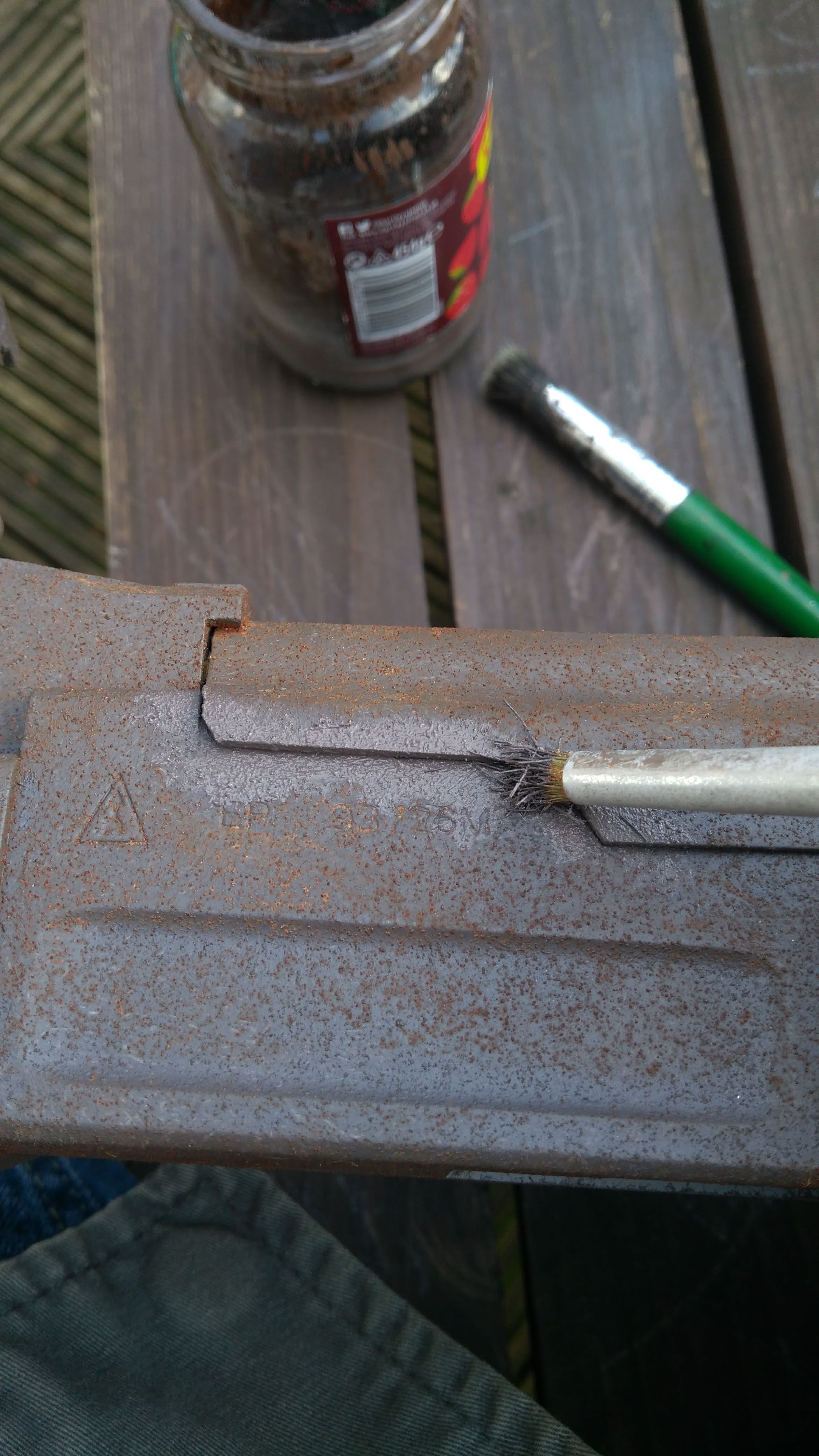 I quite like the wood grain on the plastic parts, but they do look very plastic.. they will be mostly covered up on the finished gun but I give them some wood stain varnish so that any bits you may see sticking out will look more realistic.
The magazine doesn't need any more rusting so it's on with the finishing.. my preference here is using 'rub n buff' in a pewter finish. I apply it very, very lightly to raised areas and edges then give it a really good rub down with my thumb to smooth it out, then add a bit of character and history with some acrylic paints, just crudely, this wasn't an artist painting this, it was a soldier from some future battlefield sitting in the ashes of civilization

- I don't mess with the colour of the paint because I want it to look like the weapon was found and the text added later, but if you wanted you could obviously add a bit of brown to the white to give it a more aged look.
Then the finishing touch is to dust it all down.. I use this Ben Nye ash professional dirt because it's what I bought when I started doing this, I now know that you can buy 'Fuller's earth' much cheaper on eBay, and it's the same thing so do that

- Just slap it on liberally with a soft brush (preferably outside!) and using the same brush, brush it all off again. It'll stay in the crevices and generally make it look like it's seem some action..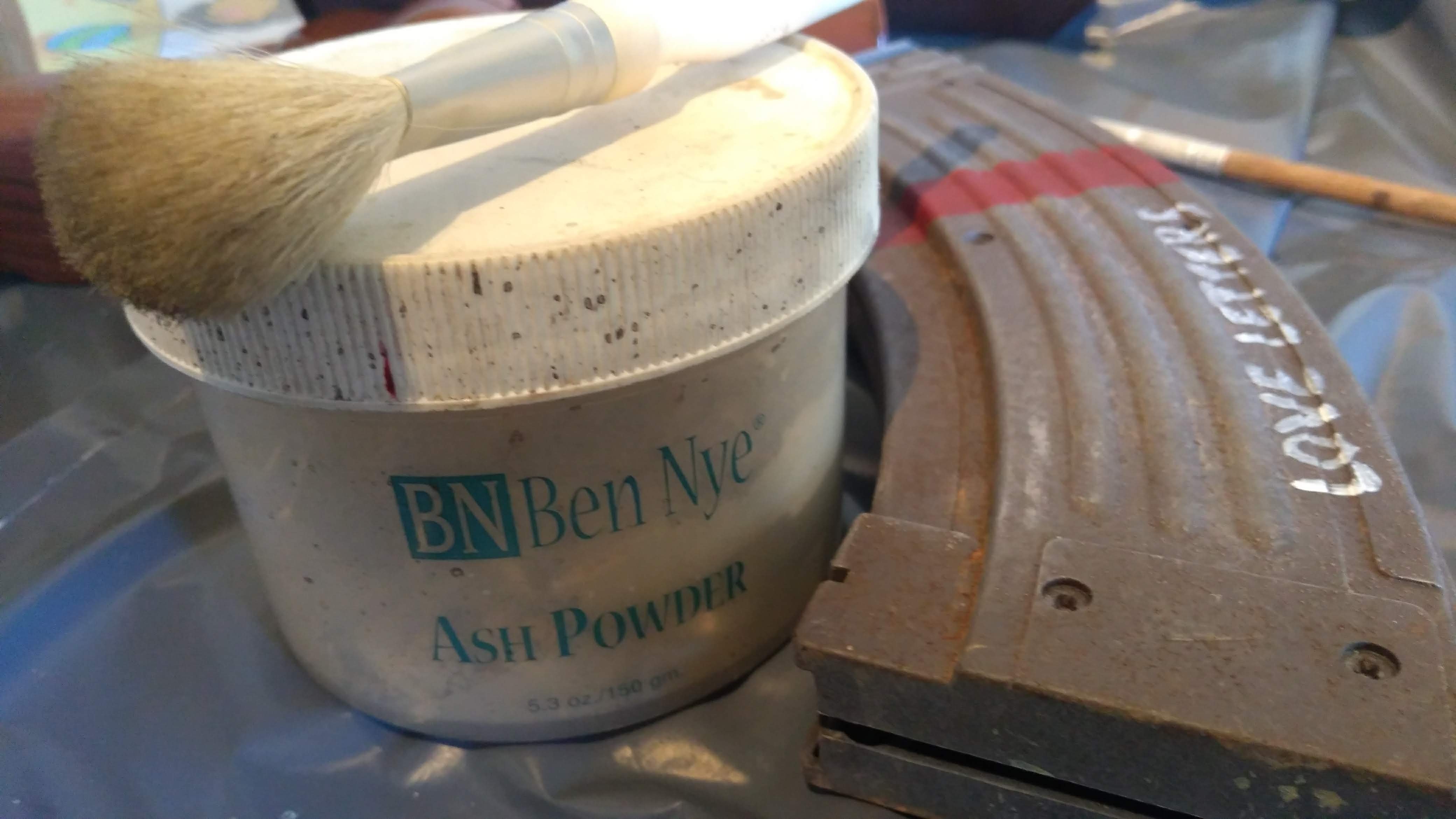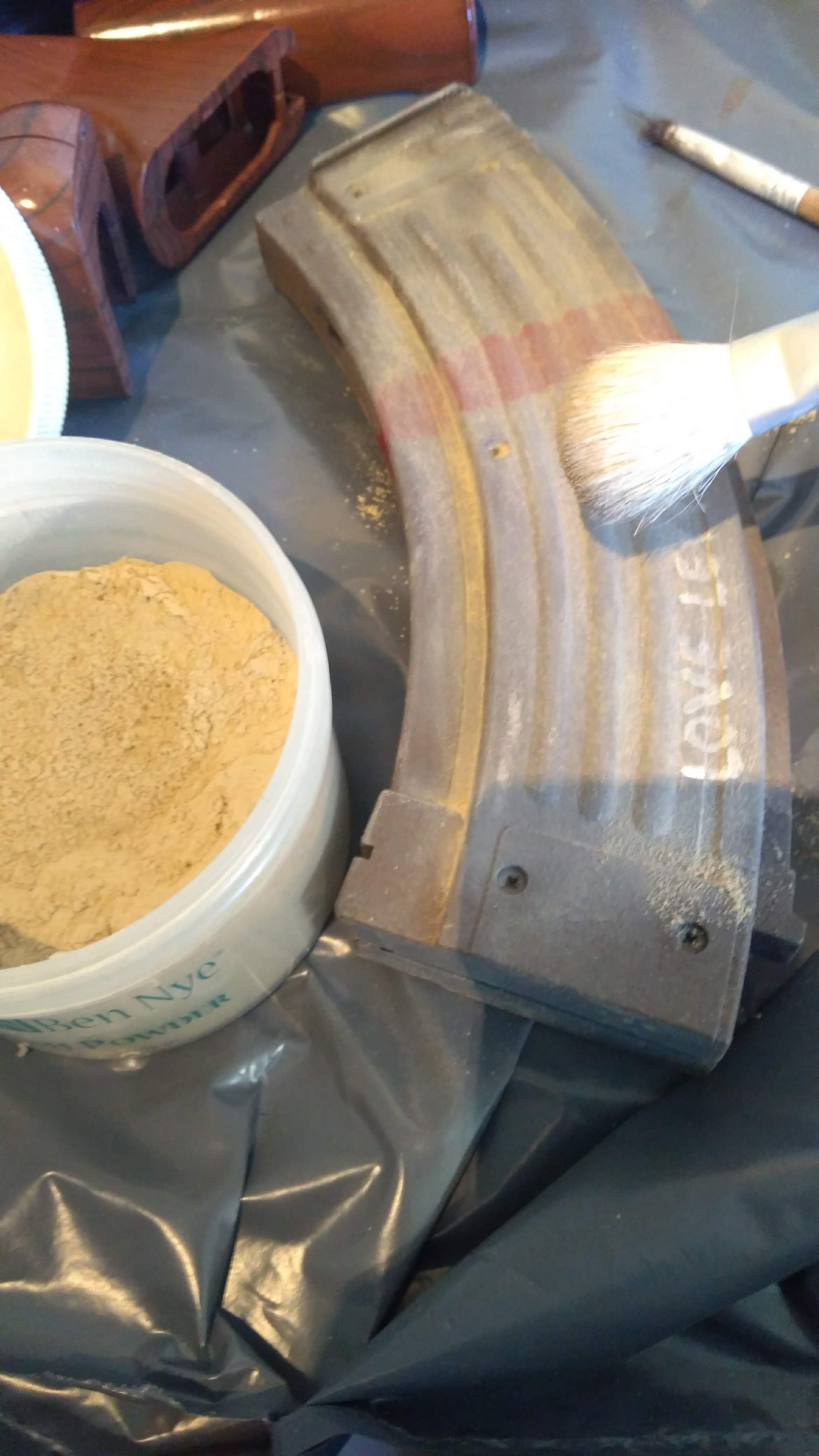 Rusting is all done so I use the same technique as with the magazine and strategically apply very light amounts of pewter rub n' buff with my finger and rub it really well in - this does take a bit of practice to learn just the right amount and how to apply it, so be aware that it's easy to mess up and put too much on, so less is more -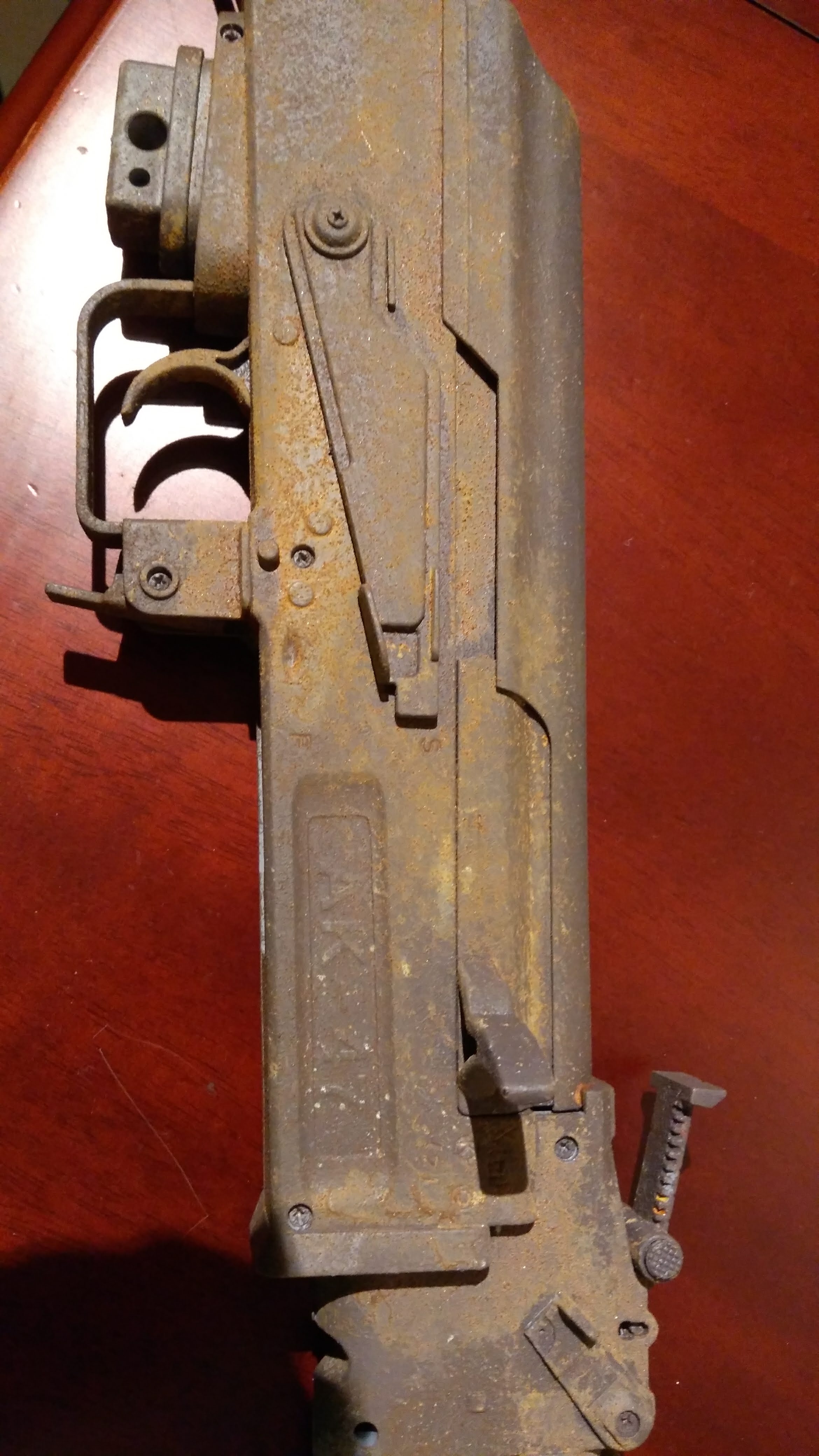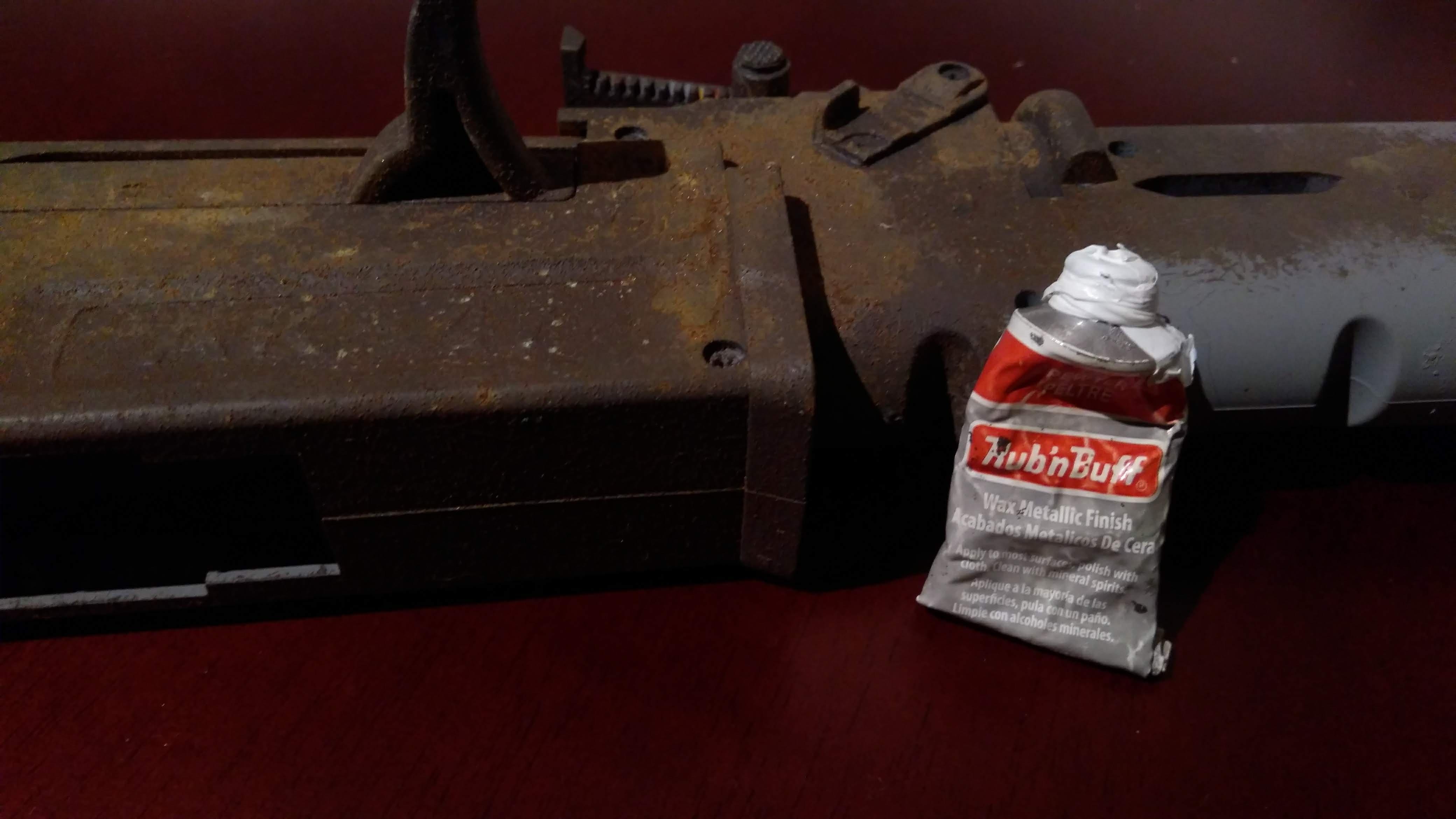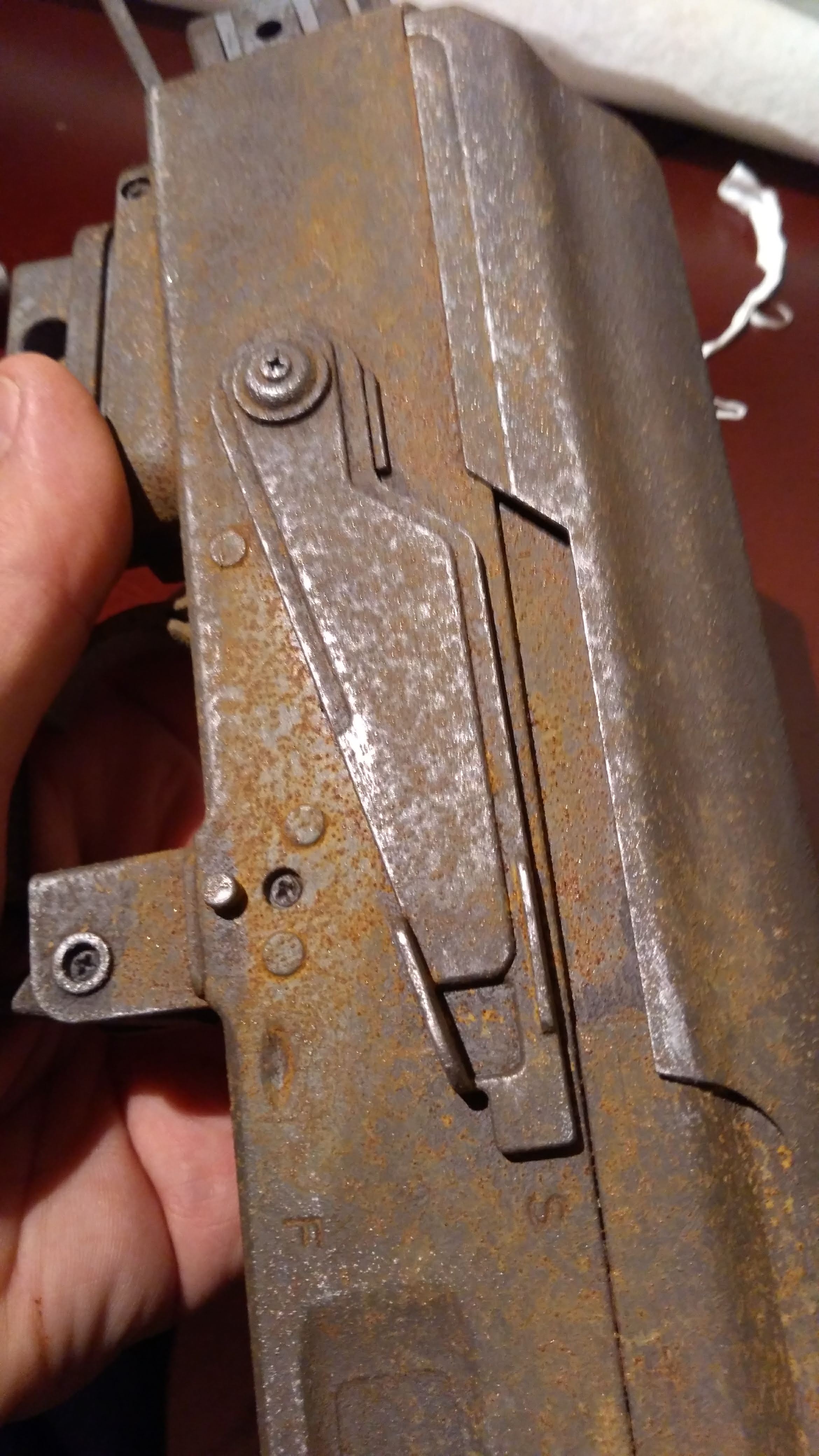 The `wood` parts are far too shiny and clean and not as realistic as I'd like, so I put one drop of black and one drop of brown acrylic paint into a bowl and mix to a fairly thin consistency with a little water, apply liberally to the `wood` parts of the gun and then dab it mostly back off again with some rag or kitchen towel then allow to dry and put them back on the gun.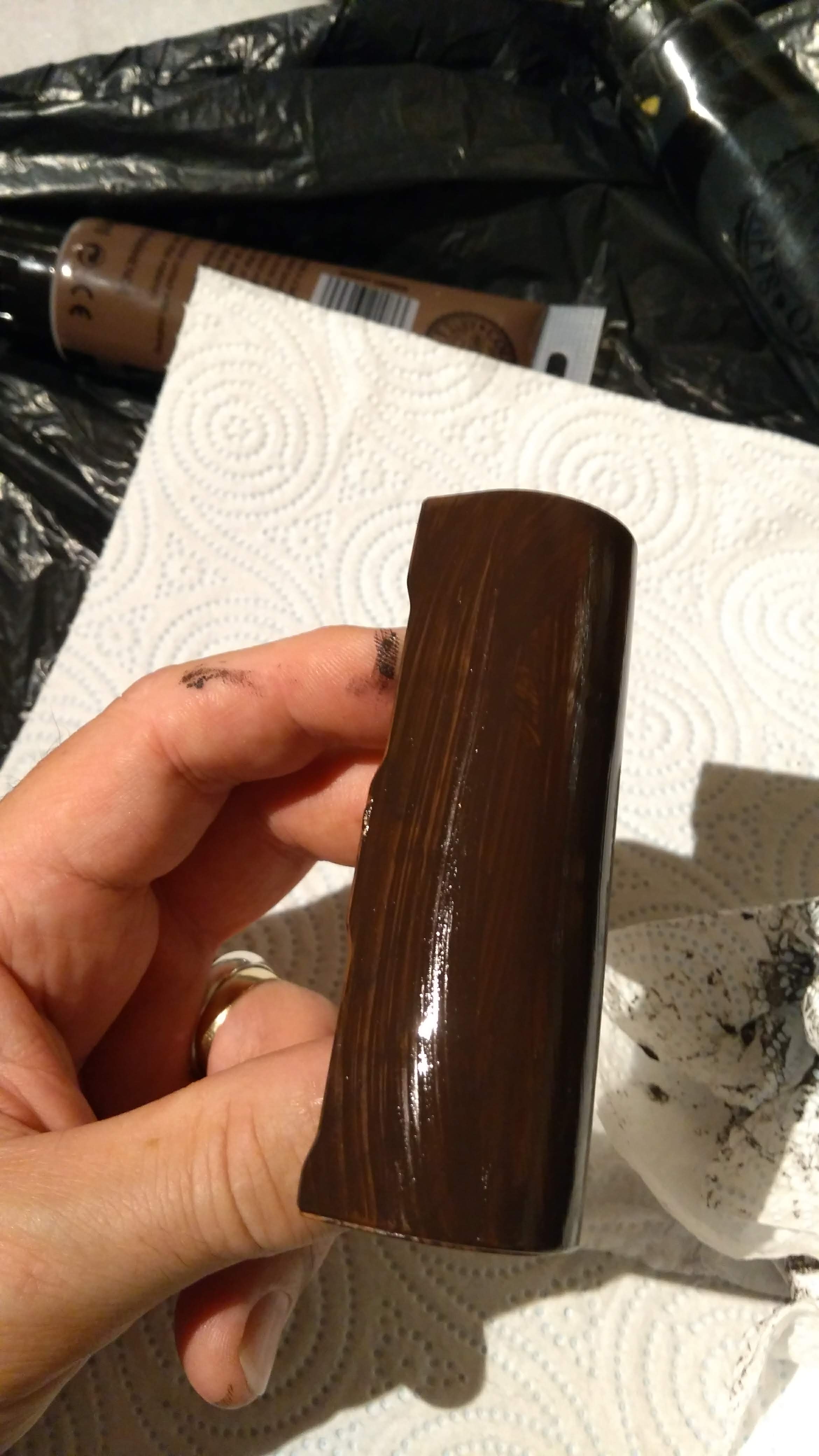 Time to break out the apocalyptic staple, the duck tape! when wrapping this around it's important to be fairly sloppy about it so that you get lots of nice texture. I sand it down then using a couple of different grades of sandpaper to give it a well worn look, then add a bit more brown acrylic to the black and brown from earlier and apply liberally to the tape (particularly the butt, which I imagine spends more time in the mud than any other part) then dab some of it off again with a bit of kitchen towel.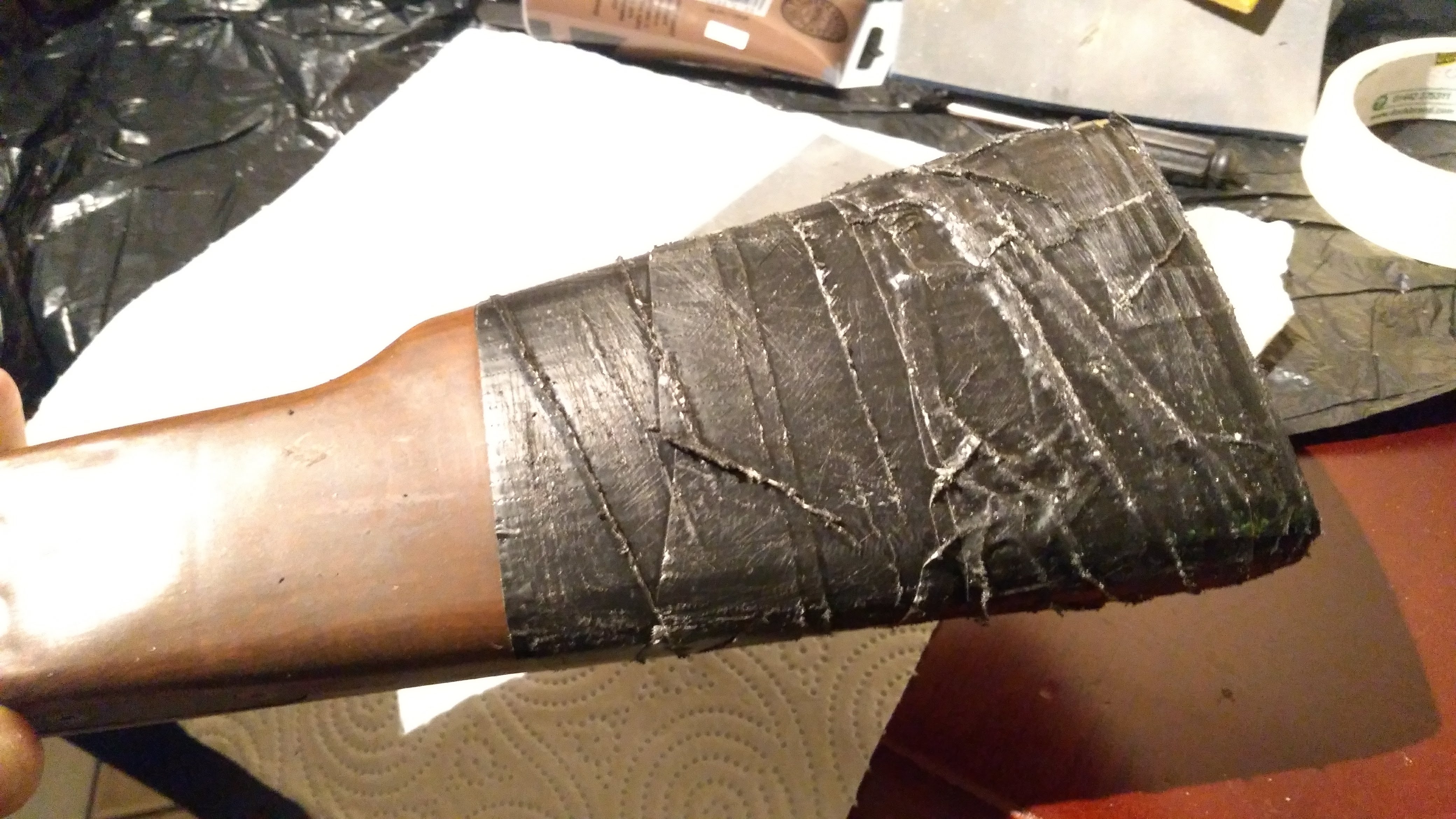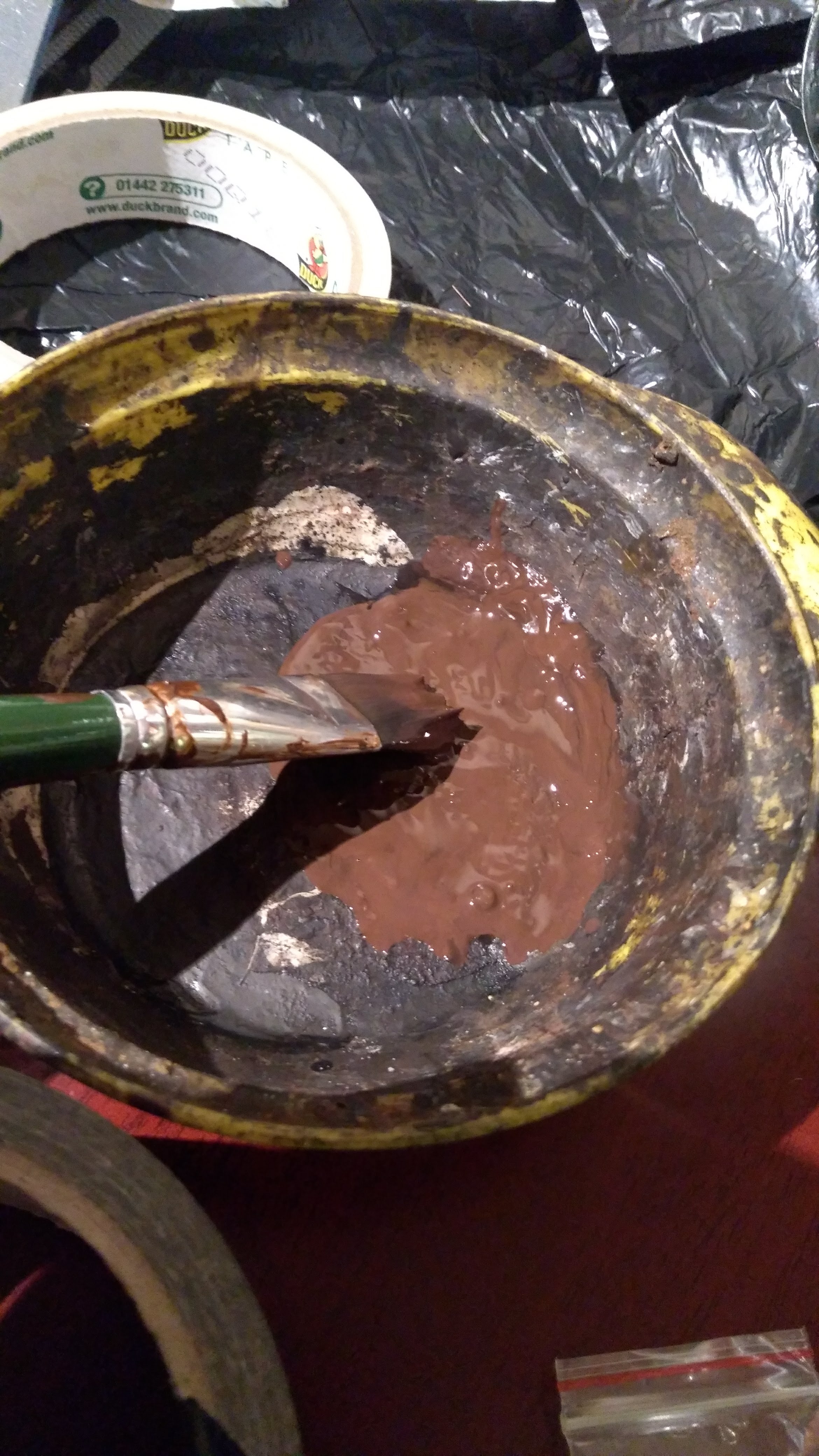 My personal preference with the grip is to wrap it using nylon string, hot glueing it on as I go, then going over the string with flame to melt it slightly; this has the effect of making it look old but also perhaps more importantly, makes it solidify, become hardwearing and also, along with the hot glue, helps to fix it in place.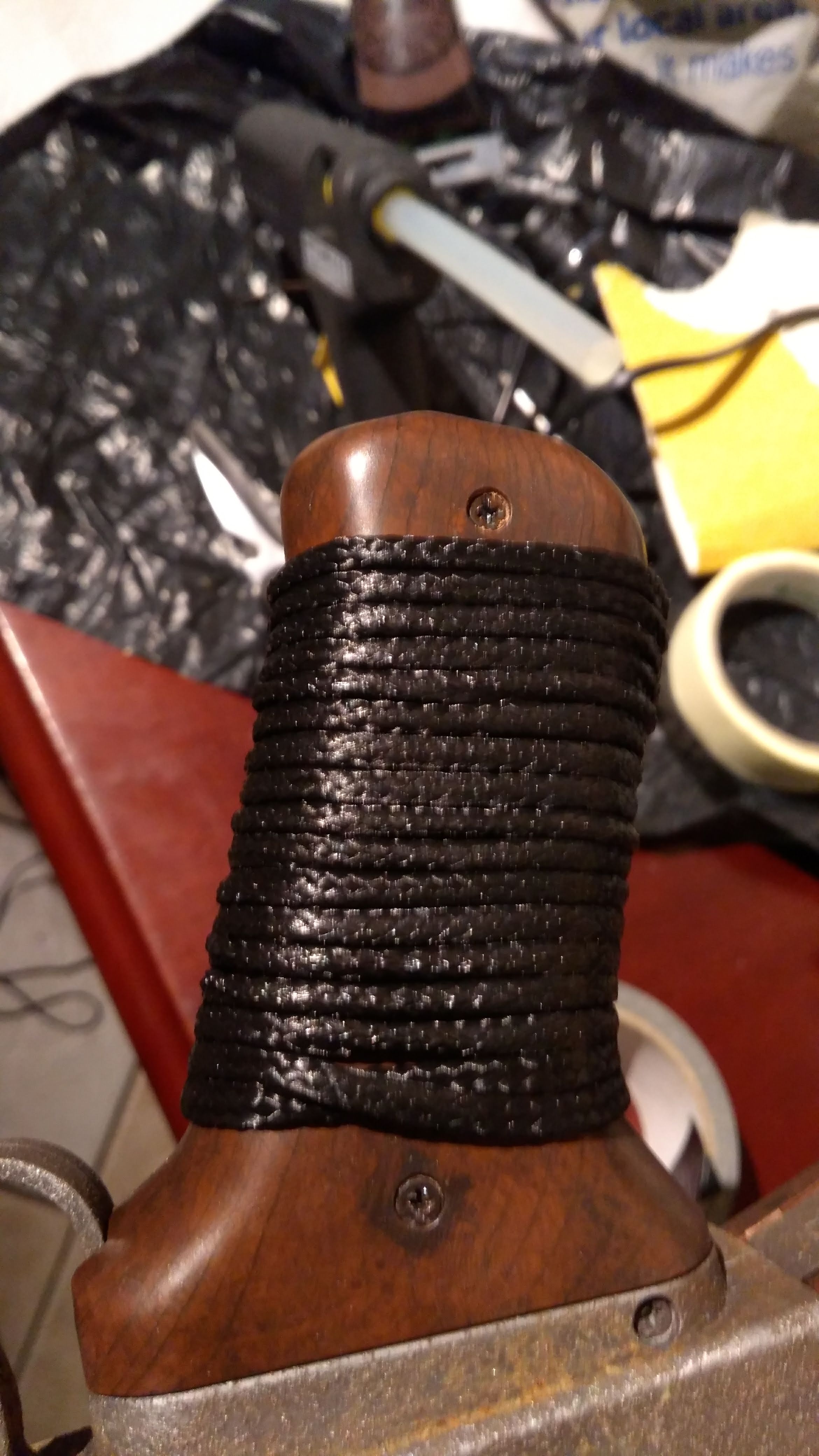 If you're interested, heres a link to a gallery of some of the things I've 'Post Apo'd' on my facebook
Steelgohst Art
Next I paint on a few bits and pieces to help with the illusion of history, before dusting everything down with fullers earth, paying particular attention to the grip and tape sections, then brushing it mostly back off again. A quick spray with matt varnish on the grip and tape parts seals the dirt in and stops the tape from feeling sticky where it has been sanded and depending on the finish you're after (more or less rusty) you can at this point spray all the 'metalwork' with matt varnish also. varnishing will make the finished gun less rusty looking and give it a more 'aged metal' look. that's what I did with this one.
Done! from orange airsoft to battle hardened old weapon of war!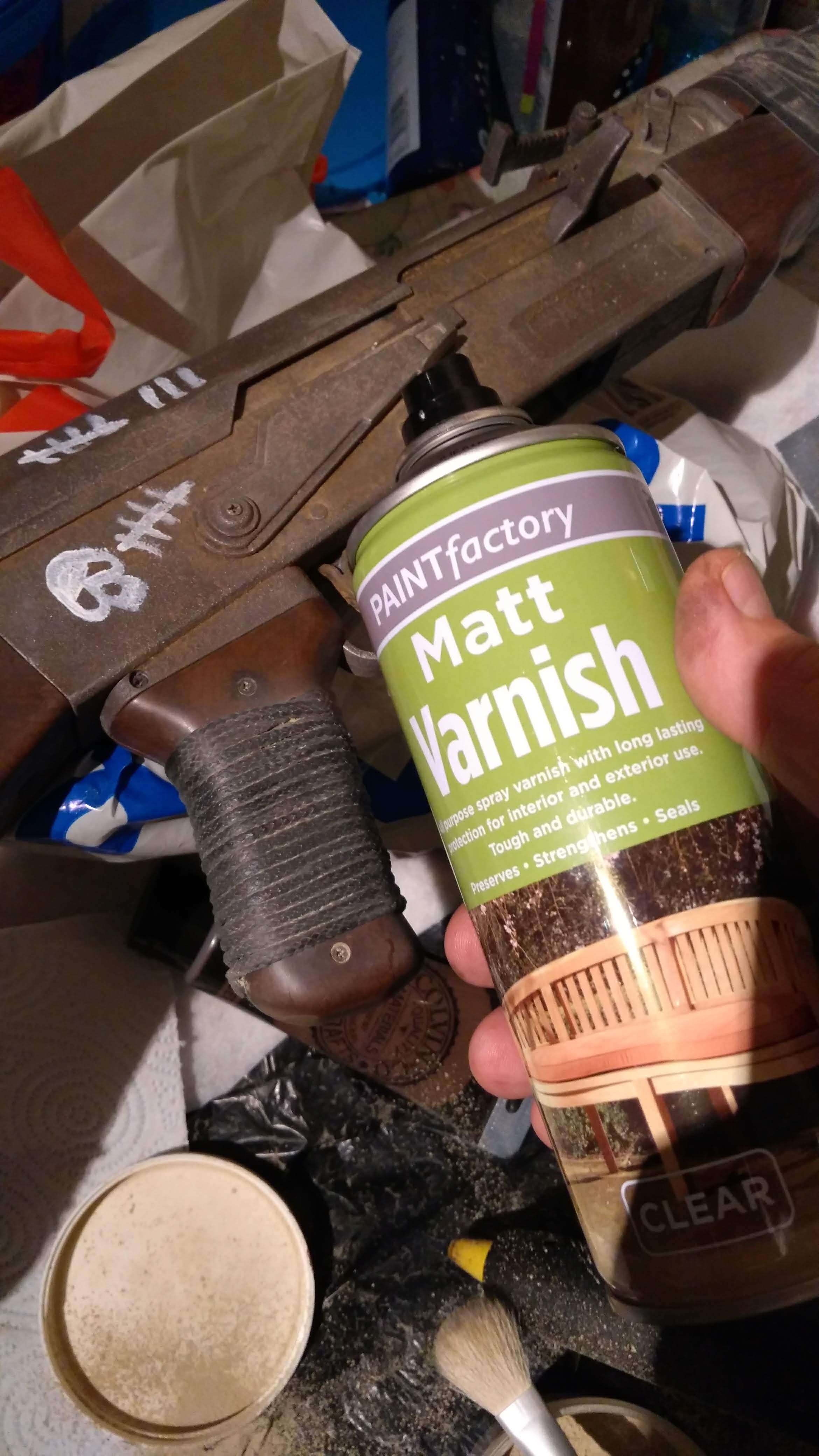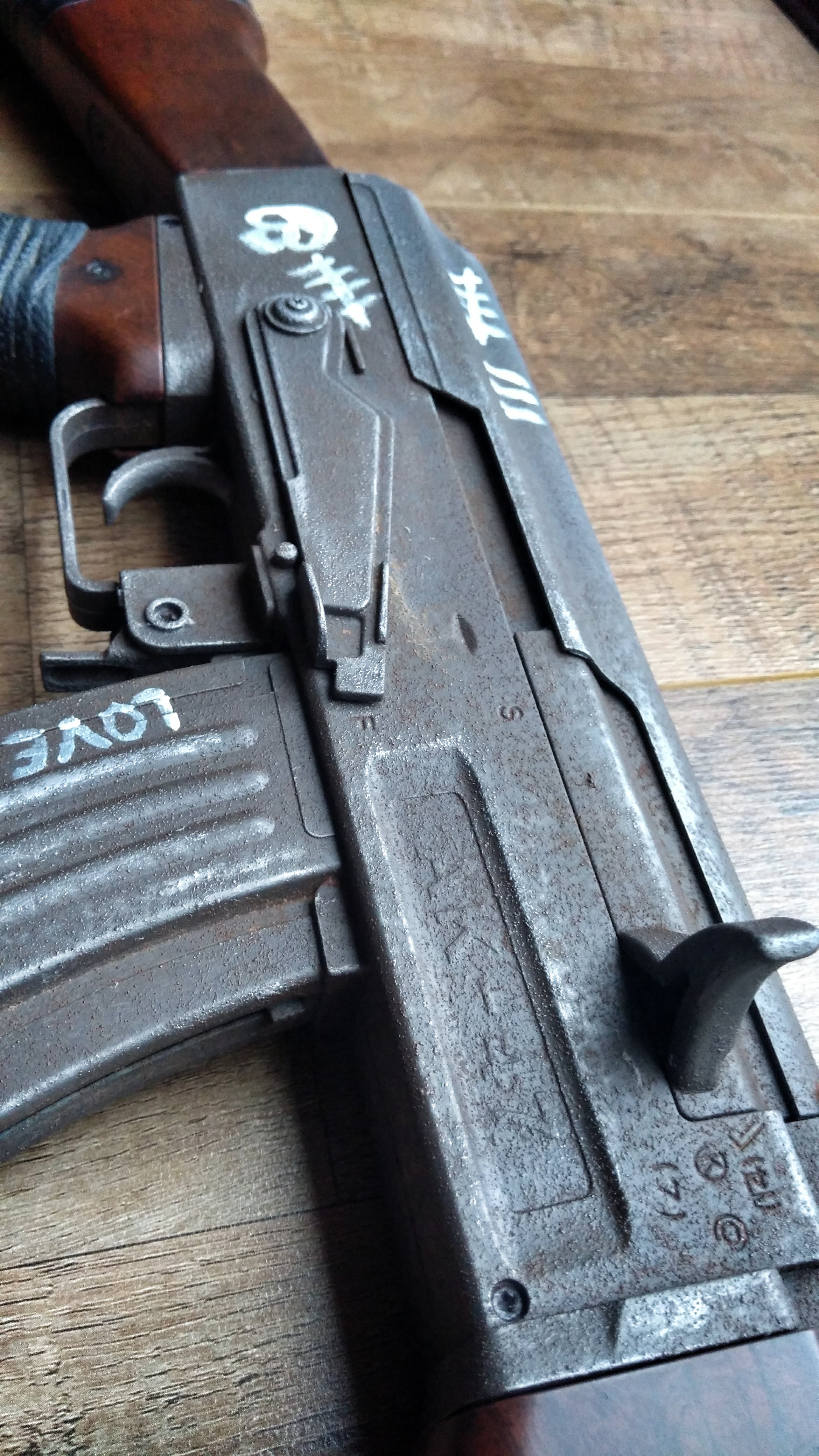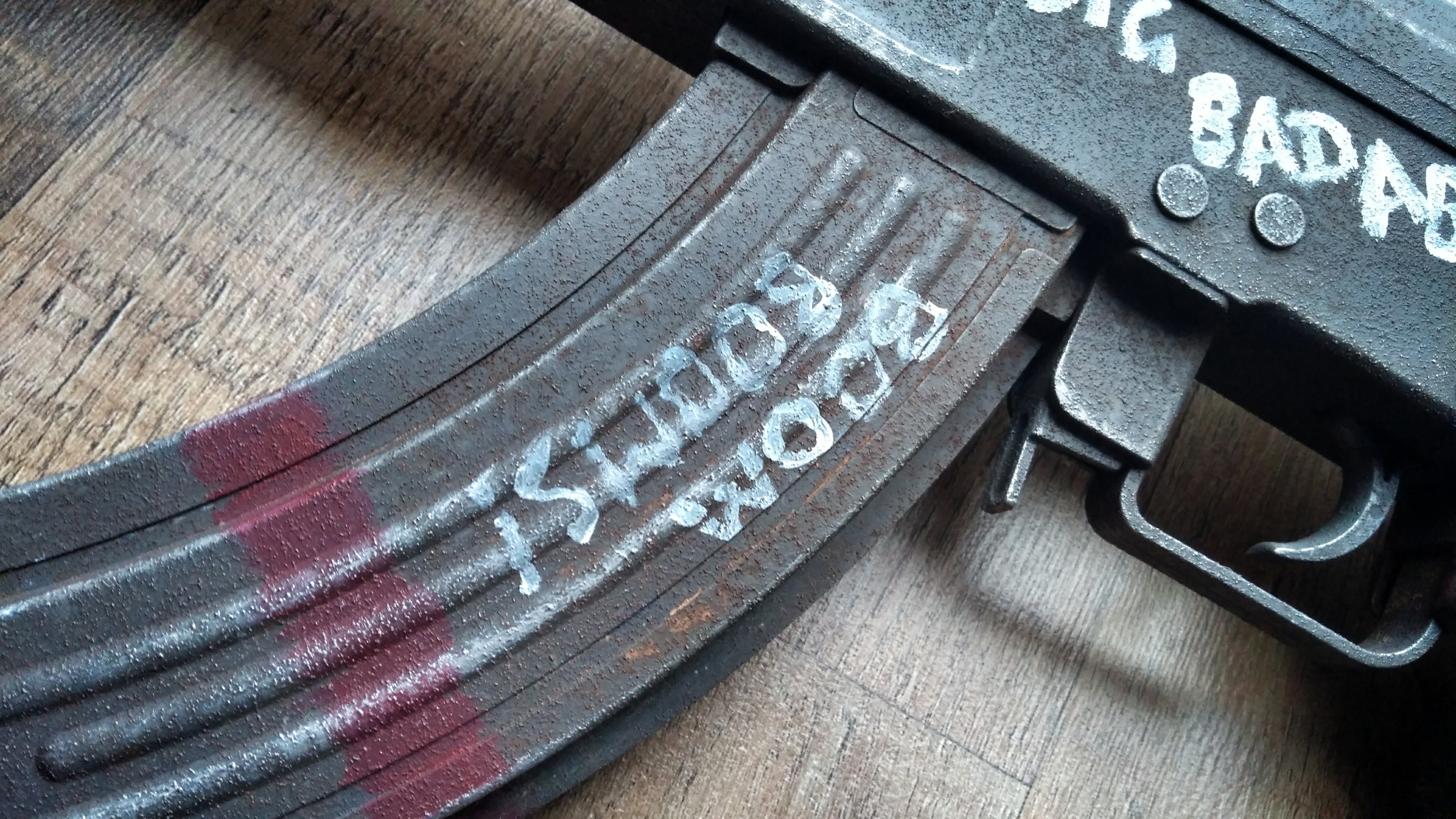 If you're interested, heres a link to a gallery of other stuff I've 'Post Apo'd' on my facebook
Steelgohst Art
Last edited: