Master Member
RPF PREMIUM MEMBER
While looking for a Cap Shield that would serve as a sort of "stunt" version for cosplay and display, I found this option on ebay: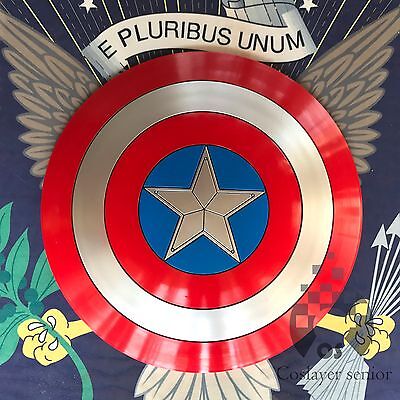 Find many great new & used options and get the best deals for Captain America Shield 1:1 ABS Shield 57cm Cosplay Halloween gift props at the best online prices at eBay! Free shipping for many products!
I own the Herobody Cap suit that's on a mannequin for display. My metal shield is too heavy to mount to the back, so I wanted something light weight that serves the purpose and looks reasonably good.
I knew I'd be making some modifications to this shield, specifically, resurfacing the entire thing to remove the vinyl record texture that the manufacturer added to presumably simulate brushed metal (a failed look btw). Luckily, the shield is made of ABS plastic and with some patience and effort, I was able to completely smooth out the surface front and back so I had a fresh foundation to start from for my repaint.
So far, I'm at the primer stage, but I have a series of procedures to follow that will really transform this cheap shield into something that'll look great on display and light weight enough to use as a cosplay accesory.