I've had a M1 carbine set into a wooden shell for quite a while and would like to get back to this replica.
Everyone replicates the Beneath the Planet of the Apes rifle--probably because it's more interesting looking, with its reddish brown wood grain body.
What I'm wanting to do is replicate the rifle from the first movie. I've not seen any replicas of this version. It's the black rifle and it has a completely different strap set up.
The background Beneath rifles have the D-ring assembly just screwed to the side and back of the stock, but the original film's version the straps were connected to bands at the very front and back: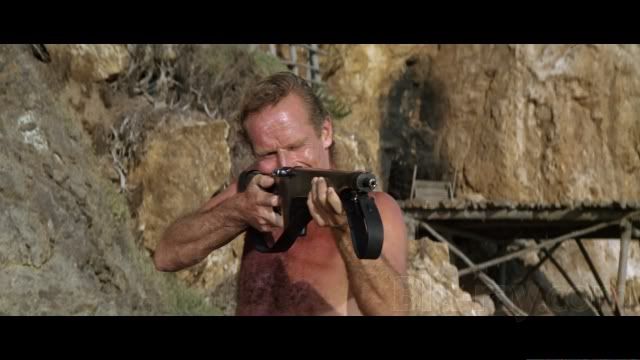 There are metal bands that the strap connects to, but I can't tell if the rings are D-rings or the oval kind. Or maybe there are swivel mounts set into the bands. I think the rings are oval, but I just can't tell.
There is all kinds of ref pics on the Beneath rifles, but hardly anything for this version. Can anyone help? Does anyone have any better pics than the above? Screen caps, anything?